Fancy having a quick run in the ski slopes and be back to the university or work before midday? Need some quick practice on the run but do not have much time to travel to the ski resorts? Well, if you are living around Nagaoka, you are in luck!
Nagaoka Shiei Ski Area is located approximately 6km from Nagaoka Station or an approximate 20-minute taxi ride away. Conveniently located within the city, it is a popular destination for the locals.
Even before skiing was a popular sport, people in Japan living in the mountainous regions had to adapt to life with high snowfall. They developed their version of "ski" and bamboo poles as stock to maintain balance.
Ski was not popular until after the war when foreigners living in the capital city started the trend of visiting ski resorts. Fast forward to the 1980's, the boom in ski resort development and vacation homes grew with the economy. Suddenly, Japan finds itself having quality facilities at various ski resorts across the country.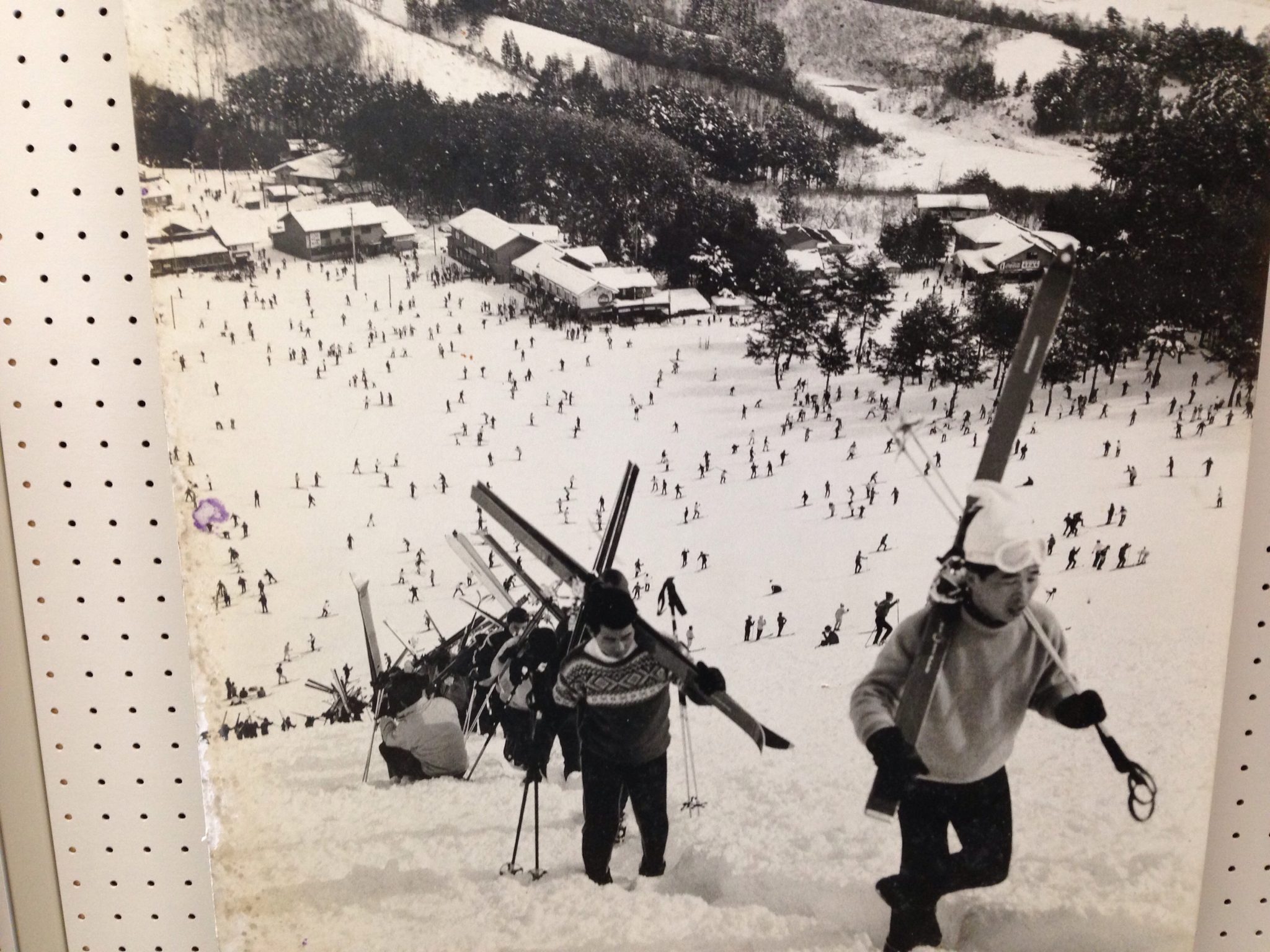 An old image of skiers at Kannabe Ski Resort in Hyogo.
Image via snow-land.jp website
The Japanese refer to the ski slopes as "Gerende" (ゲレンデ), a borrowed word from the German word, Gelände. There are many terminology used in ski that are borrowed from another language, referred to as Gairaigo (外来語) in Japanese and is written in Katakana.
The ski area is located in Suyoshi, and it was first opened in 1973. The mountain has a maximum elevation of 348m and the longest run at 1,200m. The steepest incline is at 28º.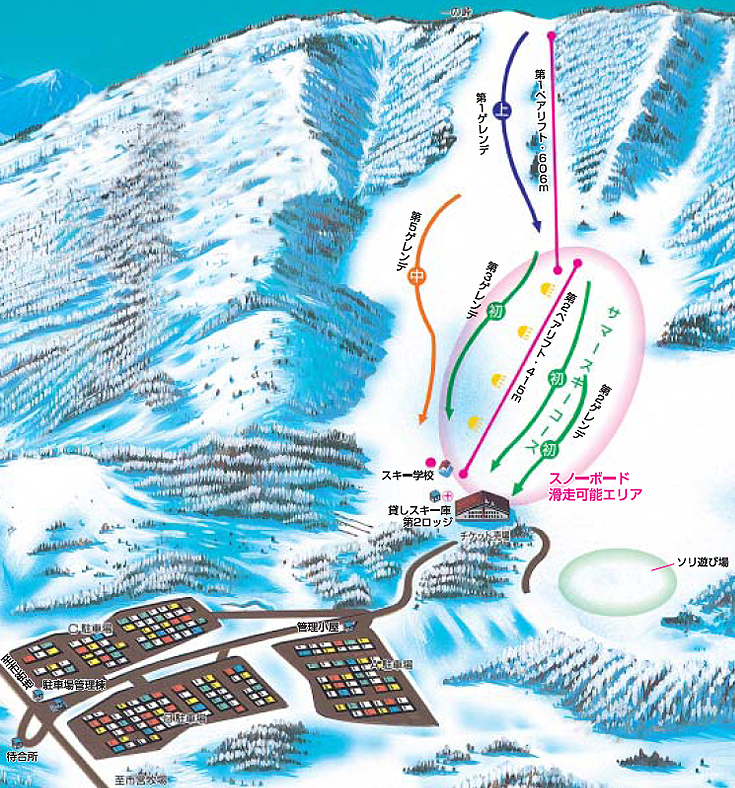 There are 4 ski trails at the area. Trail no.2 and no.3 are designated for beginners. Here, the gradient is gentle for beginners to practice. Trail no.4 is the intermediate trail. It is connected from trail no.1.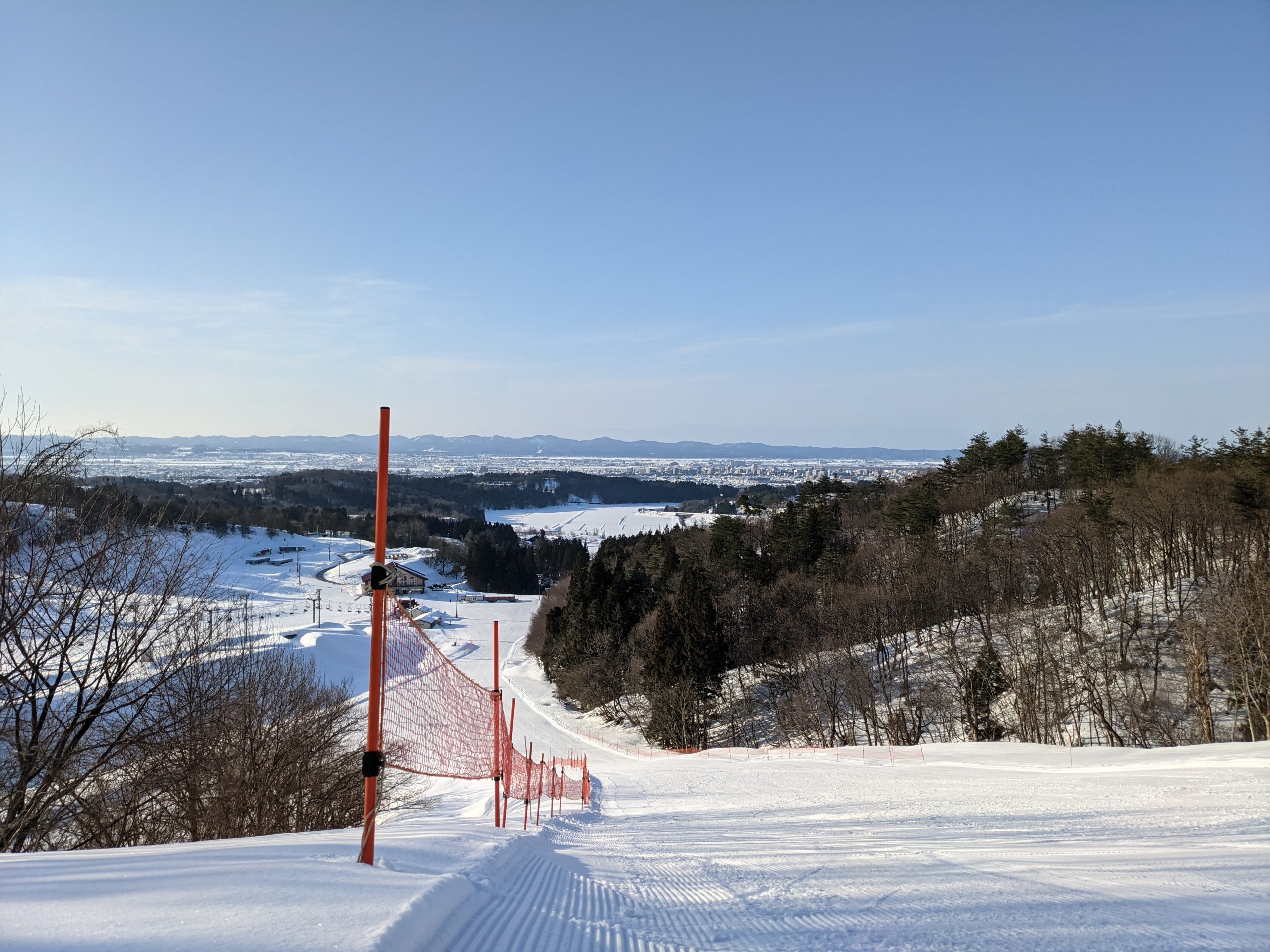 Image of Trail no.4 at Nagaoka Shiei. Image via author.
Trail no.1 is open to advanced skiers. This area could be accessed by Pair Lift no.1, but it is unfortunately not available for snowboarders.
The Locals at the Mountains
The Nagaoka Review team decided to drop by the Nagaoka Shiei Ski Area on a quiet and sunny weekday to explore the trails and observe the trend. The team was taken aback when they arrived during lunch to be greeted by the quiet and sparse sight. Not many people were in line.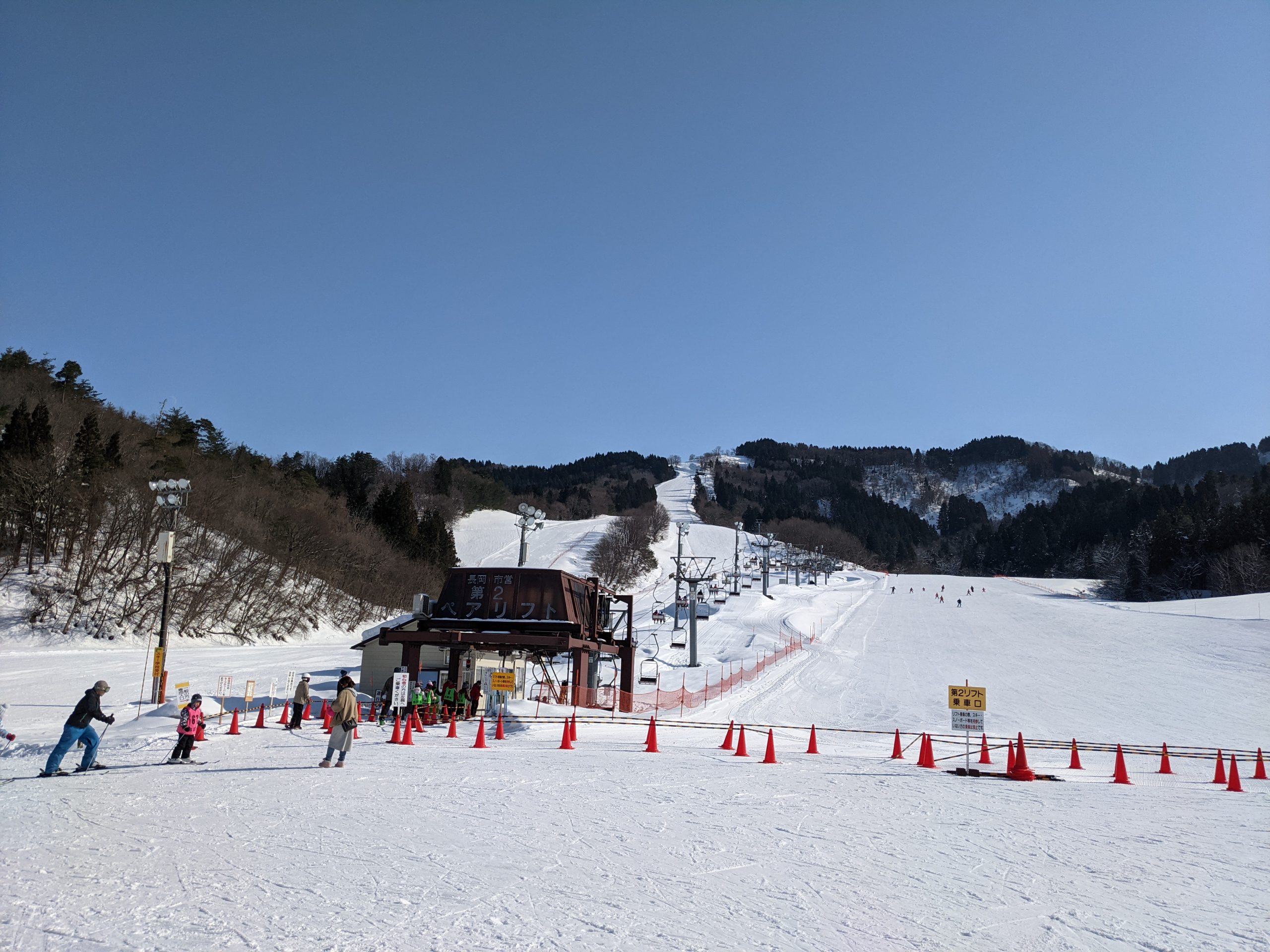 The ski area looked empty at 12:15pm as the students head to the ski lodge for lunch
Soon, ski school resumed in the afternoon and many children accompanied by their ski instructors begin emerging from the ski lodge after a good meal.
Overall, the place is a great location for beginners to practice and learn new skills. There are two Pair Lifts in the ski area, with Pair Lift No.2 taking skiers and snowboarders up halfway on the mountain, and the Pair Lift No.1 takes experienced skiers to the top of the ski area.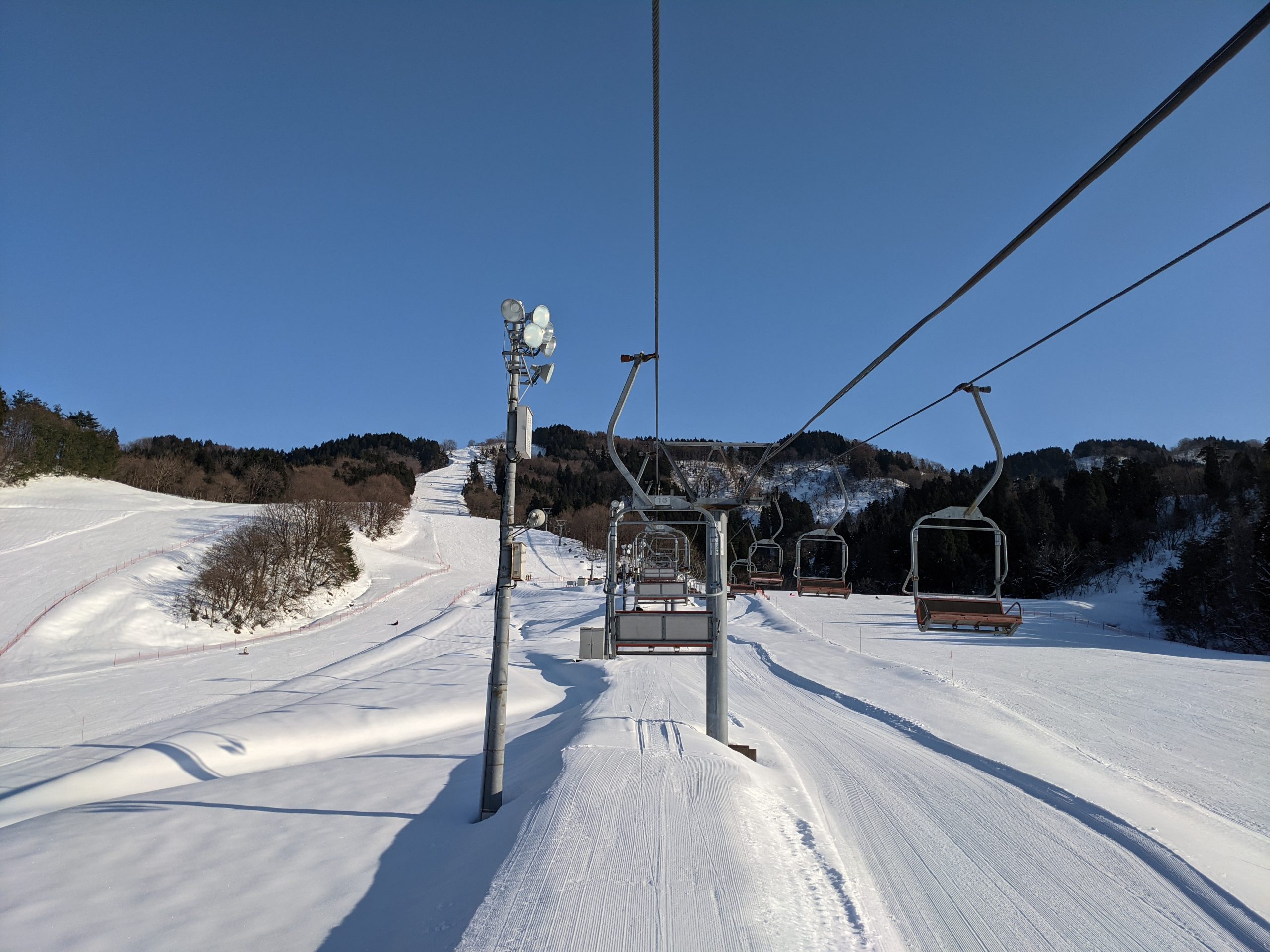 Image of Pair Lift No.2 taking skiers and snowboarders to the beginner trails.
Image via the author.
The gentle slopes are wide enough for classes to be conducted and beginners to practice on the same slope. Here, some intermediate snowboarders are seen practicing switch side and simple tricks like tripod and simple buttering.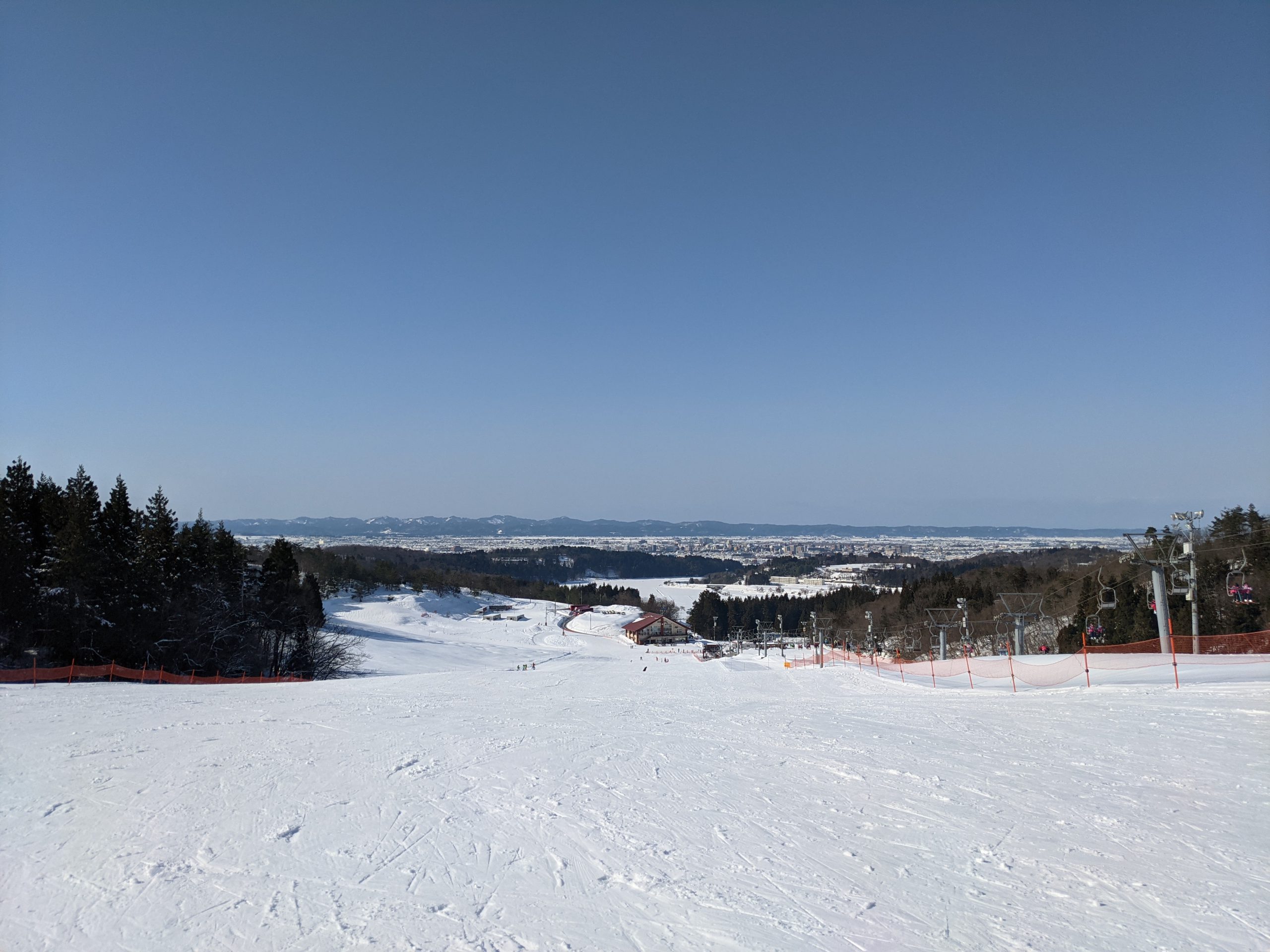 Wide slopes make it easier for beginners to practice. Image via the author.
A majority of people visiting this ski area are local Nagaokans and some foreign residents including international students from the nearby universities. The snowfall in the area is unpredictable, hence the need to check on the website for accurate information. Even on a sunny day, the wind is chilly. Always keep warm and wear a waterproof jacket!
Nagaoka Shiei Ski Area offers some classes for winter sports beginners depending on the age of the participant. All classes are held in Japanese.
SNOWBOARDING
The beginner snowboarding class is held on some Saturdays with a maximum of 10 participants in each class. Priced at 4,000 yen including snowboard rental, insurance, as well as ski pass. Should you have your own snowboarding gear, it would only cost 3,000 yen! The class targets Junior High School students and above.
SKI
There are a few ski school classes available. The first is the general ski classes held over the weekends and public holidays.
The second option is for elementary school students, held over the weekends. At the end of the course, participants will be awarded with a badge. The third is called the Master's class for individuals aged 50 and above, held on Mondays and Thursdays. More information could be found on the official page of the ski resort.
Affordable Winter Sports Experience
If you are looking for an affordable way to spend time at the ski slopes, look no further! Nagaoka Shiei lift ticket charges are reasonable. There are options for everyone, including people who would like to have a quick run before work or for those who would like to practice their skills.

If you are visiting the place with another friend, you could always opt for the 1-Day Pair Ticket at 5,000 yen or the 4-Hour ticket at 3,200 yen! This is a great option for university students as well as families to spend some time learning some winter sports.
Rental is available for both ski and snowboard at only 3,000 yen per set. Winter sports apparel is also available for rent at 2,000 yen per set. But please do note that items such as hats, gloves as well as ski goggles are not available.
Time to Enjoy Winter Sports!
If you are living in Nagaoka area and considering learning some winter sports, Nagaoka Shiei Ski Area is a great place to start! To avoid congestion, it is best to plan your visit on a weekday.
Nagaoka Shiei is also open during non-Winter season (also referred to as the Green Season), offering other activities such as tennis and bobsledding. It also serves as a camping ground for visitors.
Note: To prevent the spread of the virus, kindly be advised that all visitors are required to wear a mask at all times at the ski area and to practice social distancing.