Are you more of a paper person, or a smartphone person?
With the increase in smartphone ownership around the world, the need for paper-based solution is dwindling. Print media, in particular the newspapers and magazines have moved on to digital solution to meet the change in customer demand. According to Statista.com, global paper production volume from 2008 to 2018 for graphic paper has seen a steady decline.
But what is it about Japan and their love for paper and stationeries that resulted in a stable market for notebooks (diaries, writing pad, and others included) even during the pandemic?
The answer lies in smart marketing, the love for tangible items, and the unique evolution of stationeries in Japan.
Techo: A diary? A journal? Or .... ?
A collection of Techo used by the author from 2019 – 2021 from Hobonichi. Image by the author.
Techo (手帳) is a word used by the Japanese to describe something like a notebook, something one would use to write something in it. It is bound together to ensure everything is intact (i.e. like a little book).
In modern-day Japan, more English words are being used to describe different types of Techo. You will find familiar words like "note" (ノート), "journal" (ジャーナル手帳), "diary" (ダイアリーノート) and even "schedule book" (スケージュール帳) being used to describe the variety of Techo sold in Japan.
For the sake of simplicity, this article will use the Japanese term Techo broadly to describe the variety of diaries, journals, and planners here.
Diaries are so yesterday... not...
Diaries were once a popular gift in the corporate world. Companies used to print diary books, calendar schedules in A3 size or bigger to be placed on the office desk, and many more. But since the burst of the bubble in the early 1990's, many companies in Japan ceased their diary printing and gifting habit. Due to the long-standing corporate tradition, the notion that diaries are meant to be received, not bought" carried on for a few decades after.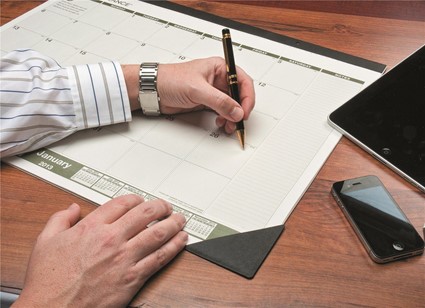 Desk calendars were a popular corporate gift in the past that is in decline in the current years. Image via At a Glance.
As time progresses the younger generation might not know much about the Techo gifting culture that happened before they were born. But one thing stuck: the habit formation of using the paper. Japanese manufacturers are smart to cover a broader audience, in the case the Japanese school students.
Over the years, the Techo culture has shifted from a corporate-looking book with big company logos and pages after pages of brand advertisements, to one that meets the true needs of the users. There are even some customizable options for customers who are interested in picking and choosing different layouts to create their own unique Techo. Niche ones such as the "financial planner techo" even comes with investment tips, whilst the cat-inspired techo is filled with cute cats on every page. With over 3,000 different designs released every year in Japan alone, the consumers in Japan are spoiled for choice!
Techo Evolution
From corporate diary schedule books to personal diaries with attached lock and key, the Techo has evolved into a modern-day mindfulness tool to help one cope with stress.
In recent years, journaling has been promoted as one way to reduce stress and anxiety. People are starting to take up journaling and coloring as a new hobby to manage their pandemic-induced stress.
Japan seems to be leading the way, with art and craft enthusiasts using the Techo to keep their illustrated journal. Hobo Nikkan Itoi Shinbun, the company behind the popular Hobonichi Techo periodically shares their users' creative artwork to inspire other users to use their Techo.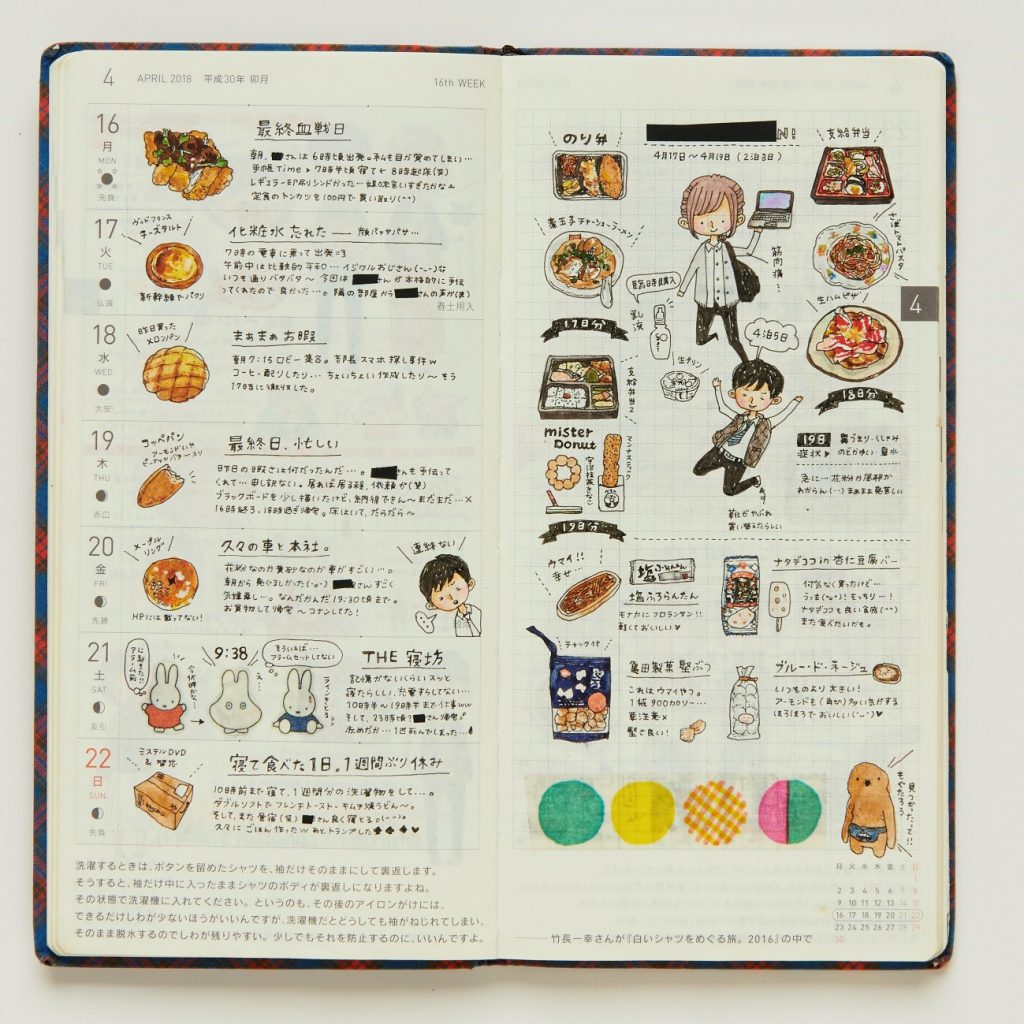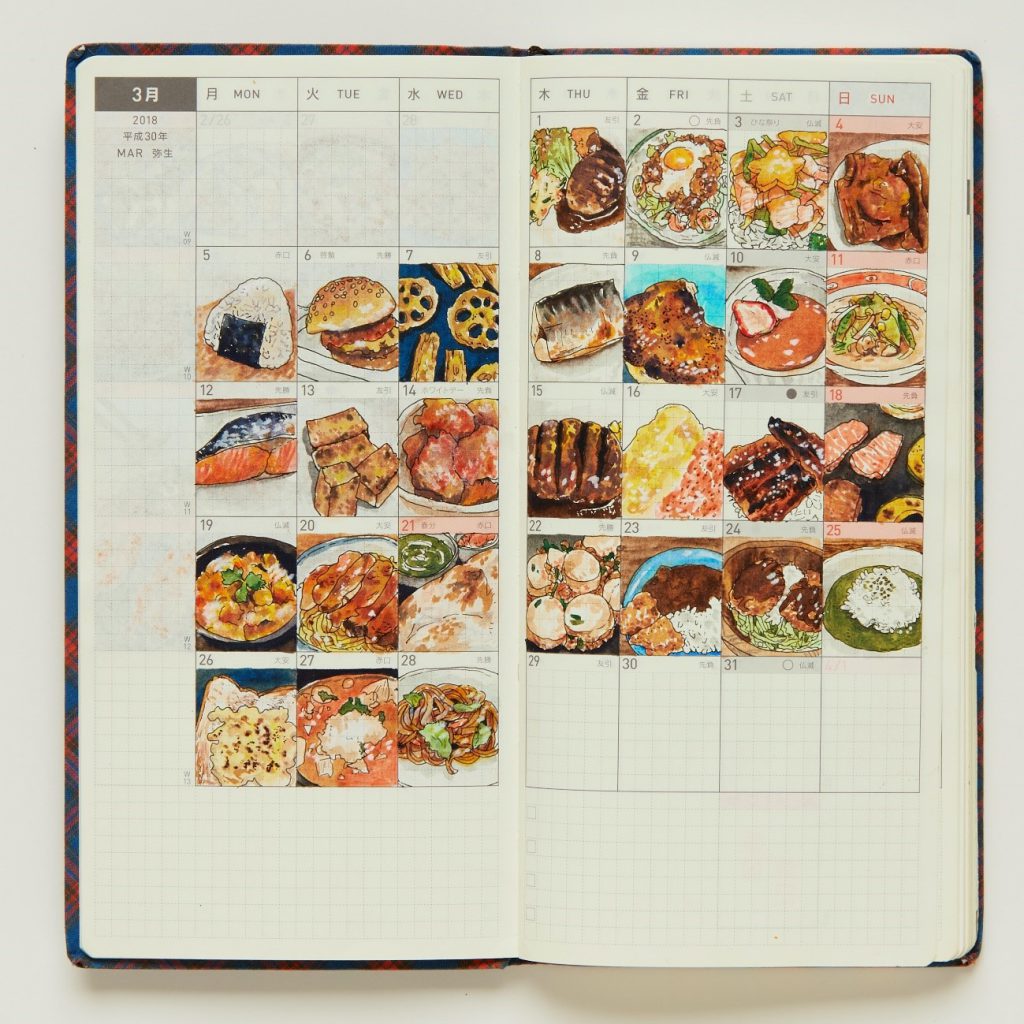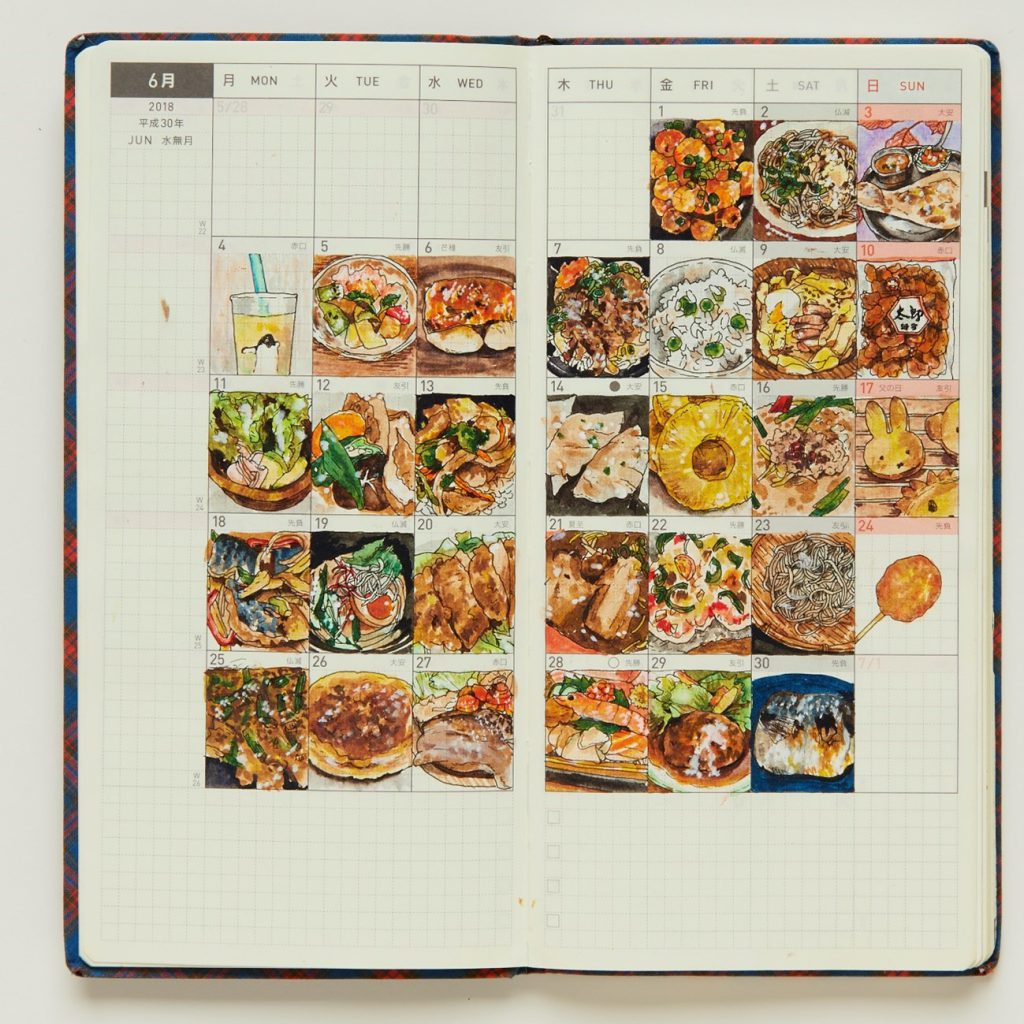 No.0281 – Penri-san's creative and unique way of using the Hobonichi Weeks Techo to document the food eaten for the week and month. Image via Hobonichi website.
Besides being a good destressing tool, the Techo is also seen as an extension of one's creativity. Some brands offer an array of covers and options for Techo owners to express themselves. Limited edition designs featuring popular Japanese animation character to the latest hit Nintendo games, the options available are endless. Let us not forget the accessories one could opt for, just to spice up their Techo experience.
The Touch of Techo
If you are a papyrophiliac (a.k.a. stationery addict), you would most probably know this: the Techo industry in Japan are competing on finer details such as the paper quality, specifically in its thinness, lightweight, and durability. For those of us who are new to the industry, the reason is rather simple.
It is all about the user experience!
For regular users lugging their Techo in their bag (or handbag) all day while rushing for the trains and meetings, a lightweight and slim option would be a great seller. For that to happen, paper has to be as thin as possible. With thin paper, the second challenge is born: How can one ensure the ink does not bleed on the page or from one page to another?
Tomoe River paper is one example of a durable paper that is widely known for is thinness and the lack of ink bleeding. And this is the paper used by Hobonichi in its Techo.
On the other hand, a well-known stationery company KOKUYO developed their own paper for the JIBUN_TECHO. Two distinct papers are featured in the Techo, namely the THIN paper and the MIO paper. The THIN paper is comparable to Tomoe River in lightness, and it can withstand friction (e.g. from erasing) without crumpling. The MIO has a smooth touch and feel, and the ink dries quickly on this paper.
To get a better understanding of the differences between these Techo, do check out the video below for a comprehensive side-by-side comparison and explanation by Jetpens.com.
Comparison between some popular Techo in Japan. Video by Jetpens.com via YouTube.
The Future of Techo
With the pandemic forcing a hard shift to digital, the world is heading towards a "paper-less" (reduced use of paper) society. Many industries have suffered including print media like the once-popular newspapers and magazines. What other aspects of the paper industry would digitalization disrupt in the near future?
The Techo landscape will see changes in the years to come. With the current trend in journaling to ease one's mind off stress, would the Techo culture become just another fad like the cookie diet that started in 1975 and never heard of these days?
I, for one, love the touch and feel of paper. The need for ink and paper for self-expression is so strong in my creative side, I am not ready to hang my pigment ink pen and Tomoe paper for a glass and a stylus. But at the rate the stylus pen technology is evolving, I might just consider going digital for some fun.
For now, I am happy with my pen and paper. What about you?