From skiing in Hokkaido to sunbathing in Okinawa, Japan has a vast range of activities throughout the year. However, when is the best time to visit Japan?
According to Japanese people, that depends heavily on the weather you prefer and what you want to do there, but if you are planning to visit Japan, you should make the trip twice! Once in the spring to experience the cherry blossoms, and again in autumn to witness the beautiful sight of the tree leaves turning red (Momiji)!
The celebration of Kōyō and Momiji
Japanese sakura is worldwide famous, but how much do we know about Momiji?  Momiji is equally important in the country, and Japanese people are fond of traditional Japanese gardens in the fall and go for a hike to enjoy the blushing mountains. This phenomenon can be expressed by two different words: Momiji and Kōyō.
Even though they are written with the same characters 紅葉, the meaning varies depending on the reading. Momiji refers to the maple leaves covered with red at that time of the year, a symbol for the Japanese fall, while koyo corresponds to the leaves changing colors and turning from green to red. Kōyō is more complex to translate as it's more of a concept, an idea, than just a simple word.
From a historical point of view, this tradition was born during the Heian Era in the Kyoto region's aristocracy. In that era, famous for its art, especially poetry and literature, the word 狩 り, hunting, was used to refer to hunting deer and gathering fruit. Since the Japanese nobility did not participate in such events but were big fans of the beauty of nature, it was decided to borrow the word 狩り and start using 紅葉 狩 も み じ が り to mean "looking at red leaves," especially around Kyoto temples.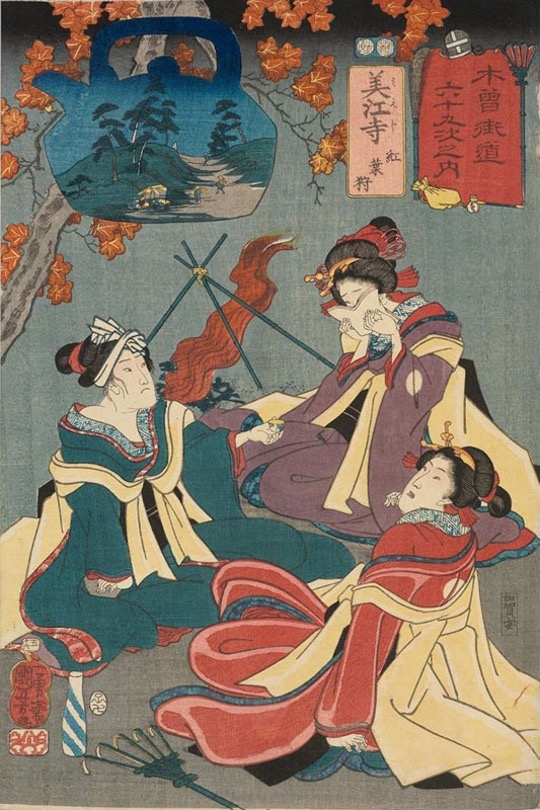 Maple-leaf viewing (Momijigari), from the series Sixty-nine Stations of the Kisokaidô Road (Utagawa Kuniyoshi, 1852)  Image via  Museum of Fine Arts
When is the time to see momiji?
The autumn leaves season changes depending on the climate of each year, location(height above sea level), meteorological factors, and tree species. The first color change can usually be seen in September on Hokkaido, Japan's northernmost island. From now on, week after week, the maple leaves will turn from green to red as you move south. Finally, at the beginning of December, the whole country is dressing up in gorgeous red.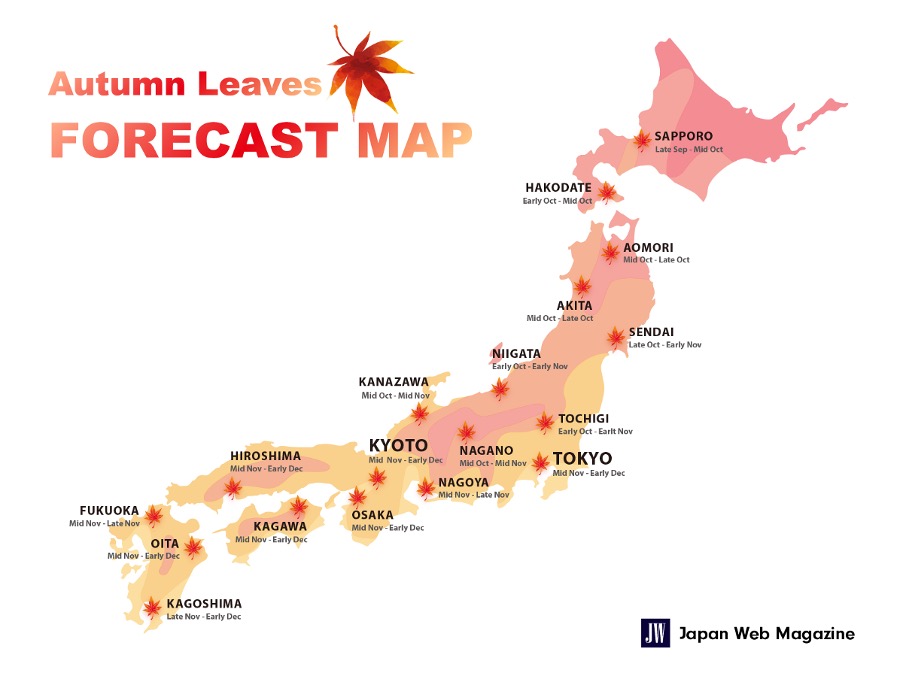 How Japan-guide is relating, the colors are mostly found in the mountains during the first phase of the season, when entire slopes turn orange, yellow, and red and create some of the unique seasonal landscapes. In the second phase of the fall foliage season, flowers descend into cities in Japan, where they can be seen in parks and gardens. Highlights include autumn colors in the Kyoto Temple Gardens, where they perfectly complement the elegant architecture of the buildings. The trees look almost surreal during the evening illuminations, which are held in separate gardens and temples.
Best places to enjoy the Japanese fall
As beautiful foliage makes its way from north to south of the Japanese island, there are many great and small, famous or lesser-known local trails, gardens, and temples, which offer magnificent views.
Here are some of the most famous Momiji viewing spots in Japan!
Food as part of Momijigari
Festival and seasonal food is an excellent reflection of how deeply rooted the history and traditions of Japanese culture are. One of the uniqueness of Japanese culture is that you can only find certain foods at certain times of the year during festivals or in small local shops. Starting with sakura food and drink in spring to celebrate cherry blossom season to Kashiwa-mochi—rice cakes to express people's wishes for many children and a family line that will not end and tsukimi-dango (dumplings for viewing the moon") to express gratitude for the harvest – Momiji food can become a great souvenir and a sweet memory of the specific autumn season.
Momiji Tempura
Maple leaf tempura has a history dating back over 1300 years, and it is made only from yellow maple leaves – leaves that have already turned red have thicker and harder stems, and may turn black when cooked, aren't appetizing.
Momiji KitKat
Japan is home to over 300 unique flavors of Kit Kats created exclusively for certain cities, regions, and seasons. Created in 2016, Momiji KitKat is the result of a collaboration between KitKat and Takatsudo, the famous 100-year-old family business Momiji Manju originally created back in 1906.
Momiji Manju
The traditional maple leaf-shaped red bean cakes come from the Meiji period when Takatsu Tsunesuke – a wagashi maker- introduced a souvenir sold in one of the ryokans in Momiji-Dani (Maple Leaf Valley in Miyajima). This maple leaf-shaped souvenir became so popular that we can see it now almost everywhere during the Koyo season. From red bean paste as a filling, cream cheese, custard cream to green tea and chocolate, there are a variety of tastes.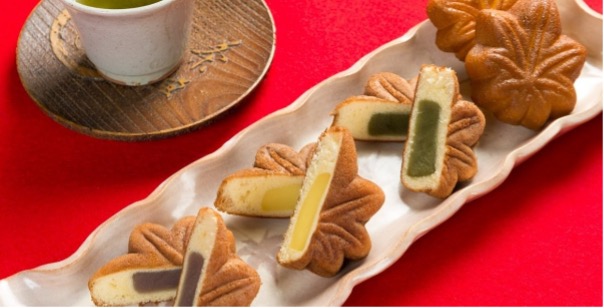 Though many shops sell the maple leaf-shaped cakes today, Takatsudo's from Hiroshima Prefecture remain incredibly popular for their home-baked dough and carefully prepared red bean jam.
The tradition of Momijigari is so deep in Japanese culture that you can read about it in old poems, find it in old and new paintings or see the prints of autumn leaves on the kimono fabric.
From hiking and visiting historical sites to soaking in hot springs with beautiful views and tasting autumn specialties, there are plenty of ways for you to enjoy the colorful festival of autumn leaves. So, don't miss this opportunity.