Mami Nagai is part of Aqua and Soil Environment Laboratory, Department of Science of Innovation Technology, specializing in civil and environmental engineering, wastewater treatment, and environmentally friendly and cost-saving innovative sewage treatment systems.
She has graduated from Kyoto Prefectural University with a degree in environmental design, but her purpose is to create a better world for sweet potatoes farmers. Her family runs a diversified farming business mainly based on sweet potato harvest and processes in the southwestern tip of the island of Kyushu, and she continues to share duties whenever she can.
The Nagaoka Review team spoke to Mami on her comprehensive remit in an incredible time when the rural sector is facing so much change from so many angles on her research, passion, and future plans.
Background
NR: Can you tell us a bit about how you came to study at the Nagaoka University of Technology? How do you come from being an environmental design student to the science of technology innovation?
MN: Actually, I had never crossed my mind to start a professional career in photography and environmental design, although I have a great passion for it.  I grew up in the family sweet potato business, which my parents had founded about 23 years ago.
After graduating from Kyoto Prefectural University in 2017, I decided to join our family business to strengthen and promote our business at home and overseas.
While studying at Kyoto Prefectural University, Mami was involved in many projects. Image courtesy of

Mami.
NR: Why have you chosen a 5-year integrated doctoral program?
MN: During my studies at Kyoto Prefectural University, I had the chance to visit many overseas countries. Joining our family business, we discussed that one of my primary tasks would be promoting the products overseas. But, to have high-standard products, we need to stretch our production and processing technology.
As this Ph.D. program from the Department of Science of Innovation Technology, Aqua and Soil Environment Laboratory concerns the creating and developing cost-saving innovative solutions for clean water, it strongly aligns with my previous research and my field of interest. I am passionate about my research in water treatment, and I think it is a very relevant topic in our world today. I am excited about furthering my knowledge in this field and hope to make a valuable research contribution.
Farm Better Ambassador
NR: How did you become interested in cost-saving water treatment technology?
MN: Kagoshima today ranks number one as a sweet potato producer in Japan. Kairen Co. Ltd. is one of the leading sweet potato processing companies in Kagoshima.
Kagoshima is home to Sakurajima, one of Japan's most active volcanoes. Thanks to Sakurajima, the region's soil is well-drained and rich in volcanic ash, an environment ideal for sweet potato cultivation. However, despite its good growth habits, a few intrinsics are unsuitable for modernized farming. High water content in the final product, difficulty in mechanized cultivation, and a recent root rot disease are prevalent in sweet potatoes, threatening Kagoshima- the kingdom of Shochu.
I want to develop a cost-saving technology to remediate these problems and offer new efficient methods and information to our producers and farmers through my research.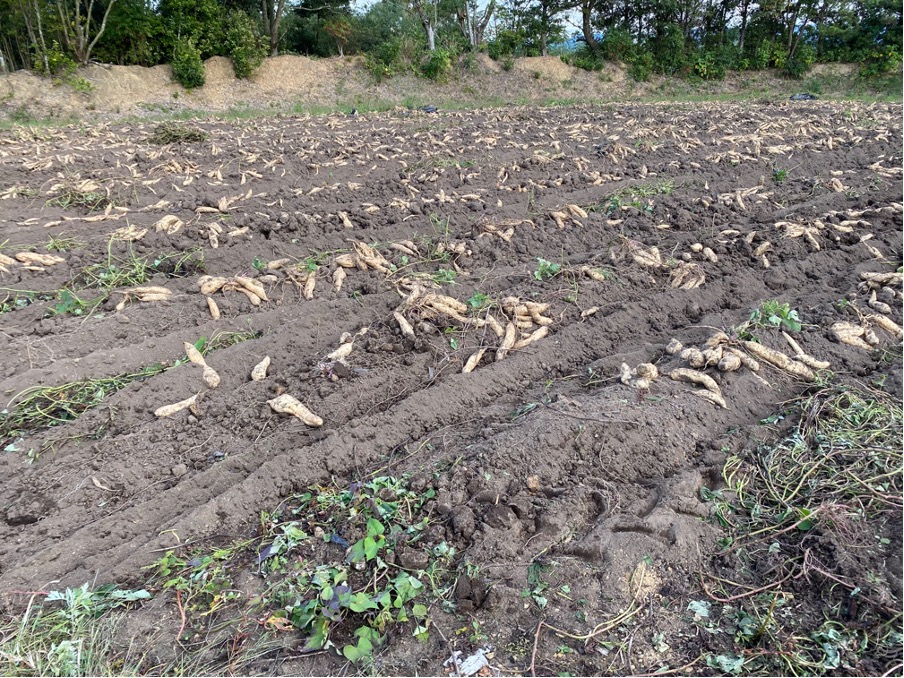 Harvest of sweet potatoes at Kairen Co.Ltd. Image by

Mami.
NR: Can we consider that you want to become a farm ambassador?
MN: Probably. There is a story about sweet potato, and I want to help the farmers tell it through co-creation. My experience showed that this is possible. Last year I participated in the SUPERMARKET TRADE SHOW (SMTS) with our products.
SMTS offers the latest information to the food distribution industry, focusing on supermarkets. It provides an opportunity to meet leaders from the retail, wholesale, ready meal, and foodservice industry and find new partnerships, networks, and new trends for helping your business.
Kairen Co. Ltd. products presented at SMTS2020. Image courtesy of

Mami
This year, I joined the Design Thinking class from NUT to improve my English and increase my creative confidence in problem-solving. During the course, my colleagues and I decided to apply design thinking tools to resolve some challenges our business faced. I was very impressed by my colleagues and professor Lim's interests in the existing problems, new proven solutions, and creative ideas.
Life in Nagaoka
NR: Recently you moved to Nagaoka. Can you tell us a little more about the reason behind this?
MN: Starting with theoretical and practical data, meetings with my research professor, specific experiments, and exploring new opportunities for different ways of working, I faced these challenges with remote research after starting my doctoral program. To overcome these challenges and gain the necessary knowledge, I decided to move to Nagaoka. Also, this is an excellent opportunity for me to become more independent, explore more, and challenge more.
I am delighted to be part of Yamaguchi Laboratory. Our laboratory is a mix of Japanese and international culture, and maybe this is one of the essential aspects that help create a friendly and relaxed working atmosphere. Starting with professors and lab mates, they are all ready to help, mentor, and advise, have fun with you, or speak when you are sad or facing some challenges.
NR: After two weeks here, what do you enjoy about Nagaoka?  Have you found any challenges living here?
MN: I think there are many people who are active and always on-the-go. There are so many different kinds of people in this city, and it is exciting to be a part of Nagaoka's life. It probably is too early to speak about challenges, but I am worried about the winter season. Niigata prefecture is known as a snowy area and, for me, will be the first time to experience real snow time after Kagoshima's warm climate.
NR: What do you miss by living out of your hometown?
MN: There are three things: my big family, Torisashi, and steam sand bath.
You probably think is this safe for eating raw chicken? Well, raw chicken is a famous traditional dish to people in Kagoshima. You can find that in a random grocery store and at almost any izakaya (Japanese-style bars). There are different parts of the chicken you can eat raw.  Some are boiled or grilled on the outside for the smell and to add more flavor.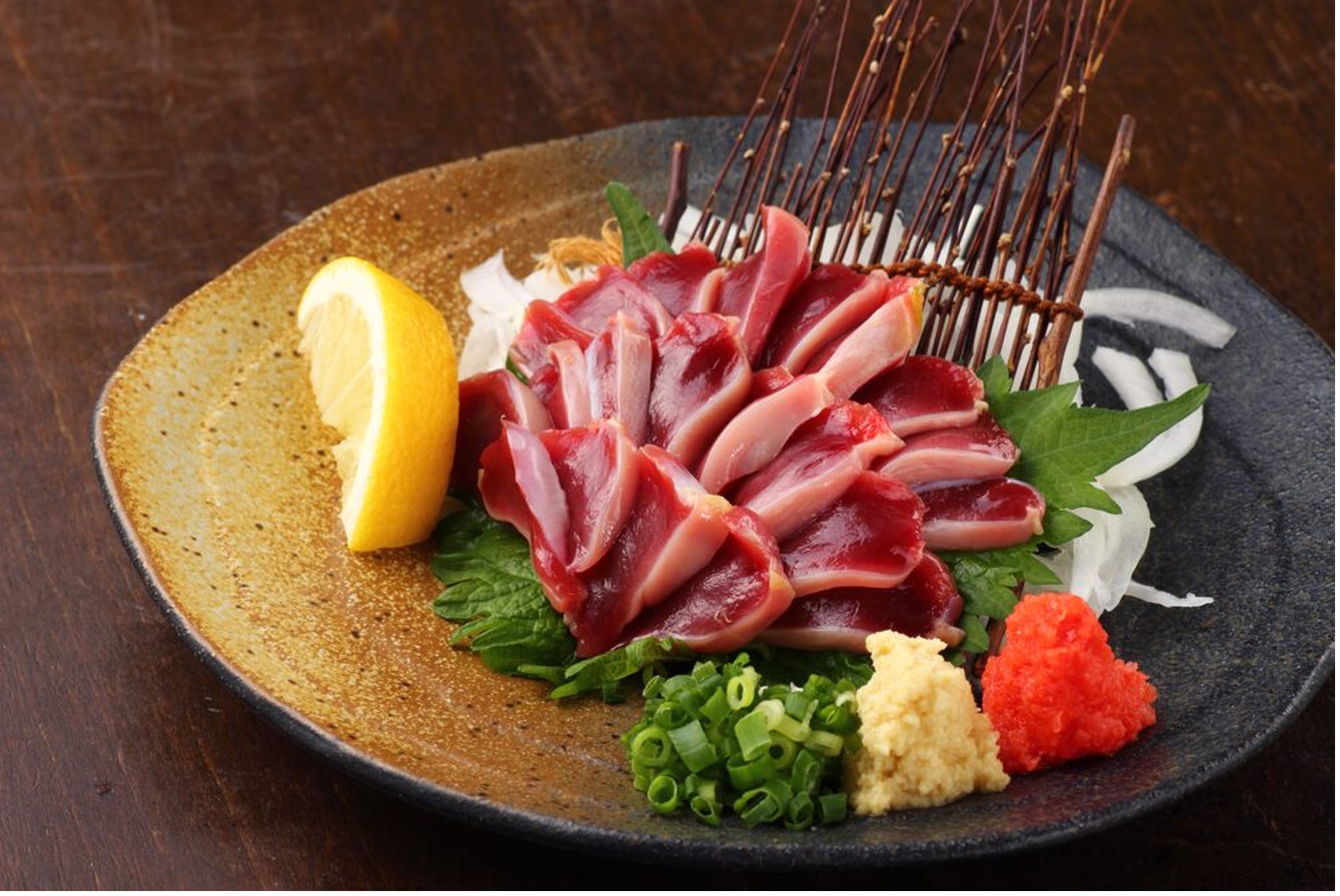 Torisashi, or chicken sashimi, is a dish of raw chicken thinly sliced and served with grated ginger, garlic, and spring onions. Image via hisgo
Also, Kagoshima is famous for its sand baths, where bathers are buried in naturally heated sand. The sand steam baths of Ibusuki (Kagoshima onsen town) are unique worldwide and are famous in Japan. The tub is on the beach. You must wear a Japanese yukata (cotton kimono) and lay on the beach buried under the naturally heated black sand.
NR: You have visited many countries and now living in a different part of Japan. If you could pick one piece of advice for anyone moving here or somewhere else, what would it be?
MN: Try to travel as much as possible, around your country or overseas, to view the world and live from other perspectives, but do not give up your sense of self and find your purpose. As in the word of Winston Churchill: It's not enough to have lived. We should be determined to live for something.
France and Switzerland are unique countries for me. For their particular atmosphere, lifestyle, beauty, and colors. I've been to Paris many times. Maybe it's because my colleagues and friends I met when I was in Kyoto live there –  I feel the similarities between Paris and Kyoto, and I want to discover them more and more every time.
Mami Nagai's experience abroad in: Ho Chi Minh (Viet Nam), Berlin and Munich (Germany), New York, Taiwan, Prague(Czech Republic). Image courtesy of

Mami
My Passion
NR: Do you have any future plans?
MN: I want to go abroad again if I can. I also would like to help farmers create a better sweet potato business so they can Farm Better.  As a sweet potato farmer, there are lots of long days, nights, weekends, lots of sweat, and even a few tears. If we work as a team, we all will get the job done! Through my research and my job, I want to help them to accomplish their goals.
Last but not least, inspired by "KyotoGraphie"– an international photography festival held in the spring in the ancient city of Kyoto and one of the few genuinely international artistic events taking place in Japan. I want to create a similar event for worldwide artists in Akune city, Kagoshima prefecture.
ImaginAsia2018_Taipei. Mami, together with her international colleagues, participated in the workshop with a video and a booklet. Video by

Mami
MN: With over 40 km of beautiful coastline stretching along the East China Sea as well as a wealth of mountains, Akune is a city where people and nature coexist together. A place where every year famous photographers and artists are coming. I want to explore this opportunity and create a unique event where Japanese and international artists can expose their works and promote the beauty of this land.
My interest in photography and art drove me to work as an assistant at a photo gallery in Kyoto during my student life. Also, some of my work was exhibited. Today, I am trying to cultivate this spirit in my friends, locals, and children to reach them all and create a better future for Akune.