In 2018, Larry Fink, the Blackrock CEO, argued that "Society is demanding that companies, both public and private, serve a social purpose. To prosper over time, every company must not only deliver financial performance but also show how it makes a positive contribution to society."
A few years later, Hitachi Social Innovation Business Division demonstrates that digital advances have redefined industrial and social infrastructures and brought about significant changes worldwide in recent years. Leveraging data, which is the key to digitalization, has created uncharted solutions and new services that could change the future.
Today, the Web plays the role of "social memory" with a wealth of information about our social, business, and environmental activities. In his new research, Zettsu Kojini believes that we can develop a global network of knowledge that can solve various societal problems by uncovering hidden rules through a comprehensive analysis of vast amounts of data. By combining and unifying the individually accumulated data of different domains and organizations.
About Social Innovation
And Social Innovation have this systemic and fundamental power: to meet social needs, create social relationships, complement the data, and form new collaborations.
Before introducing a few examples of social innovation, it's crucial to understand what this concept is. As Social Innovation Generation has simply defined, "Social innovation is the result of intentional work of people trying to make positive changes by addressing today's complex problems at the roots."
Problems include poverty, homelessness, addictions, unemployment, discrimination, endangered species, and biodiversity loss. Social innovation is a process, product, or program that profoundly changes how giving systems operate and reduce the vulnerability of the people and the environment.
Today, social innovators from all over the world, different areas of expertise, the domain of activities, and spheres of influence are bringing attention to social issues and providing solutions in incredible and novel ways. Therefore, here are some examples of social innovations that would be interesting to take a look at.
Five Social Innovation Ideas
Unilever – Provides food and lifestyle products world-wide with a focus on environmental and social innovation.
Without a healthy society, there cannot be a healthy business.
Alan Jope, Unilever CEO
BAKEYS is an Indian company that manufactures edible cutlery to provide an effective alternative to plastic. Bakey's cutlery, made from sorghum flour blended with rice and wheat, provides a healthy option for both humans and the environment. They contain no chemicals, preservatives, fat, emulsifiers, artificial coloring, or milk products. They are 100 percent vegan, and their substitution for plastic cut the quantity of plastic in the ocean and into landfills.
Currently, this sturt up operates in 42 regions and intends to expand its product line with forks, chopsticks, and salad bowls.
Blind Square is the world's most widely used accessible GPS app developed for the blind, deafblind, and partially sighted to interact with their surroundings. Paired with third-party navigation apps, BlindSquare's self-voicing app delivers detailed points of interest and intersections for safe, reliable travel both outside and inside.
Currently, the application is available in 25 languages (including Japanese and Korean) and is helping to know where you are, know where you're going, travel with confidence.
BlindSquare – Painting a picture of the world through sound via Blindsquare
Summo – A communication service for mobile clinics to empower nurses who work in mobile clinics in rural South Africa.
According to Nushin Isabelle Yazdani, Summo is an SMS-based service for mobile clinics which enables nurses to summon their patients at a central point at the farm in a widespread rural area. Summo helps the nurses save time on their routes and makes the rural healthcare providers more efficient.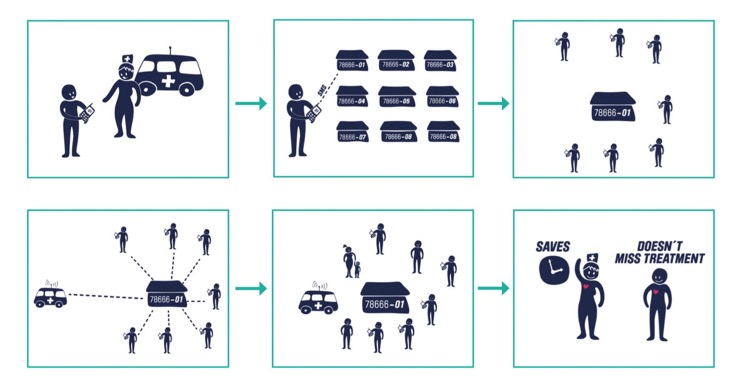 Founded in 2017 by an aeronautical engineer, Ryan Mario Yasin, PETIT PLI invents and applies groundbreaking material technologies that solve problems for individuals, businesses, and the planet across the textiles value chain.
Initially, PETIT PLI was a line of clothes that grows with the child using expansion and growth technology. Still, today, as the negative impact of fashion on the environment isn't limited to childrenswear, the company has embarked on transforming adult clothing. PETIT PLI became a multidisciplinary team with a desire to engineer a better future.
Clothes Grow With Kids by

Insider
Conclusions
There are many definitions of social innovation; however, to sum up, again, social innovations are new ideas that meet social needs, create social relationships and form new collaborations.
Today, we should value the people around us and inspire our children to be creators, explore the various qualities, and have different perspectives to support successful social innovation in the future. We need to ask our leaders and ourselves to create new social practices that aim to meet social needs better than the existing solutions. Solutions developed intending to extend and strengthen civil society.