One day, on my usual way to the University, I spontaneously entered a café. It wasn't just the scent of fresh roasted beans inviting me in, but also a certain energy built around the place. Imagine a warm, wood-furnished space, softly lit and hosting friendly folks. I would soon find out this was the only place serving specialty coffee in Nagaoka. Not only did I meet nice people here, I also made friends in the community and had the opportunity to know the inspirational story of Takuro Aoyagi, the owner of Good Luck Coffee.
Takuro's meeting with coffee was something spontaneous. The journey began 20 years ago, while he was attending Music School and preparing to become a musician. While learning how to play the piano and guitar, Takuro was also travelling to Niigata, the main city in the prefecture, to take songwriting lessons.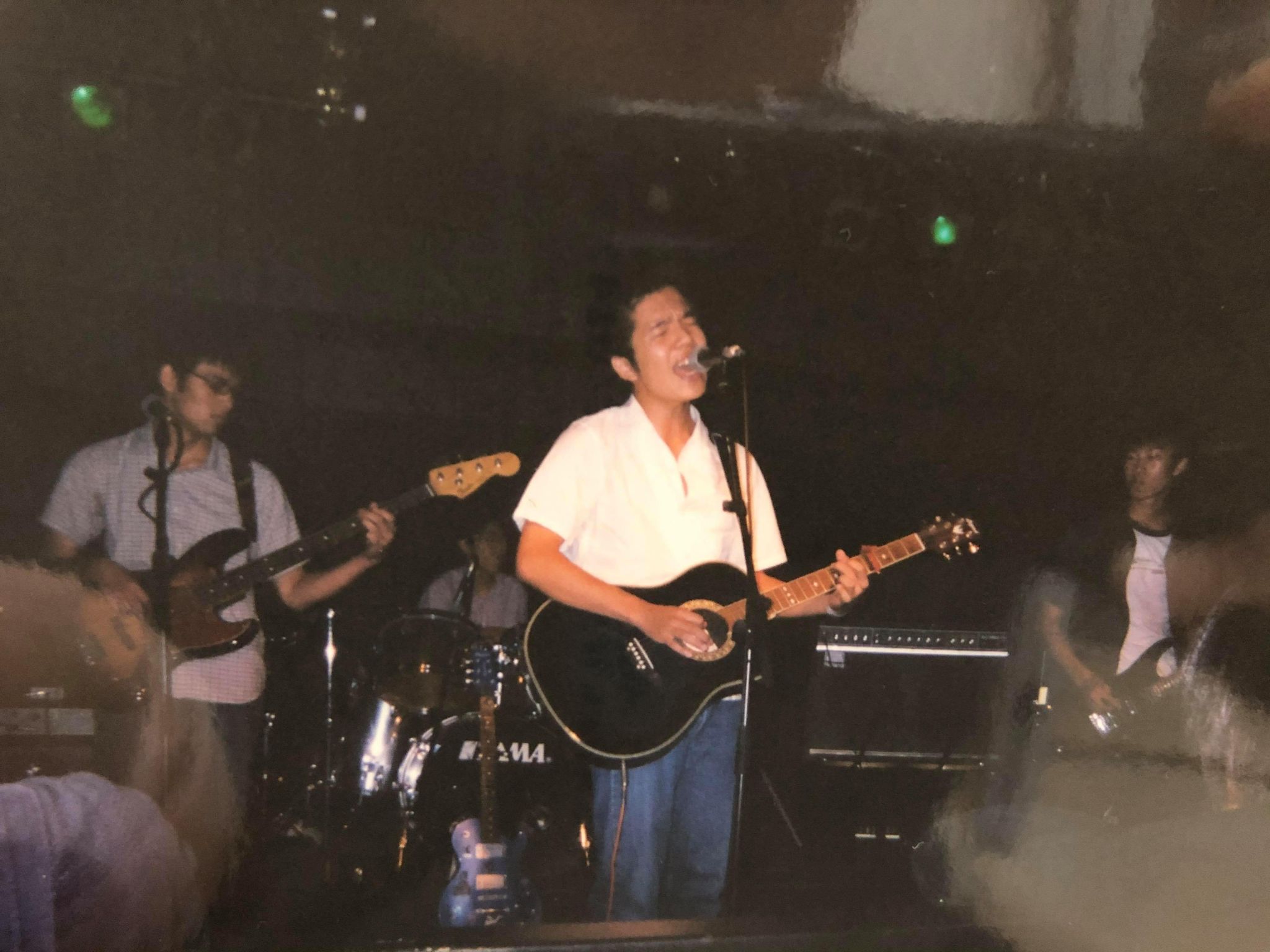 With Music School, during a live session.
At one point, the School organised a musical tour in London. For Takuro, that was the first time travelling outside Japan.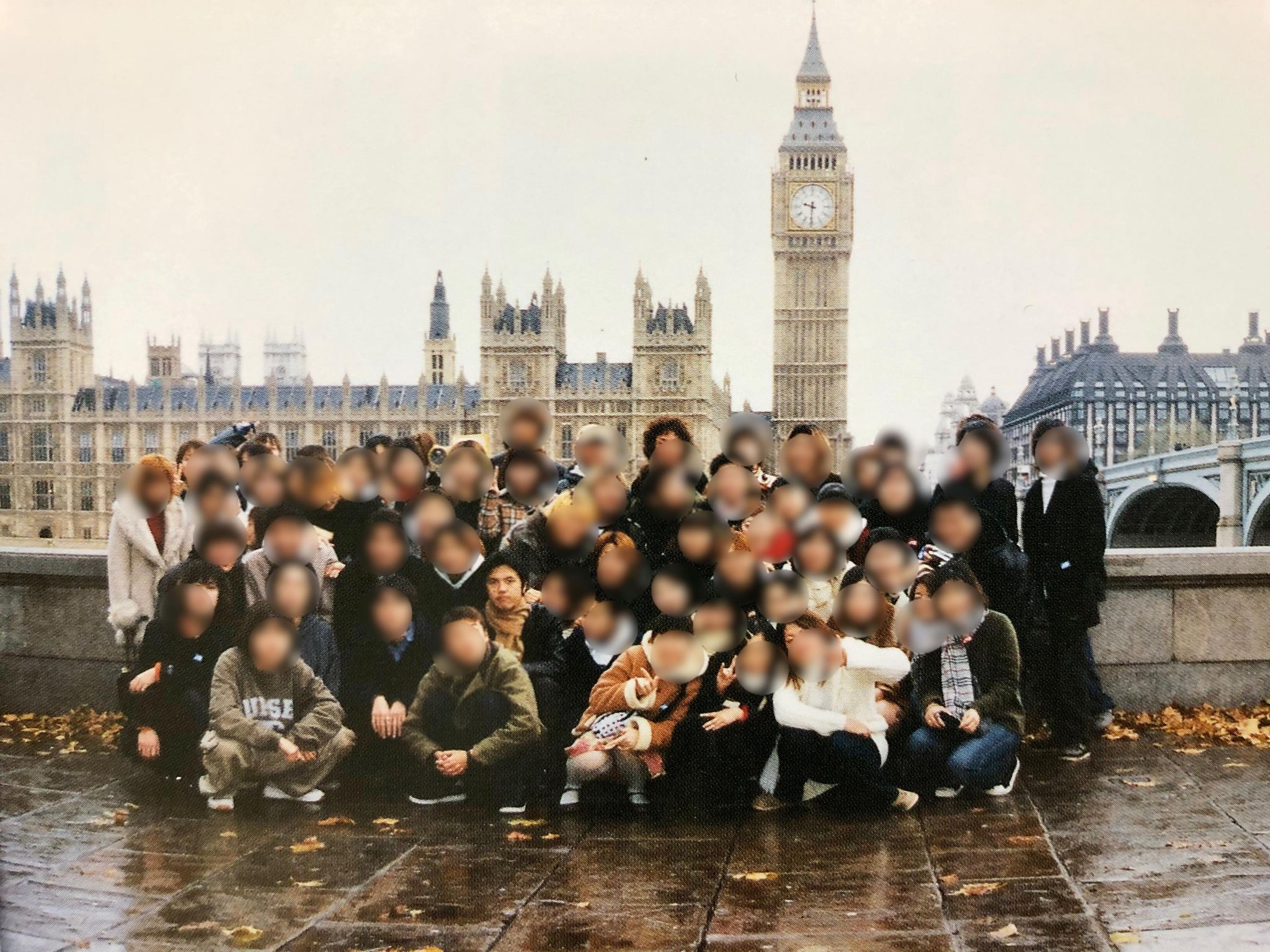 The trip that changed perspectives.
The school staff chose a particular itinerary, so the students could visit music studios, go to concerts or attend rehearsals with other musicians. On a trip to Liverpool, they were accommodated at the same hotel where the Beatles once stayed. Takuro remembers being surprised by a lot of things.
One day, the students were walking around Piccadilly Circus where Starbucks just opened its first European shop.
"My image of coffee in the fall of 2000 was that of a bitter drink to which you have to add sugar in order to drink it.
They entered to see the place, as the concept was something new at the time. Takuro's perception of coffee was about to change.
Everybody was welcoming and happy to make a conversation. I remember discussing a lot of things with the barista, even though my English wasn't perfect. Somehow, that place made me feel at home, although I was far away.
The coffee shop in London wasn't just offering an exceptional product, but also creating a whole experience around hospitality and human interaction. That trip planted the seed for Takuro's new passion: working in the coffee business.
After returning to his hometown, Takuro thought about ways to recreate the atmosphere he found in London. First thing he did was to take a job at a cafe in the neighbouring city of Niigata and get some experience as a barista.
Responsibility over passion
Unfortunately, the time coincided with Takuro's father losing his life in an accident. He ran a small gardening business at the time that was the family's main source of income.
I was 21 back then. As the eldest son of the three brothers, I made a promise to my mother: to keep the family business running until my younger brothers finish their studies and we have employees still willing to work.
They had three full-time employees and eight part-time employees, all passionate gardeners. Takuro's little sister was in her first year of junior high, and his younger brother was in his second year of high school. It wasn't an easy task to take, but the family was in a critical situation.
For the next 8 years, Takuro put both music and newly discovered passion for coffee on hold and went full time into gardening.
"The decision to become responsible for my family and the employees working at the company was the first major commitment in my life.
The courage to follow a passion
In 2008, a new cafe opened in Nagaoka. Although Takuro was deeply involved with the family's business, his dream of being a barista stayed with him since he entered that shop in London. He went for an interview with this new place and became one of the first employees of Starbucks Nagaoka.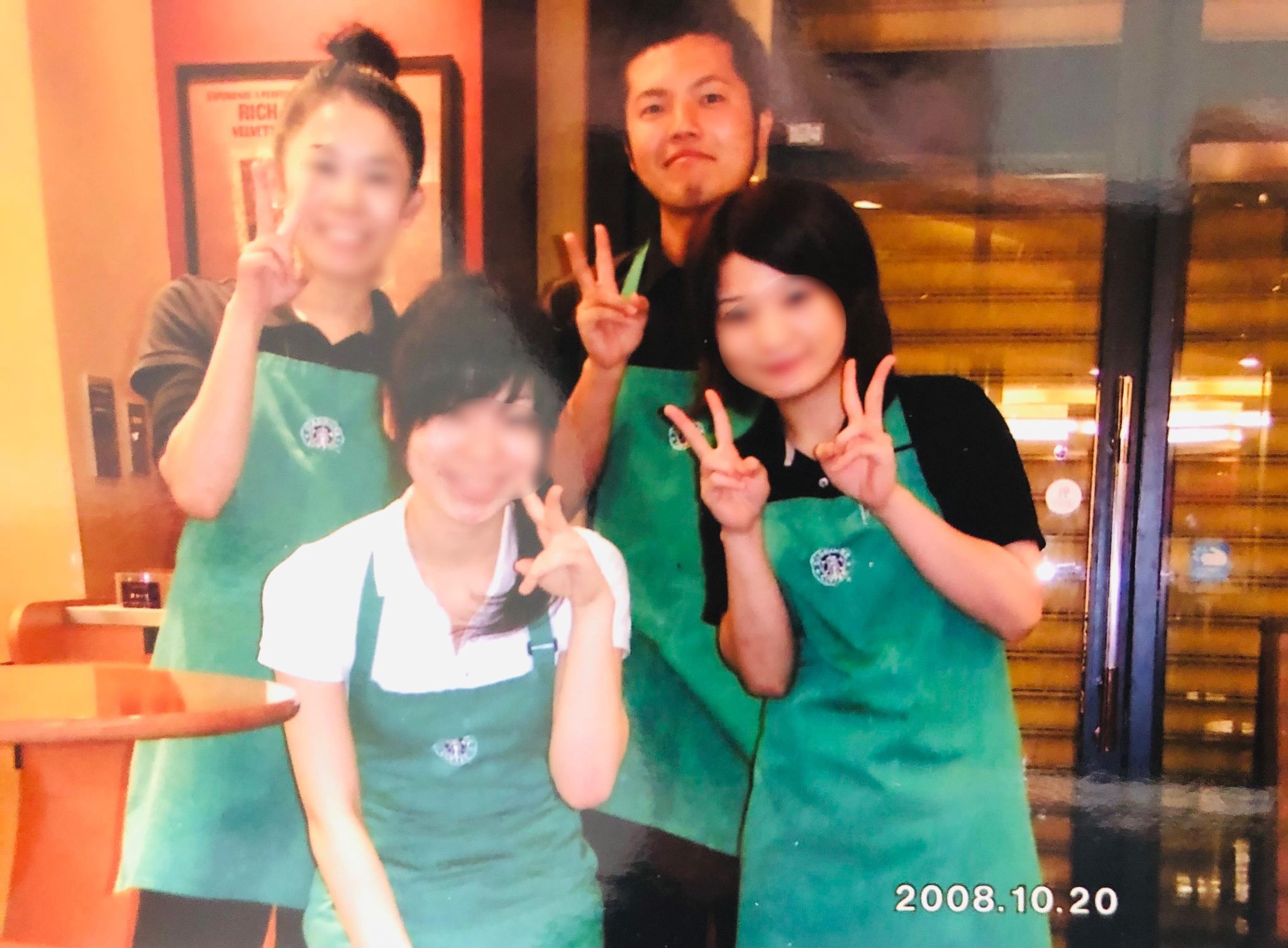 The first job as a barista.
For the next two years, alongside administering the gardening company, Takuro worked part time as a barista. He realised that in order to bring happiness to the customers, it is necessary to be a happy person himself. The new job felt just right.
"In 2008, when I put on my green apron and started working as a barista, I was extremely happy. It became clear to me that this is what I wanted to do from that moment on.
During the time spent in the cafe, not only he learned the skills, but also took notes related to running a coffee business. He studied every available manual and came to appreciate the time spent in the cafe and the tools he worked with even more. He defines these two years as a period of great awareness.
I understood that every moment in life is one of a kind. No matter what you do or who you meet, that exact moment will never happen again. I began to look at life as a series of unique opportunities to grow and learn.
Even though his income doubled as he worked two jobs, Takuro realised that money wasn't the thing motivating him.
It's important to understand the "WHY" in your life. If you understand this, whether you work as a musician, gardener or barista, the thing you do becomes just a tool to bring your ideals to life. 
"I realised that gardeners and baristas had one thing in common: the love for people. That was the "WHY" behind my activities.
First encounter with speciality coffee
In 2010, after finishing working double shifts, Takuro continued to research the coffee industry. One day he read a magazine presenting Blue Bottle Coffee, a shop in Tokyo that prepared a new kind of product: specialty coffee. The concept was something new in Japan. Around the same time,  Stumptown Coffee Roasters – a company from Portland – opened a branch in Tokyo and started to roast selected green beans. The new trend had great appeal to Takuro, so he decided to go to Tokyo and take a closer look at these new places. The first contact he had with specialty coffee was at Paddlers Coffee, in Tokyo. 
"I have never tasted a coffee with fruit-flavoured notes before. It was love at first sight.
That experience took his passion to the next level and Takuro started to look for inspiration. This led him to Hiroshi Sawada, the 2008 Latte Art World Champion and a legend in Japan. They met in 2010, in recently opened Streamer Coffee in Shibuya, Tokyo. On the same day, he met Katsuyuki Tanaka, the owner of Bear Pond Espresso, a remarkable barista with a number of interviews for The New York Times. The conversation he had with him completely shift Takuro's perspective over the coffee business. 
Returning to the reality I knew before seamed impossible. Instead, the dream of having my own shop in which to serve speciality coffee started to gain momentum.
Specialty coffee was a niche thing in Japan at the time, especially in a provincial town like Nagaoka. Although the idea of such a shop was considered extremely risky by everyone around him, he received the blessings from his wife, his partner since he was 20: "It's time to do what you've been wanting for so long." That spring he also met Teru Harase from the roasting company "Allpress Espresso", that shared his vision of opening a shop. The coffee company from New Zealand further became his main coffee provider.
In the mean time, Takuro's younger brother and sister graduated school, so part of the promise he made to his mother had been accomplished. But there was still work to be done at the company. A new family reunion took place and Takuro announced his intention to open a coffee shop, but not before making sure their employees are safe. From 2010 to the end of 2013, he completed his duties with the family business, helped the workers find new jobs and fulfilled the promise he made to his mother 10 years ago.
When I took over the gardening company, I didn't know if this activity would ever bring me joy. But the closer I got to my dream with the coffee shop, the more I realised that caring for plants was also a part of my lifestyle.
"I think I've always liked gardening, but I couldn't admit that because I started this activity forced by circumstances.
Taking care of people's gardens eventually turned out to be an old-time passion itself. So, before moving on, Takuro decided to publicly acknowledge his love for gardening and got certified as a "Master Gardener" by the Japanese Government. The title is one of the highest qualifications in the field.
Takuro's 1st-class gardener certificate.
In 2014, after making peace with the past, he closed down his father's business and opened a new one: Good Luck Coffee.
In Japan, "hospitality" means more than a service or a transactional matter. It is a circuit of feelings and everything rises to a level of experience. For Takuro, the coffee shop became just that.
"When you put your soul into what you do, you reach people's hearts. And when people's hearts are touched, they will share their story further. Emotion is the main vehicle behind Good Luck Coffee.
Luckily, Good Luck Coffee's clients are as diverse as it gets from artists to lawyers, students to retirees, with ages ranging from 10 up to 80 years old. The majority of the customers are returning ones. A community of friends has been created around the place and Takuro believes the positive energy is what brings people back and invite others to enter the shop.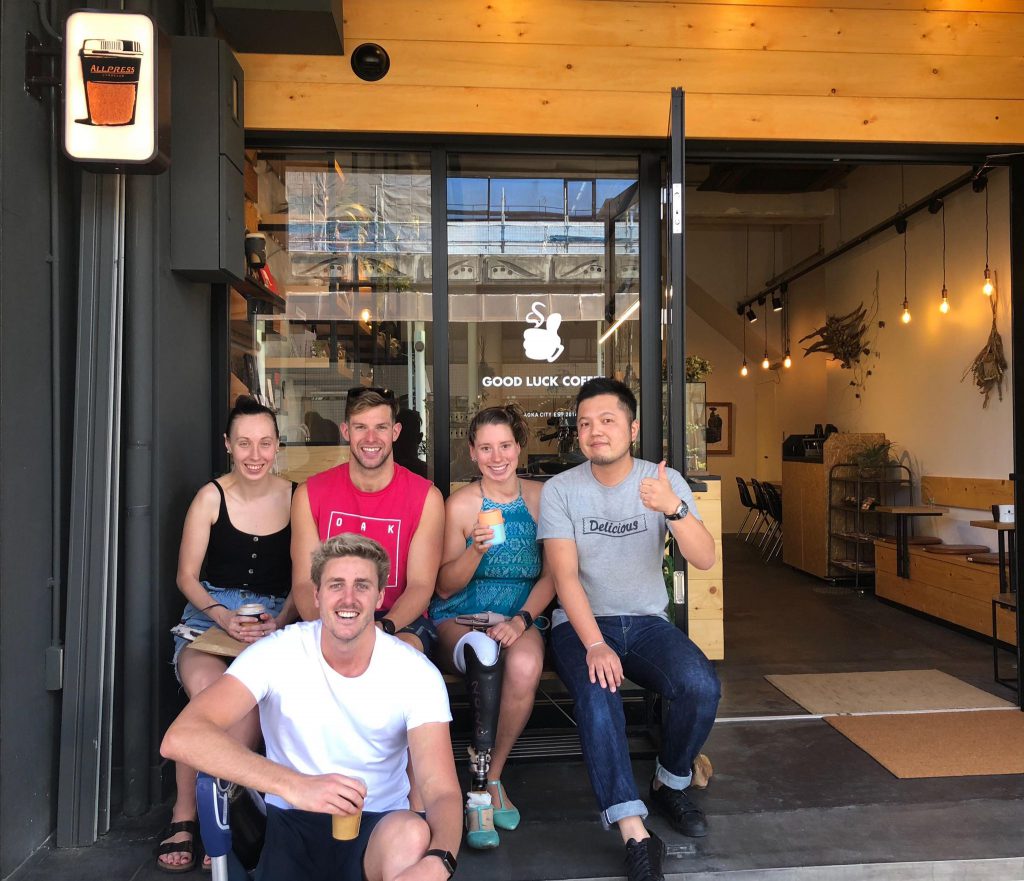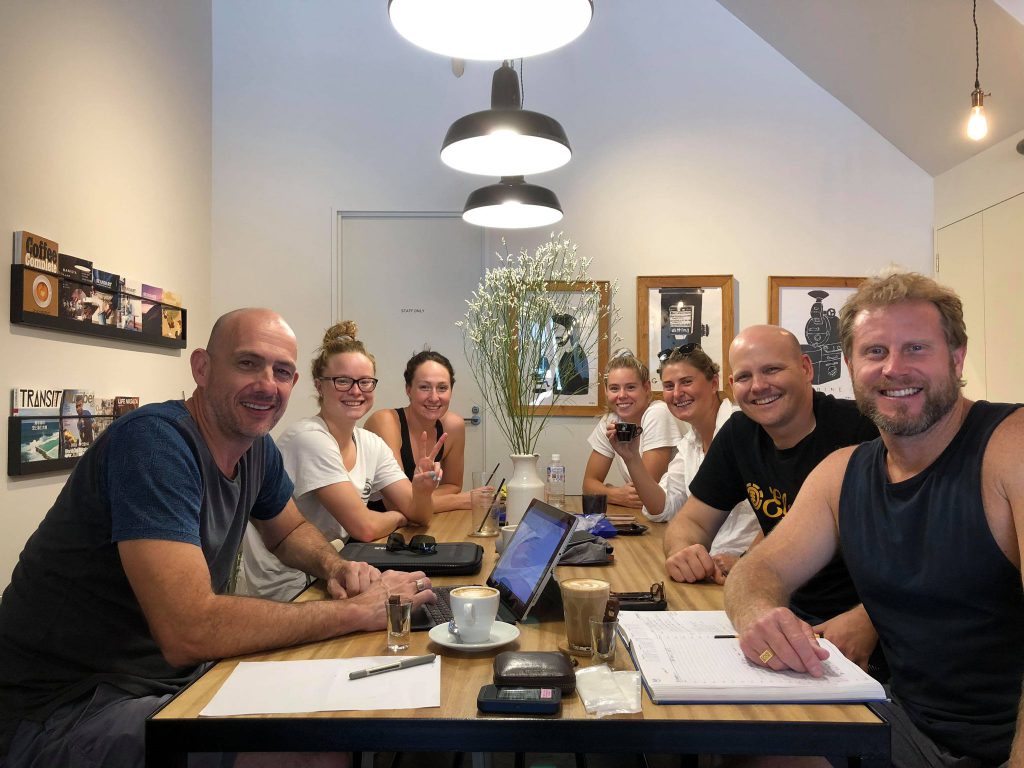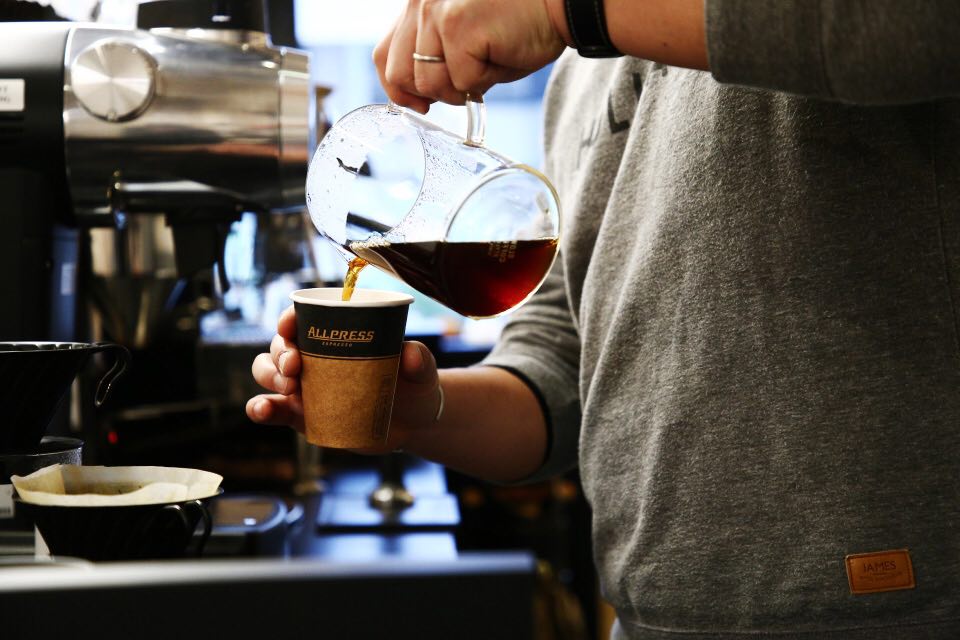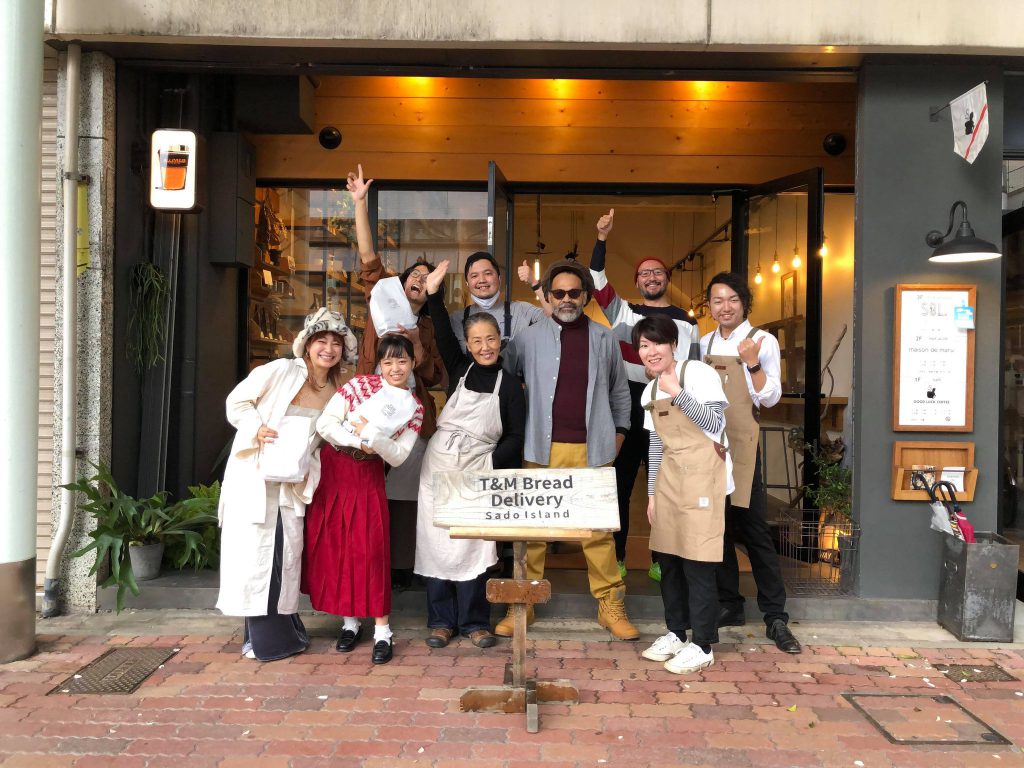 Good Luck Coffee friends.
I think coffee goes beyond a product and a coffee shop goes beyond coffee. The mixture between a great product and a friendly atmosphere creates that safe space to think about things you don't usually consider and meet people you otherwise wouldn't have met.
"I see coffee shops as tools for self reflection and people interaction.
In 2017, Takuro's love for people and coffee went beyond the shop while he organised the first two editions of "Niigata Coffee Festival" – one in March, the other one in October. For the planning of this event he was helped by several volunteers from the Nagaoka Institute of Design. Both sessions were big successes. The first one was attended by over 2000 people and 12 businesses from the coffee industry.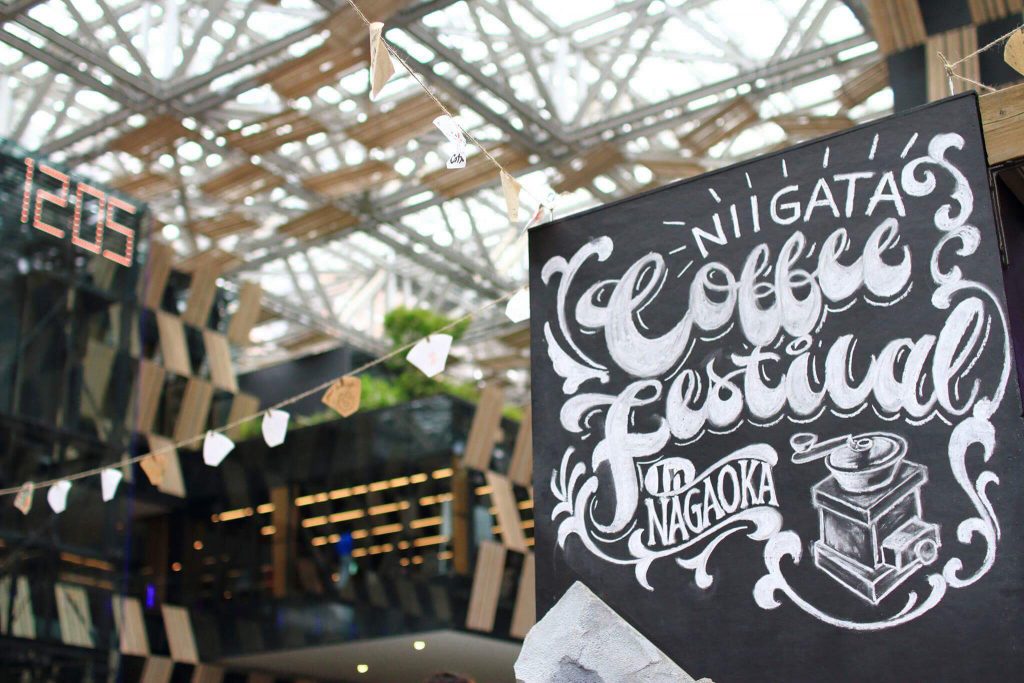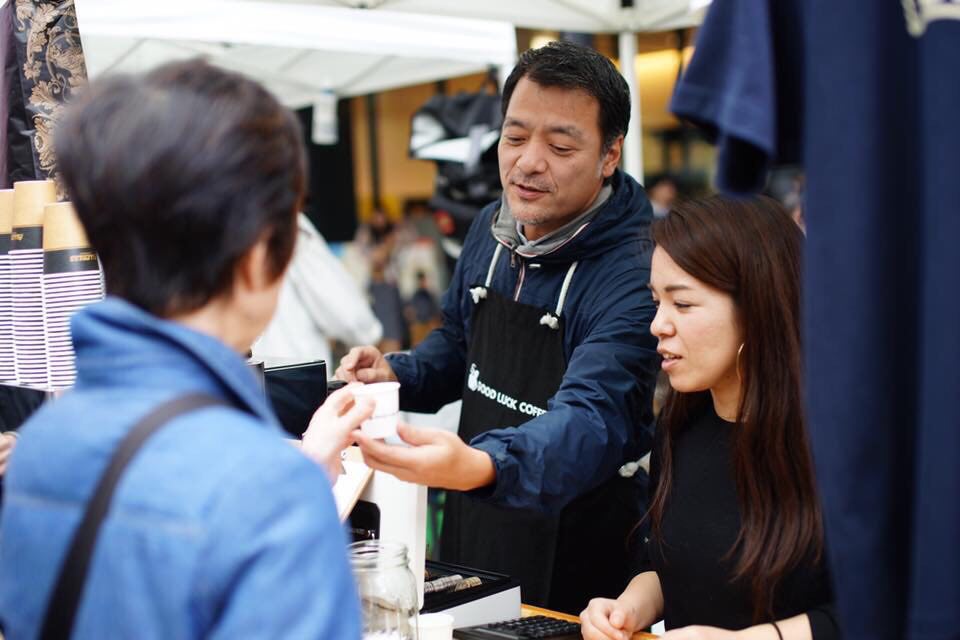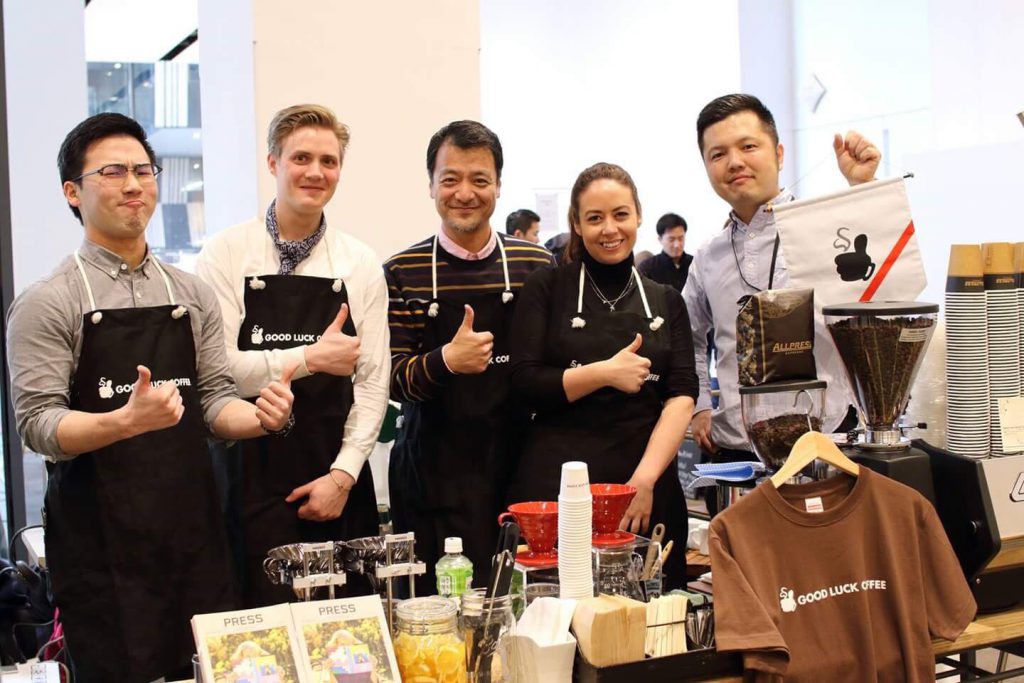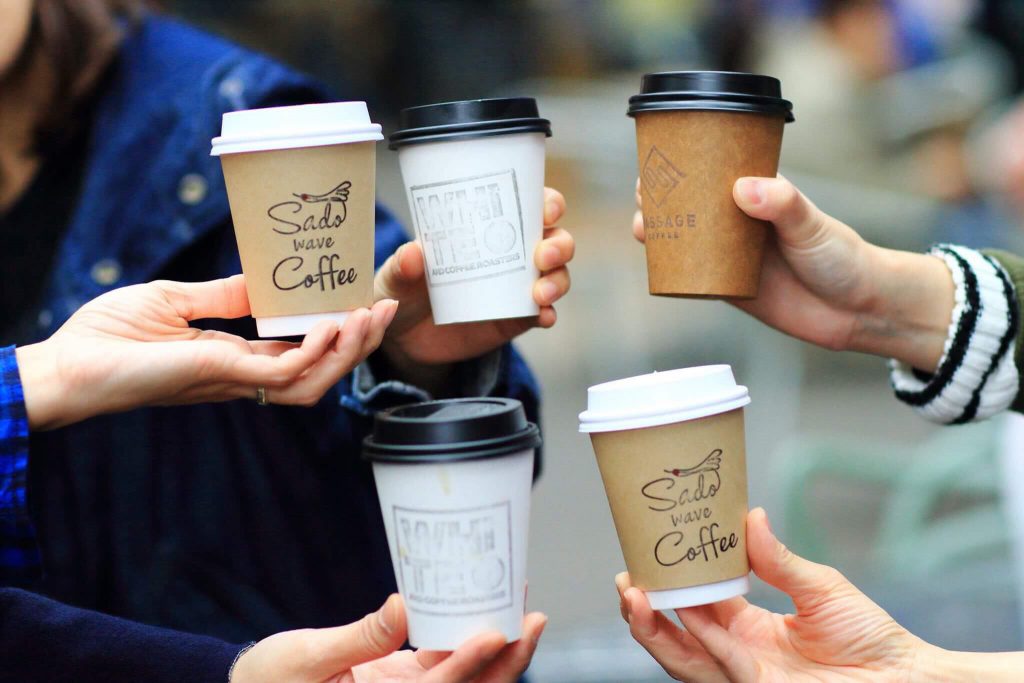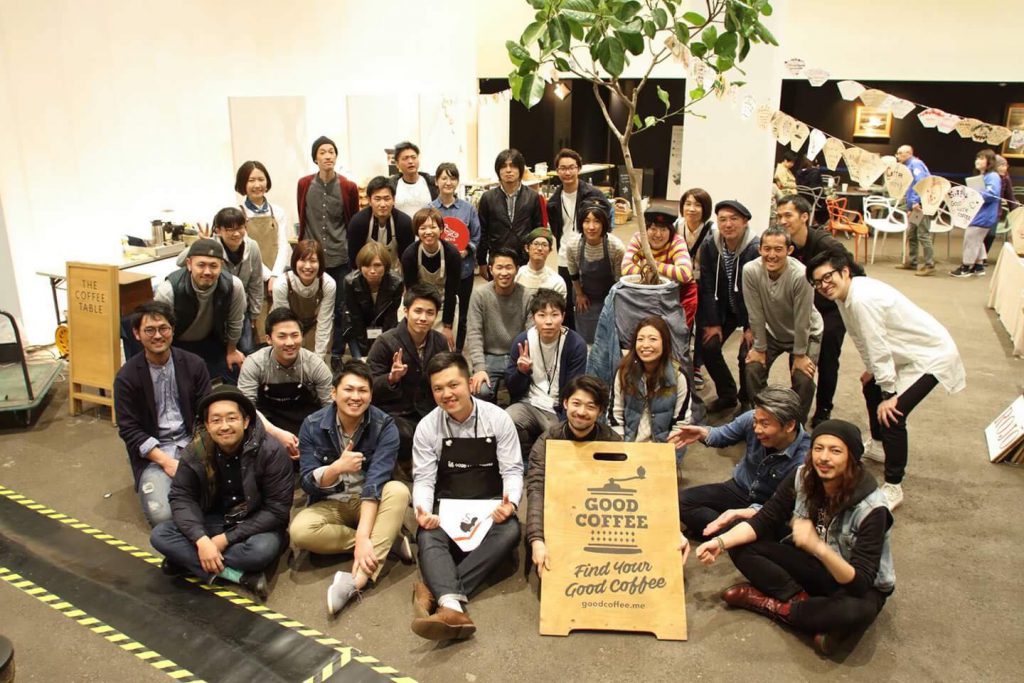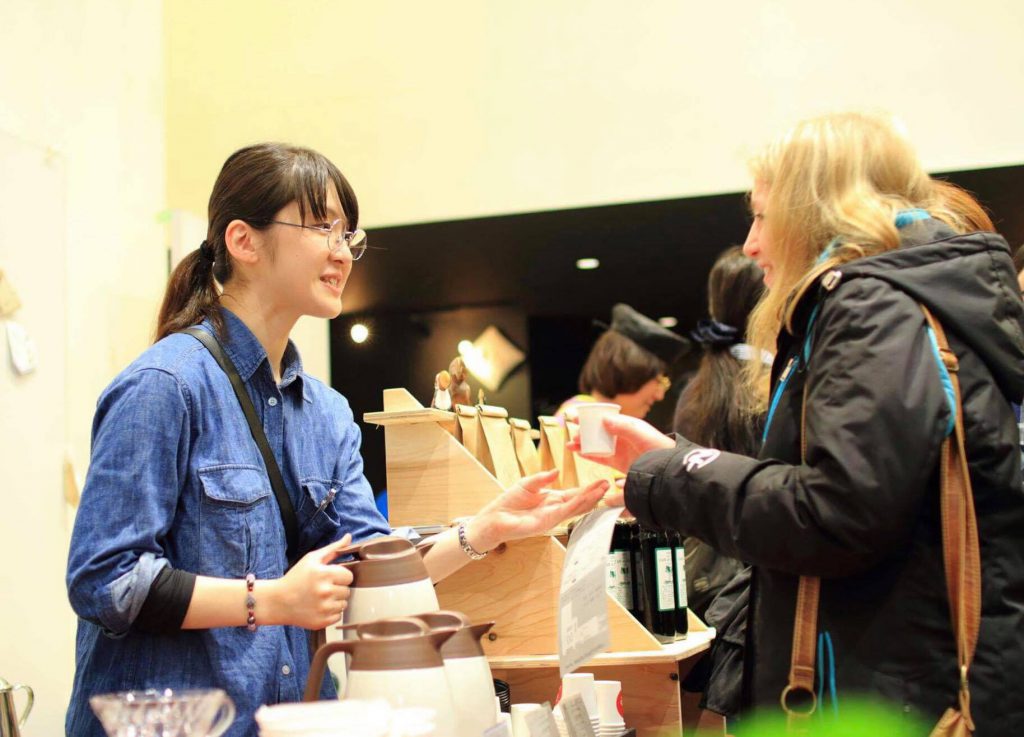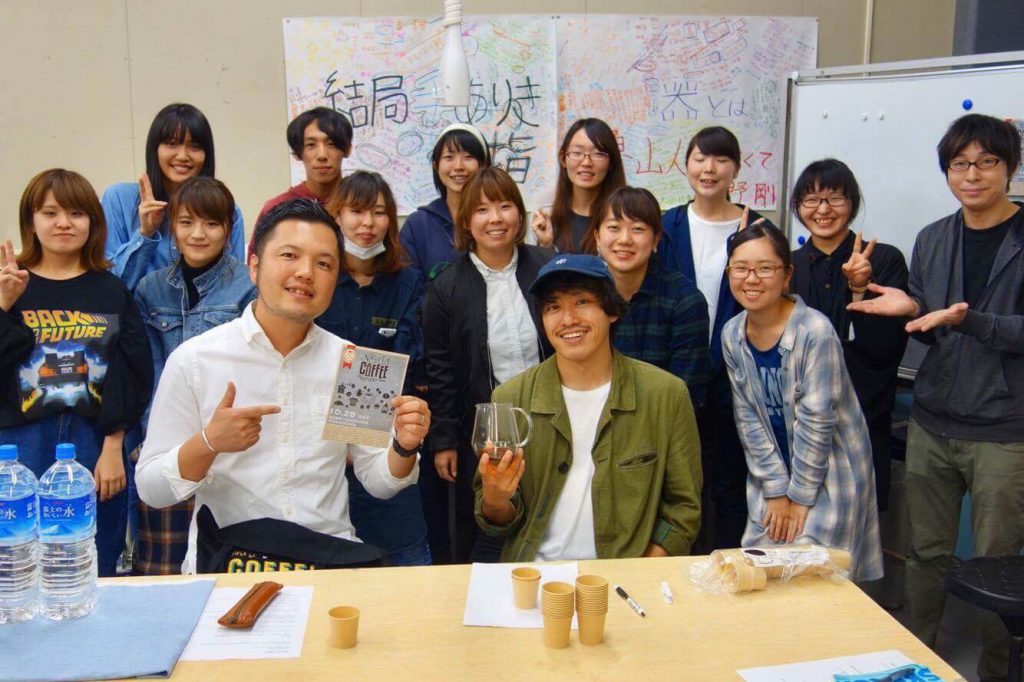 Niigata Coffee Festival, Spring edition.
The autumn edition gathered over 3,000 people and coffee lovers from all over the country. On this occasion, Takuro thought of preparing something special. Similar to a Japanese annual festival called "Tanabata", in which people write their wishes on pieces of paper and display them on sight, Good Luck Coffee's customers wrote their wishes on paper coffee filters, which Takuro exposed in the main plaza, near the City Hall.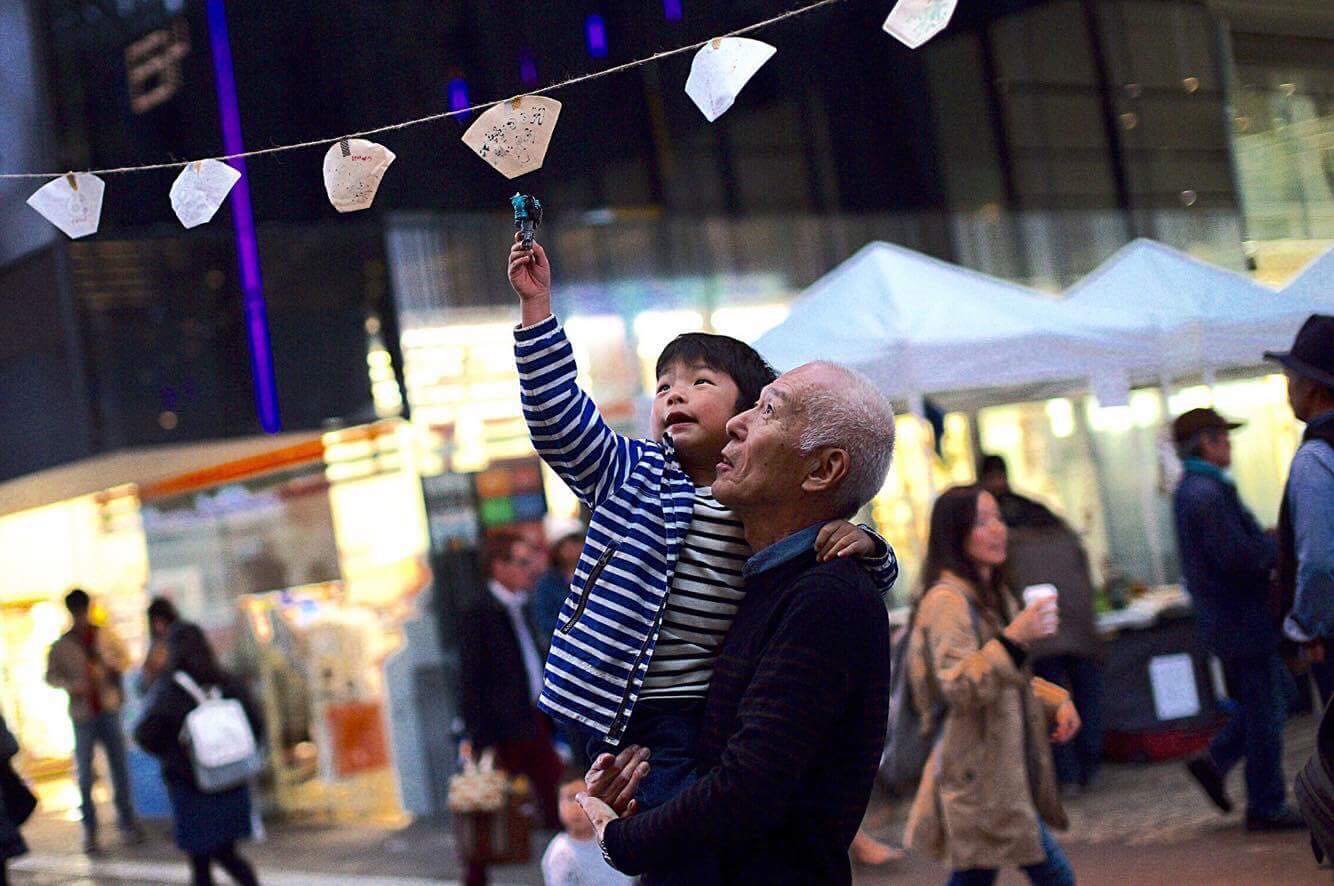 Niigata Coffee Festival, Autumn edition.
Takuro sees everything he does as a way of self expression and a mean of giving back to society some of the "luck" himself encountered during his journey. I asked him how he sees Good Luck Coffee in the future.
I wish I knew the answer. It all started with a passion for coffee and the love for people. This developed into a coffee shop and grew into a festival. I realise that if you trust yourself, believe in what you do and work hard, great things can happen. But it's necessary to start and don't give up easily. 
"I sincerely hope that throughout my activities I contributed to the ways people in Nagaoka interact and I hope my story will bring some inspiration to others.

Takuro Aoyagi

Owner of Good Luck Coffee