On average, plastic bottles take 450 years to degrade. When the current plastic is thrown away, it cannot be decomposed naturally by bacteria or microorganisms. Hence, the lifecycle of plastic in the ocean is a huge challenge. There is a huge gap between the speed of plastic use and efforts implemented to recycling or disposal. What would be a good solution to this pressing challenge, considering the convenience brought about by plastic? And how it has changed the experience of the users?
My name is Ayano Ibaraki and I am a born and bred Nagaokan. I am a third year Ph.D. student in the Science of Technology Innovation department at the Nagaoka University of Technology. My aim is to find new solutions to address the plastic issue.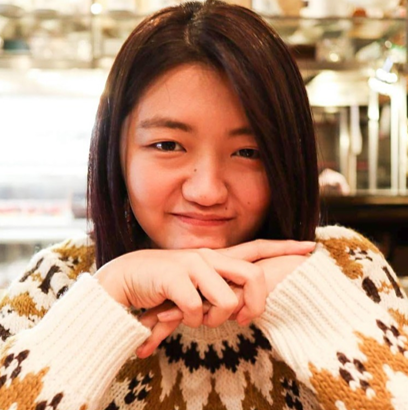 When I was in Junior High School, I learned that sea turtles are dying due to plastic pollution in the sea. The sea turtles would eat plastics, thinking it is jelly fish. Unfortunately, many would choke on plastic that would result in death. Since then, I have always wanted to research on bioplastics that could be friendlier to the environment and the animals.
There are basically two important reasons why I believe bioplastics is the way to go:
Reduces carbon emission –No energy is needed to degrade the bioplastics
Sustainability – And an added bonus if we are able to utilize waste material such as cellulose and chitin extracted from plants and crab shell
Bioplastics can be decomposed naturally by microorganisms. It would take about 1 – 2 years to effectively degrade bioplastics as compared to an average of 450 years for plastic bottles. No additional use of energy (e.g. burning) is needed to make this bioplastics "disappear".
I am working on using natural polymers extracted from various sources such as plants, crab or shrimp shells to find effective utilization of these "waste" materials. I have also learned how to extract cellulose from oil palm waste from the empty fruit bunch and leaves, and now I am working on learning material extraction from crab shell or shrimp shell.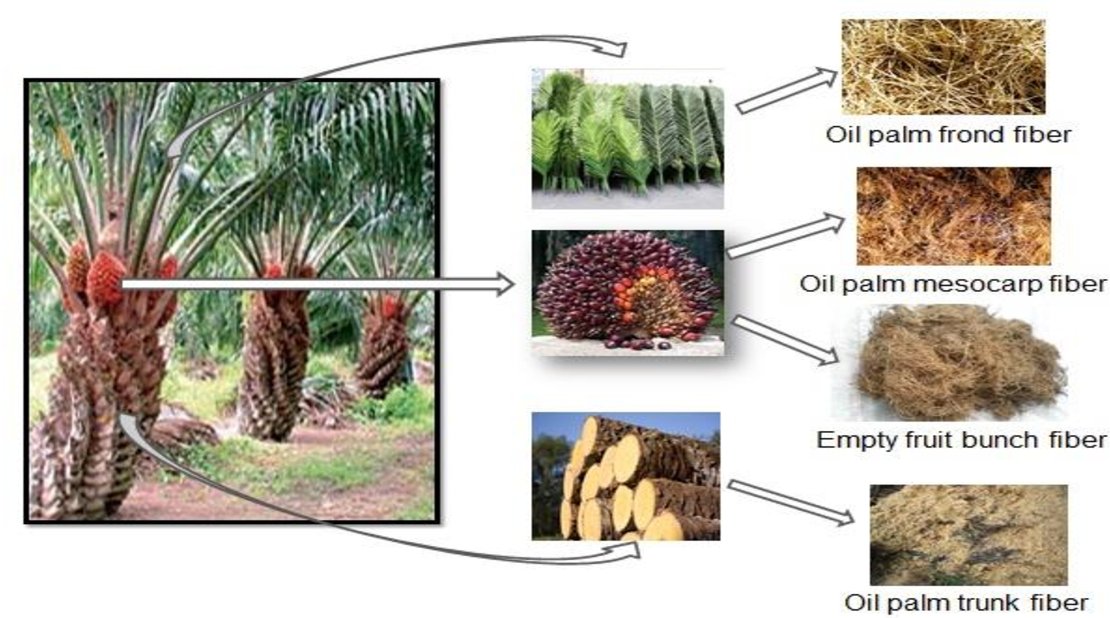 Image of oil palm tree and biomass via Semantics Scholar's website
Why waste material, you might wonder. Sustenance would be the keyword to my research. Using waste material as a source could be a solution to waste management problem. I believe this is akin to killing two birds with a stone.
The depletion of fossil fuels further puts pressure on the need for alternative resources. To put it in perspective, we are all under a "time crunch", a race towards sustainability on Earth.
Currently, I am working on creating a film. We do not have a name for the material, but for the sake of simplicity, let's call it "cellulose film" – it is transparent, and it is made from 100% cellulose. It is flexible and strong, and it does not tear easily. The material feels like the plastic used for packaging purposes. But then only difference is that it is not entirely waterproof.
While understandably the cellulose film cannot be 100% waterproof, my objective is to make it as waterproof as possible. I am looking for ways to increase its waterproof property so it could be used for product packaging.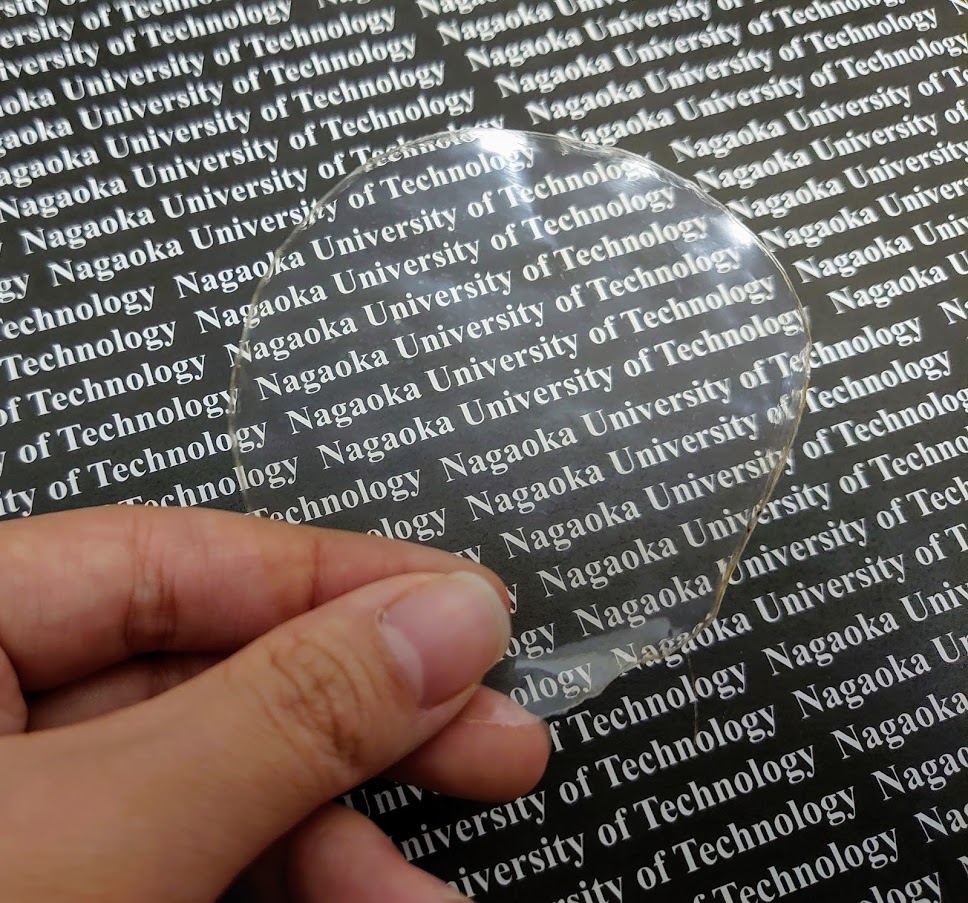 Image of the cellulose film that Ayano is working on in her research
To explain in a simple manner, the cellulose film is made by pressing and heating cellulose. Through some experiments, we found that an increase in temperature increases the strength of the material. It becomes more tensile, easier to pull and stretch without breaking or tearing easily.
Hopefully, we would be able to find some other good use application for the material soon. It would be my dream to see the material used worldwide across various industries.
Besides doing research, I also enjoy winter sports and dancing.
Coming from Nagaoka city in Niigata prefecture, we have a lot of snow. Areas along the Sea of Japan receive one of the highest snowfall in the world! I love winter sports, especially snowboarding. While snow looks beautiful, it is hard work shoveling snow off the driveway everyday. I do joke about it sometimes, but I really hope to live in a place where I don't have to shovel this much!
I hope you'd have a chance to experience snow in this region of Japan.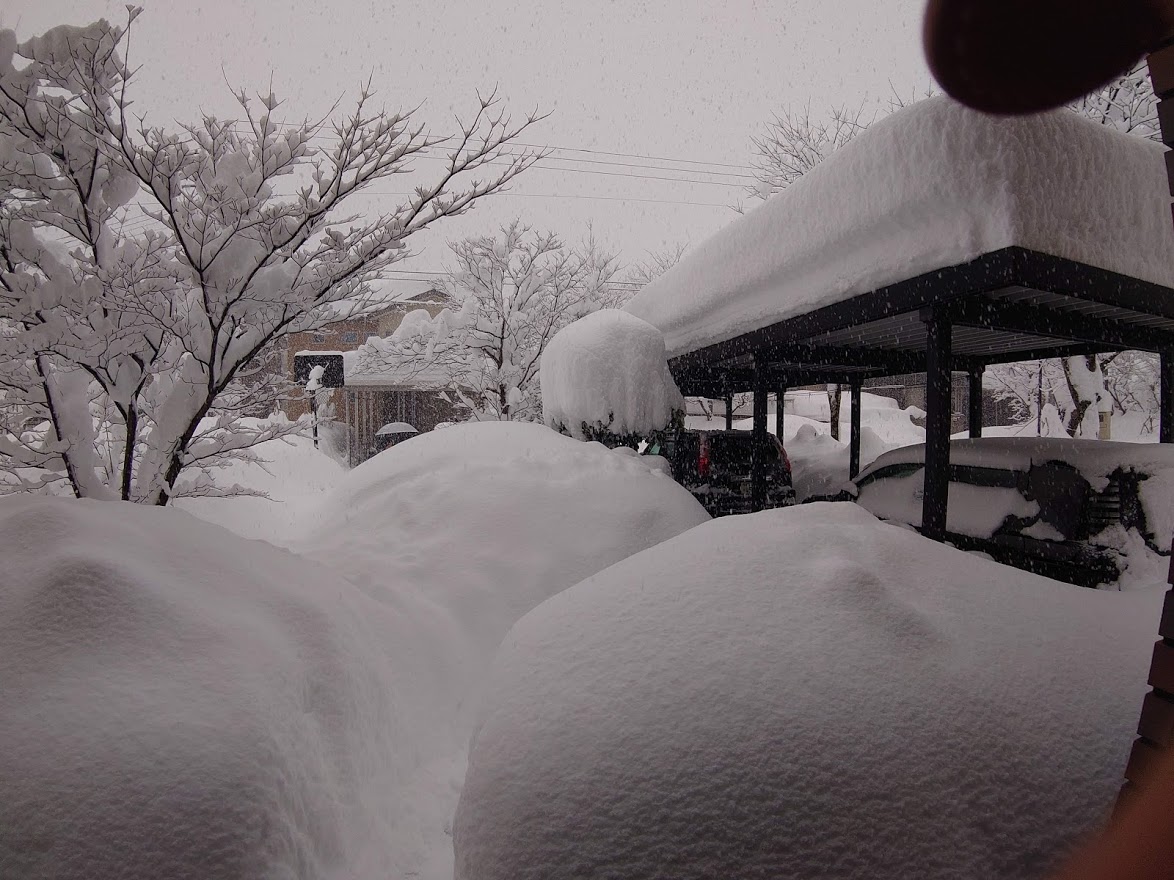 Nagaoka City receives high snowfall annually. Image of the parking area covered in snow.
There are around 35 students in our laboratory. Over 50% students are international students, and I really enjoy having the opportunity to interact with them in English.
At the laboratory, I find myself bridging the gap between our international colleagues as well as our Japanese colleagues. Due to large cultural and language differences, it might be difficult for people to see eye to eye. I am glad to have opportunities to resolve the challenges and facilitate understanding between people. I also assist my laboratory mates by contacting suppliers or repair company if our machines were to break down.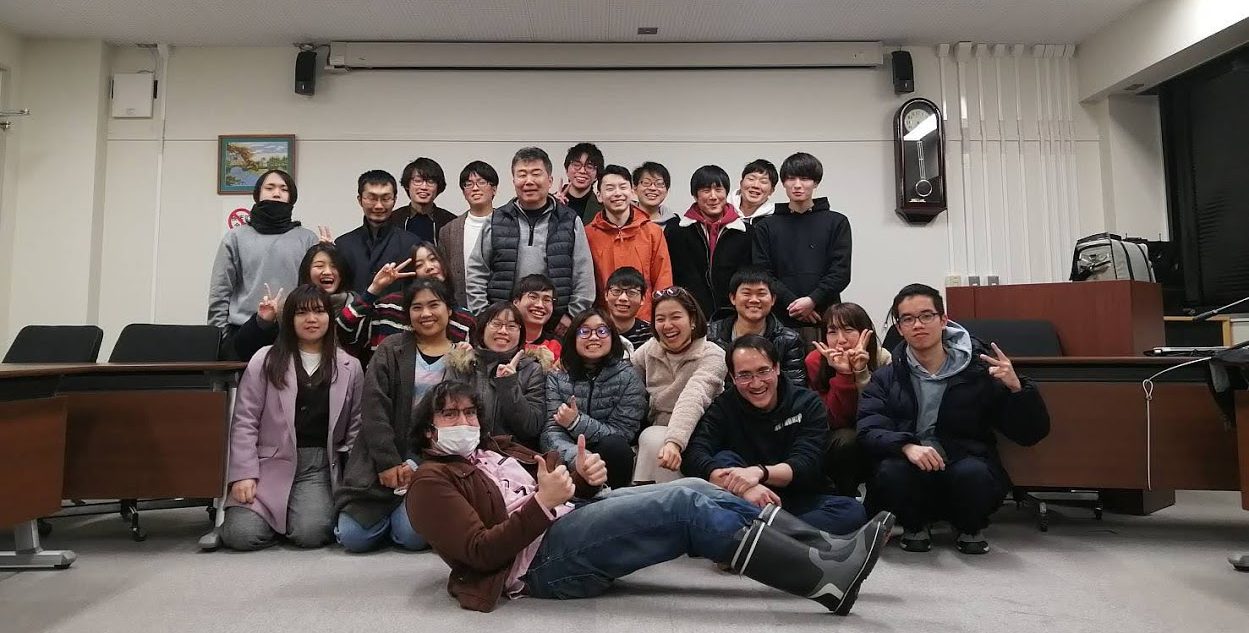 A photo of Ayano's Laboratory Professor and colleagues
I find value in seeking new ways to solve problems. From what I have experienced at the laboratory, I realized a distinct difference. Under normal circumstances, when Japanese people get together to solve a problem, we tend to have our own way to solve it (a.k.a. the Japanese way). But when we have a diverse group of people from different backgrounds, we have to consider a hybrid solution that works best for everyone.
The experience gained at the laboratory has helped me have a wider perspective, and I hope to develop a global mindset before I enter the working world.
Personally, I enjoy the International Potluck party that we have annually. We have had students from Thailand, Viet Nam, Mexico, Myanmar, Japan, Malaysia, and Sri Lanka sharing local delicacies with each other. Unfortunately, during the corona times we could not have this party. I believe that food unites people and opens our minds to diversity.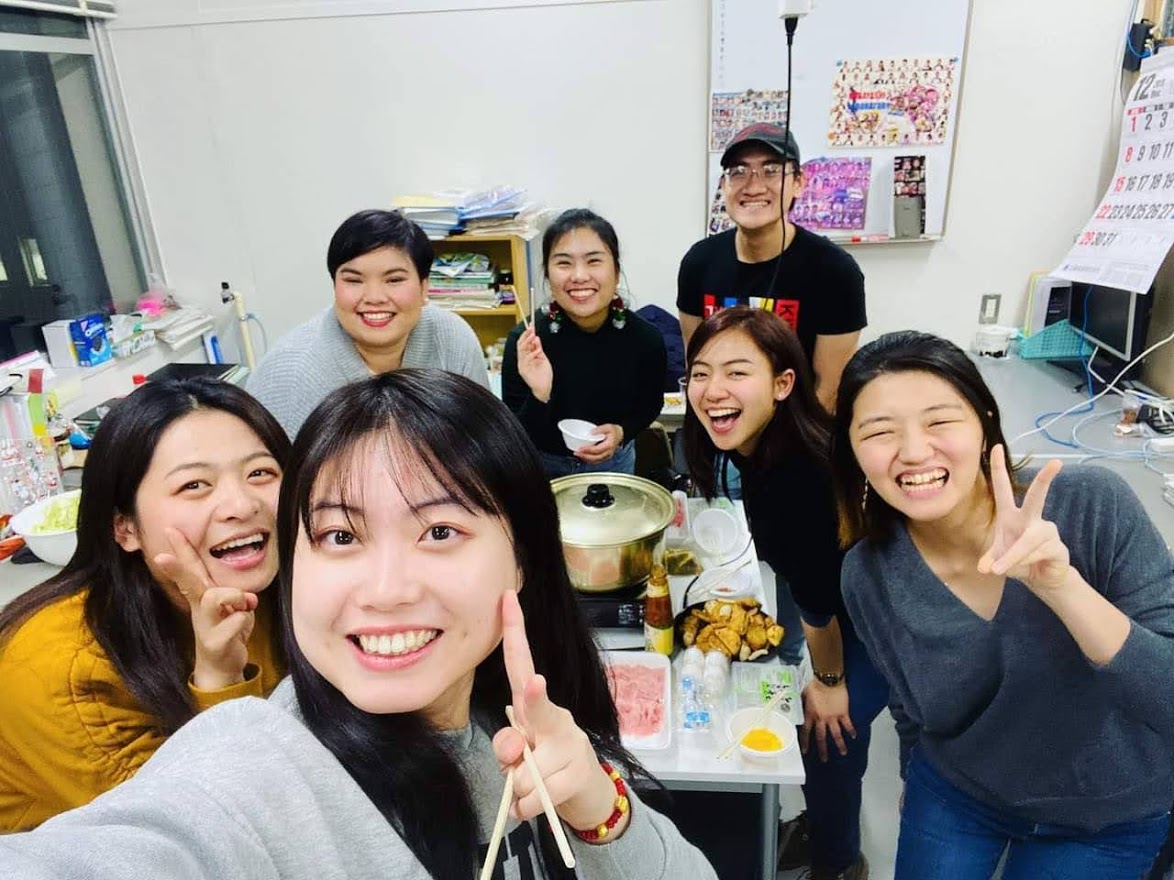 Ayano and her friends enjoying a meal together
In 2017-2018, I had the opportunity to visit Malaysia for 6 months. I went to Universiti Sains Malaysia's Chemical Science department in Penang. There, I had the opportunity to study cellulose extraction from oil palm waste. This experience was an exceptionally important part of my research process.
People in Malaysia are friendly and kind to international students. I felt very accepted and included during my 6-month stint there.
Besides spending time working on my research, I had opportunities to try good food. I particularly enjoyed the Roti Pisang from the cafeteria called Subaidah in the University. It is cheaper and more delicious! Other food I enjoyed were samosa and Nasi Goreng. I also have to say this,
KFC in Malaysia is the best!
After trying KFC in Malaysia, I decided to try KFC in other countries, but nothing could match the Malaysian KFC. Hands down, it was the best!!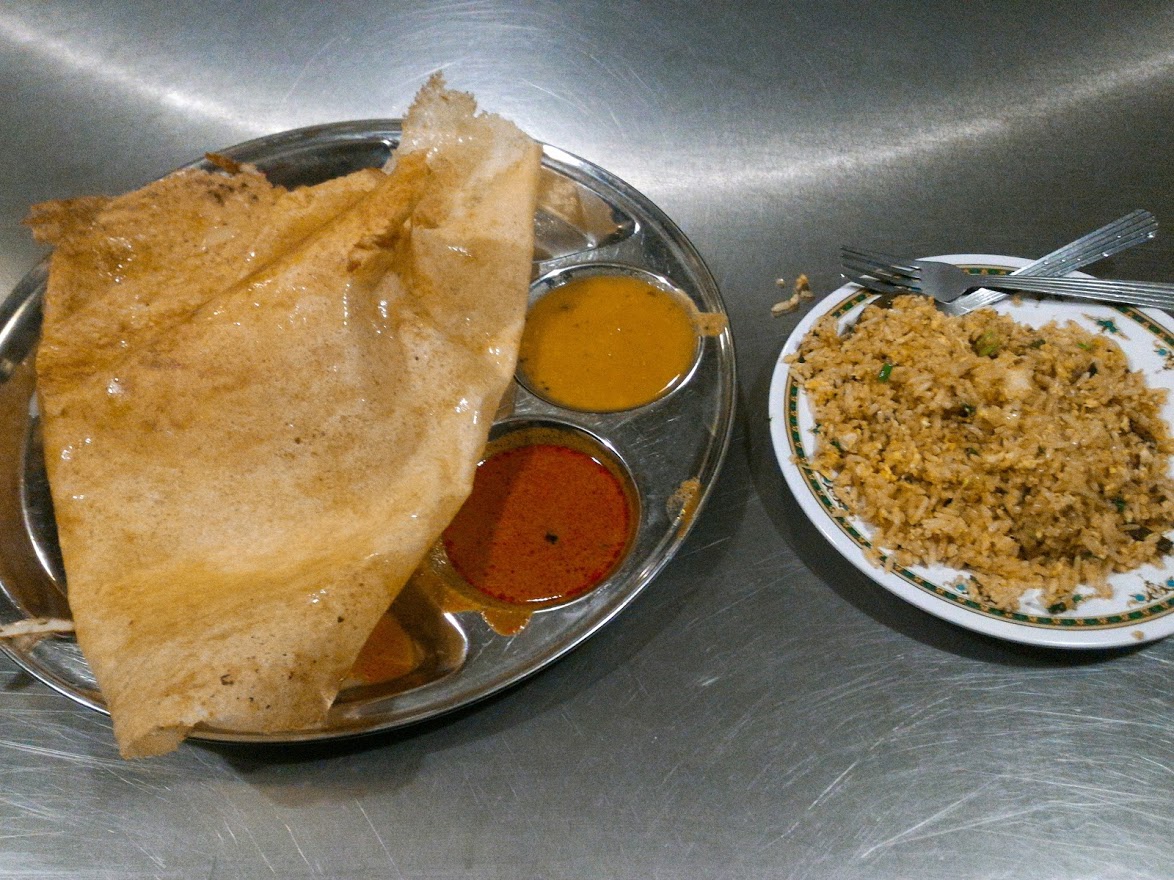 Delicious food served in Malaysia
Cultivating an International Mindset
There are so many upsides to being a Ph.D student. I had the opportunity to meet people from around the world. One of the most interesting discovery was the concept of religion. An Indonesian friend of mine asked about my religion and was subsequently surprised that the concept of religion is different in Japan as compared to the world. I learned more about the different religions in Malaysia, and I was lucky to be invited to two Muslim weddings. I learned much more about the culture, customs as well as food restrictions of my friends.
A collection of photos from Ayano's experience in Malaysia
I consider myself lucky to be invited by my friends to try durian. Surprisingly I found the smell and taste rather acceptable. I appreciate the experiences I had in Malaysia. It made me realize the importance of having an open mind when I am in a new environment.
I absolutely enjoyed my stay there and hope to visit Malaysia again someday soon!
As a research student, it is difficult to take our mind off work. When I am at the university, I would be busy working on my research. When I am home, I would have a flood of thoughts coming through all the time. My solution is to take on a part-time job so I could temporarily disconnect and focus on doing something outside of my research.
I work at a used bookstore close to the university because I love Manga (comic books). Even though I know I would not be able to read them when I am at work, it gives me a sense of satisfaction when I get to be surrounded by the things I love while working. I also get to make friends from outside the laboratory.
Comic books that could be found at the second-hand shop are reasonably-priced.
Image via Matcha website
Looking forward, I would only have two more years from now before stepping out into the working world. Time will fly by before we know it. I am already working on building my network on the digital platform as well as getting to know more people in the industry to learn more about any potential opportunities. I hope to adopt a growth mindset too!
It would be a great opportunity for me to explore working in an international environment, as I enjoy learning and being surprised by new things! I also do hope to work in a field that is related to my current research. But I am keeping my options open so I would have a chance to explore new opportunities.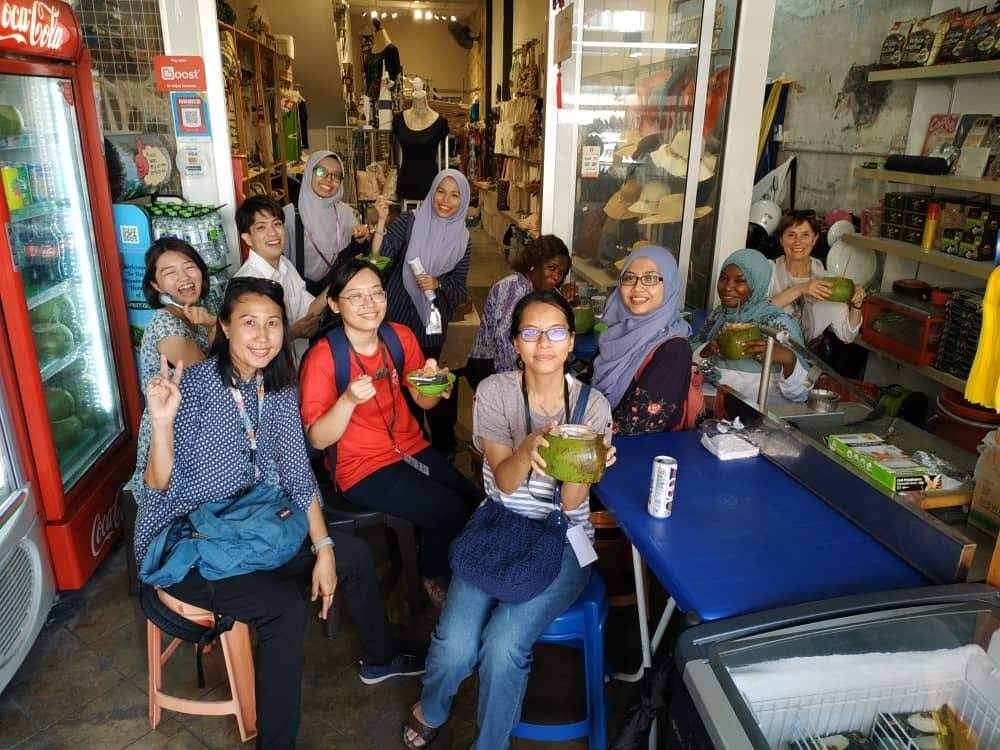 Ayano with good friends she met in Penang, Malaysia
Student Profile
Name: Ayano Ibaraki
Hometown: Nagaoka City, Niigata Prefecture (Japan)
Background: Material Science
Connect with me via LinkedIn