Developing Automation Solutions for the Future of Production
The Nagaoka Review team spoke with Richard Chen, Manager of the Plant Automation Team at Mitsubishi Fuso Truck and Bus Corporation (MFTBC) about his experience in commercial automotive manufacturing and his thoughts on the success factors for developing automation solutions for the future of manufacturing.
NR: Nagaoka Review
RC: Richard Chen
Getting to Know Richard Chen & MFTBC
NR: Thank you for your time, Richard. Tell us more about yourself.
RC: My name is Richard, I came to Japan in 2012 to pursue my master's degree at GLOBIS University. During my studies, my interest in staying in Japan motivated me to search for employment immediately upon graduation in 2013. I was fortunate to find Mitsubishi Fuso Truck and Bus Corporation (MFTBC), a company that is culturally diverse and has a forward-looking commitment to lead the future of transportation industry. These two characteristics were the reason why I chose to join the company.
I started my career at MFTBC in the manufacturing engineering department, with key responsibilities including improvements in production efficiency, safety, and environmental impacts. A few years later, I was given the opportunity to work in the production office's flagship project named "Factory of the Future". Here is where we adapt and deploy new technologies in the production plant with a target to make the plant more efficient and more worker-friendly.
Currently, I am responsible for the Plant Automation team, a team which oversees research and the delivery of new automation solutions that would contribute to positive impact towards efficiency, safety, and ergonomics improvements in the factory.
NR: Tell us more about MFTBC
RC: Mitsubishi Fuso Truck and Bus Corporation (MFTBC) is an integral part of Daimler Truck AG, the commercial vehicles business of the Daimler Group. MFTBC is headquartered in Kawasaki City in Kanagawa prefecture, manufacturing trucks, buses, and industrial engines for over 170 markets around the world with products ranging from the iconic light-duty Canter truck to the heavy-duty Super Great. In recent years, MFTBC also served as a development center for electric and autonomous drive technologies within the larger Daimler Truck network.
In addition, MFTBC also operates under the umbrella of Daimler Trucks Asia with its partner organization Daimler India Commercial Vehicles (DICV). This strategic unit allows the entities to collaborate on areas such as product development, parts sourcing, and production to provide the best value to the group's customers. Feel free to visit our corporate website for more details!
Homepage | Mitsubishi Fuso Truck and Bus Corporation (mitsubishi-fuso.com)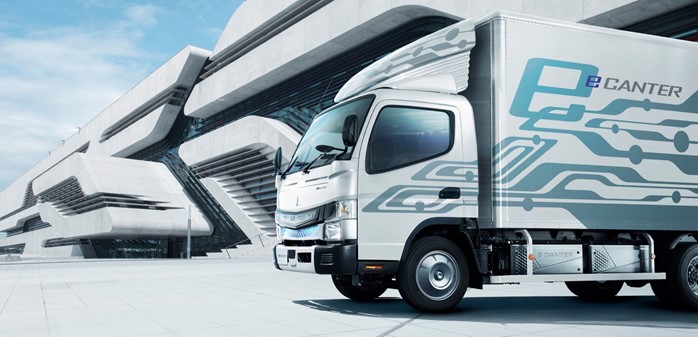 The world's first mass-produced EV truck with zero-emission to support the growing needs for greener solutions. Image courtesy of Mitsubishi Fuso.
The Future of Robots
NR: Let us take a quick dive into the future. How do you see automation change in 5 to 10 years into the future?
RC: In the recent decade, the term "VUCA" and "Agility" has become a staple term to describe the rapidly changing business environment. The recent COVID-19 pandemic just further highlighted the rapid changes happening on the global demand and supply chain. Being in the manufacturing industry, production flexibility is definitely a key success factor for staying competitive.
While fully automated lines would make sense for stable, high-volume, and low-variation products, it is not the most efficient method to be used for a product that sees changes in volume and production variations.  These challenge leads to my opinion that we are likely to see more adoption of "supportive automation" using collaborative robots in the production line to address this need for flexibility.
NR: What is a collaborative robot, and how would "supportive automation" increase production flexibility?
RC: The collaborative robots are designed to work alongside humans, such that there is no direct separation between the robot and the human in the workspace. This concept does not strictly apply to only robots under industrial usage, it can also be extended to domestic and professional-use service robots.
As for "supportive automation", I would describe it as the automation of tasks that focuses more on increasing the efficiency, ergonomics, and safety of the worker. The tasks we consider are usually non-value adding tasks such as the transportation of parts or preparation of parts for the assembly of the product. Supportive automation can allow the human worker to complete the same task in a shorter amount of time, which allows them more capacity to handle other tasks in the production line. Production flexibility often refers to the line's ability to handle different products and changes quickly, and the concept is to have the collaborative robot perform supportive automations which brings out more capacity of the human worker to address the needs of production changes.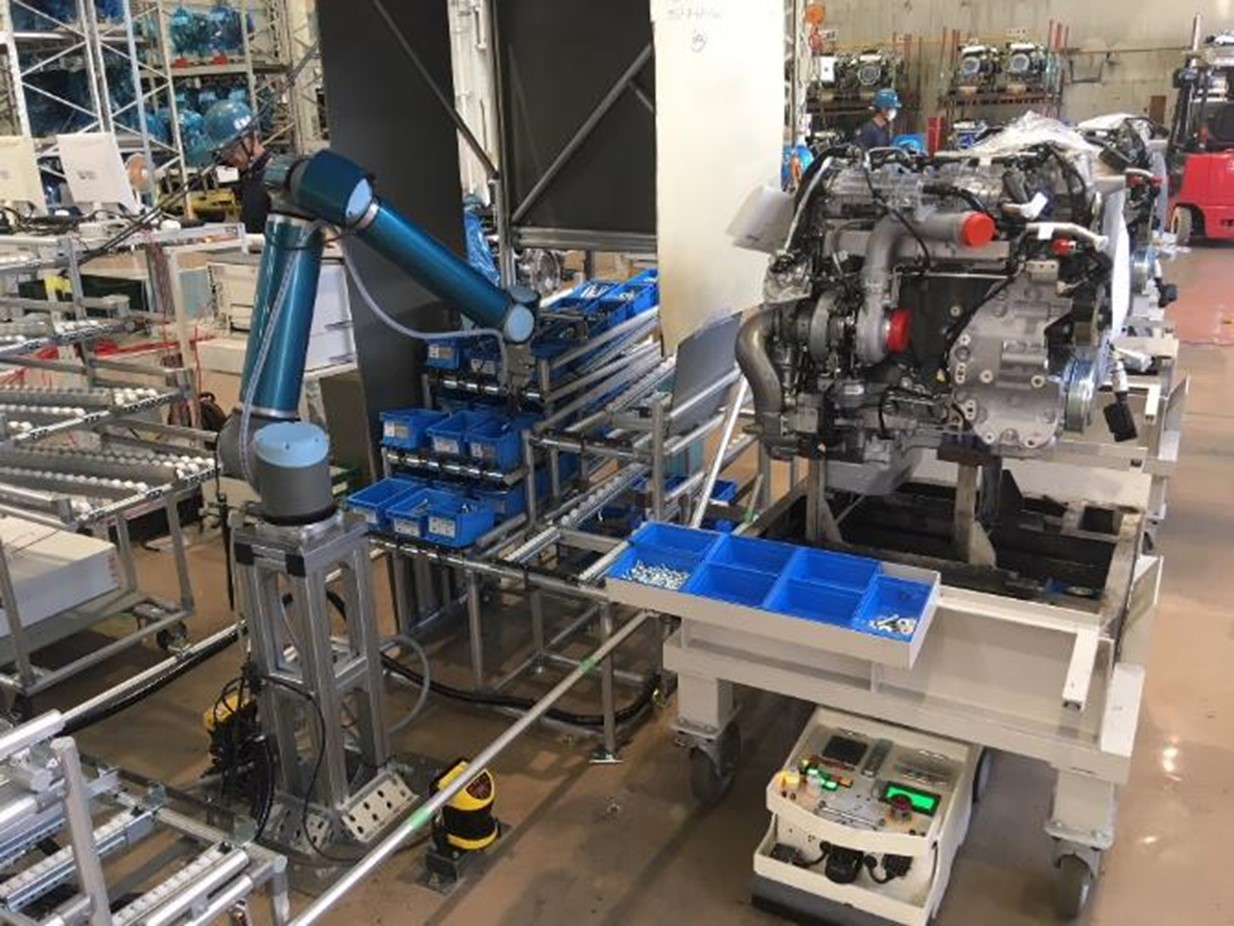 Parts Preparation Pick-and-Place by Collaborative Robot. Image courtesy of Mitsubishi Fuso.
The collaborative robot's advantage over traditional industrial robots can be realized if two points below are direct requirements for the automation activity:
There is limited space: Collaborative robots can be setup to work closely to a human without the need of full safety fencing, hereby reducing the space requirement in the shop floor and easier changes of the layout
The automation tasks change often: Collaborative robots are usually easier to program with direct teaching functions, so the re-deployment or modification time can be shorter and could be completed by in-house efforts without extensive reliance to robot system suppliers, hereby reducing potential costs and installation time
NR: What are the challenges you see in the implementation of supportive automation which utilizes collaborative robots?
RC: The challenge that remains now is to identify the right jobs and the right scope to automate, as collaborative robots are often much slower than a human worker for small tasks. In addition, we should not neglect the impact collaborative robots would have on quality, cycle time requirements, and proper fail-safe processes for supportive automation use cases.
In addition, because the concept of collaborative means that worker will work closely with the robot, we must provide the necessary trainings to ensure that the worker can interact safety with the robot and have the correct expectations on the collaborative robot's abilities. Without the direct worker's support and feedback, it can be very challenging to setup the robot in an efficient way and not get in the way of the worker's other tasks.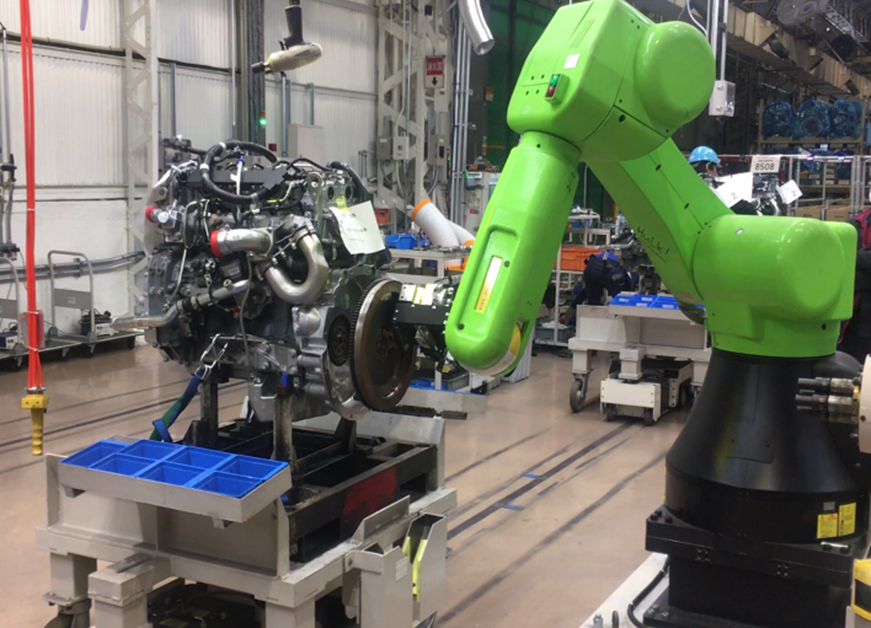 Collaborative Robot for Heavy Object Placement for Worker. Image courtesy of Mitsubishi Fuso.
Importance of Research and Feedback
NR: Due to the nature of the industry, how important is research to your team at MFTBC?
RC: For the Plant Automation team at MFTBC, research is a key activity to build our own know-how and to have a better idea on the feasibility of the automation concepts, and if further investment is economically justifiable. Without researching newer solutions or methods, it is hard to come up with ideas that we can propose for implementation. It is also important to point out we make the best effort to select research topics with a pragmatic view, to choose research topics that we know that can be likely realized at the production line and bring tangible benefits.
NR: What is important to think about when bringing things from lab to shop floor?
RC: One of the key success factors is to invest the necessary time testing the core components of the automation with the operation team's feedback in the laboratory environment. This allows us to change things without directly impacting the production directly, so reaching an acceptable maturity with the operation team in the lab is very important and can save days of adjustments at the line side. For newer processes, it is also important to perform system stress tests that mimics a single day's workload in the lab to ensure we get the necessary stability and cycle time from the robot.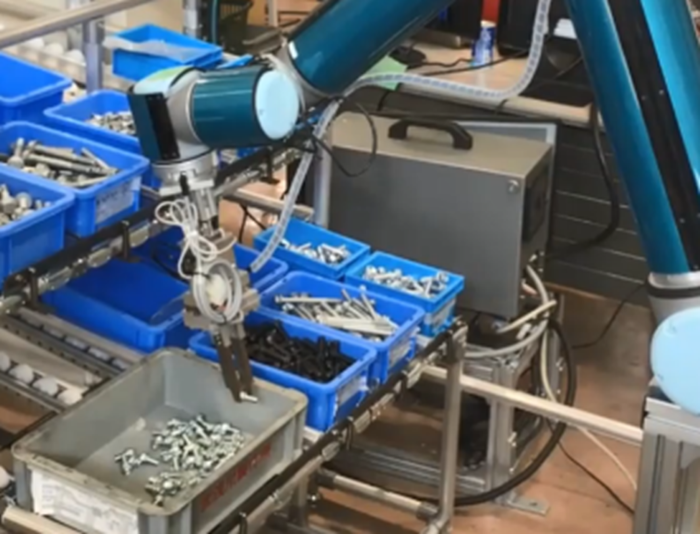 Shop Floor Pick-and-Place Automation Demands High Stability. Image courtesy of Mitsubishi Fuso.
People as Key Success in Business
NR: What would be key success characteristics in the Plant Automation team?
RC: I personally appreciate the following two characteristics: Open-minded thinking that challenges the status quo, and a pioneering mentality to positively take up new ideas while managing failures effectively.  After all, when dealing with new technology and processes, we need to be prepared that plans may not easily turn into reality, and we usually need solve many problems before finally realizing a new concept.
NR: From the previous question, we see resilience as an important mindset to cultivate. Do you have any advice or thoughts to share on some example methods or ways to increase resilience in oneself?
RC: One way that worked for me is making the effort to apply critical thinking as a way to foresee and manage risk effectively; some famous critical thinking/analysis methods such as "5 Whys" and "The Logic Tree" are useful to setup the framework and dig deep to the root cause of problems.  By using these methods, you can slowly build experience and confidence towards your ability to tackle and solve problems.  Of course, there may be failures which cannot be mitigated, but at least you will have some mindfulness and be more prepared to accept it as a possible outcome.  Another hint is to always think about "Lessons Learnt"; what you didn't get right becomes your experience, and being reflective in a positive way can help strengthen resilience.
NR: Do you have any advice for future potential employees who might be interested in joining MFTBC?
RC: Keeping an open mind, and having a pioneering spirit and can-do attitude would be best. Thank you for your interest in MFTBC in advance and I am looking forward to possibly working with you in the future!
NR: Would MFTBC be looking forward to offering internship opportunities as well as future employment opportunities for students? What is the best way to be informed of available opportunities at MFTBC?
RC: I would definitely recommend checking MFTBC's Career Website (Link below) for the most current information on career opportunities and hiring status.
採用情報 | Mitsubishi Fuso Truck and Bus Corporation (mitsubishi-fuso.com)
Richard Chen is the Project Management Officer of the Factory of the Future at Mitsubishi Fuso Truck and Bus Corporation (MFTBC). He oversees industry 4.0 implementation performance program for digitalization, connectivity, and automation at MFTBC Kawasaki Plant.