After graduating from a systematic 5-year Engineering program at the National Institute of Technology, Kisarazu College (Kosen), Yuto Kobayashi decided to continue his studies at Nagaoka University of Technology (NUT) with the idea of contributing to the development of Japanese society in the field of technology by creating a robot that could intervene in the aftermath of a disaster, without risking human lives.
NR: Hi Yuto, I'm glad to see you in a different format than the Cultural Intelligence classes, and thank you for accepting the invitation to speak with the Nagaoka Review team.
YK: Thank you for inviting me!
NR: Can you tell us a bit more about your student background at Kosen College?
YK: Engineering is something I have been passionate about for as long as I can remember, so it wasn't a difficult decision to study at Kosen College.  At 15 age, I was accepted into the Department of Control Engineering at Kisarazu College. For approximately 3 years, I studied general subjects (mathematics, science, physics, geology, language (Japanese, English, and other foreign languages), and physical education) and subjects specialized in the field of engineering in a balanced way.  In the last two years, in 3-5 grade, I attended research and hands-on learning courses. Being placed in a natural setting, I had the chance to research by interacting with different fields' experiences and developing my practical skills.
Image of National Institute of Technology, Kisarazu College via kisarazu.ac.jp
NR: What determined you to choose the NUT's Faculty of Electrical, Electronics and Information Engineering, and where does the idea of building a rescue robot come from?
YK: The initial idea to build a robot came to me during Junior high school, inspired by an anime. But I could say that it was more of a dream than an attempt to achieve at that time. Two years before my enrollment at Kosen, Japan was rocked by The Great East Earthquake, and that moment was a turning point in my life. Starting that day, I wanted to make a robot saving and helping people after the disaster. The NUT's Faculty of Electrical, Electronics, and Information Engineering is an academic environment where the theoretical and practical foundations intersect. Here, I can develop abundant creativity and flexible thinking power to understand fundamental phenomena correctly and make comprehensive decisions on the overall picture.
Learning from specialist
NR: You are in the first year of your doctoral program. Can you tell us more about your research?
YK: As a Ph.D. student, I am part of the Ohishi Lab (Ohishi-Yokokura Lab.) The main research field of Ohishi-Yokokura lab. is "Control Engineering." Under Professor Kiyoshi Ohishi's coordination, we study varied equipment types' motion control, based on the control theory, robotics, and power electronics. Initially, I studied control engineering, and my current research focuses on studying the motor drive system. Generally, the product's performance and efficiency are related to material, but the motor drive system can be improved and efficient without changing material. Motor drive reaches high-performance controlling such as fast motor and robot operation. Additionally, a high-efficiency motor drive system contributes to the energy problem and minimizes product using motors such as the robot, air-conditioner, and electric cars. According to this, my research aims to realize high-performance and high-efficiency motor drive systems.
Yuto, in his research laboratory at the Nagaoka University of Technology (left).  An illustration of the motor drive system researched by Yuto (right)
NR: What are you hoping to achieve in the long term in this Ph.D. program?
YK: This Ph.D. appeals to my current research interests. But I am also attracted by the opportunity to specialize and develop new expertise. I feel my Ph.D. project can open up new inquiry lines for this field. I want to achieve the necessary theoretical and practical knowledge to use as the foundation for a fruitful engineering career. During my Ph.D. program, I have the opportunity to work under Professor Ohishi Kiyoshi's supervision.  Prof. Ohishi is a great advisor. He spends a significant amount of time individually with every student to help them with their research and guide them on disseminating their research both as conference presentations and as journal articles.
"Professor Ohishi's interaction with his students is very respectful and attentive. He gives serious attention to his student opinions and assessment on technical topics and provides space and the freedom to explore new research topics

Yuto Kobayashi

A first-year Ph.D. student of the Faculty of Electrical Engineering under the coordination of Professor Ohishi Kiyoshi
YK: More critical, Professor Ohishi is quite sensitive to new and upcoming technologies and research topics and can bring cutting-edge research projects to his students with a high success rate in research funds applications. Furthermore, Professor Ohishi's lab attracts students and researchers from all around the world with different majors. I highly enjoyed and benefited from working and communicating with lab mates from a variety of cultures and backgrounds.
Yuto, together with his professor and Ohishi lab's membres . 
Ideas about robots
NR: What really inspires you? Particularly in robotics, because I see that it requires a lot more patience and grit than other industries when solving problems, especially that this industry is really ingenious.
YK: Robotics is about building stuff and has something in front of you. I always considered myself to be like an inventor.  I like to experiment with stuff. I like to try things out as opposed to just replicating what other people do. Mainly to satisfy my own curiosity, create something new that can be useful for our society, and really understand how things work. It is really that today we have numerous research about engineering and robotics in particular. It means many methods were already proposed, and sometimes it is difficult to make originality. However, that thing inspires and attracted me. It makes me more perseverant and able to see the physical change.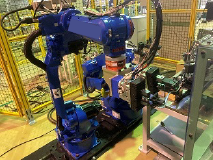 Image of Grinding robot researched by Ohishi laboratory
NR: Do you think rescue robots will be able to take the place of human rescuers?
YK: I don't think rescue robots will take the place of human rescuers. They're not intended to do, these are just tools created by humans. Their mission is to provide much more information, more accurately and faster. To intervene in difficult and dangerous situations.
NR: Looking at our society, many young people are thinking of working in engineering and robotics. One thing that comes to my mind is that they might wonder what drives robotics, what it requires them to learn new languages, or interact with people from different cultural backgrounds. So, I want to hear from you about what you would like to say to budding engineers?
YK: Engineering and robotics are the fields that continue to expand. Being a good engineer or researcher does not only mean knowing how to make a robot, it is just as important to be able to communicate and share your experience and future technologies with peoples from various fields and cultural backgrounds.
Why live on Campus?
NR: Speaking of student life, what are the benefits of student life on campus?
YK: First of all, living on campus is not required, but it provides many benefits. Campus housing is close to events, classes, faculty, and academic and support services. We're within walking distance to classrooms, laboratory, library and book store, various food locations, and campus recreational facilities. All of these facilities help to be more focused on your research and study. From another perspective, living on campus allows the students to know what is going on and be part of it. Learning about different types of people with various backgrounds can allow students to develop a more balanced worldview. There is a feeling of family that cannot be duplicated off-campus. Moreover, I can say that the community communicates a sense of care and acceptance.
NR: What do you do in your spare time? How do you manage to combine your activities with the research program?
YK: Most of the time, I spent researching different topics and experiencing. If I am not in my research laboratory, I enjoy making electronics, playing games, skiing, playing golf, or tennis. It makes me relax and motivated. Students have a lot of extracurricular activities in our university, from international organizations to clubs and programs. One of these is the student's club for making robots for contests, and I am a part of that club.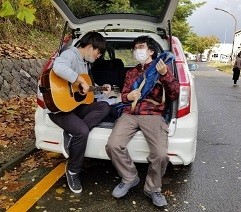 In his free time, Yuto likes to spend time with friends
"The student life is the period in which we can combine academic activity with free time in the most ingenious way

Yuto Kobayashi
NR: Future plans?
YK: My future plans include engineering and robotics. I want to be an innovator who can use his expert skills regardless of geographical boundaries. First of all, this comes from the idea of creating a sustainable future. Secondly, this is due to my personality. I believe that people are the most important resource in society. I want to interact and collaborate with people from different cultural backgrounds, fields, or parts of the world.