YASHIBE is a restaurant where local customers can enjoy real Romanian food that is both "traditional" with surprising mix of flavors and "rich" to emphasizes variety and balance.
Andra Grosu, CEO and Founder of Yashibe.
Image via  Yashibe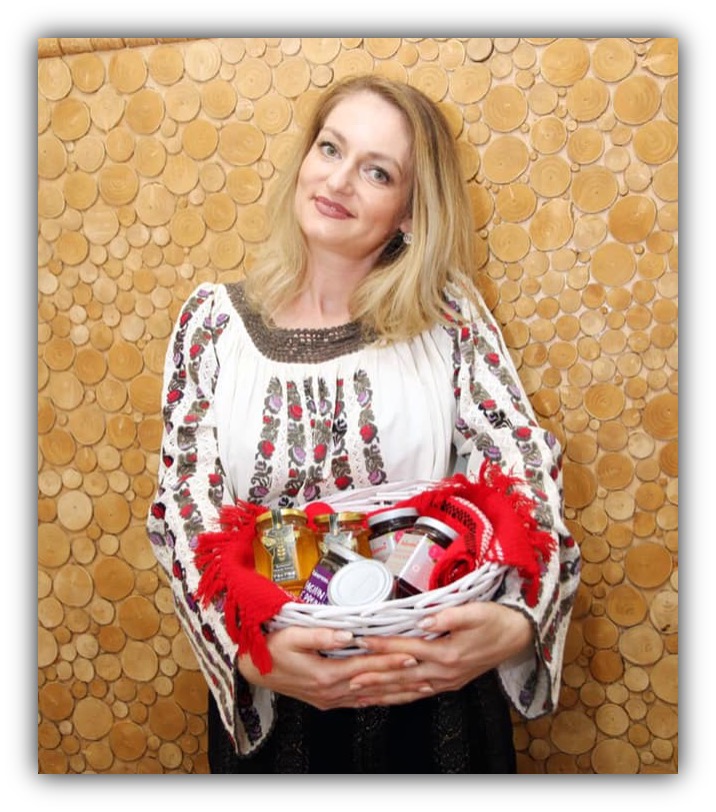 Andra Grosu is the owner and founder of Yasibe, a successful Romanian restaurant based in Gifu, a landlocked area found in the Chubu region on Honshu where you will discover Shirakawa-go, the UNESCO World Heritage recognized traditional mountain villages.
There are many people who dream of traveling to Japan. Inspired by Japanese culture, language, and traditions, Andra arrived in Japan 20 years ago; what seemed like an adventure at first turned into a real story. After almost two decades in the Land of the Rising Sun, Andra has not forgotten her cultural roots. Combining Japanese style and Romanian traditions, she created a nest of Romanian culture and traditions that delights with its beauty and refined taste.
The story behind
The number of foreign restaurants in Japan has increased due to the growing interest of the Japanese people in international cuisine and foreigners in Japan. However, the number of Romanian restaurants is limited due to their culinary style and rich taste. Romanian cuisine may not be as elegant as French cuisine, nor is it too spicy or too complicated. But it is interesting and welcoming and is the perfect comfort food!
The history of Yashibe starts three years ago, out of the desire to share Romanian culture, traditions, and taste with the Japanese people. Romanian culture is famous among the Japanese. Many of them know about Ceausescu, Nadia Comăneci, or have had the opportunity to visit Dracula's Castle (Bran Castle) and People's House (The Palace of the Parliament). The restaurant's concept is to make you feel at home in Romania and discover or rediscover the tastes of yesteryear.
The beginning was not without adventure, especially since the differences in language and culture have left their mark, but, as Andra admits, everything has become possible thanks to the constant support of family, friends, and colleagues and the recognition of customers who continue to come to the restaurant.
"At Yashibe, I want to offer the experience of a simulated "Visit to Romania" through our services, food and space for those who cannot travel to Romania regardless of the reason or just want to taste the romanian cuisine."

Andra Grosu
Discover our culture, try our food!
A Full-scale Authentic Romanian Cuisine
Since its opening, Andra, sometimes with her friends and family help work hard every day to operate the restaurant based on the concept of "Offering a Full-scale Traditional Romanian Cuisine." 90% of the Yashibe customers are Japanese people of all ages, but the main customers on Romanian holidays are Romanian families.
In addition to the fact that Yasibe is built on minimum price – maximum quality, much attention is paid to the products used. Andra purchases and uses various local products from Japan and imports traditional Romanian products according to their concept of "Mâncare ca la mama acasă- Food like at home." Another unique feature of the restaurant is the preparation of dishes using old traditional recipes collected over generations. Being originally from Iași, a picturesque Moldavian city full of traditions and customs, Andra prepares zacuscă (a vegetable spread made of eggplants and fire roasted peppers), cakes, and cozonac (sponge cake orChristmas bread similar to Italian panettone) based on old Moldovian recipes and adapted to the Japanese taste.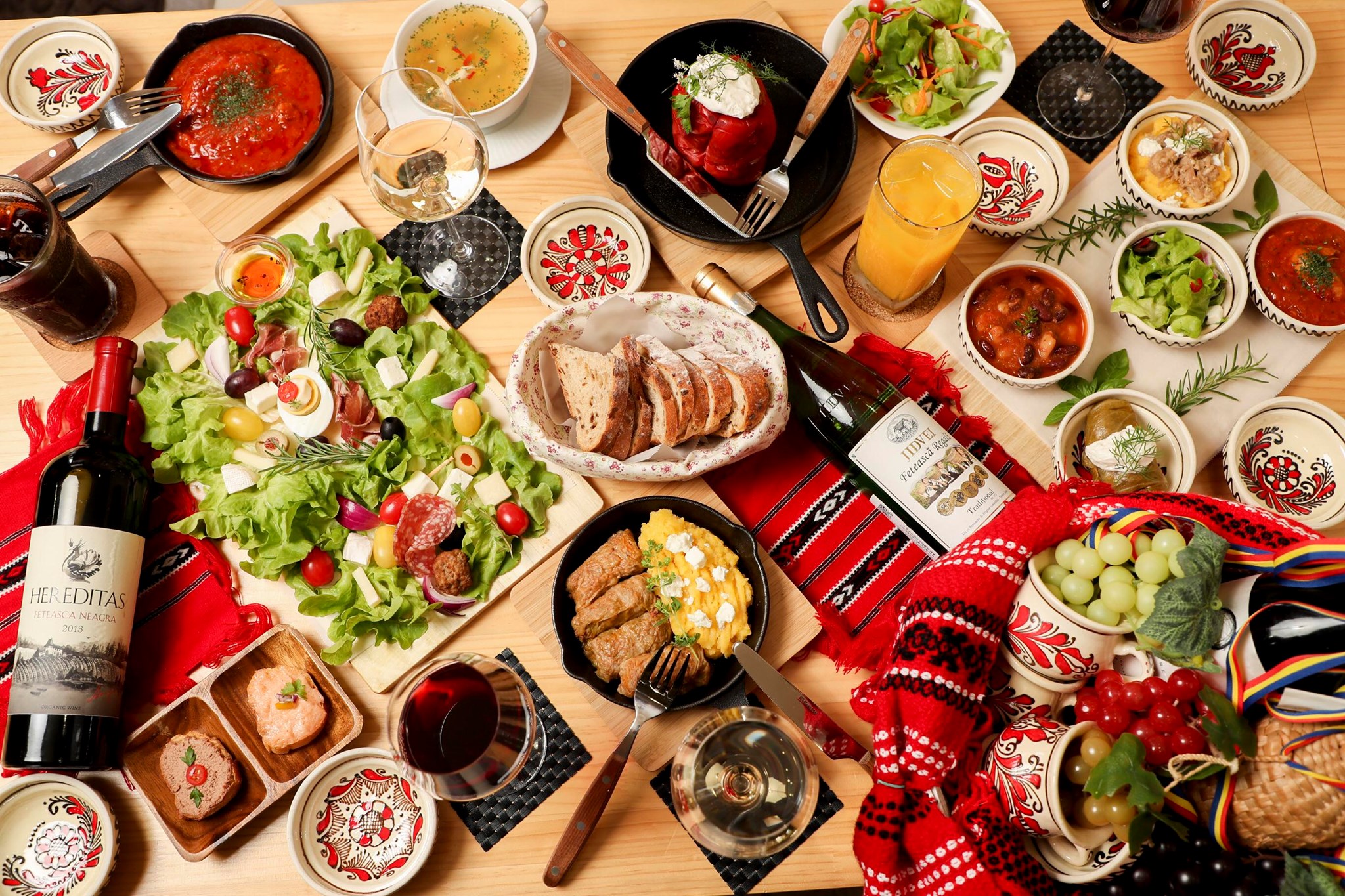 The representation of Romanian traditional cuisine. Image via Yasibe
As Andra admits, choosing the menu was one of the biggest challenges. Knowing the Japanese culture and environment and based on the culinary preferences of her colleagues, she managed to create an accessible, authentic, and diverse menu. What Yashibe offers in addition to traditional Romanian restaurants is the culinary style. Romanian cuisine is based on the principle of "slow-cooked food." Still, Andra comes with a reinterpretation of this concept based on the Japanese culinary style but keeping the combination of taste and representation. It puts a lot of soul into the plating, and every dish is a real piece of art.
The Key to Success is Customer Recognition
Yashibe is built on relationships. Andra tells us, "Our success as a restaurant is down to the success of the people we choose to partner with and our clients. Human connection is why we are here, and it's the essential relationships we create that steer us on the right path when we veer off course. "
Some may say that word-of-mouth is not enough, and social and digital media are indispensable tools to promote concept appeal and increase customer traffic. Still, Andra doesn't think so, especially in Japanese culture. Although it's hard to keep up with thanking everyone when you have a restaurant, she believes that her way of being very open, communicative, friendly, and helpful has attracted customers. She used digital marketing but eventually gave up her own quiet but safe strategy. She decided to build and keep her customers on time. In the beginning, the Japanese were the first to cross the threshold, and today she is happy to see more and more Romanians booking places for parties, private events, or coming to try their own culture.
"There are still few Romanian restaurants in Japan, but Yasibe should be on your to-do list when in Gifu. Andra is one of the most hospitable hosts, and her dishes are a true showcase of local, seasonal, and high-quality ingredients. Her culinary style based around simplicity and experimentation take modern Romanian cuisine to a whole new level. Do not forget to try "sarmale cu mămăligă" (cabbage rolls with polenta) and "mici", which are extremely popular among locals and travelers alike. So anyone with an appetite for Romanian dishes must visit this restaurant when in Gifu.

Nobu Morita

Kyoto
Making Genuine Romanian Food and Culture More Recognized and Loved
Andra is always open to new challenges, and how she argued: "I am always looking for new methods and technologies to improve the quality of services and products. Currently, I'm developing an online site that offers imported Romanian products ( honey, jams, zacusca, Romanian spices). Also, culinary dishes prepared by Yashibe (homemade cakes according to recipes from Ceausescu's time, homemade chocolate, "mititei" authentic Romanian grilled sausages, smoked fish, and sausages), all products are homemade, using local products and traditional production methods."
Also, the promotion of culture remains a basic concept. Due to the COVID-19 pandemic, the restaurant's activity is reduced, but before this time, in Yashibe, we organize numerous cultural events and wine tastings open to the public. We hope to return to these activities, but now those who want to learn more about our culture and traditions can browse a book written in Japanese from the Yashibe library while enjoying Romanian food, tasting a glass of wine, or visiting us.
Celebrating Romanian National Day, 1 December 2020. Image via Yasibe
"Yashibe is home not only to the Romanian community in Japan, but to all lovers of Romanian food and culture. The moment you have arrived at Yashibe you know that you will be stepping into a different world – a world full of music, mouthwatering flavors, laughter and joy. A world full of inclusion, positive thinking and genuine hospitality. Chef Andra is a fantastic mood producer, talent operator and hospitality engineer. She combines science with art in making everyone feel special, valued and at home. Visiting Yashibe is an addictive experience.

Cristian Vlad

Tokyo
To discover much more about Romanian cuisine and culture please visit Yasibe