The bulk of international students studying abroad in Japan came here to learn much more about their areas of expertise. The life of a typical graduate student in Japan is usually busy with research or experiments; however, studying isn't the only thing they try to do with their time here. Getting to know about Japan and its people is something significant, too. Nomin Buyanbaatar (short name Nona Buba) is a NUT's Ph.D. student originally from Mongolia specializing in engineering that takes full advantage of this invaluable opportunity to do a degree in Japan to grow academically and take further steps in personal growth and development.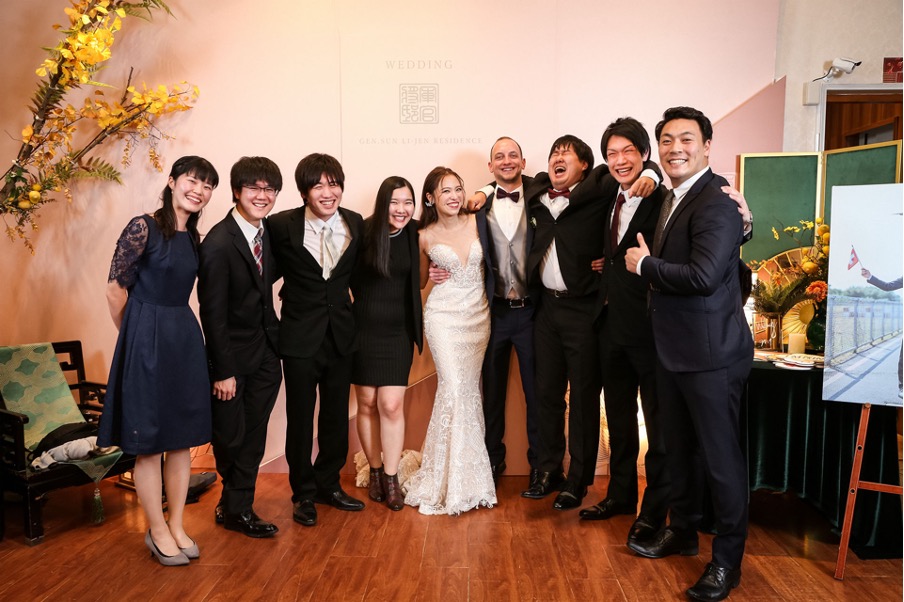 Nona at the wedding of her Swiss best friend with her Japanese lab mates, Taiwan 2019.Image courtesy of Nona
She chose Japan for studying because it has a lot of high-ranking universities with excellent and high standards in education and academia. According to her, Nagaoka University of Technology is one of the top research institutions and an international university in Japan. It provides the opportunity to experience a multi-cultural environment and a global atmosphere as there is a vast community from different countries.
Besides all the reasons mentioned above, one of the main motivations that she chose Japan was for her studies and professor Yamazaki who contributes to the Japanese higher engineering education through conducting the most recent and globally competitive researches in the field of aerodynamics along with many other areas of computational fluid dynamics.
The main reason why I dared to decide continuing my study for doctoral degree program is because of my supervisor Yamazaki sensei who is literally my Kamisama (God). Since he accepted me to study continuously, I wanted to go for it with no doubt. And I admire his collaboration with research and life support 200%. Due to we do not have any communication problem in English and he teaches me everything about my research along with a tons of corrections/feedbacks on my scientific paper or conference presentations etc.

Nomin Buyanbaatar
I would like to note that without my supervisor's endless supports, I would have already given up on studying as a PhD candidate without any scholarship. In other hand, I feel very comfortable with my academic life since we do not have any strict rule or schedule in our lab. This is how I could handle my study, part-time jobs, volunteering and workshop activities with good vacations as well. The very recent life goal of mine is not forcing myself too much and doing my research with no pressure while enjoying overseas student life in japan.

Nomin Buyanbaatar
Before coming to Japan, being part of MUST, Nona worked on a joint project that "Sky-Infra-Project in Mongolia"  with partners from Japan and became interested in UAV-drone, turbo engine studies aero-vehicle modeling. In this context, her research focuses on designing and optimizing a new aircraft model or developing an existing model.
The main objectives are to improve fuel consumption and noise reduction of the considering supersonic transport (SST) designs, such as Concorde and Waverider. Furthermore, a flow simulation around an aircraft model is conducted using the latest computational fluid dynamics technology (TAS flow simulator) of Tohoku University and the Japanese Aerospace Exploration Agency (JAXA).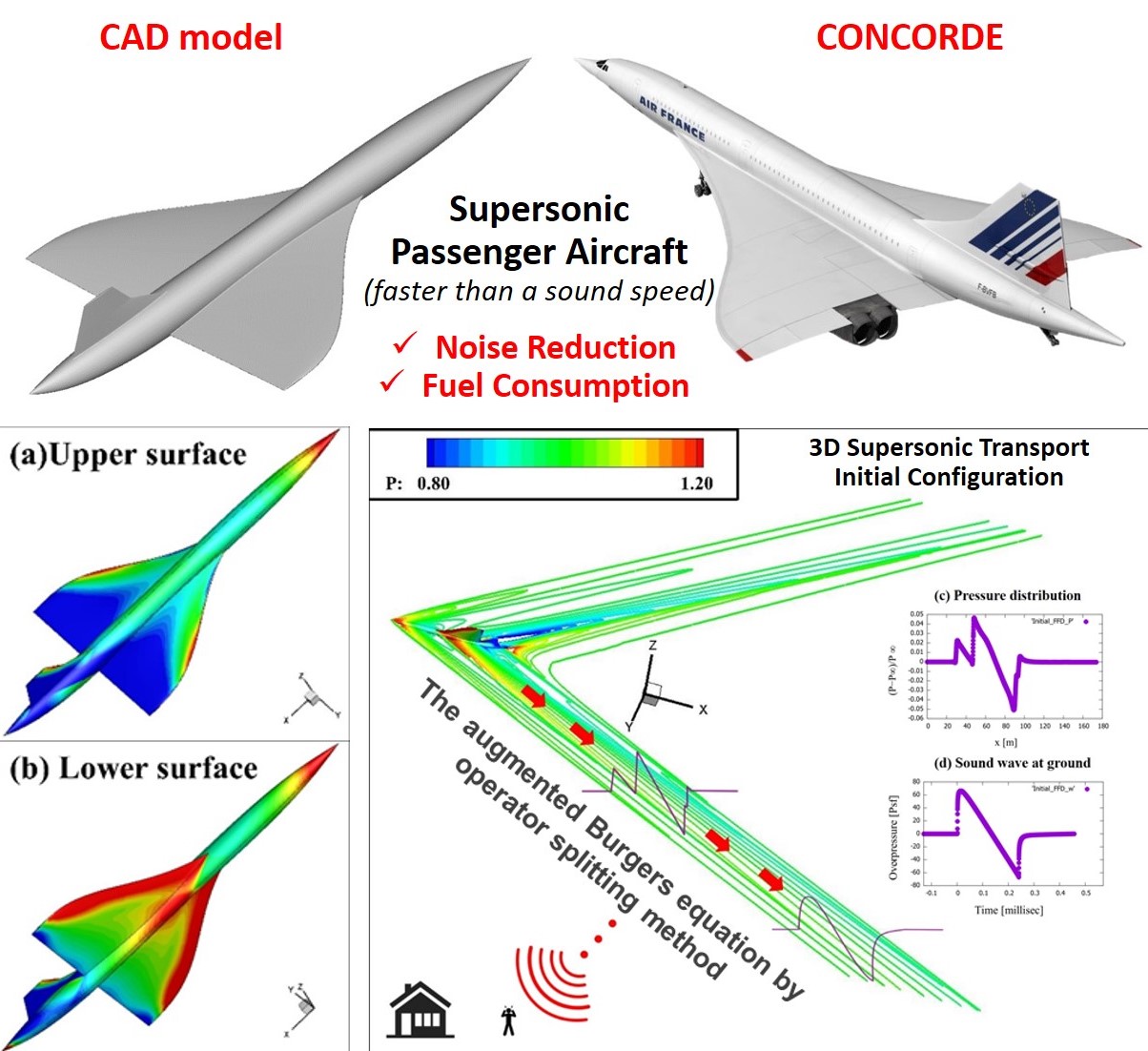 The student experience — then and now
Being a student is not only about studies – it is also about all the memories about things happening during this bright period of life. At the moment, Nona is focused on her research, but also perfectly combines her part-time job and volunteer  activities, organized by NaDeC BASE, 子供ラボ・若者ラボ, Ojiya Study Abroad, Association of Mongolian PhD holders and candidates in Japan, Architects and Urban planners group, Startup Mongolia in Tokyo etc. Also, she is one of the Cultural Ambassadors at Chikyû Hiroba in Nagaoka (Nagaoka City International Affairs Center).
Nona, together with her colleagues and mentors from Chikyû Hiroba, as an instructor of a Host town Mongolia-special event for Olympics 2021, Nagaoka

,

June 2021
As a part of what she does there, she introduces Mongolian culture, customs, and traditions to Japanese high school students and Japanese people. How she affirmed, with a unique history dating back to the Mongol Empire of Genghis Khan, Mongolia is a land of wide-open spaces, cobalt blue skies, forests, deserts, crystal clear rivers and lakes, and the traditional hospitality of the nomads. There are many confusions and stereotypes about Mongolian culture throughout history, but being directly involved in this culture, you'll discover the beauty of it.
Through volunteering activities, I learned about some of the fascinating aspects of Japanese culture and, at the same time, shared about my own culture that I wouldn't have learned just by going to classes. There are so many cultural facilities and learning opportunities within the university premises and out of it. It would be a waste not to try them out, no matter how high my Japanese ability is. Regarding the language, I would like to express my sincere gratitude to all my lab members who gave me the enormous opportunities to learn about everything related to this country, with no doubt or hesitation. Back then, in 2017, I started speaking Japanese by using only the two words that "Kawaii" and "Baaka," with my precious mates.

Nomin Buyanbaatar
The history and culture remind us of who we are, not who should we be

Nomin Buyanbaatar
Images of the feedback from Nagaoka high school students. Images courtesy of Nona
Before coming to Japan, Nomin participated in an exchange student university program for an academic semester in South Korea, applied from the MUST university, and had the opportunity to study the Korean language and culture. In 2017, she started learning Japanese, and today, Nomin is a Mongolian, English, and Japanese fluent language speaker.
Life in Japan
School life at NUT and beyond is full of interesting activities. Nomin is involved in a lot of research and socio-cultural events but during her free time like to travel together with her international friends and discover Japanese culture. Her appetite for cross-cultural exchange determines her not just to introduce  Mongolian culture to Japanese people but also to share her knowledge about Japanese culture and language to international community as she knows that as a non-Japanese speaker impression about Japan could be limited to what you could see rather than what you could understand. The image of Japan can be subsequently changed and become more richly textured as you have got to grips with the language.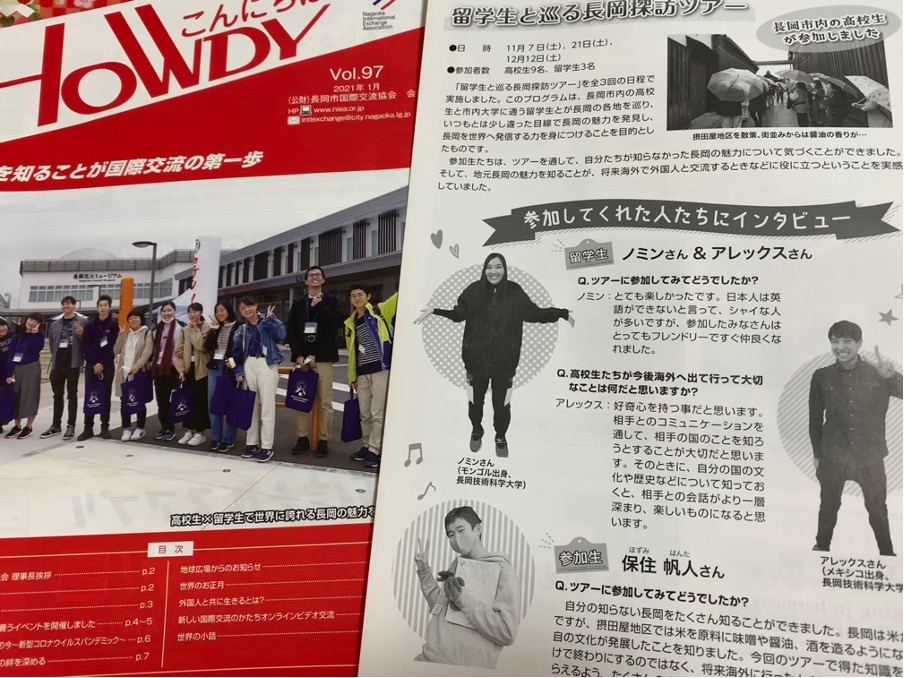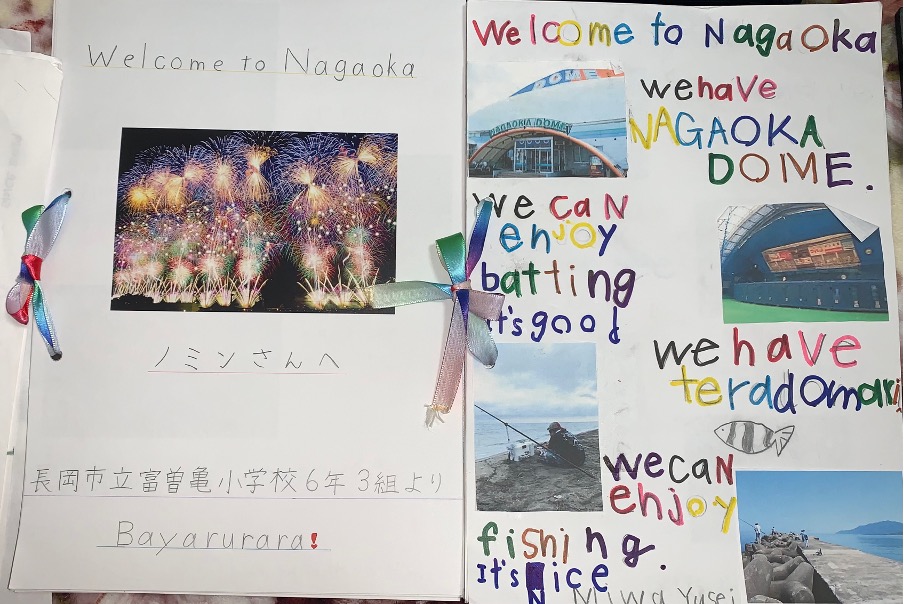 Photos of Japanese magazine of Nagaoka city and kids' handmade magazine for Nona. Image courtesy of Nona
Looking back, studying abroad in Japan it's a turning point. The beginning of a new life. Nomin strongly recommends studying abroad to any student who's having trouble deciding whether to study in Japan. It truly is a life-changing experience. Her advice to younger students who are considering studying abroad in Japan is to study the Japanese language and culture before coming to Japan. It is important to study in advance to ensure a smoother lifestyle after coming to Japan. Most graduate programs here are based on research, so it is better to have research data available in advance or at least have some research ideas in mind.
Moreover, there are many social norms here that we don't follow in our countries, so it  may helpful to learn and know about them in advance. But in conclusion, Japanese universities and people are very supportive and you will enjoy the kindness and beauty here. At last but not least, she states that "The most challenging task of studying abroad is about to improve myself without losing, while being a positive impact to the local mates."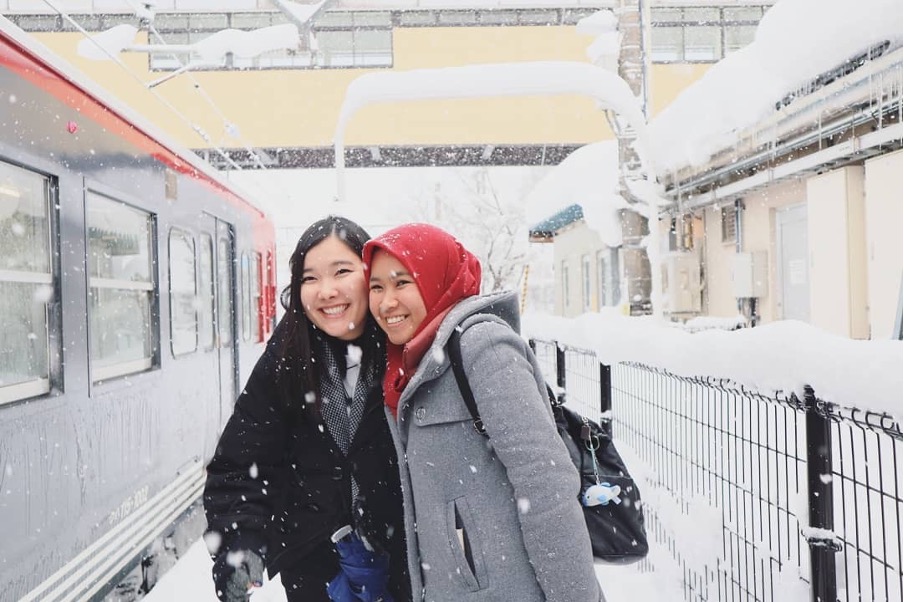 Nona together with her best friend from Indonesia, also a NUT's PhD. student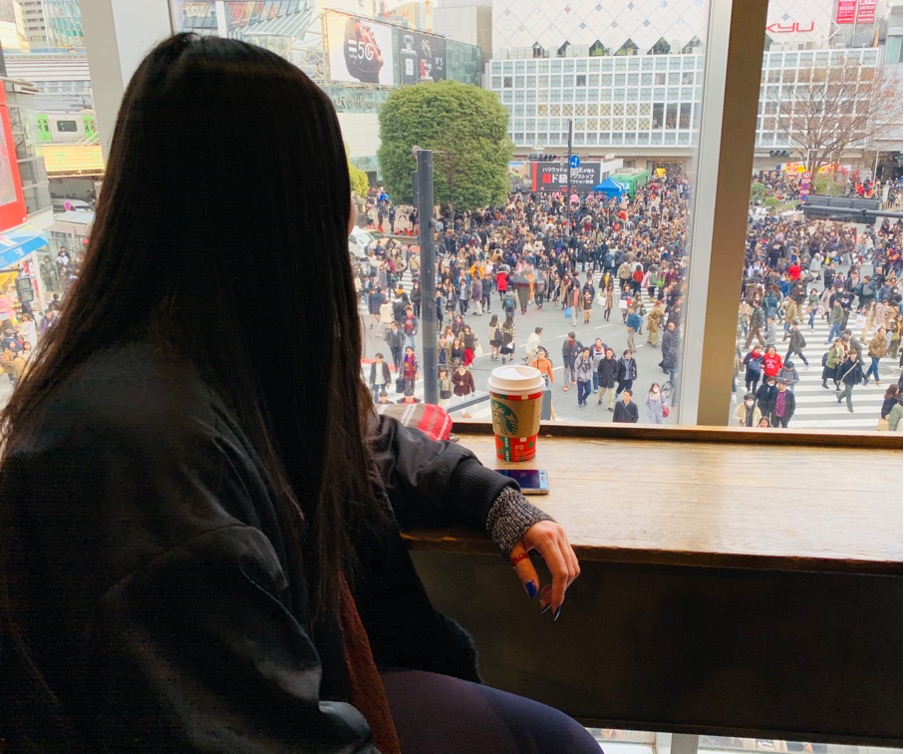 Discovering Tokyo. Image courtesy of Nona
About Nomin Buyanbaatar
Name: Nomin Buyanbaatar
Nationality: Mongolian
University: The Nagaoka University of Technology
Major: Energy and Environment Science
Academic Year: 2nd year ( doctoral course)
Period of Stay in Japan:  August 2017 to present
Extracurricular Activities:
– Project manager at Samurai Security株式会社
– Cashier at Nitori Nagaoka shop
– English instructor at HTA畠山トータルアカデミー and some online schools
– English and Mongolian community tutor at italki
– Project team member at Sky-Infra-Project-In-Mongolia.
Academic Research:
Three International Conferences
Two Mongolian Conferences