How far are you willing to go to make your dreams come true? Born and raised in Senegal, a country in West Africa, Sambe Mangoné crossed two continents to study in Japan and make his dream to help his country strengthen the base of economic development.
Being already for ten months in Japan, Sambe accepted to share with The Nagaoka Review team about his cultural and academic experience at Nagaoka University of Technology (NUT), his decision to study abroad at a Japanese university, and his unique relation with his home country and also a different culture.
Studying abroad
NR: Why did you choose Engineering? How did you end up on such an offbeat, unconventional and unusual path?
SM: I have always enjoyed sciences and problem-solving. I wanted to pursue a degree to apply my knowledge to problems that have meaning to me. Engineering has applications in many fields, and I was interested in exploring many possibilities. I learned that engineering could have an essential role in improving people's lives both at home (I have a special connection with my home country – Senegal) and abroad. Engineering, therefore, was a great option with applications to many meaningful challenges, especially for my country and Africa in general.
NR: What got you interested in Japan?
SM: I got firstly interested in Japan during my university studies in my country. I studied Geological Engineering and found interesting the geological history of Japan with its natural disasters and how the country can rapidly recover when they happen. Also, I have been working in my country as a Geotechnical Engineer. Japan is one of the most advanced countries in Civil Engineering with its high-level technology. Being fascinated with all this, I decided to come to Japan to pursue my studies.
NR: What are your goals for studying in Japan
SM: An African proverb says: "If you want to go fast, go alone. If you want to go far, go together". So, my goal for study in Japan is to go as far as possible to build and develop strong partnership relations between Japan and Africa. Africa is the world's second largest and second-most-populous continent, after Asia in both cases. Still, despite enormous natural resources and talented people, most of Africa's economies have not taken off. In this case, Japan is an excellent example because of its culture, business experience, and technological capability.  Today, more and more Japanese companies want to invest in Africa but cannot find the right person, so the young generation is the future vibes of the country and progress.
Africa is a continent facing several significant challenges, but challenges that also bring potential opportunities. I firmly believe that as Africans, it is our duty to contribute to African economies' local and sustainable development.
I'm here to improve my skill, gain new abilities, and demonstrate that we can make progress.
NR: What's the most challenging thing about being a student in Japan
SM: It was the capacity of adaptation. This means you have some challenges in daily life – new environment, new people and people from different countries and cultures, new culture, new food, and the necessity to change and readapt. Speaking about adaptation, it's also essential to talk about the study process, for this brings new methods of study, new technics, and a different approach. When taking classes in Japanese, there was a lot of specialized vocabulary, but everyone gave me great support, and now I feel confident to study more.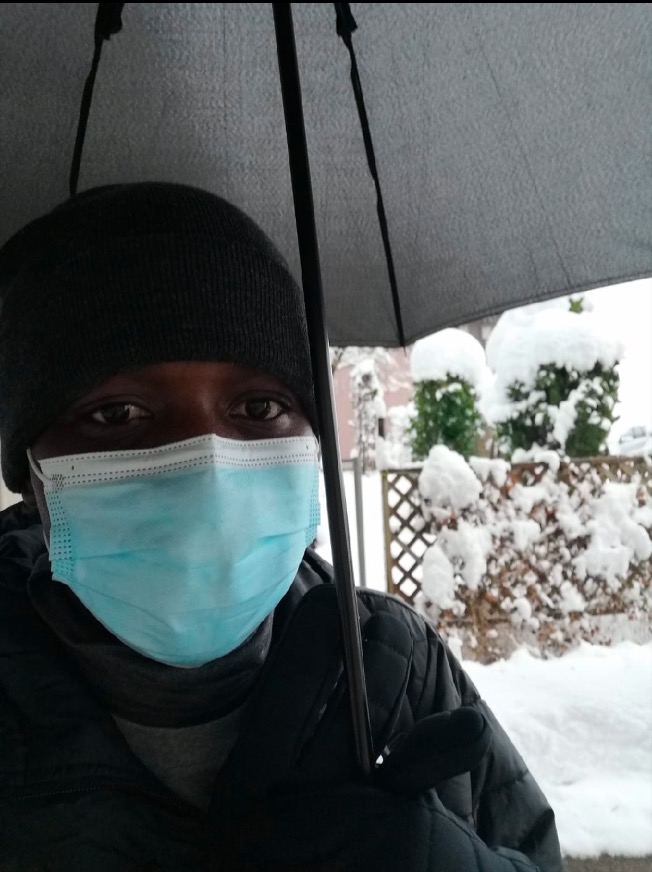 Winter season in Nagaoka, December 2020. Image by Sambe
NR: You come to Japan in a very challenging time, how it was?
SM: Considering the current situation that we all are facing; it was much better than I expected. I arrived one month and a half later, and after 26 hours of fly, I followed a two-week quarantine in Tokyo. COVID-19 still has a significant impact on everyone; the quarantine time was also very challenging, which was related to cultural adaptation.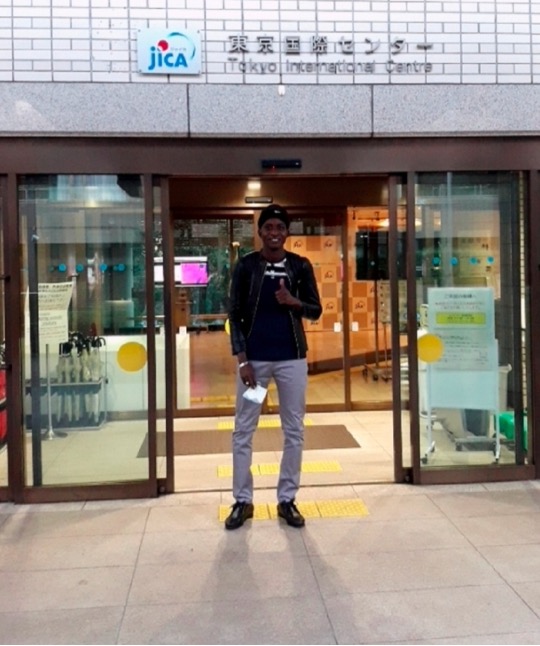 Sambe at JICA, Tokyo International Center, after quarantine time. Image courtesy of Sambe
Student life at NUT
NR: Why did you choose NUT like your study destination?
SM: I applied to three universities in Japan, and NUT was one of them. I chose NUT for three reasons. Firstly, I gained some excellent feedback from one Senegal student that graduated from NUT. Secondly, my current professor Toyota Hirofumi accepted to be my supervisor and to coordinate my research. For me, it was a great honor.  And finally, I found this program very interesting because NUT is one of two technological universities in Japan and has extensive research in geotechnical engineering.
NR: What are you currently working on?
SM: My research topic is to study the strength and deformation characteristics of soils in minor strains range by using the famous Triaxial apparatus equipped with sensors to get the precise parameters of the grounds.
You know, the safety of any geotechnical structure, like a building, a road, a bridge, etc., depends on the soil that will support the structure. If the ground fails, the system collapses, endangering a lot of damages. So, the study of the deformation characteristics of the soils is significant before any construction of structures. It will allow us to estimate how much the soil deforms and how much it can support the geotechnical frames. The parameters obtained have to be taken into account for a better design of the foundation of the structures.
NR: How would you describe the environment in your laboratory?
SM: I'm part of the  Geotechnical Engineering Laboratory under the supervision of Toyota-sensei. In our laboratory, we have students from different countries and cultures, and I think this is one of the unique things about us. The atmosphere is amiable, and of course, this is the merit of our professor because he has a good understanding of cultures and know-how to create good steam of work. For example, our professor came with specific ideas for better integration of students, student-professor, and student-student communications, and understanding of the research process. We created working small groups of two students- one student from M1 and one student from M2. The main idea is to help students work together, avoid communication barriers, develop their teamwork ability, understand how to conduct research, and acquire knowledge in a specific area. Also, we have a weekly meeting to observe the research progress and discuss the eventual challenges we are facing.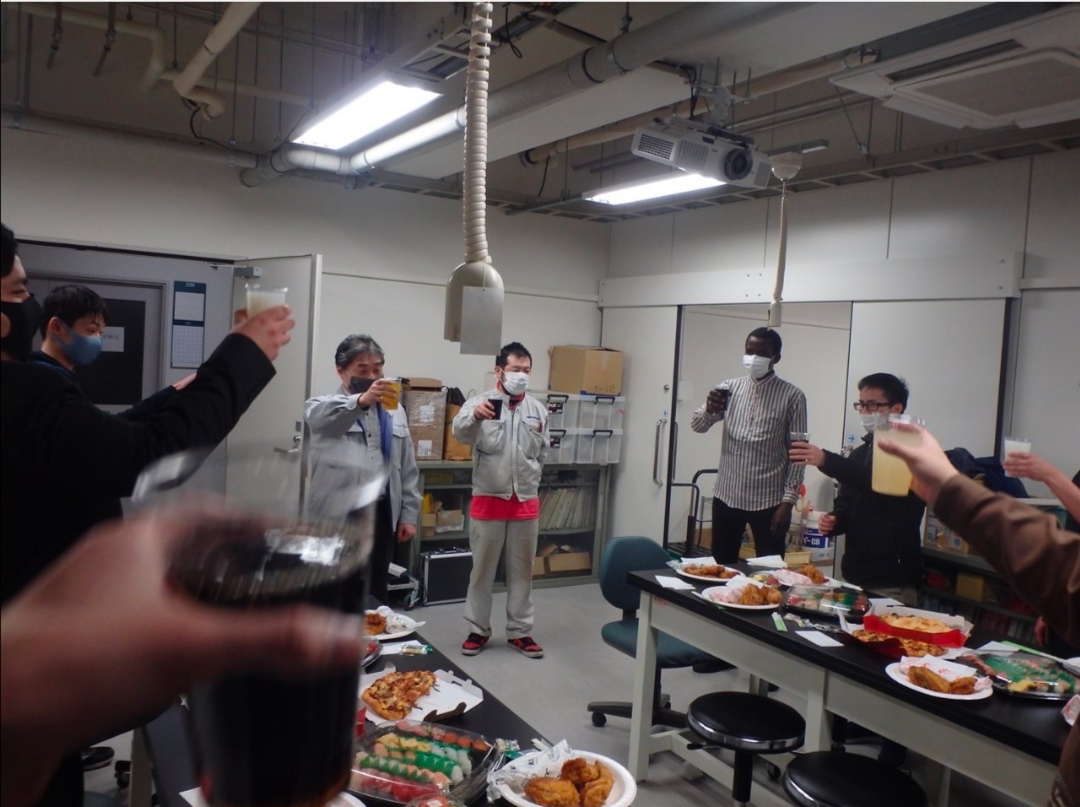 Party for graduate students of the Geotechnical Engineering Laboratory. Image courtesy of Sambe.
Being part of this laboratory, I found that I'm developing both professional and personal sides. And this is very important for students, especially right now when we're at the beginning of our career life.
NR: Can you give two reasons why you'd recommend choosing NUT for studying?
SM: I think everyone has different reasons to choose or recommend a university. Personally, for me, I'll recommend choosing NUT for studying based on two grounds. On the one hand, because NUT opens numerous possibilities, what you learn during your degree can apply to a wide range of problems and the quality education and teaching system (qualified professors and specific research spaces dotted with necessary technics).
On the other hand, is the multicultural environment. Here, you can find people of different nationalities, people from different cultural backgrounds, and speaking different languages. But people that try to discover Japanese and other cultures and to share back their own culture. Being surrounded by this environment, it's easy to adapt yourself and fully enjoy the cultural and academic experience.
Japanese culture and language
NR: Are there any Japanese customs which you felt different to those in your home country?
SM:Japan is a country with a long history, full of beautiful and unique customs and traditions. My country Senegal is considered a cultural center for all of Africa; its people have made our cultural tradition attractive. We can say that these aspects are very close, but the two main elements differ and represent Japan. The first one is the most know one – eat with chopsticks or おはし/箸, this was very impressive for me because I should learn how to use them, but after getting more confident, I found that it's very convenient. Also, I was very impressed with the chopstick's etiquette.
"Chopsticks come with their own etiquette in Japan, and it would be beneficial to know these rules, so you don't unwittingly offend people. Chopstick etiquette is more than rules; it's a window into Japanese culture.
The second one is related to greeting etiquette. In Africa, we prefer to shake hands; when in Japan, people greet each other by bowing. A bow can range from a slight nod of the head to a deep bend at the waist. A deeper, longer bow indicates respect, and conversely, a slight nod with the head is casual and informal. Most Japanese do not expect foreigners to know proper bowing rules, and a head nod is usually sufficient. Shaking hands is uncommon, but exceptions are made, especially in international business situations. At shops and restaurants, customers are typically welcomed by the staff with the greeting "Irasshaimase." No response from the customer is required, and a smile and a nod to the head would suffice for those who want to reciprocate the greeting.
"As a foreigner, you may be excused for not knowing every Japanese custom but knowing more about the culture will help you become better acquainted with the country and make a better impression with the people!
NR: Outside of class, how do you improve your Japanese?
SM: I'm taking a Japanese Bassic 1 class. In addition, I try to improve my language by attending cultural and social events organized by NGOs, municipality, and different organizations and communities from Nagaoka city. Recently, I joined the disaster prevention workshop provided by Nagaoka International Affairs Center "Chikyû Hiroba," and this winter, I also joined Snow event for children.  At NUT depends on my schedule, but I'm trying to join our soccer group every Wednesday.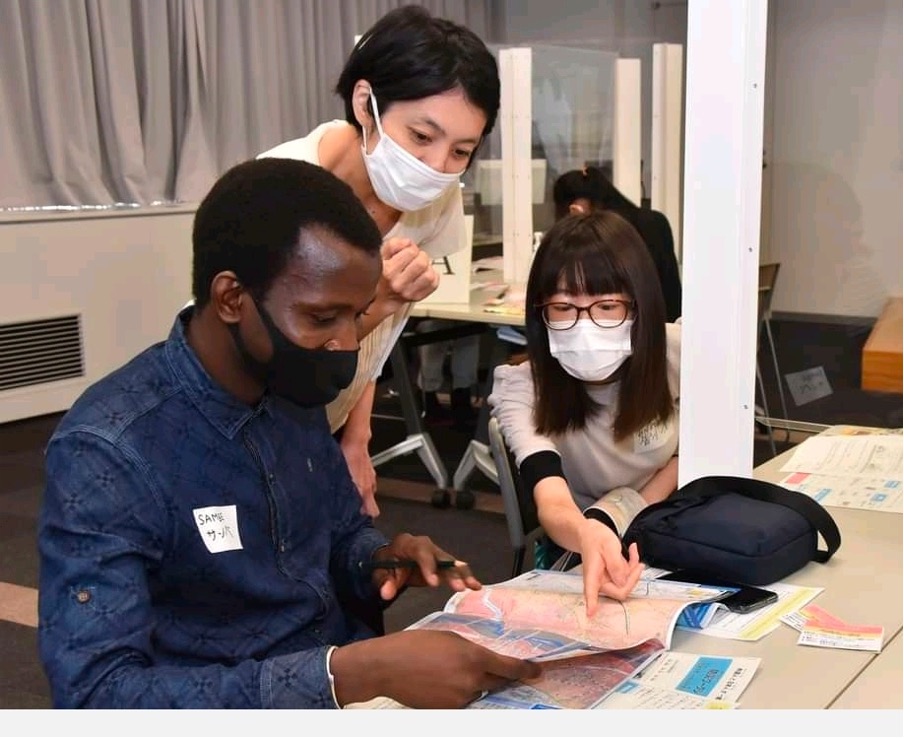 Sambe attending Disaster prevention workshop, Nagaoka 2021. Image courtesy of Sambe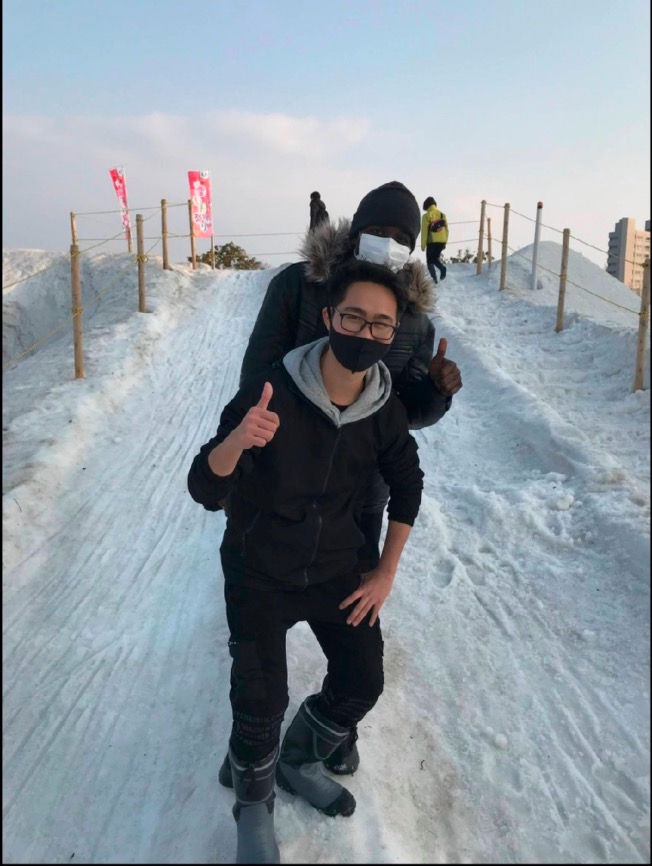 Snow festival for childrens at Hive Nagaoka, February 2021. Image by Sambe
NR: What's your favorite Japanese word or expression?
SM: My favorite word is "Otsukaresama" or "Otsukaresama desu," something close to "Thanks for your hard work." As for why I like it when I hear someone tell me "Otsukaresama," I feel like they acknowledge my efforts.