The world is headed to a different direction with strong emphasis placed on sustainability and the creation of circular economy. With the level of education rising around the world, people are actively seeking and demanding for solutions that could protect the planet and its inhabitants.
How is higher education preparing our future workforce to become solution finders in achieving these goals whilst considering eco-friendlier options?
The Nagaoka Review team spoke with Naoya Yamaguchi, a fourth year doctoral program student on his decision to study at Nagaoka University of Technology, his experiences, and his passion in researching MAX phase ceramics to achieve circular economy (CE).
NR: Nagaoka Review
NY: Naoya Yamaguchi
NR: Could you tell us more about yourself?
NY: I am Naoya Yamaguchi. I am a member of Nanko (南口) Lab in the department of Mechanical Engineering at the Nagaoka University of Technology, Niigata. I specialize in high-temperature materials, and I am currently researching MAX phase ceramics.
I am originally from Nagano city in Nagano prefecture. In my free time, I love taking a bath at the hot spring or sauna. I am a certified sauna spa wellness advisor. I believe that bathing and sauna are effective in health improvement as well as stress relief.
During the holidays and long vacations, you would most probably find me relaxing at hot springs and saunas!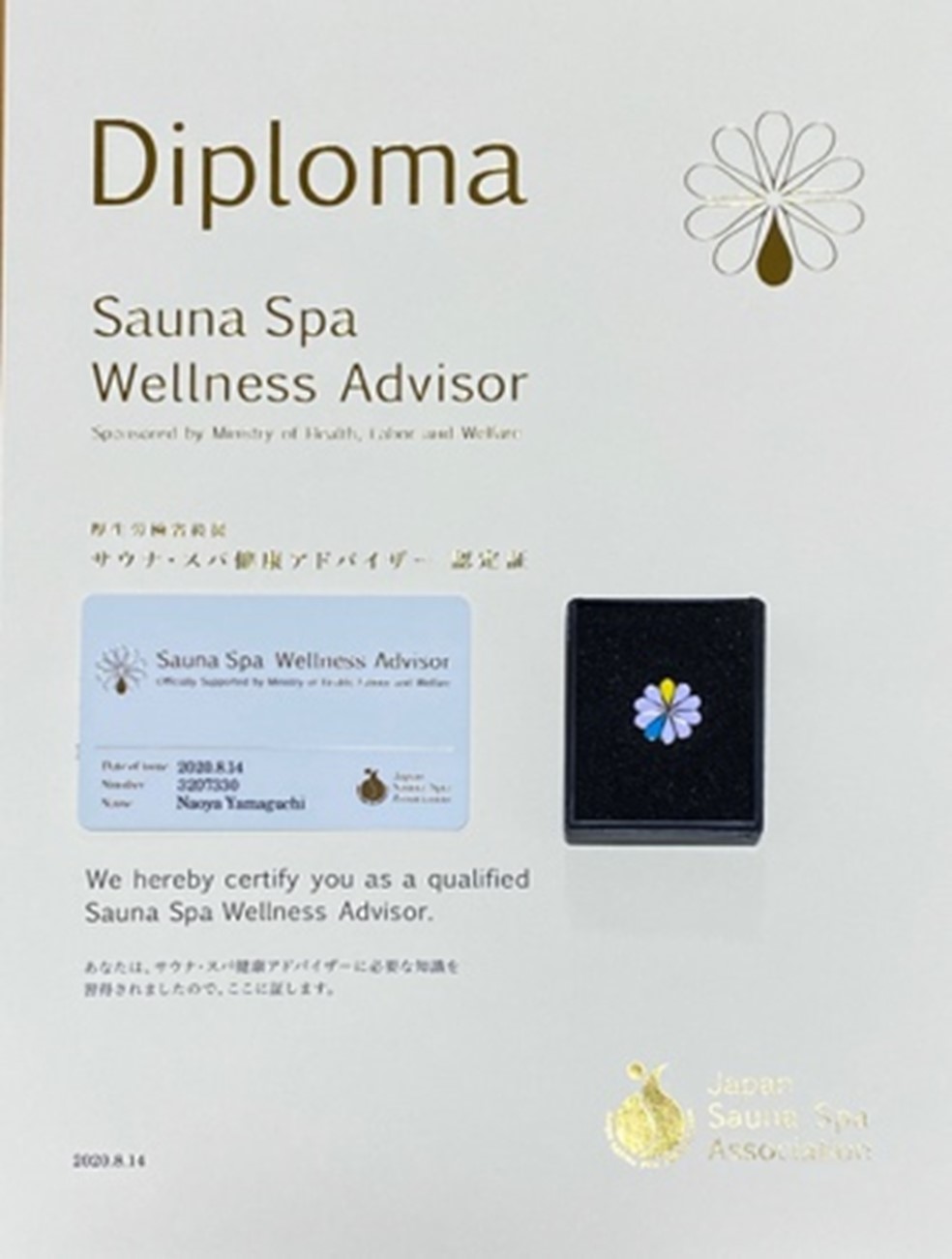 Naoya is a certified Sauna Spa Wellness Advisor.
Image courtesy of Naoya Yamaguchi.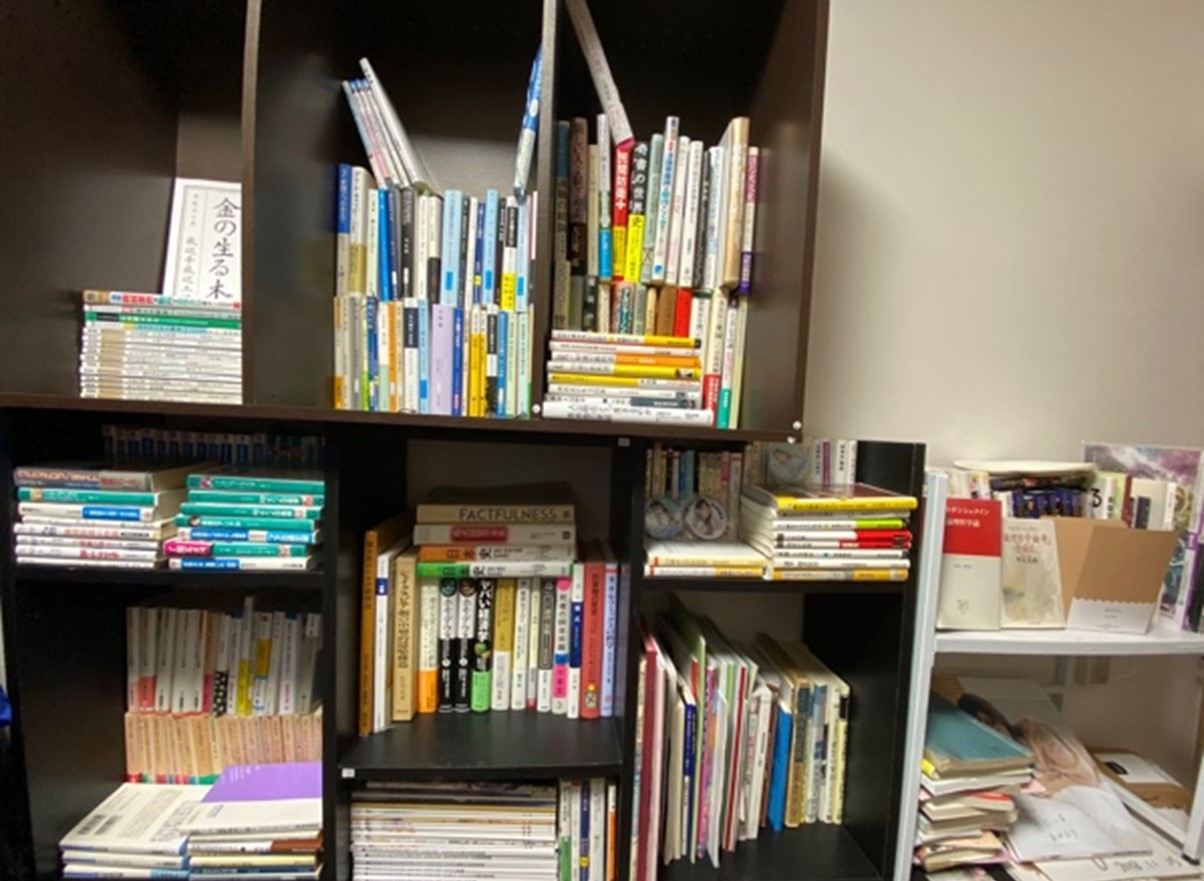 Part of Naoya's bookshelf in his room.
Image courtesy of Naoya Yamaguchi.
I am quite a bookworm too. I have loved reading ever since I was a child. I remembered reading all the books in the school library when I was in elementary school.
Now, I average about 10 books a month. However, there are many books I have yet to read so I would love to increase my reading pace.
NR: Why did you decide to study at the Nagaoka University of Technology (NUT)?
NY: The main reason is because NUT offers an attractive educational program that is otherwise not offered by other universities.
When I was a technical college student, I participated in an academic program at NUT called "Advanced Course". In the program, I attended lectures at NUT and subsequently went to Vietnam for an industrial tour. The program by itself was attractive, and it solidified my intention of studying at NUT. In addition, I wanted to broaden my horizon by exploring various fields of knowledge. NUT is the place where I could achieve my dreams.
When I was an undergraduate student, I majored in mechanical engineering and belonged to the materials laboratory. Concurrently, I joined the drone lab as the second lab to discover more about drone control and its usage. I was also a part of the nuclear fusion lab as my third lab. NUT was attractive to me because I was able to explore various fields of studies!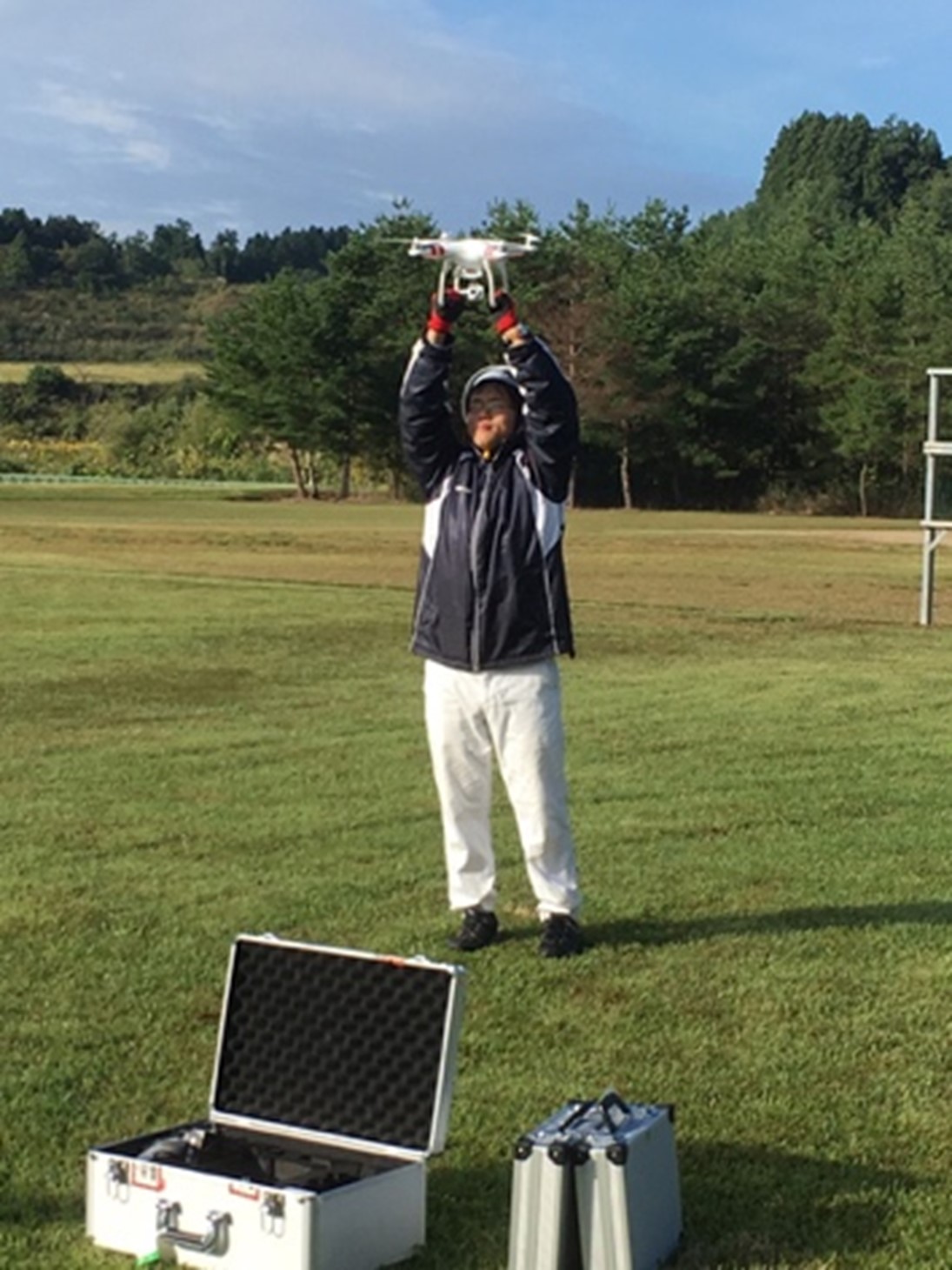 Naoya piloting a drone at the university.
Picture courtesy of Naoya Yamaguchi.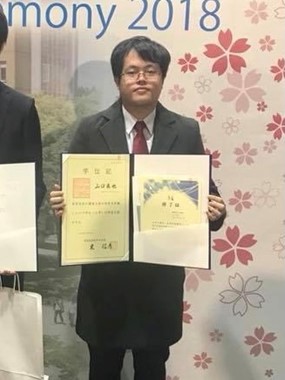 Naoya at the Mechanical and Nuclear Certificate Award Ceremony. Picture courtesy of Naoya Yamaguchi.
NR: Tell us more about your research on MAX phase ceramics.
NY: This is a good question, but a little difficult to describe in layman's term.
MAX phase ceramics has a combination of metallic properties and ceramic properties. Example of metallic properties include high electrical and thermal conductivity, as well as high thermal shock resistance. The ceramic properties include good high-temperature oxidation resistance, a lower density than nickel alloys and steels, and high hardness. In addition, the MAX phase has the following unique properties.
1) Excellent machinability
> Ceramics cannot be cut, but MAX phase ceramics can be cut with a normal tool
> Machining cost of the MAX phase ceramics is much lower than the grinding of conventional engineering ceramics using diamond grinding wheels
2) Self-healing ability of MAX phase ceramics
> MAX phase ceramics have self-healing ability via thermal oxidation process. With MAX phase ceramics, surface cracks could be recovered by heat treatment in an oxidizing atmosphere
> Damage to MAX phase ceramics is repaired by the oxide scale (just like how scabs form on the human skin after injury)
In a simple way, imagine MAX phase ceramics as a material that has both the properties of ceramic and metal. And easier to handle.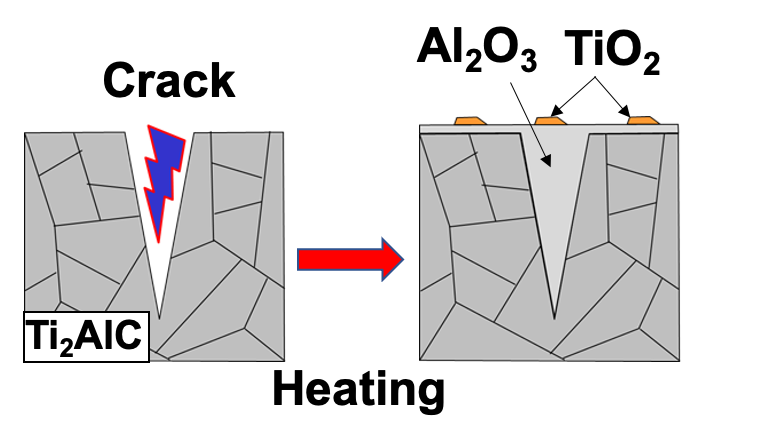 Diagram of self-healing ability. Image courtesy of Naoya Yamaguchi.
NR: What is the significance of this research?
At present, producing complex-shaped ceramic parts at a lower cost is not possible due to the high processing cost of ceramic materials. One way to circumvent the situation is by utilizing MAX phase. Using MAX phase as an alternative to ceramic materials would enable complex-shaped parts to be manufactured at a lower cost.
Right now, the interest in MAX phase ceramics is increasing as more studies are done about MAX phase ceramics as a potential candidate to be used in various mechanical components. My area of interest in my research are:
- Optimal processing methods
- Improvements to strength and oxidation resistance
- Evaluation of the self-healing ability
NR: What items or products requires complex-shaped ceramic parts?
NY: Some examples include the airlines industry and the automobile industry. When building an aircraft turbine, there are small parts within the turbine that works in a high temperature environment. Engines in cars such as pistons work in a high temperature environment too.
Complex-shaped ceramic parts are also needed in rescue robots manufactured to work in extreme environment. The body and screw parts of such robots need to withstand high temperature.
NR: What is the goal of your research?
NY: The concept of MAX phase ceramics circular economy (CE) has been proposed to achieve the United Nation's Sustainable Development Goals (SDGs).
Circular economy (CE) is an economic system that does not produce waste by the recycling, reusing, repurposing of resources at each stage of production, consumption, and disposal whilst creating new industries and businesses in each stage. The achievement of CE will improve the sustainability of society. To achieve CE, it is necessary to utilize materials with high producibility and long lifetime. MAX phase is a suitable material for the realization of CE. The aim of my research is to realize MAX phase CE through the social implementation of the MAX phase. Below is the poster our team presented at the conference.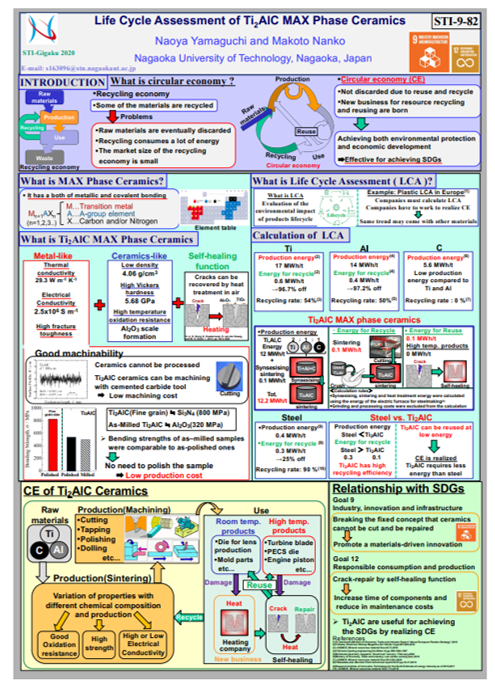 The poster of "Life Cycle Assessment of TixAIC MAX Phase Ceramics" by Naoya Yamaguchi and Makoto Nanko. Image courtesy of Naoya Yamaguchi.
NR: What inspired you to do this research?
NY: Before entering NUT, I was in the Mechanics of Materials laboratory in a technical college. Back when I was in that lab, I became interested in the research of materials. Therefore, I decided to continue my studies at NUT, where there is a famous laboratory in the field of materials research. It is at this university that I learned about the MAX phase ceramics. Since then, I have been interested in the development of MAX phase ceramics. In particular, its hybrid properties of both metal and ceramics, its self-healing ability, as well as the possibility of social implementation (whereby the results of the research can immediately be shared publicly).
NR: What is the current situation with MAX phase ceramics? How popular is it as a topic?
NY: Currently, MAX phase products are not popular. It is in part due to the challenges of creating single-phase MAX-phase ceramics. There is a tendency to generate different phases during synthesis. To solve this problem, our research group designed and built our synthesis equipment from scratch.
The other major problem with MAX-phase ceramics is the possibility of abnormal oxidation. MAX-phase ceramics do not oxidize even under high-temperature conditions, but the material can suddenly and rapidly oxidize. Our research group has identified the cause of the phenomena and is developing a method to prevent abnormal oxidation.
We believe that MAX-phase ceramics will become more popular if we develop a method for synthesizing MAX-phase ceramics free of foreign phases and preventing abnormal oxidation. That is what we are working on.
NR: How are you helping to advance the MAX phase ceramics research?
NY: I am collaborating with several companies to develop some MAX phase products. We are exploring the development of molds, bolts and nuts, pistons, as well as sintering tools.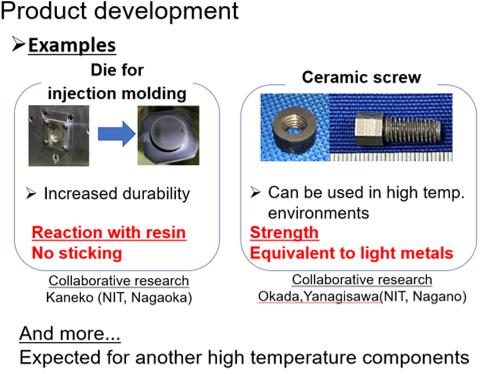 Example MAX phase products developed by Naoya and his research group. Image courtesy of Naoya Yamaguchi.
NR: What are your plans upon graduation?
NY: When I first started this major, I envision myself working in a university or technical college as a researcher and a teacher. However, I have since met people who pursued different career paths in the field of consulting or business. It has made me realize the boundless opportunities I have to use my expertise for the benefit of the society besides working at a university.
My life purpose is to make the world a better place to use my expertise in MAX phase ceramics technology. I hope to come across interesting job opportunities that can help me to achieve my goals.
At the moment, my first choice is to be a university teacher. However, I am also thinking about other options, such as working in a company, starting a business, or working in a consulting firm to experience interacting with people from different industries.
NR: You speak and write good English! How did you improve your language acquisition?
NY: In the past, I have studied in Vietnam for six months and in Poland for three months While I find it challenging to study English, I realized that my experience communicating with international students in our lab, as well as giving presentations in English at international conferences have helped me improve.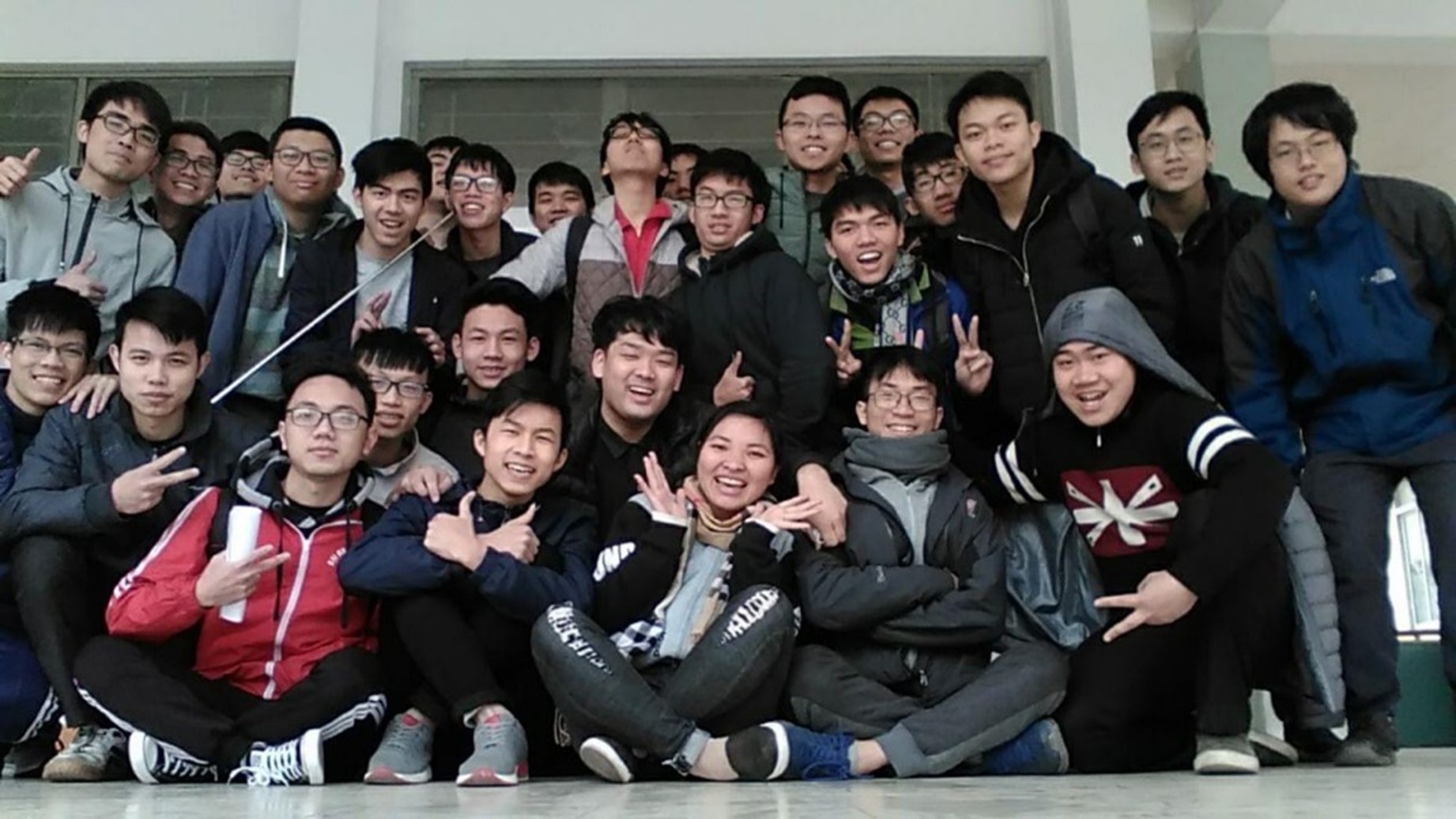 Group photo with students from Naoya's class at HUST (Hanoi University of Science and Technology). Image courtesy of Naoya Yamaguchi.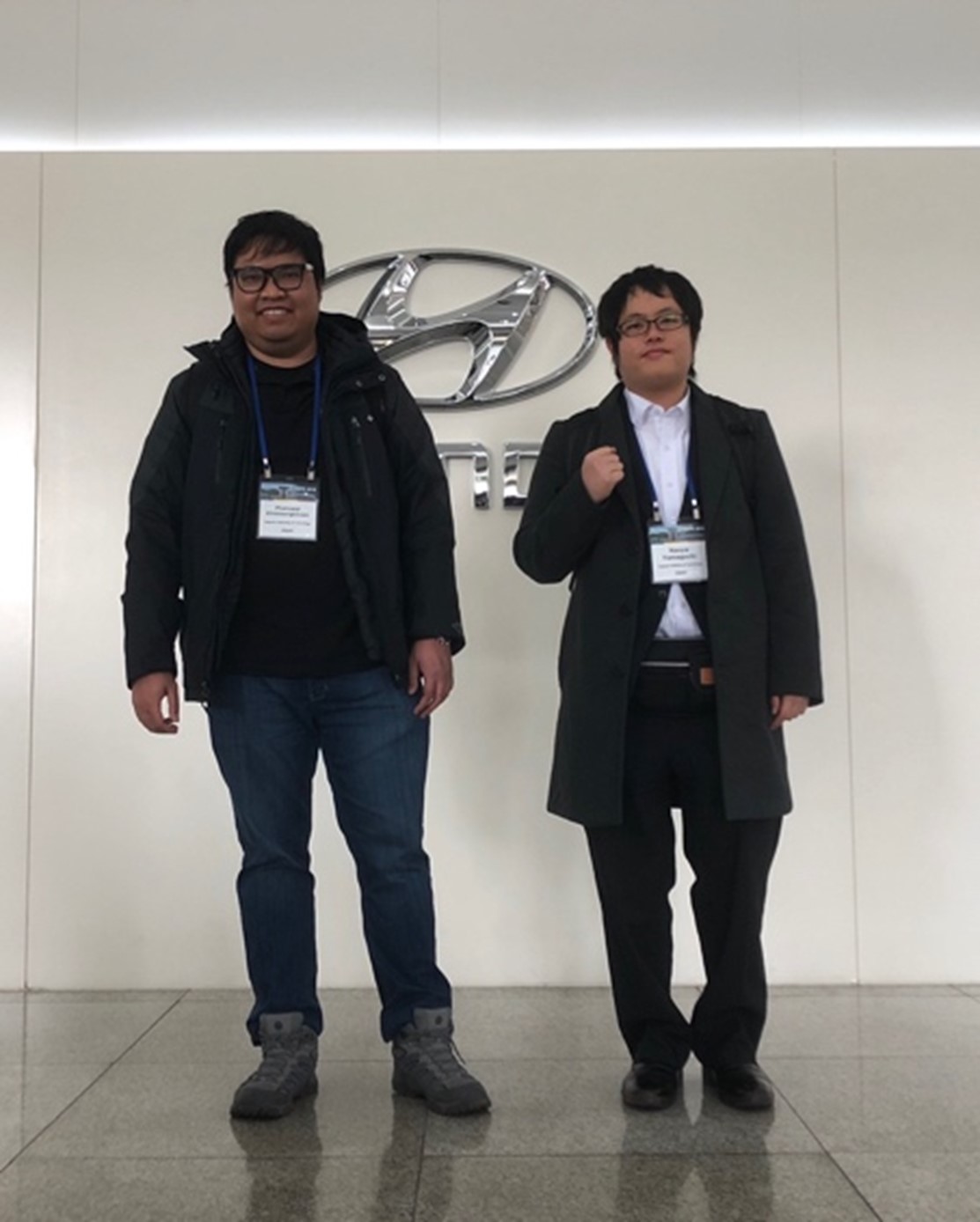 Photo of a visit to an overseas factory with international students from Naoya's laboratory. Image courtesy of Naoya Yamaguchi.
NR: What are your hopes for your research and the development of MAX phase ceramics?
NY: Currently, our research group is conducting joint research with various foreign researchers. (Vietnam, Poland, Taiwan, Australia, etc.) The researchers at the collaborative research site and many international students in the laboratory interact in English. I want to collaborate with more overseas researchers to develop my research further.
I want to get a job at an overseas university or research institution if I have a good opportunity. English proficiency will become even more critical in the future, so I would like to use it to improve my ability actively.
NR: Do you have any advice for future researchers who are interested in the MAX phase ceramics research?
NY: MAX phase ceramics is a material with many mysteries. To unravel the mysteries of MAX phase ceramics, we need to have a broad knowledge of metals and ceramics. The study of MAX phase ceramics is very difficult, but it is very profound and tickles our intellectual curiosity.
I hope to meet like-minded people who are interested in developing MAX phase ceramics. Together, we can create a new future through MAX-phase!
Name:
Naoya Yamaguchi (GD4)
Laboratory:
Nanko Laboratory (High temperature materials laboratory)
Specialization:
Research in MAX phase ceramics
Hopes for the future:
Achieve circular economy through the realization of producing low-cost, high quality MAX phase ceramic parts