As an academic impact hub for the SDGs, Nagaoka University of Technology develops engineers with practical and creative capabilities that continuously contribute to society. James (JC) interviews Mickel Mezatio (MM), one of the students at NUT, who aims to apply his research on building resilient and sustainable highways to help build the future of Africa.
JC: Mickel, thank you for taking the time for this interview. Why don't we start off with some background about yourself.
MM: My name is Mickel Mezatio. You can call me Mike. I am originally from Cameroon and I came to Japan in April 2019.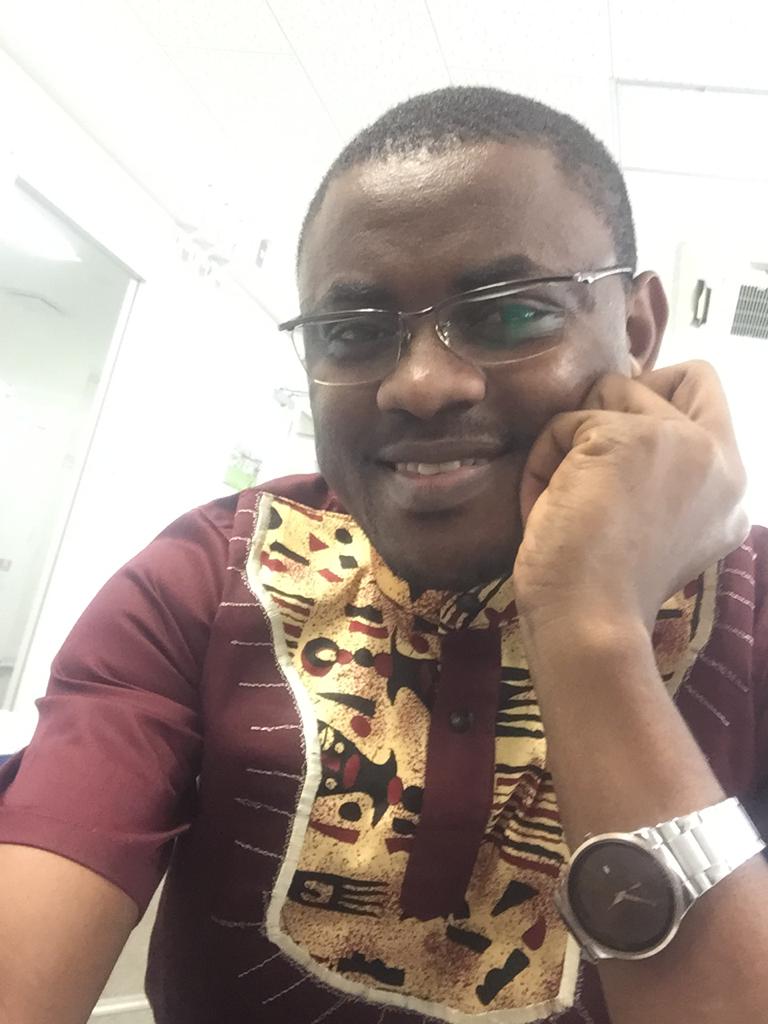 Mickel Mezatio came to Japan to pursue his master's degree on Civil and Environmental Engineering.
JC: You're quite new to Japan. What brings you to Nagaoka?
MM: I am here for a two-year program. I am working on my master's degree in Civil and Environmental Engineering at NUT. As you can see, Nagaoka is a quiet place, which makes it really good for studies. You have exactly what you need to study and be able to focus on your studies. In big cities, there are distractions.
JC: How would you describe the experience so far?
MM: My classes are well considered and planned and the city is good for studies. There are also some students from Africa and foreigners from other countries. The environment is very open. People want to know more about you, so they ask more information about you. Everybody is open.
At first, I didn't know how to interact. But the Japanese are very helpful. They assist you, they are very kind. And they learn also from you. The warm welcome to foreigners and the kindness from Japanese helped me adjust easily.
JC: I'm very glad to hear. You mentioned that the city is good for studies. Can you tell me more about the program that you are enrolled in?
MM: I am in the Highway Engineering Department and my research is on recycling asphalt with warm mix technology. I decided to pursue a master's degree because I studied it in my undergraduate program and had some work experience in the field.
My lab exercise is mostly concerned with highway constructions and the innovations that can be done in the field. Together with my supervisor, we look at sustainable solutions that allow us to reuse the existing raw materials used in highway construction in order to avoid the overexploitation of these raw materials. Not only are these resources limited, but there are also environmental costs when we throw the existing ones away. Reusing existing asphalt is also more economical and that is why, we continue to explore new methods of recycling and repurposing existing asphalt.
"Highways can help these underdeveloped areas to be physically integrated so that they can be part of an active economy. Africa needs specialists in highways and that is why I decided to pursue this field.
JC: It seems to me that you're very passionate about Civil and Environmental Engineering. What made you decide to pursue this degree?
MM: Highway is the way to development. As someone coming from Africa, I know that we have areas that are still not yet developed. Highways can help these underdeveloped areas to be physically integrated so that they can be part of an active economy. Africa needs specialists in highways and that is why I decided to pursue this field.
JC: Why did you choose to study this program in Japan?
MM: Japan is on unstable land. It experiences natural disasters. Despite these, Japan managed to build very good physical infrastructure such as highways. Japan is a well-developed country in terms of infrastructures. They can fix damaged roads within 48 hours or less. I find that really interesting.
JC: How about your teachers?
MM: My teachers at NUT are kind and helpful and I can classify them as experts in the domain. They are very open as well. We talk about sustainability, best practices, as well as difficulties of implementation in the field. We also practice it here. In the laboratory, we do all the testing and experiments and discuss the norms to follow.
JC: Tell me about making the big move. What have learned about yourself by moving to another country?
MM: It's a great experience to study abroad. For me, it is not only about my studies but also the Japanese culture, it has brought to me so many new values. I learned about truthfulness among Japanese, in their attitudes. They do things not because they want things in return. It's a very high value because around the world, people do things because they have intentions or they are looking for something. For me, that is high value and I cherish that.
JC: What advice would you give someone looking to study in Japan or the program that you are taking?
MM: Anyone wishing to continue studies in Japan or in my field of studies all I can tell you is to go ahead you will not regret.