Life is indeed unpredictable with changes happening fast so fast, the only way one could cope is by adapting quickly as change comes. The education industry is one of the many industries forced to adapt to the change, bringing about a different era in education.
Meet Ryota Toyoba, a first-year student from the 5-year Integrated Doctoral Program in the Department of Science of Technology Innovation. A sociable and open-minded person by nature, Ryota enjoys meeting new people and learning more about the world. Starting his education at the Nagaoka University of Technology in April 2021, he shares his experience at the university during the pandemic and his afterthoughts on the necessity of traveling abroad for international experience.
NR – Nagaoka Review
RT – Ryota Toyoba
Getting to know Ryota
NR: Tell us more about yourself.
RT: I am Ryota Toyoba, and I hail from a small city in Gifu prefecture called Wanouchi (輪之内). This is my first year at the Nagaoka University of Technology and I am still exploring many interesting experiences here.
People who know me well might describe me as a friendly and chatty person. I love meeting new people and making friends from all over the world. I am interested in getting to know and to experience other cultures around the world.
I recently graduated from Gifu KOSEN, majoring in Mechanical Engineering. In my free time, I love driving and traveling. Motorbike touring has always been my go-to adventure, but I have recently added camping to my list.
Left: Ryota (standing, third from left) with members of Club NUTAC, an automobile club at the Nagaoka University of Technology. The team could not enter the endurance race due to the pandemic. Right: Ryota's interest in 4WD off-roading especially in a Suzuki Jimny. Images courtesy of Ryota Toyoba.
NR: Do you have any places in mind that you'd like to visit?
RT: In general, my desire to travel overseas stem from my deep interest in research. As an engineer, I am interested in high industrial technology. I also love vehicles and the automotive industry. Naturally, Germany came to mind. I learned German at Gifu KOSEN, but it was very difficult. I probably need to refresh my language skill.
From a product design perspective, France and Switzerland comes to mind. I hope to gain inspiration from the human-design interaction perspective to improve my designing skill. I'd also like to explore Southeast Asia.
NR: What do you think of Nagaoka?
RT: Nagaoka is blessed with beautiful landscape and delicious food. Located close to the sea, fresh seafood is easily available. I also enjoy the rice served in Nagaoka. Being a rice lover, I am amazed by the consistency of the quality of rice served in every restaurant I have ever visited in Nagaoka. In my experience, it is common for different restaurants to serve different quality of rice. But it does not happen in Nagaoka.
I recently started exploring some local sake (rice wine) and instantly loved the Kiyoizumi brand. If you were to visit Niigata, please try this rice wine!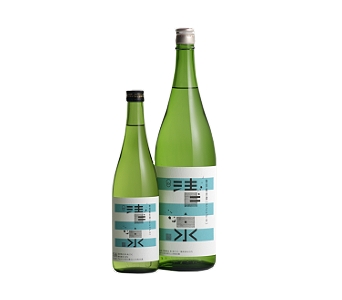 The only drawback for me is the cold winter. In places along the Pacific Ocean, we are often graced with a lot of sunshine and blue skies. Along the Sea of Japan, we tend to see more cloudy days, and rainy or snowy days. Winter does get a little gloomy here. However, I enjoy other seasons here very much!
NR: Why did you choose to study at the Nagaoka University of Technology?
RT: My fream is to have overseas working experience; hence I was particularly attracted by what the university has to offer. I was attracted by the long-term international internship in B4, as well as the advance courses offered in the Department of Science of Technology Innovation (STI). Moreover, I see opportunities to study abroad.
Developing Quality Solutions for the Aging Population
NR: What research are you currently working on?
RT: My research is related to creating a longer-lasting solution for hip replacement. With current available solutions, patients may have to receive a second hip replacement surgery. Age becomes a decision-making point for some patients to decide WHEN to opt for hip replacement. In the case of patients in their 50's, should they ride the pain out and receive it later so they could skip the need for a second hip replacement?
I am working on implementing optimization of technology and humanity. While there are many parameters to consider (e.g., structure optimization, weight, biocompatibility, etc.), I am hopeful that the solution would alleviate the social challenge related to hip replacement.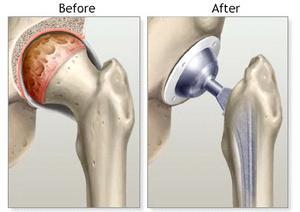 Hip replacement solution. Image via Midwest Center for Joint Replacement website.
NR: What made you motivated to find solution to this social challenge?
RT: It is a rather personal experience. I know of someone who needs hip replacement surgery and currently at the decision-making point. After having first-hand experience, it increases my empathy towards other people who are having the same challenge. As the aging population around the world grows, we need quality solutions that can increase their quality of life.
NR: What issues are you specifically looking at in your research?
RT: Currently I am exploring the structure of the material. With forest material, the micropores contribute to the overall structural weakness, making it easy to fracture. We hope to combine technology to create a high-strength material with additional function such as biocompatibility, and lightweight. This material can be used as artificial joints for people, especially the senior citizen.
Educational Experience at the University
NR: What classes did you enjoy most during your last semester?
RT: I was most impressed by two classes, Global Communication and Design Thinking.
Global Communication gave me a whole new perspective. I learned more about cultural differences in different countries and how to see things objectively. It was a great experience, further motivating me to want to learn more about cultural diversity in the world.
My friend and I at the university established the Industrial Design Laboratory club (工業意匠研究会) to learn more about product design and ways to improve engineering techniques. We were motivated by our dream to find solution related to design from the engineering perspective.
Design Thinking gave me the necessary skills to think of creative solutions. In the class, I enjoyed the extensive discussion opportunities in English. Our class also took on a high-level problem of solving a real challenge faced by our classmate's restaurant that ended in true satisfaction when we discovered great ways to solve real problems. Now, I am more motivated to take on the next challenge!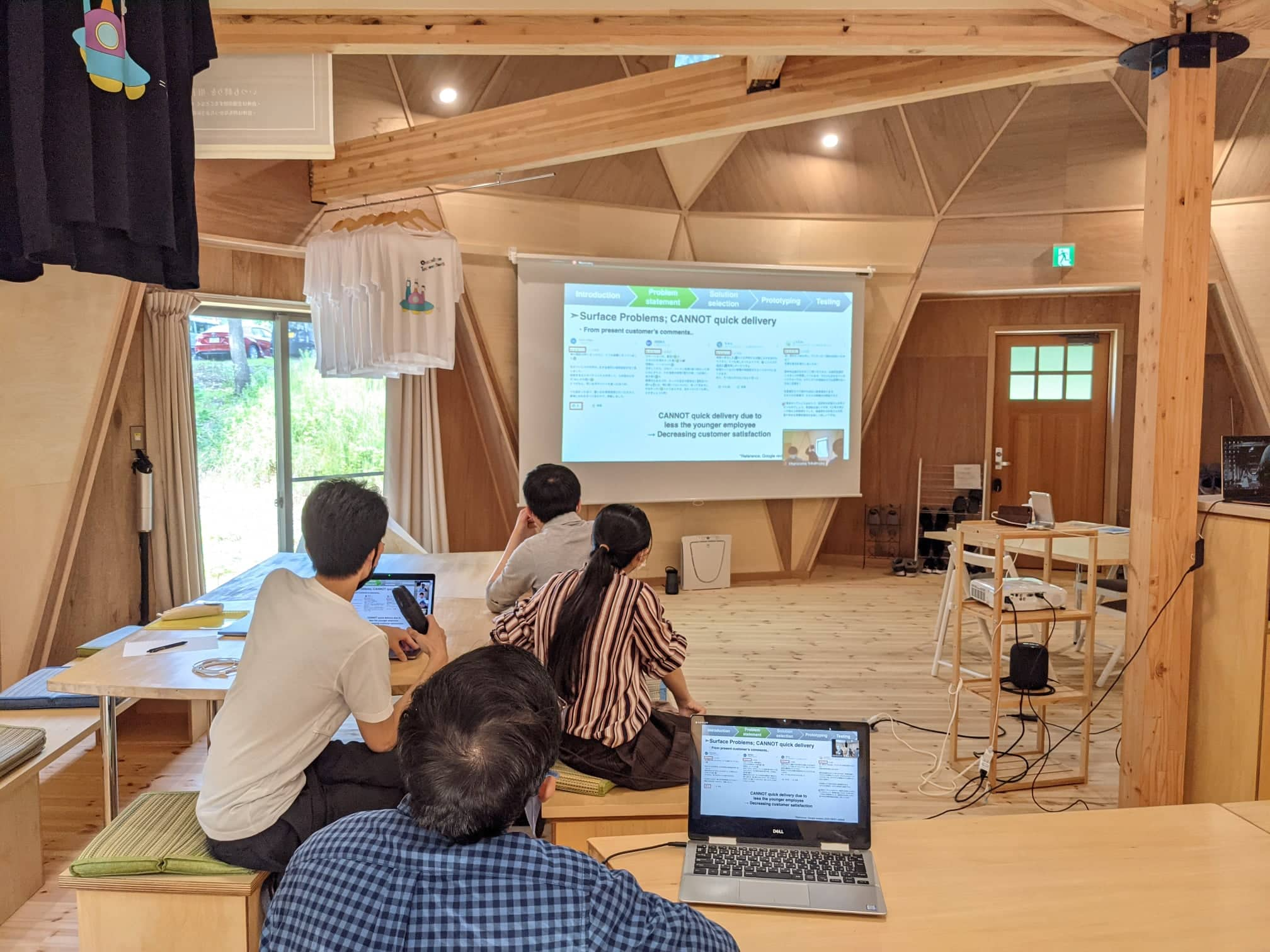 Ryota sharing his thoughts in the Design Thinking class in the April 2021 semester.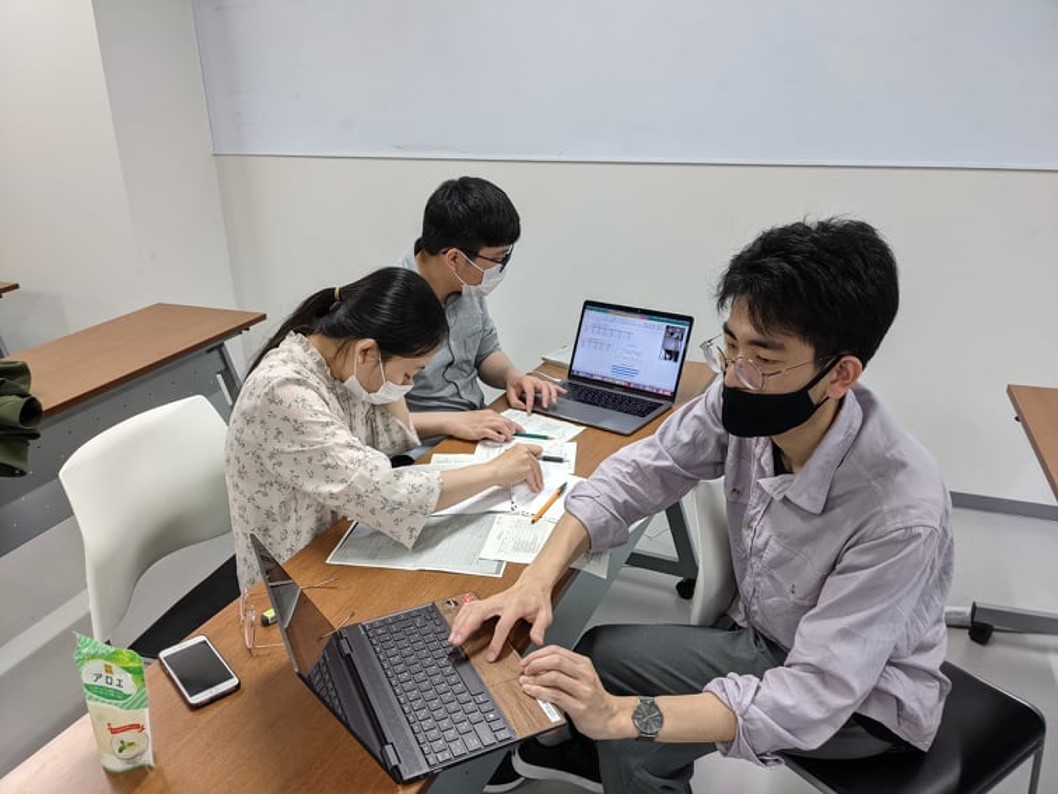 Team collaboration is essential in projects
NR: Have you ever studied abroad?
RT: I was the lucky few people who had the opportunity to go to Mexico between January and February 2020. It was an opportunity for Japanese students to engage in a language exchange program with Universidad de Monterrey, Mexico (UDEM). I took English and Spanish classes at the university. At the same time, I joined the Japanese language class as a student support member to facilitate the language learning process.
I was impressed by the high-level Japanese spoken by the students at the university. They knew a lot about Japan. That caught me by surprise.
NR: What do you like about the opportunity to study abroad?
RT: I love meeting new people and learning more about different cultures. Being in a different country speeds up the learning process, opening our eyes to diversity.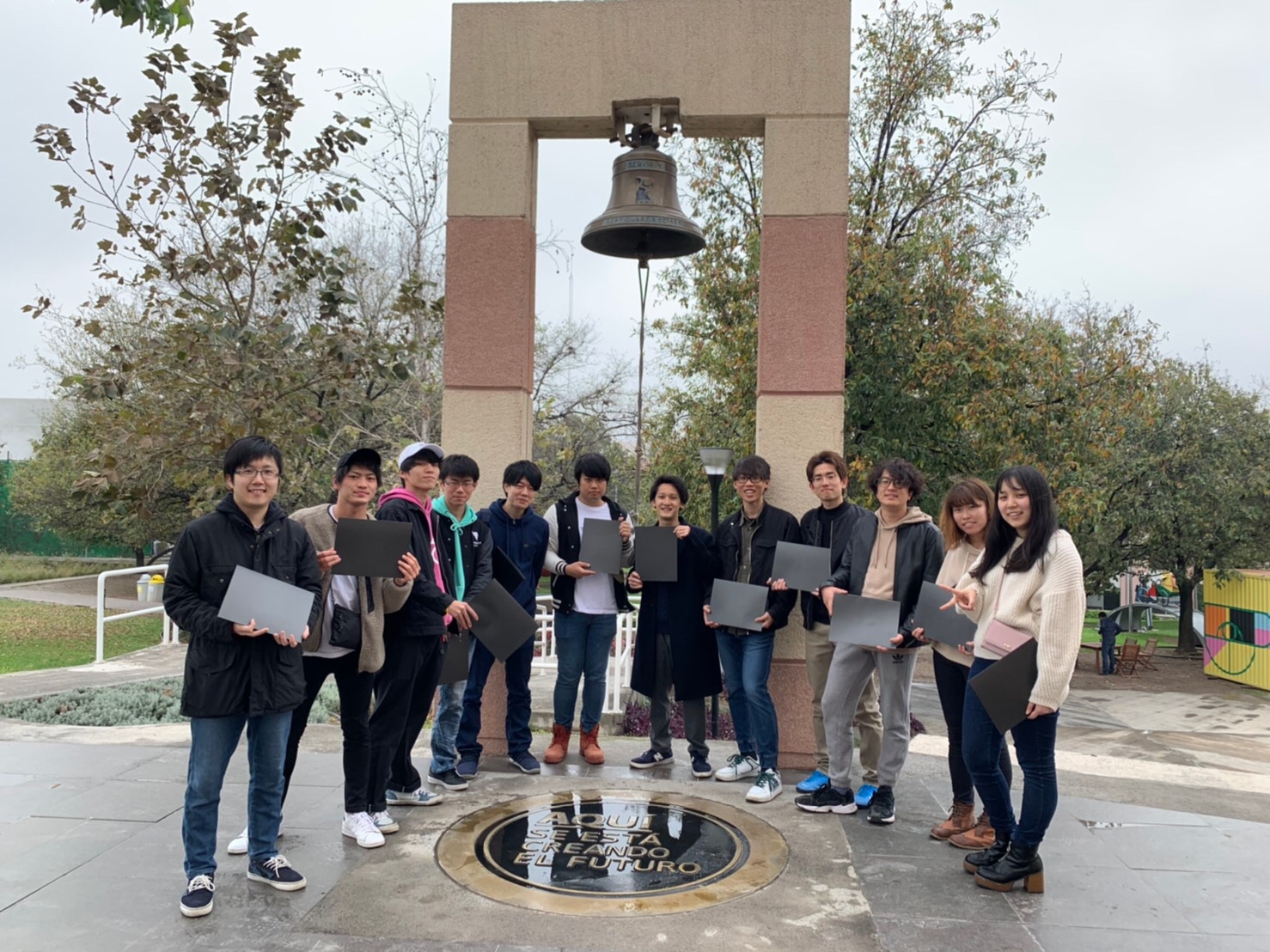 The graduation ceremony of the short curriculum at UDEM in Mexico, February 2020. Image courtesy of Ryota Toyoba.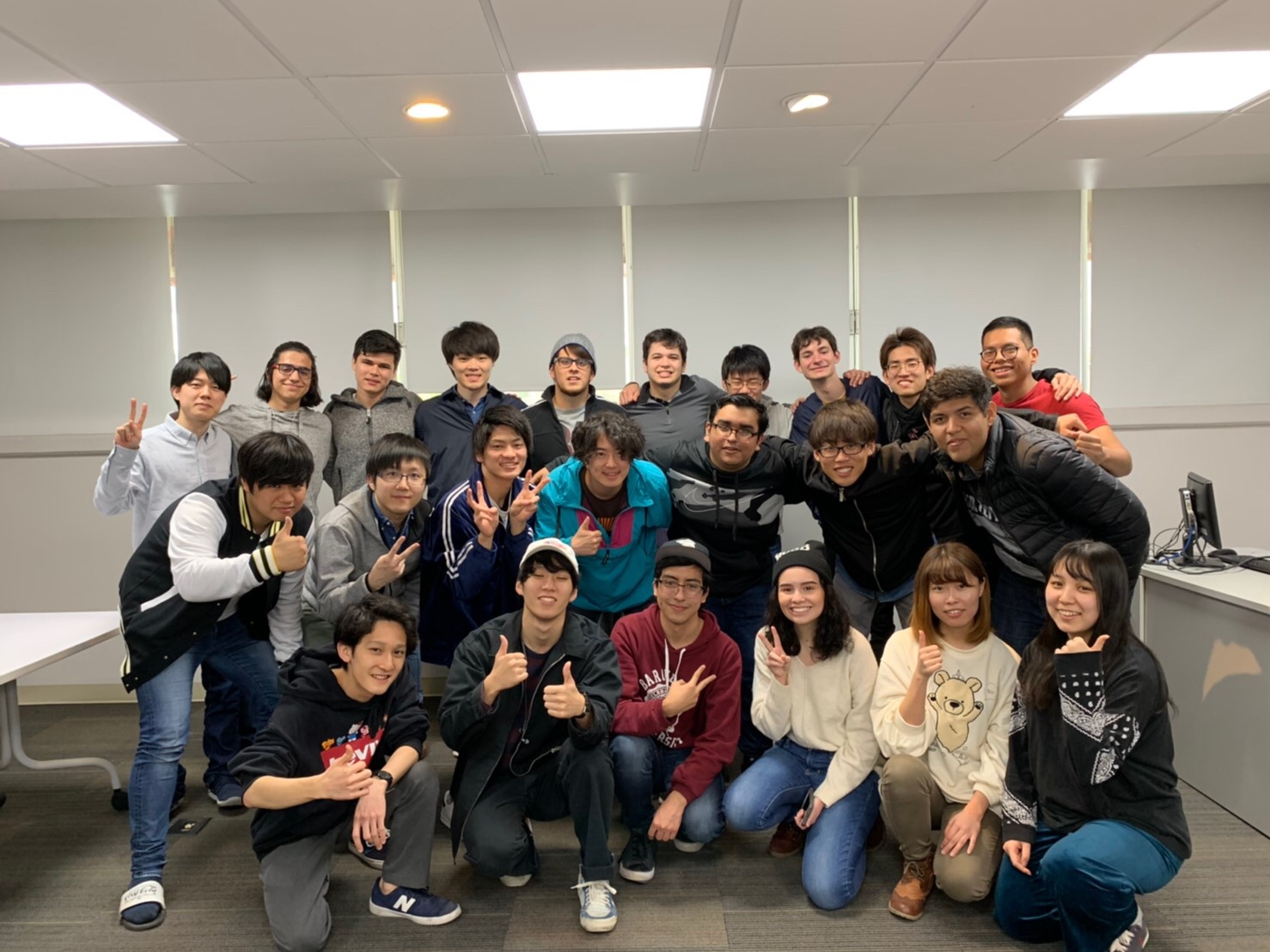 Supporting the teacher in conversation technique in the Japanese language class at UDEM.
Image courtesy of Ryota Toyoba.
Pandemic as the Game Changer
NR: You joined the university during the pandemic. How has your experience been?
RT: To be honest, I was initially disappointed. I had to forfeit my chance to study and do internship abroad due to the current situation. However, I soon made peace with the situation not within my control and reframed my thoughts on making the best out of the situation. Now I spend my time thinking about what aspects of my life that I could influence to optimize my experience. We just have to be forward-looking and adopt agility and a growth mindset.
NR: What is the silver lining from this challenging experience faced?
RT: For me, the biggest win would be the adoption of online solutions. Had the pandemic not happen, there is a high chance we would still rely heavily on face-to-face interactions.
Before the pandemic, people do not know of many online software and applications. I knew about Skype and some other solutions, but many options were not user-friendly. During the pandemic, we discovered Zoom. The success of Zoom is attributed to a few points; it is easy to use, and it is easily accessible! Thanks to Zoom, people can connect with each other easily!
NR: How has your thought shifted from this experience?
RT: I find it easier to connect with people on the internet. From this experience, I am starting to ponder if travel is a necessity. The pandemic has pushed the world to consider substitutes due to the challenges, it will surely make us re-evaluate our next plan and action in the future.
From a logical side, I am reconsidering my need and desire to study abroad. The emotional side, however, believes in having the immersive experience in the real environment. I personally want to go abroad out of curiosity, but I also wonder about new experiential options that will be present soon.
Students at the STI department have opportunities to study abroad and gain experiences like studying abroad. We have a sizeable number of foreign students, presenting us with the international experience. I find this environment conducive, resonating with my initial thought of not needing to travel abroad for such experience.
NR: There is a difference between Face-to-face (F2F) and online experience. What are the drawbacks you see?
RT: The building of trust between people is something Japanese people emphasize on a lot. Trust building works better in a F2F method. But during the pandemic, we had to find some workaround to achieve something similar. Online meeting is a different option to allow communication to happen, but it does not act as a great substitute. But we should give much credit to technological advances in the past decade for speeding up this process!
NR: How do you see your future being impacted from this experience?
RT: There might be a chance our jobs could be done remotely. While I still hope to experience living and working abroad for the experience, I am starting to think of leveraging on the internet for a different experience. This remote learning and working possibility seem really interesting to me!
NR: What other aspects of your life changed through this experience?
RT: There is a saying in Japanese, 灯台下暗し (とうだいもとくらし, toudaimotokurashi) which is translated to "it is darkest under the lamp post". We tend not to notice what is around us, just like how you'd find the bottom of the candle stick to be the darkest area.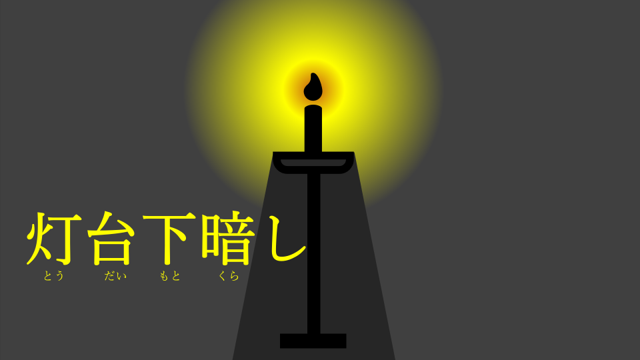 In the past, I used to be more attracted to the culture in other countries as compared with my own culture. But speaking with new friends at the universities and reconnecting with some of my friends in Mexico gave me a different impression. I kept hearing how much they enjoyed Japan and how they appreciate the culture, food, and the kindness of the people so much.
The shift in my experience has motivated me to reconnect and rediscover my own culture as a Japanese person. Indeed, we have some very interesting culture that cannot be found elsewhere in the world. I hope to discover newer insights as time passes.
Name: Ryota Toyoba
Current Course: STI – WISE Program GD1
Laboratory: Otsuka Laboratory – System Structure Safety Assessment
Hometown: Wanouchi, Gifu (輪之内町)
"Make dreams come true, NOT dreams come true."
Connect with me on LinkedIn!