According to UNDP, the Sustainable Development Goals (SDGs), also known as the Global Goals, were adopted by the United Nations in 2015 as a universal call to action to end poverty, protect the planet, and ensure that by 2030 all people enjoy peace and prosperity.
The creativity, know-how, technology, and financial resources from society are necessary to achieve the SDGs in every context.

With a bachelor's degree in applied sciences from the Wayamba University of Sri Lanka, Chayani Dilrukshi initially chose the Nagaoka University of Technology to follow a master's degree in management and engineering and learn more about SDGs goals. This month she started her doctoral degree. The Nagaoka review team had a chance to talk with her to know more about her co-designed research, volunteer activity as an SDGs promoter, and her short- and long-term goals.
Student Experiences
NR: Can you tell us a little bit about yourself?
CB: My name is Chayani Dilrukshi and I'm from Sri Lanka. After completing a bachelor's degree in Applied Sciences from the Wayamba University of Sri Lanka, I joined this university as a Lecturer in the Department of Industrial Management, Faculty of Applied Sciences. During that time, I continuously looked for scholarship opportunities to study abroad and continue my graduate studies.
I came to Japan in 2019 and joined the Nagaoka University of Technology as a master's student with an SDGs scholarship. This year I received my Master's in Information and Management System Engineering and started my Ph.D. soon after that. Currently, I am a 1st year Ph.D. student under Professor Nomura Shusaku from Ambient Biomedical Engineering Laboratory.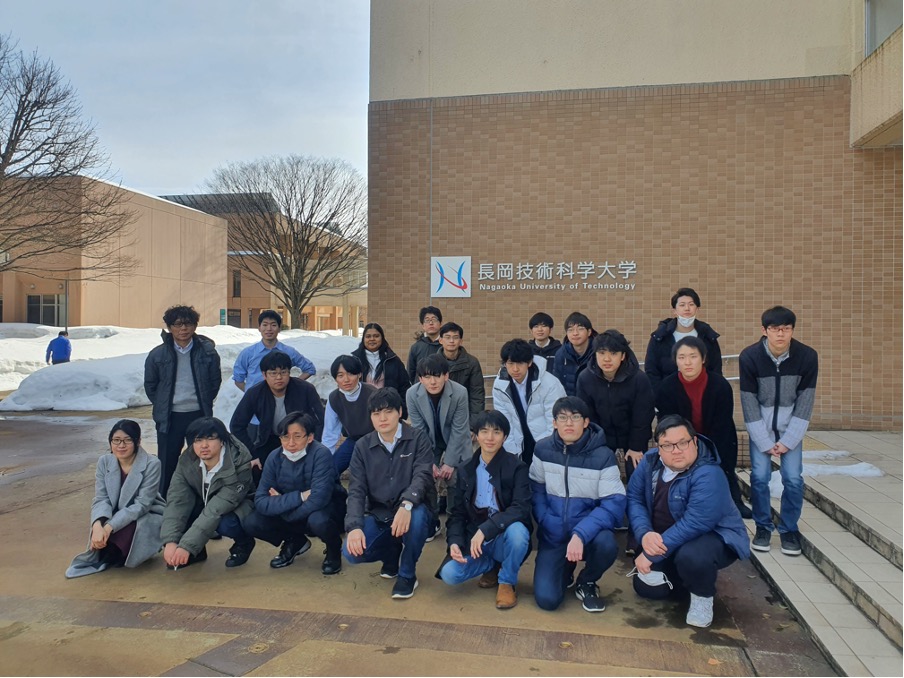 Chayani together with her Professor Nomura Shusaku and colleagues from Ambient Biomedical Engineering Laboratory. Image courtesy of Chayani
NR: Why did you choose to come to Japan?
CB: I like to interact with different people and discover new things every day, and this is one of the main reasons that determined me to study abroad. Initially, I was thinking about Australia, but researching more, I found myself interested in Japan. Although I was already working in my home country, I decided to study in Japan because, first of all, I thought it would be a great chance to follow my aspirations. Second, our cultures are very different, and this interested me.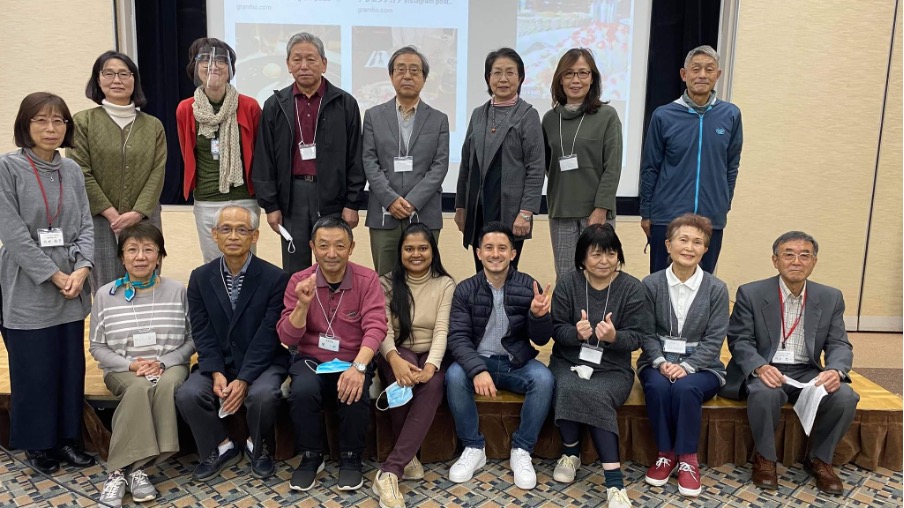 Discovering Japanese culture. Image by Chayani
NR: What attracted you to choose the NUT as a place to study?
CB: I had a very positive impression of NUT before coming here from what I had heard from one of my university colleagues who was recently a scholar at NUT. As my field is in applied sciences, I wanted to follow a master's degree in management and engineering. 
My senior colleague recommended me to this university famous for many international scholarship projects, diverse environment, good student support, and its development level in terms of technology, innovations, and qualified specialists. 
Secondly, I had a chance to know my current supervisor, professor Nomura Shusaku during one of his visits to our university; this connection also served as a starting point for me to become a NUT student. Looking back, I am pleased about the decision I made to study at the NUT because of the invaluable opportunities I got exposure to advanced technologies, research grants, international conference opportunities, meeting various experts and specialized professors.
Research Activity
NR: Currently, you are enrolled in a doctoral degree. Could you tell us more about your research?
CB: My research is related to analyze the effect of aromatherapy on human stress. Aromatherapy is popular for stress reduction, but its effectiveness and mechanism are unclear. By using black pepper, ginger, apple, and chamomile flower, we analyze the human body's psychological reaction to them to classify them based on their characteristics and medical specification.
Also, we're working right now on another study. In collaboration with a hospital from Sri Lanka, we collected samples of nurses' nails working in the COVID and non-COVID sections to analyze their hormone's construction. With hormones analysis, we intend to observe human stress and suggest what type of aroma can be used for better sleep, study, or relax time, stress period, depression, or anxiety.
Building better world activities based on the SDGs goals
NR: What does SDGs mean for universities?
CB: Sustainable development is crucial to the future of the entire planet. The SDGs can be grouped into three broad areas: well-being, the environment, and the economy, and universities play a central role in all three. As a public or private institution, universities serve as bridges or connecting points between different institutions, sectors, and people from other areas of activity.
I would now say that higher education facilitates social mobility, empowers people through critical thinking, and provides them with the skills needed in a rapidly changing labor market. It also has good resources to conduct fundamental research crucial to understanding how nature and the earth's ecosystems function and disseminate this knowledge.
They gather people from various disciplines with different approaches and talents to find innovative solutions to the world's challenges, facilitate people-to-people contact, research cooperation around the globe, build networks, and develop the know-how needed to sustain innovation worldwide.
NR: What was your own turning point in connecting your study degree to the SDGs agenda and what has changed in your own research work as a result?
CB: My turning point came early in the SDGs agenda.I came to Japan as an SDGs course master student and was involved in discussions leading up to the SDG, and I tried deliberately linking my work to the global goals plan as much as possible. Over the years, it's shaped my work because my research has mainly focused on the SDGs' good health and well-being agenda elements (SDGs3). Wherever I can, I try to modify the way I am thinking, intellectualising, conceptualising, interpreting and analysing the world through the SDGs, using them as a framework for thinking about the transition towards and a low carbon and inclusive society.
NR: What's the most memorable experience you had as an SDG Promoter? How has it shaped your experience as a whole?
CB: I was lucky enough to gain various experiences during different projects. But two events significantly strengthened my personality and helped to develop more social skills.
As an SDGs promoter, I organized an online webinar on gender equality. It was a new started point for me as a webinar host and a global promoter. And it was so impressive to meet 45 participants from different institutions, areas of expertise, and cultural backgrounds and once again to conclude that we need diversity in terms of people and mindset to find solutions to challenging situations, learn from different perspectives, and learn from different perspectives to disseminate knowledge.
The second event was a family-friendly event called "Nagaoka city, a place of fermentation- HAKKO trip" held in Nagaoka City Hall Aore, I participated together with another 4 SDGs Promoters and NUT's SDG Hub coordinator Mami Katsumi. During this event, we exhibited a booth introducing the university's SDG activities as part of its promotion to raise awareness of the SDGs among local communities. Also, we provided opportunities to explain sustainable societies through board games (SDG Carom and SDG Activity games) and enjoy the interaction with the local community.
Promoting SDG objectives among the local community. Image via mext.go.jp
NR: Based on your experience, how can SDG Promoters effectively communicate their message to their targeted audience? How important is the message?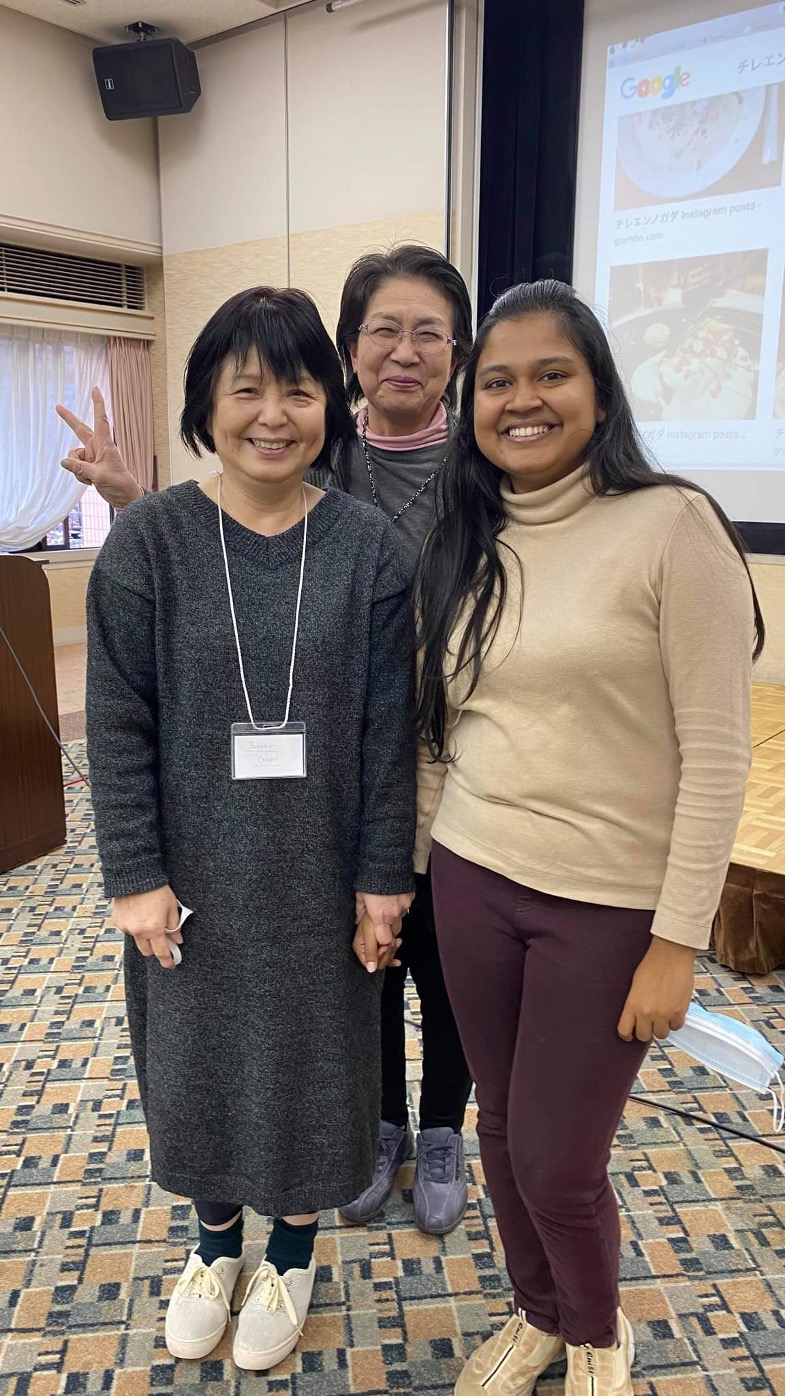 CB: I see this as a work in progress. There is no magic formula. It starts with people interaction and the correct way of communication. And yes, the message is essential, but I'll say that how you are sharing the information is much more critical. It's all about storytelling- because the result is not related precisely to the message you are saying. It's related to your attitude toward the people listening to you.
The message is important, but attitude makes the difference. Image courtesy of Chayani
NR: What do you envision the SDGs project to look like in the future?
CB: More collaborative. As we go forward, I hope to see that we start getting more serious about transdisciplinary challenges inherent in sustainable development. To see experts from government, academia, business, and NGOs collaborating and finding solutions to actual or future challenges.
NR: What are your short- and long-term goals?
CB: I like to take the opportunities that come to me. Before, I had the impression the SDGs were challenging and didn't know where to start, but participating in some projects made me think, "I can start with the things I can do myself."
Speaking about my long-term goals, after achieving a doctorate, I'll return to Sri Lank to continue my job at university and contribute to our international community's socio-cultural development. I want to revitalize our research culture by connecting it to the Japanese example and create more academic and social connections.