To create a successful service offering, every business must identify what aspect of the service it needs to excel in. One may compete on the quality of the service, speed, proximity, price or a combination of these factors, all depending on what the customers need and how customers define excellence. From my brief conversation with Hisae Fukazawa (HF), a professional hairstylist at NUT and is involved in service delivery, the following interesting points stood out:
The human-based communication is the foundation to creating a masterpiece which enabled her to thrive in the service industry for the past 20 years.
Service is a mindset. It means committing to the collaboration between two parties and putting a lot of 'omou' or thought and consideration.
Rather than creating another space, she would rather have her kids continue her salon (if they wish) to continue giving back to the community and the university.
NR: Thank you for your time and agreeing to have a quick chat. Why don't we begin with a brief background about yourself and tell us the story as to how you ended up here at the Nagaoka University of Technology (NUT)?
HF: I am originally from Nagaoka and I have been cutting and styling hair for the past 20 years. My grandparents are in this business, and so is my husband. They are all professionals and we all have own sense of art and aesthetics.
The last eight years have been here at NUT. I came as a successor to someone who previously managed this salon at the university. There was timing and serendipity. She was leaving and looking for work and I knew her because we used to work together in the industry.
NR: And what other reason she might have had to choose you to be her successor?
HF: Trust.
NR: What do you like most about what you do?
HF: I see this as a present from God to me. It is a mission. I enjoy doing it and I feel a strong sense of purpose and mission. It is also very fun.
"For me, hairstyle is an art. I feel excited to bring a masterpiece to every customer I meet. That is how I live every single day.
Every day is an opportunity to create. I can never have enough as there is a lot of diversity here. Students come from different countries and nationalities. I can never have enough. And I see this not as a challenge but an opportunity to learn. There are people from other nationalities — different shapes and forms of head, different hair quality, hair types, and different likes and dislikes. Some people like one and another. Asking what people want is not enough, so I go step ahead and learn ahead, and learn even before I accept an appointment.
NR: What kind of things do you try to learn ahead and why?
HF: Now, I am learning Spanish because I have clients who speak Spanish. Learning some words and expressions will help me connect easily. Communication is very important. I need to establish that so I can have a very good relationship. And this relationship will be the basis of a masterpiece. I would not be able to complete the artistic form unless I understand or establish the human-based communication with the other person. I love meeting people. I love making people happy and making them look better.
NR: How do you keep your customers happy?
HF: I am not really school smart. I am very visual. Whenever I see shape, I feel very excited. I do not forget my own creations easily. I also remember the content of the conversation. The conversation inspires me on what to do next.
Given that Kaneko-san was cutting hair at the moment, we took the time to throw the question to Cristian Vlad (CV), her client during the interview.
NR: What keeps you coming back to this shop?
CV: It's the feeling of safety. The feeling that you are in trusted hands. You are going to a relation. Coming all the way back from Tokyo, I don't want to think about dealing with somebody that is transaction in, and transaction out. There is a feel-good type of conversation. It's not intrusive, very relaxing, and has this rhythm that makes you feel secure and good. It's like meeting a relative, or meeting someone you are looking forward to.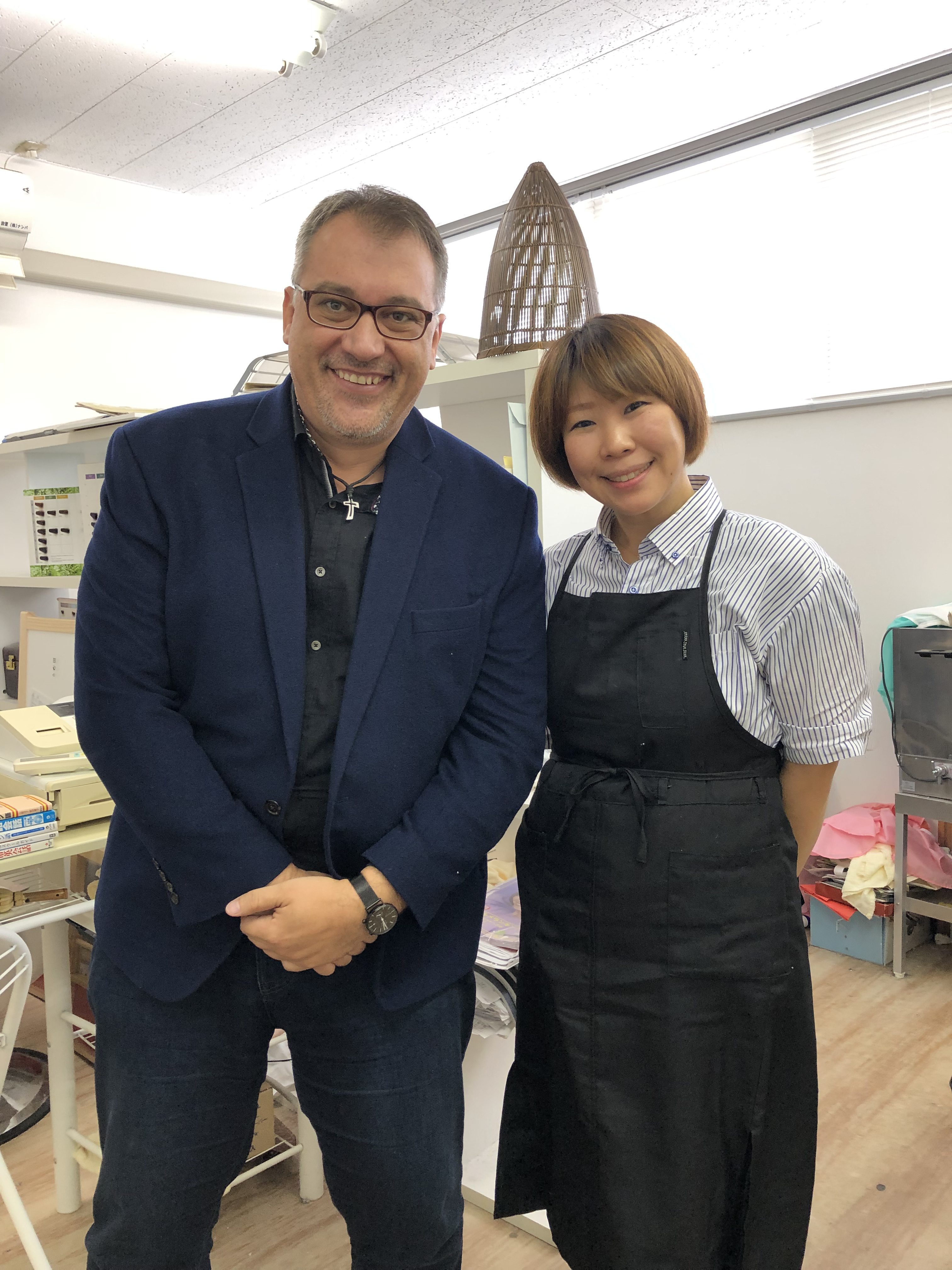 Hisae Fukazawa with Christian Vlad, a professor at NUT and a regular customer at Fukazawa's salon at the university.
NR: What is the secret to being in business for 20 years?
HF: Business is a collaboration between service delivery and purchase. Relationship has to be clearly understood. For me, service is more than just receiving money and giving a solution. Service means committing to the collaboration between the two parties and putting a lot of 'omou' or thought and consideration.
"Customers are gods. I really believe that is true. There is something divine about someone honoring you with their patronage or service. That mindset impacts the way I look at what I do and do what I do.
If you do not understand that mindset, you will spoil the pleasure of enjoying a meal or a facility. If you put that thought in the right place, your manner will change and will be commensurate to delivering good service. Mindset impacts behavior. Collaboration starts the moment customer walks into my shop or calls me on the phone.
NR: What about price?
HF: Price is very reasonable. In the Japanese economy level, money is important to keep me going but along with it is the satisfaction of meeting people who keep coming back, who nurture the store and also my artwork. Good Japanese salons would nurture the same type of mindset. They would. That is an indication that the culture that is inherited.
NR: What are your thoughts on the use of technology in your business?
HF: Technology is very convenient. But there is one reason I do not utilize it—I am not too familiar with it but I would love to learn. I feel very excited when people come in and spend time with her but I really wish I had more time to learn about the latest technology and development. A lot of people ask me if I am online. Because I am not too familiar with online, I find it a bit trouble. If there is a way that there is so much trouble, it takes so much time away from what I do.
NR: Do you ever consider expanding this business?
Say my kids want to do something like this and decide to branch out without a reason? Hmmmm. I would rather see my kids come in here and work together so that they can learn from me so I can see the successful succession of my trade. My kids go to the university very frequently and the students enjoy playing with my kids. It would be a great way to give back to the students if the kids take over the store and continue giving back to the community and this university. Rather than creating another space, I would rather have them continue with the community here. For sure, they will be more tech savvy than I am.