Showing appreciation to the community for their unending support
Fancy getting in line for food?
Japan has a fascination for long waiting lines, believing that a store's reputation could be seen by the mushrooming line of people waiting to savor the delectable offerings of these establishments.
In an article published by LiveJapan on Japanese people lining up for 2 hours to see the panda at Ueno zoo, Japanese psychology was referenced by Professor Imaizumi whereby he mentioned that Japanese people love forming long lines, further citing an example of people seeing it on the news, therefore increasing their interest to be a part of the experience.
What about good dessert? Would you wait in line for it?
Japan is well-known for its delectable range of sweets, ranging from traditional sweets such as Mochi (rice cakes) and red bean paste to Western confectionery such as cakes and puddings.
Combining Western confectionery making skills with local ingredients, Japan is the place for interesting desserts. Contrasting with its Western counterparts, the sweets sold in Japan are less sweet to the palate, making it a hit among people of different ages.
Cream puff, or better known in Japan as choux cream (シュークリーム, read as "shu-cream") is a popular choice of dessert here.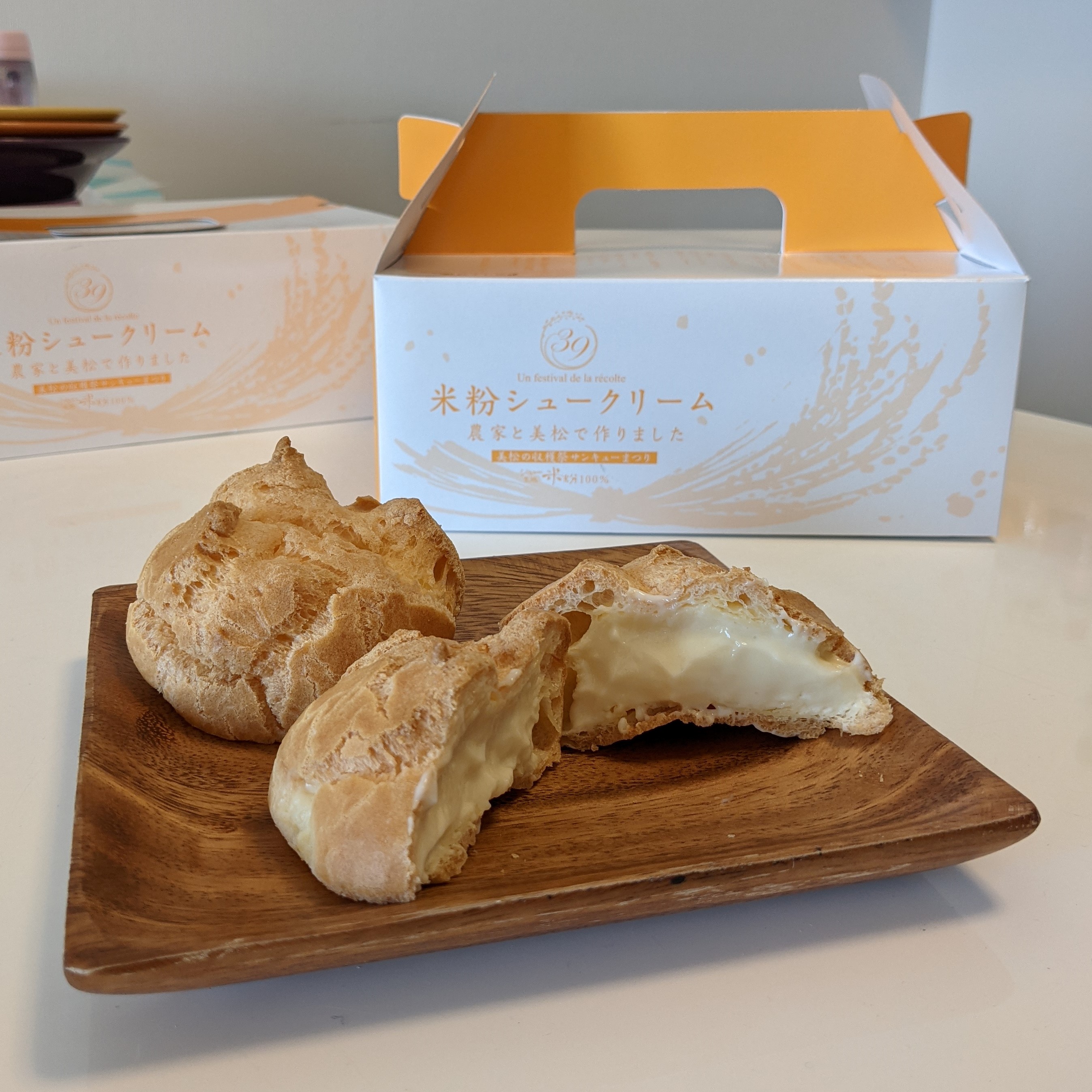 Cream puffs are popular in Japan
Sankyu Matsuri (Thank You Festival)
When saying thank you in Japanese, one would notice that the Japanese would pronounce it as "san-kyu". To shorten the text, some people would write the number "39" instead, as 3 is read as "san" and 9 as "kyuu".
Called the "San-Kyu Matsuri", each cream puff is sold at 39 yen since 1960, a year after the founding of the company Mimatsu Café. The festival is held every year from the 1st February till the last day of the month until 6 years ago, when the company decided to introduce another round of festival in November, making it a biannual event.
Mimatsu Café offers their loyal customers and fans a box of 10 cream puffs at just 420 yen including tax.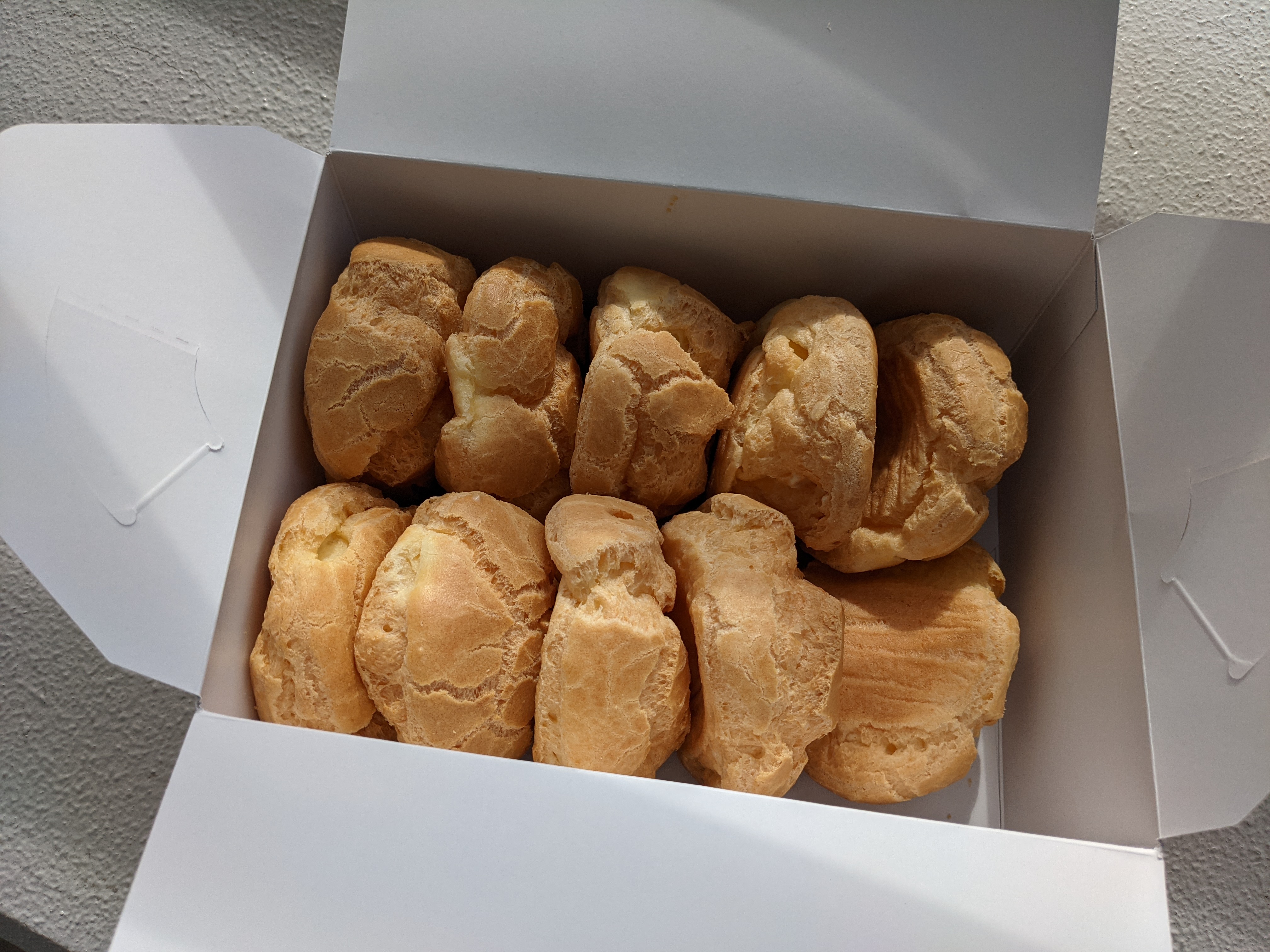 A box of 10 cream puffs from Mimatsu Cafe
Nagaoka's Famous Dessert - Choux Cream
Made with 100% rice flour, the cream puffs are made with locally sourced Koshiibuki rice from Mitsuke city, Niigata.
The line at Mimatsu café is usually long, extending from the café, past the city hall and almost continuing at the entrance of the Nagaoka station. Due to the pandemic, the line has shortened significantly, but it could still take up to a 30-minute wait for fans and loyal customers to get their hands on the puffs.
The Nagaoka Review team decided to join the line at 9:30am, thinking it would be early enough but soon realized that other customers were already in line. A shy but friendly local Nagaoka resident was standing in front of the team, slowly warming up to the foreign-looking member and started a conversation. Ishii-san recounted her past experience of waiting in line for the delectable cream puffs, highlighting that she planned to buy 3 boxes to be shared with her family and neighbors.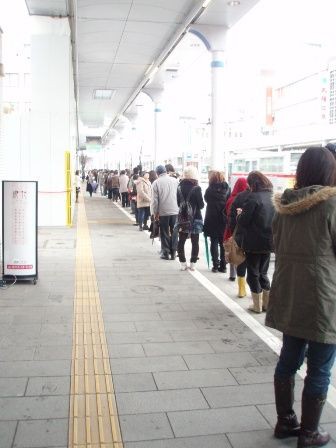 Image of the line forming outside Mimatsu Cafe. Image via Sikisai Yuzawa's blog site.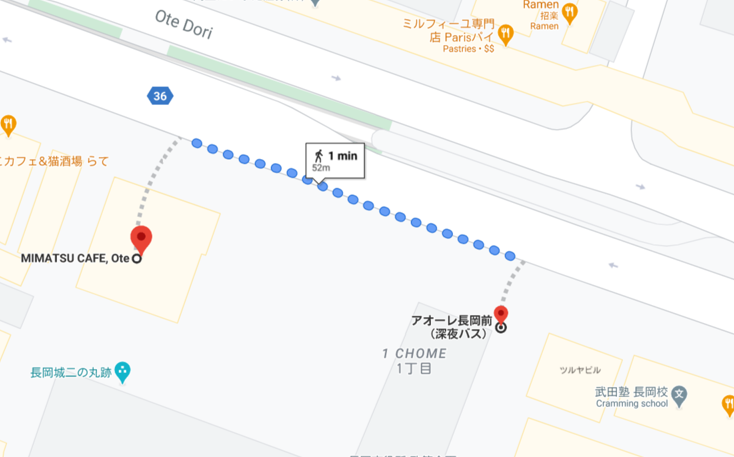 The length of the line if one were to arrive at 9:30am before the pandemic
"Due to the fear of the coronavirus, the line has shortened significantly. We arrived at 9:30am and we are probably the 20th in line. In the past, I would have been standing past Aore (City Hall)

Ishii-san

Nagaoka resident and loyal fan of Mimatsu since the 1970s
Upon arriving at the office, the Nagaoka Review team member decided to inspect the cream puffs and were shocked to find "standard sized" cream puffs. The company lives up to the Japanese standard of ensuring the quality of product. It is of no wonder why the line is always long at Mimatsu Café.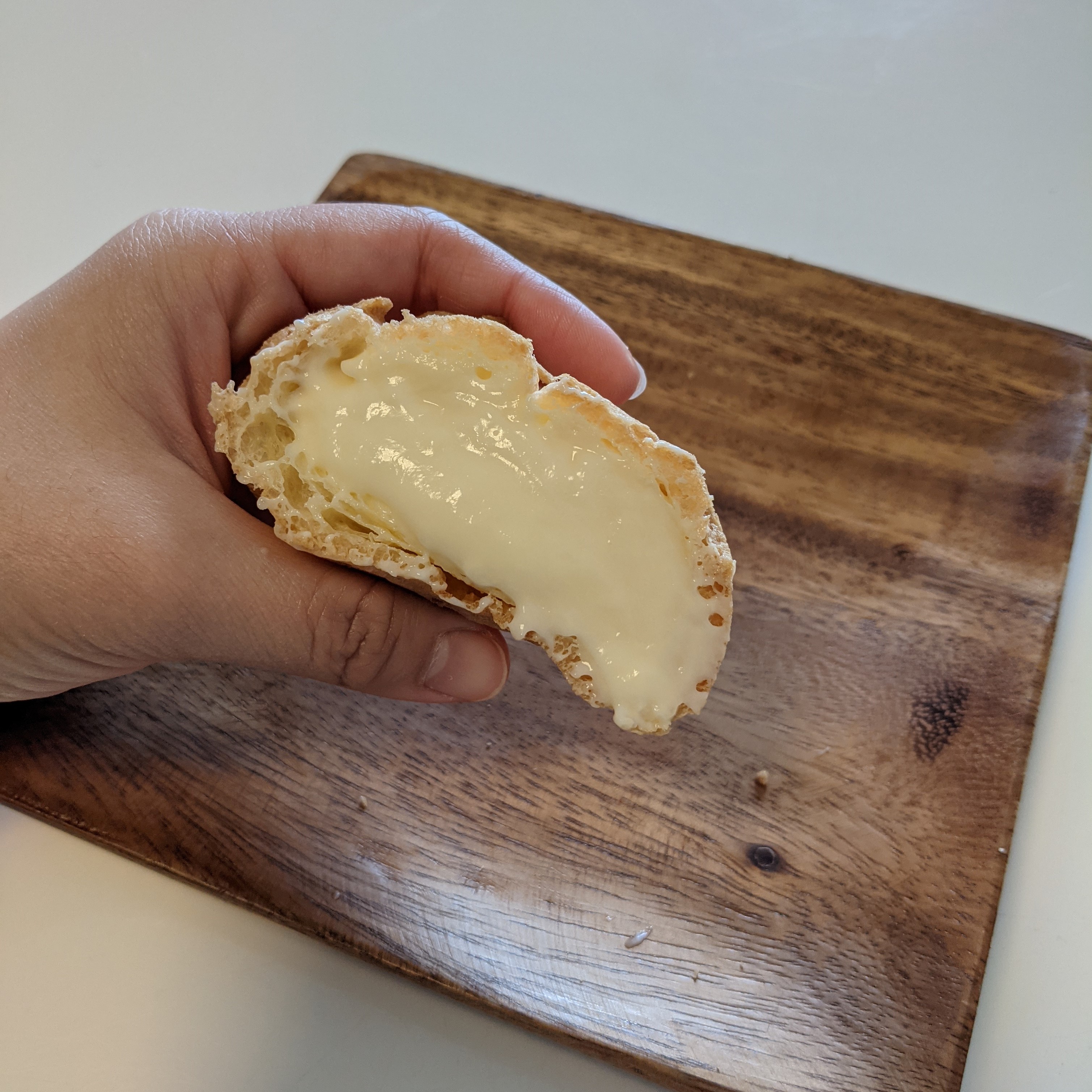 A clearer illustration of the size of the cream puff from Mimatsu Café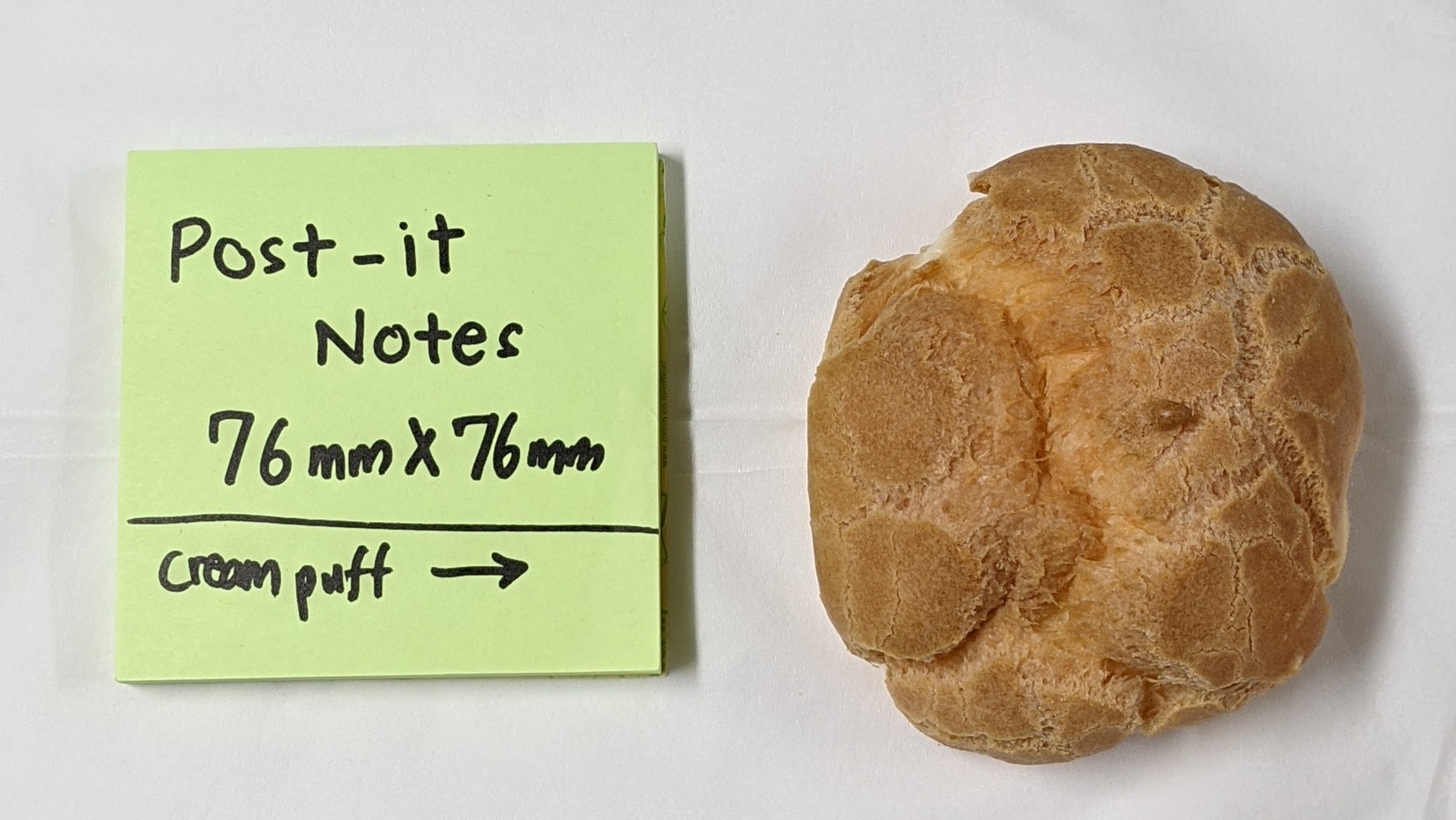 When cut in half , the cream puff shows the generous helping of cream
The cream puffs sold at Mimatsu Café during the "Thank You Festival" is one of the best deals one could get. Another local resident who was in line also commented that one would not be able to experience the change in season without having the cream puffs by Mimatsu Café.
"You won't feel the transition from Autumn to Winter without having Mimatsu Cafe's Choux Cream

Yonezu-san

Nagaoka resident and long-time supporter of Mimatsu Cafe
In a day, 20,000 boxes are sold at the Mimatsu Café along Ote Street from 10:00am till it runs out. 100 boxes each are sold at Mimatsu Café at LoveLa Bandai and Gateau Senka store at AEON Niigata Minami. 300 boxes are sold at the Gateau Senka store at Mitsuke Kobo.
Visiting Nagaoka on a different month and not able to make it to the "Thank You Festival"? Gateau Senka has another interesting offering for their loyal customers and fans, "MYシュー" (read as my-shu). The company releases one variant every Friday, and it's only selling at 540 yen for a box of 6.
The company certainly has a good sense of humor, as the name "MYシュー" is a word play on rice choux 米シュー (mai – shuu) as well as every week 毎週 (mai – shuu).
Weekly flavor of cream puffs
Click HERE for more information related to cream puffs from Gateau Senka.
Note:
Gateau Senka is a brand under Mimatsu Co. Ltd.
The word "festival" is commonly used in Japan to describe a sales promotion.
Disclaimer: This post is not sponsored by the café.
All images of cream puffs were taken by the author