The vision of a Thought Leader: Natsumi Shimaoka
Whether one is ready or not, globalization is already rapidly changing the business landscape in the twenty-first century, making global diversity and inclusion an essential element for sustainable success.
The Nagaoka Review team had the opportunity to discuss with Natsumi Shimaoka, a Diversity and Inclusion Leader with more than 20 years of experience in result-driven organizational leadershop, to discuss how to drive business through diversity and inclusion as well as the importance of inclusive leadership.
NR: Nagaoka Review; NS: Natsumi Shimaoka
The Importance of Diversity and Inclusion
NR: What is your leadership vision on diversity and inclusion in the workplace, and why is it important?
NS: When I started my career in the 1980s, there was no law or philosophy on gender equality nor diversity thinking.  These days, people in their 20's, 30's or even 40's would not be able to imagine how hard it was for women to be assigned the standard work that men do, nor have career aspirations. These people are born in the blessed era with the freedom to dream, design, and grasp whatever they want.
Empathy is important. People need to have broader awareness and develop the ability to see things from another angle. In general, high performers are people with the ability to consider and examine things from a variety of views, while lower performers cannot. One's ability to understand things from different angles and view would have a positive impact on their performance.
NR: Where do you think today's international organizations are in the context of diversity and inclusion? What reasons do they have to support this?
NS: It depends on each organization, but most organizations strive to realize and improve diversity and inclusion (D&I) in their own workplace.  D&I is covered in the Sustainable Development Goals (SDGs) by the United Nations. To effectively address global D&I issues, organizations must understand how having diversity in workforce representation, as well as in the way the company thinks and approaches strategic issues, will bring greater value to the company and its stakeholders.
"Diversity and inclusion are essential in business today as a healthy representation of people from different backgrounds and cultures provide us with the balance of voices and diversity of thought that we need

Natsumi Shimaoka

Head of Learning & Development, Diversity & Inclusion Leadership &and Talent Development
Why Inclusive Leadership?
NR: From your experience, where does inclusion and global dexterity in an organization come from?
NS: Primary it comes down from leaders; otherwise, mission, policies, or principles will not be aligned with inclusion and dexterity.  The most insightful leaders understand the importance of making conscious and distinct shift in vision around the definition of diversity and inclusion in a global marketplace in order to remain competitive. They must embrace global D&I as a necessity and a true asset because a diverse workplace is greatly needed. It is also important to create a place where people feel appreciated for their diversity and have equal opportunity to express their thoughts freely.
NR: Is inclusive leadership critical to leverage diverse thinking in a workforce with increasingly diverse markets, customers, and talent?
NS: Definitely yes. Inclusive leaders are aware of the importance of diversity and will invest in diversity. A true leader knows how to integrate people and build trust among employees and customers. The current pandemic has highlighting the importance of strong and inclusive leadership when it comes to uniting workforce with the customers, as well as showcasing workforce values. Creating a work environment where employees report a sense of genuine belonging is more than just a feel-good initiative. The human connection amongst employees is crucial. However, it would be impossible without an inclusive leader with the ability to leverage diversity, thoughts, and experiences. Organizations with inclusive leaders are more likely to attract and retain top talent, create innovative solutions, and appeal to changing markets.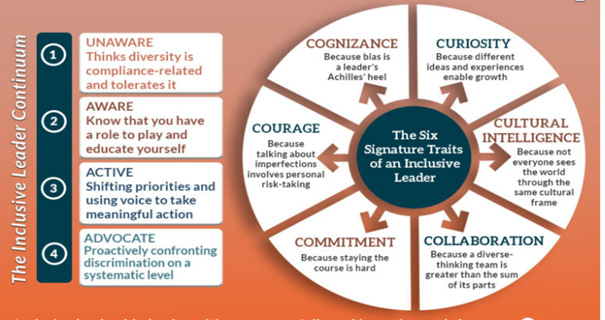 Image of six traits of inclusive leadership via Camber Outdoors
"Inclusive leaders know that good things happen when you make people feel significant".
D&I: Global diversity practice
NR: What do you do at your current workplace to promote inclusion and ensure your employees are treated fairly, respectfully, and feel valued?
NS: The key is to cultivate awareness of Diversity and Inclusion at organization level so that everyone will become champions of inclusion. We have established the pillar of D&I, which are Women Empowerment and PWDA (people with different abilities). We also provide learning opportunities via virtual sessions such as valuing differences, power of belongings, and breaking up microaggressions. Moreover, we allow junior women to learn from senior women leaders how to overcome obstacles in building and developing their career.
NR: How could organizations create and sustain a diverse and inclusive workplace?
NS: At all phases of the talent management cycle, leaders and managers make emphasis on Diversity. When they consider diversity, they look at the full range of human and organizational differences and similarities in terms of attributes like equality and inclusion, gender, race, disability, age, and religion.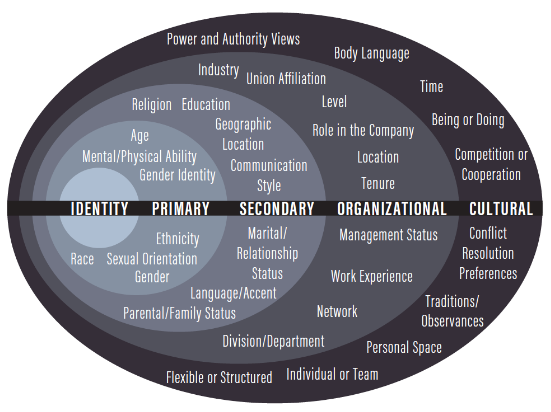 Image of dimensions of diversity via CRST (Caract &Refractive Surgery Today)
Incorporating D&I Into Reality
NR: COVID-19 has radically changed the world's perception of a multicultural society. How can one become an inclusive leader in a crisis?
NS: Some of the leaders' critical capabilities are to presume risks and pitfalls in the situation's possible changes.  Leaders need to foresee new work situations and be agile to adapt to the changes during a crisis. It is easy for people to feel isolated in such times, so there is nothing more important than to embody an inclusive behavior.
NR: As individuals, how can we contribute to a more inclusive work environment?
NS: First, we need to understand the importance of diversity. Even if we look the same, each one of us are unique in their own way. To create a more inclusive work environment, try to work with different people, communicate and understand the community values. Step out of your comfort zone, go out of your workplace and interact with different people because you would have a chance to experience the warmth of inclusion.
NR: What is your future vision for diversity, inclusion, and talent management?
NS: My vision is to see no one talking about diversity and inclusion, because it would already be a norm!