Lifelong Learning Is The Ultimate Survival Mechanism in a Changing Labor Market
An interview with Alexandru Postu, a Web Optimization Strategist, Authorized Interpreter and Translator from Romania
In the following interview, The Nagaoka Review had a chance to chat with Alexandru Postu, a Web Optimization Strategist and a Freelance Translator and Interpreter, about the future of web optimization and the advantages of interpretation. Alexandru is an experienced professional with a strong background in digital marketing, sales, and sales support, and had an opportunity to work with people from different domains and cultural backgrounds, leaders, international organizations, public institutions, and NGOs.
(NR) – The Nagaoka Review, (AP) – Alexandru Postu
Background
NR: Let's get the basic questions out of the way first, Alexandru. Can you tell us a little more about yourself?
AP: I was born in 1979 in a family of teachers, in a town located 100km south of Chisinau, the capital city of Republic of Moldova. Back then, it was one of the 15 republics of the Union of Soviet Socialist Republics (USSR). My grandmother was a primary school teacher at the local Russian-speaking school, so I was admitted there when I was five years old. During my first year of school, my grandmother correctly predicted that I would be good at languages and not so good at mathematics. Maybe thanks to my parents' and grandparents' educational careers, the biggest passions of my life have been learning and teaching
During the 1991 breakup of the union, when I was in the 6th grade, my parents moved me to a different school from the village, where the teaching language was Romanian. At the time, I only knew 2-3 words in the Romanian language as the communication language in the family was Russian. Still, this move enabled me to learn this language and later allowed me to study at a Romanian university.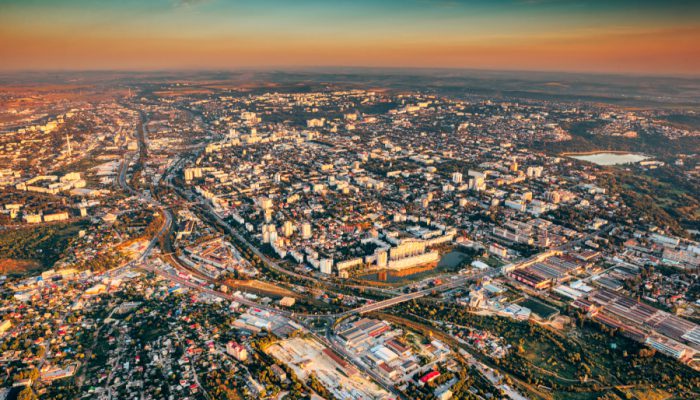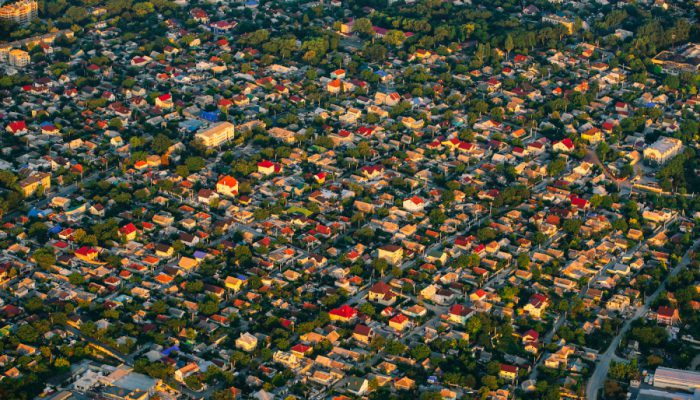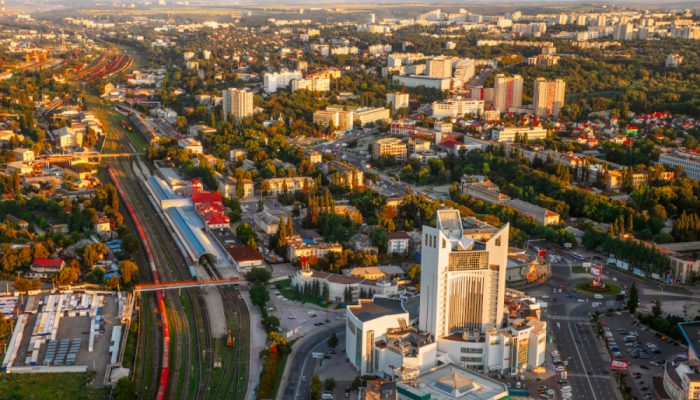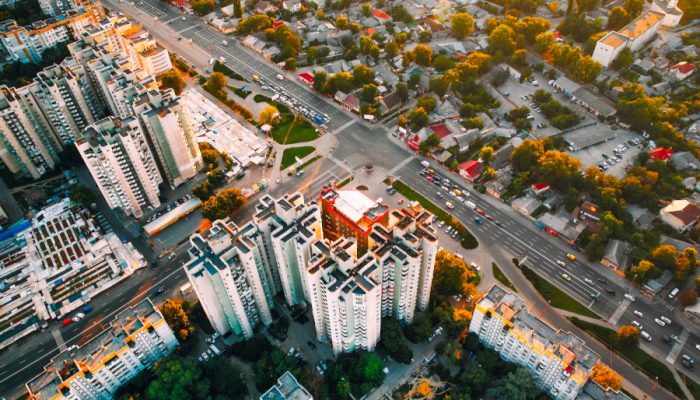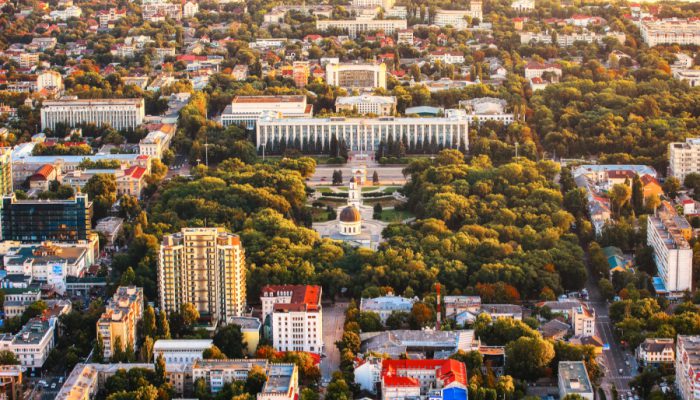 Present-day career and plans for the future
NR: Alexandru, you are coming from a digital environment and have some relevant digital marketing experience in conversion rate optimization, e-mail marketing. What do you think is Website Optimization in general, and why it's so important so far?
AP: There is more than meets the eye when it comes to being a web optimization strategist. First of all, website optimization is the primary process of using dedicated tools, advanced strategies, and experiments to improve website performance.
Also, one of the most important aspects of website optimization is search engine optimization. This method aims to retrieve the different pages of your website and allows potential customers to find your brand in the easiest way possible. Another important aspect here is on-page optimization. This method ensures that the opportunities that appear on your website have the best user experience by encouraging them to take the desired action and turn into a lead. So, by optimizing your website, you can enter the untapped market most efficiently and effectively and open the doors to more conversions and increased revenue.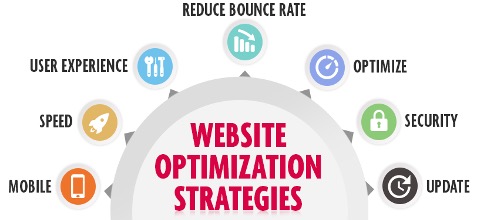 Website optimization strategies for your website and results.

Image via the-pixel.com
.
NR: There are specific skills that many web optimization strategists have to accomplish their responsibilities. By taking a look at your role, what does a Web Optimization Strategist do?
AP: In this role, I am responsible for making the best use of the company's footprint in order to promote its products and services. I regularly make changes on the footprint and monitor the performance via a series of internal tools and Google Analytics. When it comes to the essential skills required to be a web optimization strategist, it comes down to running a series of personalizations and A/B tests, making the best use of available data and the market knowledge of different designs, content, as well as audience scenarios. It's also important to leverage the winning versions by applying them on the footprint as the default design.
Freelance Translator and Interpreter
NR: You also developed a parallel career as a freelance translator and interpreter, specialized in Russian, Romanian and English languages. How did you get started in interpretation and your main area of expertise?
AP: Passionate about languages, I decided to become a translator when I was a bit younger. Since 2015, I have been authorized by the Romanian Ministry of Justice to perform translations and interpreting from and into the Russian language. Between 2017 and 2021, I attended over 25 conferences and multiple business meetings as a simultaneous or consecutive interpreter. Starting in 2020, I have also been doing remote simultaneous interpreting and consecutive interpreting via telephone and Zoom.  On the other hand, in 2018, I took a 5-month-long Java course as the first building stone to my coding skills. For the past couple of years, I have been trying to find ways to combine programming and translations to stay up-to-date with the latest technological developments in automated translations and computer-assisted interpreting (CAI).
"My "moonshot" ambition is to master a few programming languages so well that I can make a meaningful contribution to the transformation of the human interpreter's role with the help of technology and to prevent this profession from being completely wiped out by machines

Alexandru Postu

Web Optimization Strategist, Authorized Interpreter and Translator
NR: As a translator and interpreter, you have to understand at least two cultures well. Do you have any engaging experiences of where those cultures clash or think of things differently?
AP: Well, I don't know if I understand two cultures well, but I know it's imperative to do it. Translations and interpreting require different skill sets, but both translators and interpreters implicitly treat the cultural aspects and struggle to find the most appropriate technique of successfully conveying these aspects in the target language. Based on my experience, all of these problems may vary in scope depending on the cultural and linguistic gap between the two or even more languages concerned. In this case, an important aspect is to determine how much the translator or interpreter should provide missing background information. The translator also has to decide on the importance given to certain cross-cultural aspects and to what extent it is necessary or desirable to translate them. Before applying these methods to the chosen text or context, it's essential to examine the importance of translation culture.
NR: What are the benefits of language interpretation?
AP: Today, an interpreter isn't a new profession, but it has become increasingly important as people and cultures mix and move between countries with no common language. Language interpretation benefits are manifold but taking a look at the context understanding is the primary benefit of language interpretation. If a person cannot speak more than one language, having an interpreter to make sense out of the unknown can be uplifting. Bridging linguistic gaps typically is the ultimate goal of language interpretation. Conveying messages through interpretation is critical in that the notification must be verbalized and articulated so that the other party can comprehend it.
"Language Interpretation is critical in conveying pertinent information in all situations. People who don't know what the benefits of language interpretation are can be at a significant loss

Alexandru Postu

Web Optimization Strategist, Authorized Interpreter and Translator
The second one is related to a more comprehensive social network. A broader social and business network is another asset in language interpretation. Whether for a conference, summit, or social gathering, the network automatically becomes more significant for an interpreter to facilitate crossing language boundaries.
NR: In your experience, what makes a "good" interpreter and which of your activities make you happy?
AP: In my opinion, a good interpreter can and should design a good process that sometimes starts long before the event and ends after the event, with a review of what worked and what didn't, as well as with a feedback from the customer. It is important to be able to work in an unexpected environment and with limited resources because sometimes clients refuse or cannot give you all the support. And one who can adapt to the situation, manage cultural differences, and study continuously.
In my case, I have been working for corporations for almost 14 years. Even though I was changing roles once every 1.5-2 years on average, at some point I realized that I can only achieve fulfilment if I pursue a range of paid and pro bono activities in parallel with my full-time work.
To gain better visibility on what else I could do in my career that would bring higher added value to society and much-needed job variety, I decided to pursue an online EMBA program. I opted for the US-based Quantic School of Business and Technology as it offers an innovative teaching method, similar to that adopted by Duolingo application for studying foreign languages. I started my studies in July 2020, and I am much more knowledgeable now in many leadership-related areas than I was until last year. The global network of Quantic alumni makes the experience and career prospects even more compelling.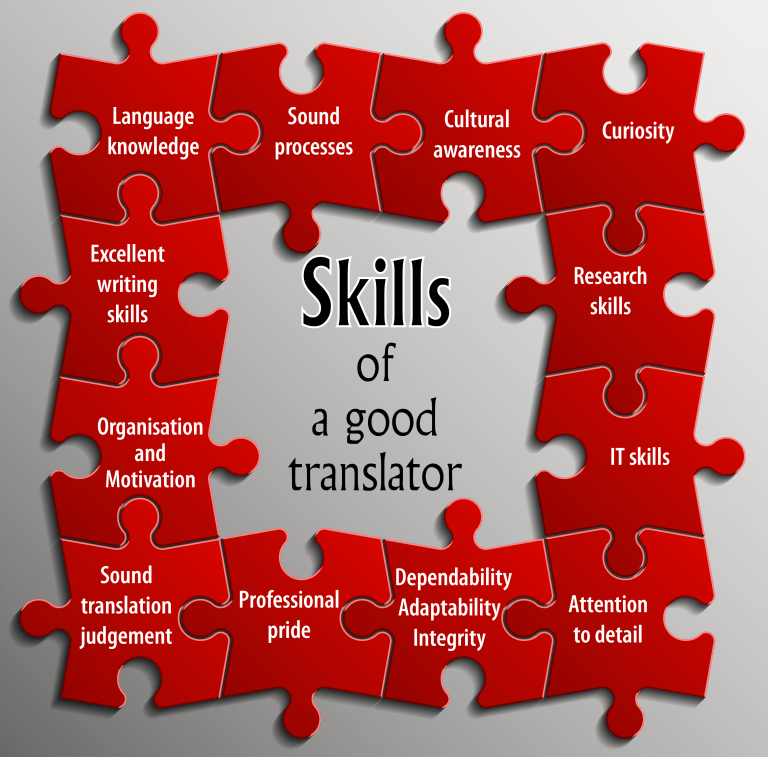 The translation skills a professional translator needs. Image via pactranz.com
Fifth times the charm
NR: Looking at your background and professional profile, we can say that you are in a continuous learning process, so what are your future goals?
AP: As languages have turned out to be a great asset for me during my career, I decided to learn the fifth language – German. I have been making some progress, but in order to reach C1 level within 1-2 years, I would like to move to a German-speaking country. I enjoy discussing with German natives on different peer-to-peer tutoring platforms, and I look forward to integrating German into my translating and interpreting activities. Another goal that I have for this year is to obtain a Python-related certification from Python Institute.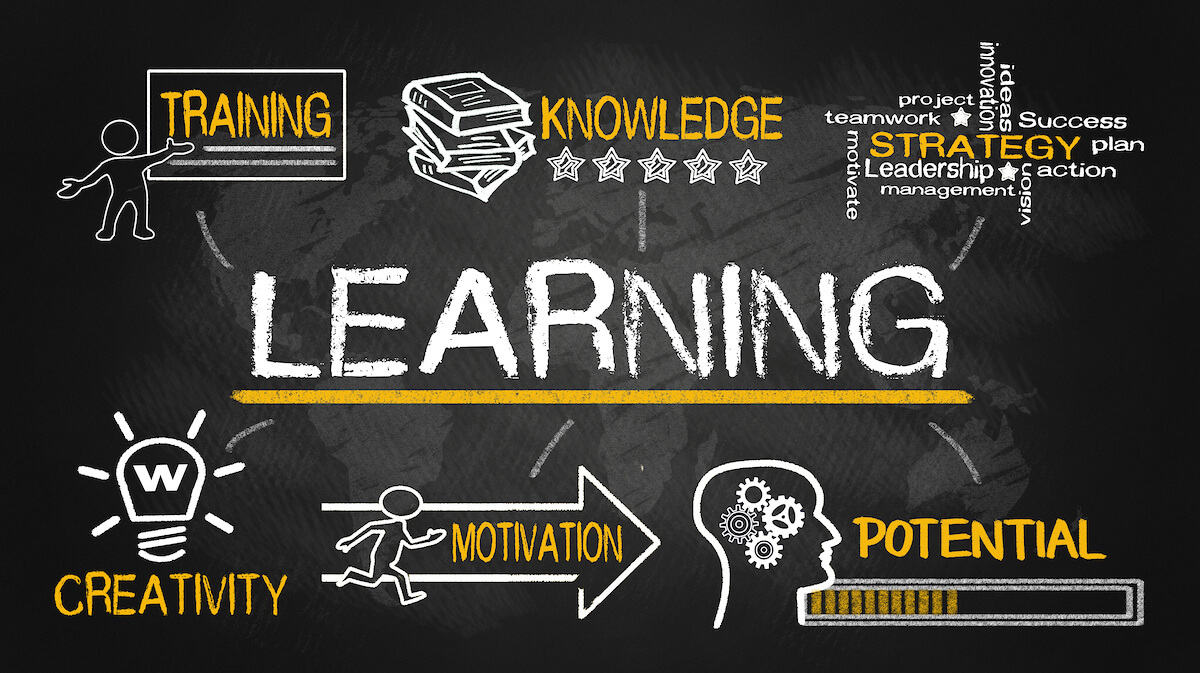 Translating and interpreting a language is not all about good writing and editing. You need a range of other skills to succeed and know how to communicate directly, and Alexandru is adept at lifelong learning. Image via campusdiaries.home
About Alexandru Postu

Alexandru Postu is a Web Optimization Strategist with Conversion Rate Optimization, A/B Testing,   and Personalization Experiments experience. He has been working in an agile team and applying the agile principles daily for two European markets – Russia and Romania. Moreover, he has been part of a team of volunteers that promotes learning within the organization. Also, he is an authorized Interpreter and Translator for the Russian language. His areas of expertise for written translations include technical documents (mainly instruction manuals), legal, IT, marketing, mass media (magazines) with over 7000 translated pages via five translations agencies and one media monitoring agency, over 150 hours of consecutive and simultaneous interpreting during 25 events (financial, legal, medical, marketing topics, rail transport). His written translation areas include technical documents (mainly instruction manuals), legal, IT, marketing, and mass media (magazines).
Connect with Alexandru on LinkedIn!