"Somewhere between the bottom of the climb and the summit is the answer to the mystery why we climb."

Greg Child
Clad in light yellow sweater, the cheery and smiley Wilasinee, also known as Mod, took some time off her busy schedule on a sunny Friday afternoon to speak to the Nagaoka Review team. A fourth year student in the Soil and Aqua Environmental Laboratory at the Nagaoka University of Technology, Mod shares her interesting experience as an international student in Japan and her hopes and dreams for the future.
NR – Nagaoka Review
WK – Wilasinee WK – Wilasinee Kotcharoen (Mod)
The Journey to Japan
NR: How long have you been in Japan, and what brought you here?
WK: I arrived in Japan 3 years ago to the Nagaoka University of Technology to study. Currently I am in GD4, the fourth year of the Ph.D program at the Department of Science of Technology Innovation.
Prior to coming to Japan, I have not been to this beautiful country. I wanted to see more of the world, and hopefully get a chance to learn a new language besides upskilling myself. All the time, I noticed myself always falling into my personal comfort zone. I felt that I needed to challenge myself more and push myself out more, so I can do better in life. I hope my journey to Japan would lend me new perspective to improve myself.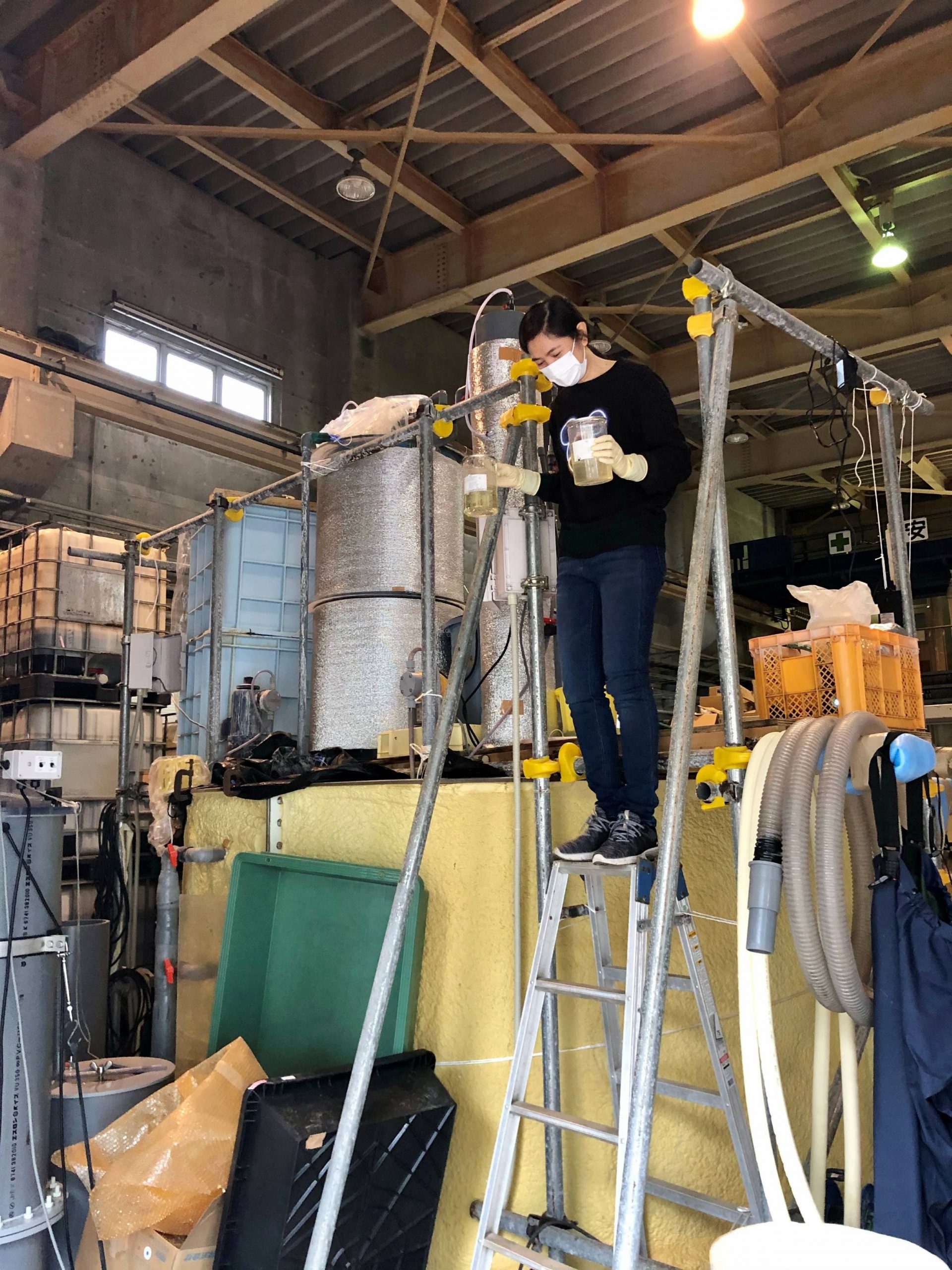 Mod analyzing water quality in the reactor. Image courtesy of Mod.
NR: What was your experience like when you first arrived in Japan?
WK: It was a mixture of emotions, but the beginning was tough! At first, I could not communicate with Japanese people because I have not learned the language. Going to places such as City Hall to resolve some paperwork-related issue would make me anxious. While we had people helping us along the way, it felt like I was not able to get things done as efficiently as I hoped.
I recalled asking a stranger a question in English and seeing the person running away from me. When that happened, I was confused. Part of me wondered if people did not like me. But after a few years of being in Japan and getting to know the people around me better, I realized that my initial assumption was wrong. I realized that Japanese people would like to converse with us too, but due to the lack of familiarity some might not know how to respond to us.
Now when we think back, we might laugh at the funny situation. But when we put ourselves in the shoes of the other person at that point in time, it did make sense why the person chose to run away. It also pushes me to want to learn the Japanese language more so I could better communicate with the people around me!
Life in Nagaoka
NR: How would you describe your life in Nagaoka now that you have been here for more than 3 years?
WK: Well, I was living in Khon Kaen for about 10 years when I was pursuing my bachelor's degree and master's degree. It is one of the four major cities of Isan. It has a mice mixture of city vibe as well as a relaxing countryside feel. My transition to Nagaoka was pretty smooth because I personally love the relaxing atmosphere.
Nagaoka is a great place to live. The air is clean and the food is good. Traffic is also good. I find the life here very peaceful and simple. I know that some friends of mine had a hard time adjusting, especially if they come from bigger cities like Bangkok or Hanoi, etc. But for me, life in the countryside is great.
This is also a great place for researchers to study, because you can concentrate better!
NR: Where do you currently live?
WK: I live outside the university, about a 15-minutes' drive away. For the sake of having better flexibility, I decided to drive. At the university, the last bus is at 7:40pm on weekdays. With a car, I could come to the university and leave anytime.
But one thing we must keep in mind is the importance of time management. In every on-campus appointments or meetings I commit to, I need to bear in mind the extra time needed to travel, as compared to living on-campus or nearby.
Of Research and Student Experience at NUT
NR: What are you researching on?
WK: My research is in the field of aquaculture system and I am working on recirculating aquaculture.
I am currently working on a research to culture fish using wastewater treatment systems such as DHS (downflow hanging sponge) and USB (upflow sludge blanket). To most people, it sounds very technical. But to put it simply, we need to ensure the environment in which the fish live is clean and conducive for their growth. We use the system for purification for aquaculture.
Fish would release nitrogen compound and ammonia into the water. Without the system, the build-up of ammonia, nitrite and nitrate would vastly affect the health and survival of the fish. The system we are working on is important as it could be used to culture other aquatic animals such as shrimps and clams.
NR: When you mentioned "fish", what specific fish are you talking about?
WK: Longtooth Grouper, or Kue (クエ) in Japanese. In general, the average weight is about 2.5kg. The largest is about 3.7kg and the longest is about 67cm. We have about 100 fish in the aquarium. At times they could be a little aggressive, I was once bitten by the fish!
Even though I have been working with the fish for awhile now, I have not seen the Longtooth Grouper in its natural environment. I heard it could grow up to 1m in length and they are pretty big! Hopefully I'd have a chance to see it!
Mod holding a Longtooth Grouper that she is cultivating with her laboratory members. Image courtesy of Mod.
NR: What other research are you working on?
WK: We are trying to study how fish can survive in different level of salinity. As you might know, the Longtooth Grouper is from the sea. We initially cultured it in 100% seawater condition. But over time, we worked on culturing it at lower salinity. We are in the midst of publishing a paper. Hopefully it would be out soon!
Another thing we are working on is related to the solid accumulation at the bottom of the tank. Fish would produce feces. If it does not get filtered out, it would sink to the bottom of the tank and accumulate. If the fish were to go to the bottom of the tank and stir the solid accumulation, it might affect the health of the fish.
Usually the solids come from the feed. And now we are trying to find new method to remove all solids and nitrogen compounds.
Enjoying Life as a Research Student
NR: What do you enjoy doing?
WK: I love traveling! As research students, we would participate in conferences and would have opportunities to visit different cities in Japan and overseas. I was fortunate enough to go to many places. I have been to Tateyama Kurobe, Tochigi, Osaka, Kyoto and Tokyo. And many more places!
I was in Matsuyama, Ehime for a conference and had the opportunity to travel around the city. We went to Dogo Onsen as well as the Matsuyama castle.
I like snowboarding and indulging in Japanese cultural experiences such as wearing the Kimono. Fishing is also fun!
I also started hiking and climbing mountains in Japan. Kamikochi is a very beautiful place. I managed to climb up Mt. Karasawa and it gave me a great sense of achievement. I plan to climb Mt. Fuji when the weather permits. The last three attempts I have made were rendered unsuccessful due to the storm. Hopefully, my next attempt would be a success!
NR: Why do you like mountain climbing?
WK: It gives me a sense of achievement! Even though it is tiring, I feel like I have conquered a huge challenge. I like challenging myself and knowing that I could do it. It is somewhat linked to my personality – Even in studies, I want to achieve the highest level of education hence the reason for pursuing a Ph.D. Mountain climbing is one way to help me discover myself.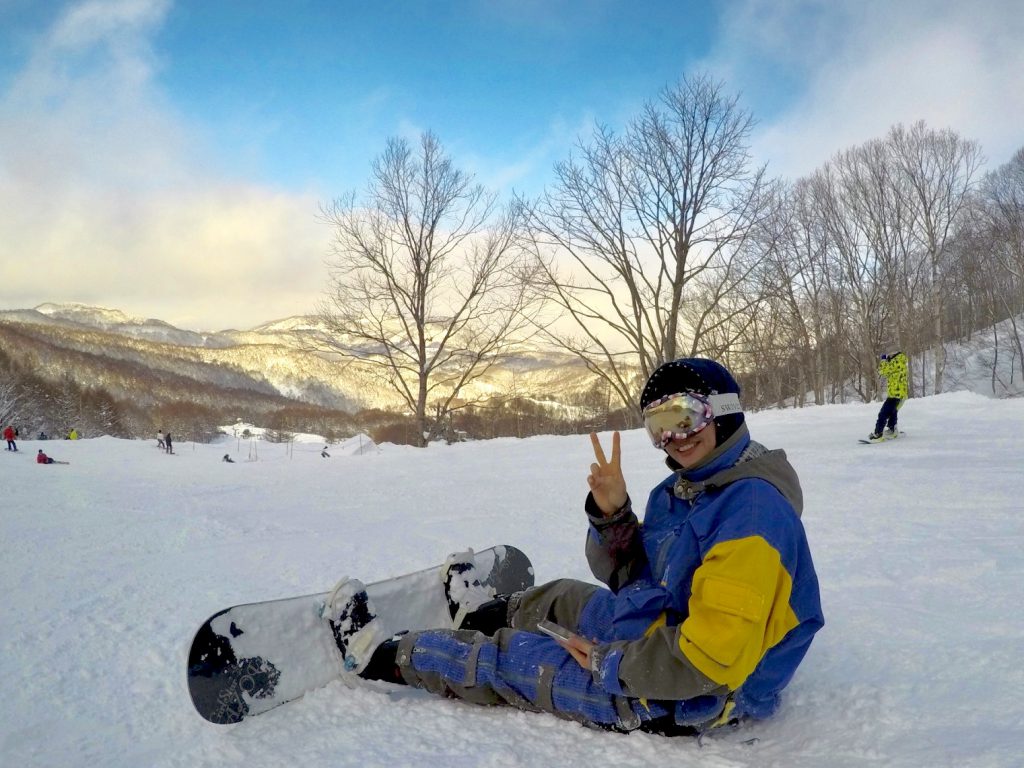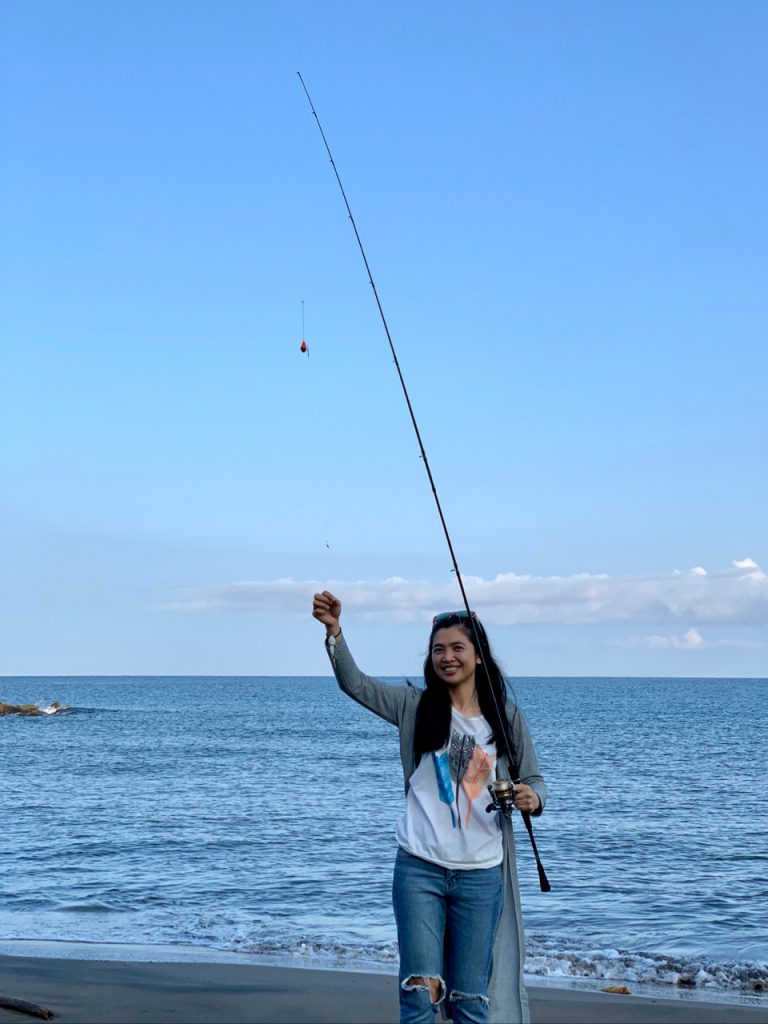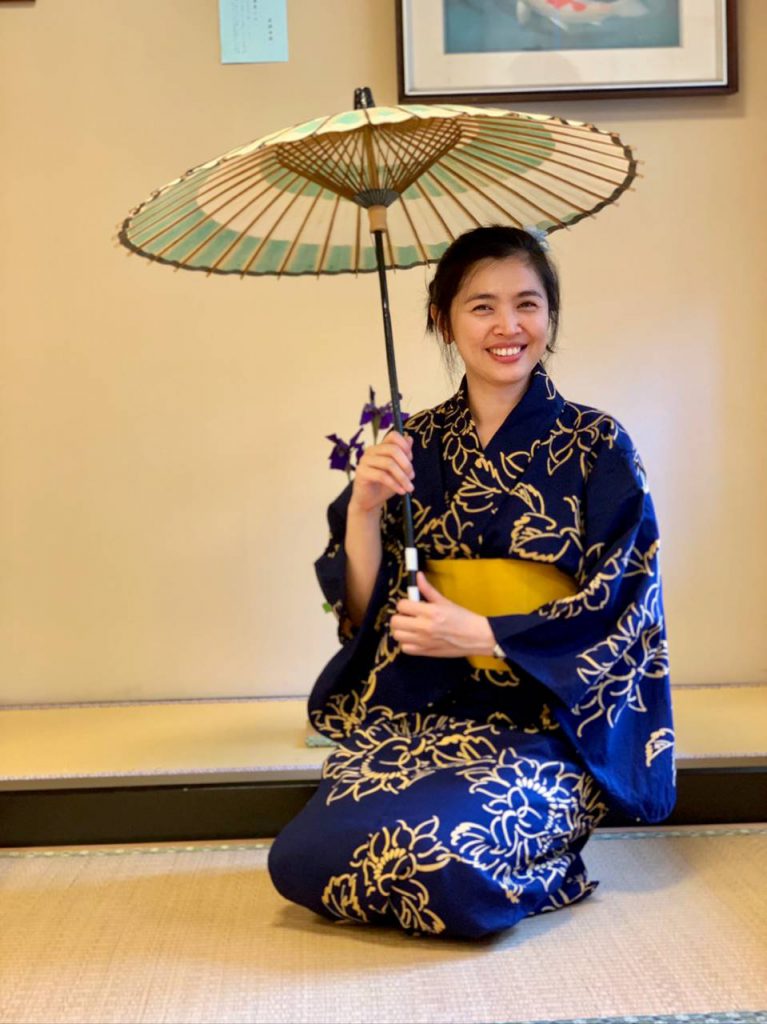 Mod enjoying her experience in Japan, wearing the Kimono, fishing and snowboarding. Image courtesy of Mod.
Community Building at NUT
NR: We heard that the Thai community at NUT is strong. Tell us more!
WK: That is true. We have a strong and supportive Thai community in the university! I was very lucky to have our seniors who have helped us settle down in our new environment. Without their help, my experience in Nagaoka would have been very different!
The community consists of a President who is the official representative and liaison between the team and the university. The President will receive information such as the number of students entering NUT and disseminate the information to the team. In essence, the team would know how many people would be entering the university and we would do our best to take good care of them.
This year, we would have two new students. The first Thai student has lived in Japan for 5 years and has recently moved to Nagaoka. Another student has yet to arrive due to the challenges during this pandemic. Hopefully, things would get better sooner so we could all travel again safely!
Personal Development Journey
NR: What have you learned throughout your experience in Japan?
WK: After coming to Japan and working on my research, I find myself being a strong-willed and driven person. When I commit to achieving something, I will do everything in my personal capacity to achieve it. When the going gets tough, I would look for someone to talk to about my challenges. But after that, I would come back with renewed strength and do my best to achieve what I set out to do.
NR: Are you a glass half-full or half-empty person?
WK: That is a tough question. I guess I am pretty much an optimistic person!
NR: How have you evolved as a learner?
When I move to a new place, I choose to assume I know nothing. Even if I think I know something, I will choose to listen to another person first. I will adjust myself and learn the way of life of the locals and the people around me. I let myself absorb what I see, allowing myself to unlearn the conventional wisdoms I had before and re-learn many things.
Having lived in Japan for only three years, I learned a lot when I chose to listen. I learned more about the way Japanese people think, and I start to see how the people around us are trying to help us in their own way.
When we choose to listen, it humbles us. We do not have to assume that we are geniuses and other people are not. As and when someone tells us something that might not fit our narrative or understanding, the responsibility is on us to understand why and have that opportunity to discuss further. And all these should be done with the intention to understand, not to win an argument.
There is more than one way to do something. Everyone has a different method, even when they have the same goal and purpose in mind. I believe that we should have the flexibility to achieve the goal in our own ways. And that is how I adapt myself to working with people.
Hopes for the Future
WK: This is a great question indeed, and something I am still exploring. I do not have a solid plan yet, but I hope to be able to contribute back to the society. A part of me would love to become a lecturer so I could impart my knowledge to my students and see them achieve bigger things in life. The other part of me is still a little ambivalent about the future, but I hope to do my best to create a positive impact in life.
I hope to be able to travel more and widen my horizon. Learning new culture and gaining experience would be on top of my list. I am very much open to working anywhere in the world, so long as I am able to work in the field that I am currently researching.
I also thought about volunteering to make an impact in the world. But as we all know, we as human beings can make plans, but the almighty will decide what would happen next. There are just so many options available, I just have to keep my eyes open and seize the opportunities as they come! As the saying goes, "The world is your oyster".