Thu Huong Nguyen: Saving Dying Rivers from Dyeing Wastewater
The saying "everyone's journey is different" has never rang so true. For some, their journey to pursuing an education overseas feels like an accomplishment of childhood dream. Some others find themselves stumbling upon unexpectedly pleasant opportunities. But for some others, their discovery journey would take them through unexpected twists and turns in life.
Thu Huong Nguyen from the Aqua and Soil Environment Laboratory in Nagaoka University of Technology went through a different set of challenges to arrive in Japan to further her education. Speaking to the Nagaoka Review about her experience, this bubbly and optimistic third year Ph.D. student at the Science of Technology Innovation department shares about her research, her hobby, the ups and downs to get to the university, as well as her outlook in life.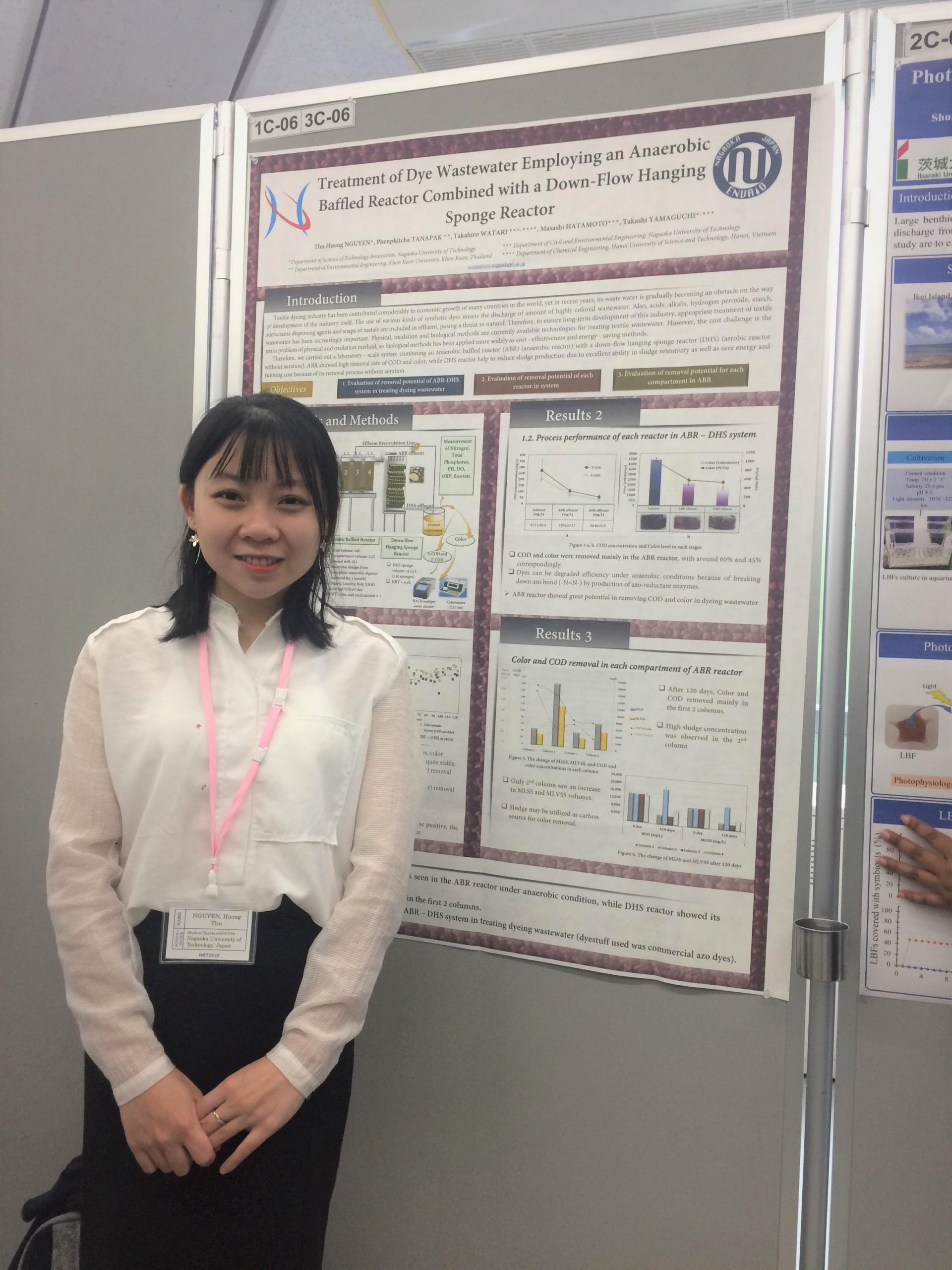 Huong in the Water and Environment Technology Conference 2019 (WET2019), Suita City, Osaka, Japan. Image courtesy of Thu Huong Nguyen.
Huong's Research on Dyeing Wastewater Treatment
Tell us more about yourself, and the research you are working on.
I am Huong, a third year Ph. D. student at the Science of Technology Innovation department. I am currently in the Aqua and Soil Environment Laboratory, otherwise known as the Yamaguchi lab. My hometown is in Ha Long Bay, a picturesque place located in the northern part of Vietnam.
I am working on biological wastewater treatment with a focus on treating dyeing wastewater. It short, it is part of industrial wastewater treatment. This is an important research because many rivers around the world are dying due to the release of untreated dyeing wastewater into the environment.
In my research, I am exploring the use of micro-organisms to cleave chemical bonds in dye structure for wastewater decolorization.
How would you explain the process in a simpler manner?
Clothes we wear goes through the dyeing process. The dyeing process releases wastewater with high color content. The commonly used physicochemical treatment method utilizes a lot of chemicals, thus producing many by-products that require further treatment. Furthermore, operation and maintenance cost are expensive, which becomes a major challenge for many developing countries. I hope to utilize micro-organisms to create an eco-friendly process.
You might wonder how micro-organisms work in wastewater treatment. It is rather interesting, actually! Dye has many chemical bonds, and the micro-organisms we select would target one called azo bond, a color-bearing group. When the bond is broken, you would not see color in the wastewater. Micro-organisms will break different bonds at different stages to effectively treat the dyeing wastewater.
Working with micro-organisms has its own set of challenges. Think of them as tiny human beings. They will work well when they are in the right environment. Just like human beings, micro-organisms need to eat to produce energy. Moreover, they need to also live at optimal temperature to accelerate their metabolism. However, the good is that the use of micro-organisms in wastewater treatment is a more environmentally friendly and sustainable choice than using chemicals.
Why are you interested in this research?
The environmental field in developing countries is a challenge. In Vietnam, we have many craft villages. The villagers do the dyeing process by themselves to create handicrafts for sale. After the creation of the products, the wastewater is released into the river without being treated. I had the opportunity to join a project in Indonesia and learned about the challenge of rivers polluted by fabric dye. There, I learned how the destruction of nature could easily happen.
Moreover, with the increasing demand to meet the needs of the customers (for example, color fastness – so the color stays on the fabric for a longer time), the structure of dye is continuously changing. Biological treatment of wastewater becomes more challenging due to the evolution.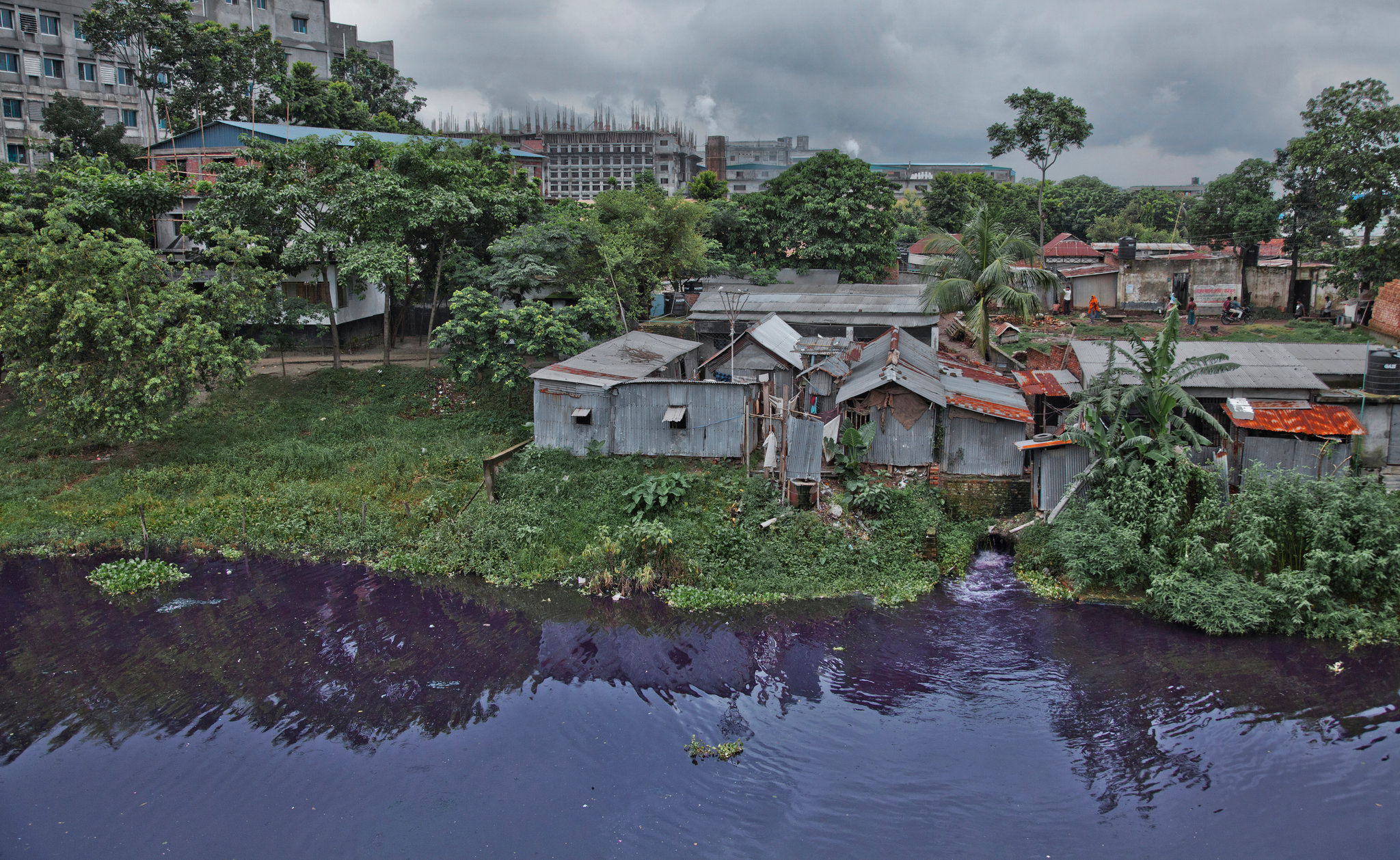 River Pollution: Wastewater from nearby textile factories is untreated and released into the environment. Image by Khaled Hasan via New York Times.
What would the discharged wastewater cause in the river?
The easiest to spot would be the color. Sometimes, you might notice an unpleasant smell, usually arising from the organic compound (starch) released during the dyeing process. Starch is removed from the cloth before the dyeing process to increase its absorbency.
Sometimes, chemical additives or heavy metals are also released into the environment and can accumulate in marine animals. This can harm the natural environment and human health.
We need to find more eco-friendly ways to solve the world's problems, as pollutions on Earth has huge impact on human life and survivability.
Of Interests and Past Experiences
Tell us something about your interest besides research.
I love music! When I was younger, I had to keep my passion for music as a secret because I was afraid my mother would object to it.
When I finally moved to the city to attend university, I was exhilarated. I was finally able to do what I wanted without worrying about my parents ever finding out! I actively participated in performances. I was also a main vocalist of a band, and we would sing at the coffee house. It became somewhat like a side-gig for my band mates and me. I really enjoyed singing very much. But the journey had its ups and downs.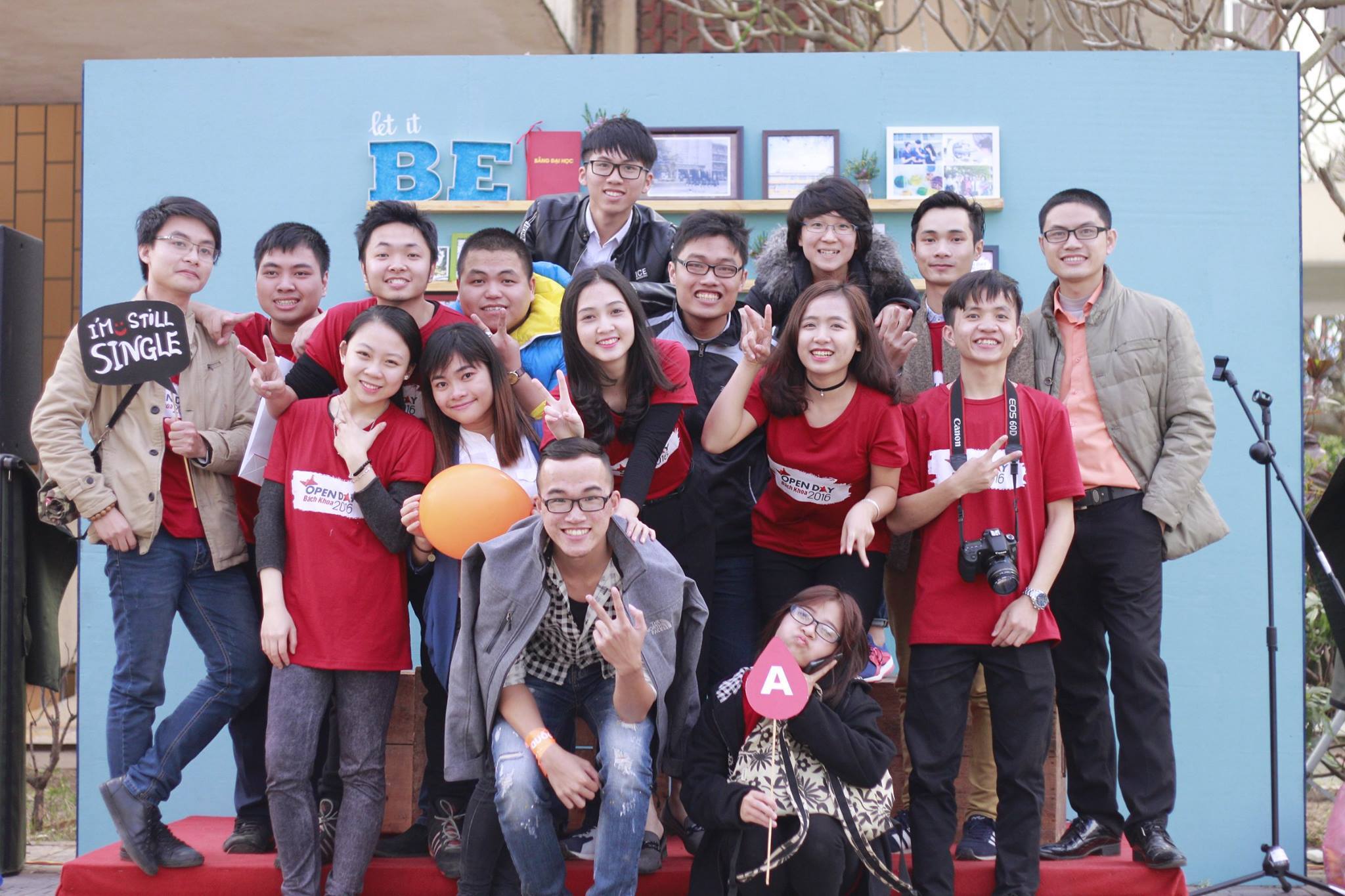 Huong and her friends from the performance and event groups at the "Open day 2016" festival at Hanoi University of Science and Technology (HUST). Image courtesy of Thu Huong Nguyen
At one point in my life, I decided to join a music competition in Vietnam. While it was an exciting moment for me, I was also in the middle of an important career decision. I chose to keep singing as a hobby.
Who inspired your love for music?
My father has been a huge inspiration to me. He plays many musical instruments! And I believe he is a great musician. Unfortunately, he did not manage to pursue his dream of becoming one.
Did you regret your decision not pursuing a career as a singer?
Most people would naturally feel some feeling of regret, but I do not regret my decision. This is part of who I am. Whenever I make decisions, I would think about all the pros and cons. Being analytical, I would always make informed decisions. But after making the decision, I move forward.
The way I see things, there is no absolute good or bad things. Everything in life happens for a reason. I have learned that over the years that things need to happen, and that all things shall pass. Life is too short for regrets!
If I had chosen the path to being a singer, I would have to leave everything I have behind. Singing as a hobby is fun but making it a career would mean having to study hard, practice harder, and more. The road to becoming a singer is an arduous one. Success in this path also greatly depends on luck, not just on one's skills and hard work.
The biggest reason for me not to pursue this was the thought that my mother would be disappointed with my decision. Having my mother's blessings is very important to me, and therefore I do not regret my decision at all.
The Journey to Japan
How would you describe your journey to Japan?
My journey to Japan was not a straightforward journey. Due to some unforeseen circumstances, my plans for further education was altered along the way. But my intentions remained the same – I wanted to study abroad because I wanted to broaden my perspective and increase my knowledge so I could contribute back to the society.
What did you do between then and when you got to Japan?
Due to some incidents that happened during the wait to further my education, I decided to work as an unpaid intern at a non-governmental organization (NGO) to learn more. Concurrently, I spent all my available time self-studying English whilst applying for other scholarships around the world.
Half a year later, I had to find another source of income after realizing that I have spent most of my savings. I found an opportunity as a baby-sitter to an American-Vietnamese family who relocated back to Vietnam. In addition, I also did a few other part-time jobs. Out of concern for me, my family was not in favor of me pursuing my education overseas. I knew I had to find ways to achieve my goals on my own.
As I was experiencing some challenges in my life, my peers are either getting a job or starting a family, the Asian version of a "stable life". I saw no light at the end of the tunnel for me, with only a part time job and a dream of further education. However, I chose to persevere while waiting for a "sign" from the universe, or rather, a university!
How did you get to know the Nagaoka University of Technology?
It was by coincidence. Chinh, a friend of mine from university invited me to meet with some Japanese exchange students who were planning to visit Vietnam. The students were from the Ogasawara laboratory at the Nagaoka University of Technology.
Prior to meeting the students and speaking to Chinh, I did not know about this university. Every laboratory in my university has affiliations with different universities. The department I belonged to is connected with Kyoto University. As for Chinh, his department had a solid relationship with the Nagaoka University of Technology.
I was curious about the courses offered at the Nagaoka University of Technology offers, so I did a quick search. I found the Yamaguchi laboratory interesting and applied for an opportunity. Yamaguchi-sensei replied to me about a month later and arranged for an interview to get to know me better. This was how my journey to NUT started.
When did your "light at the end of the tunnel" happen?
My journey was indeed a long and challenging one. However, with each step I took, there would always be someone who would lead me out of the darkness, like an angel in disguise. Had I not met Chinh and his friends, I might not have gotten to know the university.
Yamaguchi-sensei was the person who appeared at my most challenging time and gave me the opportunity to study in Japan. While Japan may not have been a destination I initially had in mind, I decided to trust in the process and took my leap of faith. I am very grateful for the opportunity that Yamaguchi-sensei graciously extended to me. It was probably my fate that brought me to Japan.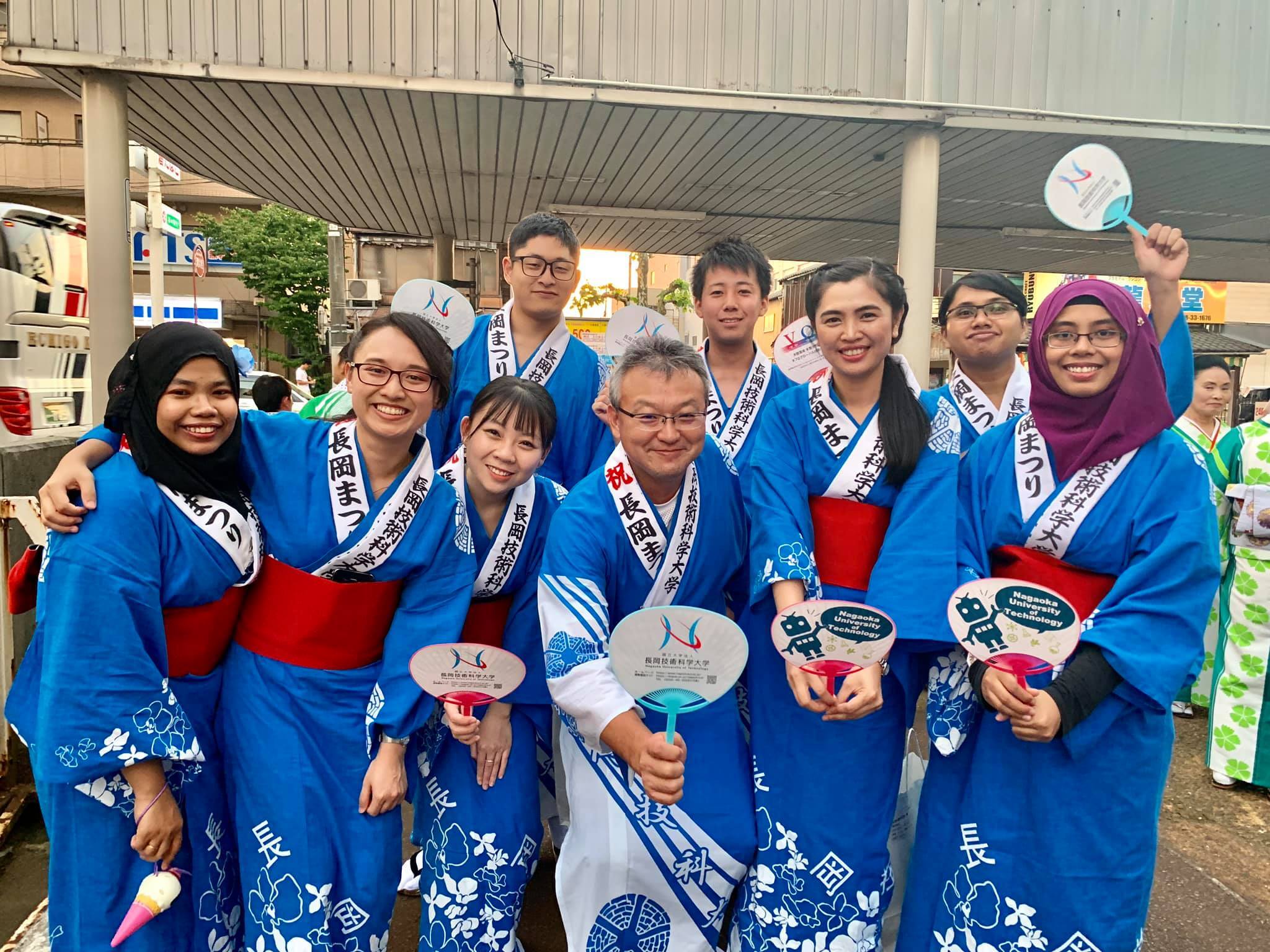 Huong with her laboratory mates at the Nagaoka Fireworks Festival. Image courtesy of Thu Huong Nguyen.
After my "less than straightforward" journey to Japan, I learned that achievements in life do not depend on the size or magnitude of the achievement, but on the person itself – how someone assesses the significance of that achievement in their life.
I believe that people should assess their achievements in life more fairly by remembering the hardship they had to experience in order to achieve something, rather than comparing it to someone else's fruit. For me, the opportunity to study in Japan is indeed a turning point and an achievement in my life. I really appreciate my experience and I will do my best to deserve this opportunity!
Personal Development & Life in Japan
Have you noticed any changes within yourself?
I find myself being shier than when I was back in Vietnam. It feels more natural and easier to be shy in Japan.
In my previous university, I was exposed to experiences that required high level of flexibility in terms of my personality. When planning to organize events and more, we need to request for sponsorship. I had to speak to many people, and I had to learn how to flexibly adapt to different communication style.
Being a detail-oriented and analytical person, I find it easy to adjust my communication style to connect with people. This is probably why I noticed the change in myself – I find that the communication style in Japan is very different, and I have adapted over the years I have lived in Japan.
Have you noticed any changes within yourself?
I find myself being shier than when I was back in Vietnam. It feels more natural and easier to be shy in Japan.
In my previous university, I was exposed to experiences that required high level of flexibility in terms of my personality. When planning to organize events and more, we need to request for sponsorship. I had to speak to many people, and I had to learn how to flexibly adapt to different communication style.
Being a detail-oriented and analytical person, I find it easy to adjust my communication style to connect with people. This is probably why I noticed the change in myself – I find that the communication style in Japan is very different, and I have adapted over the years I have lived in Japan.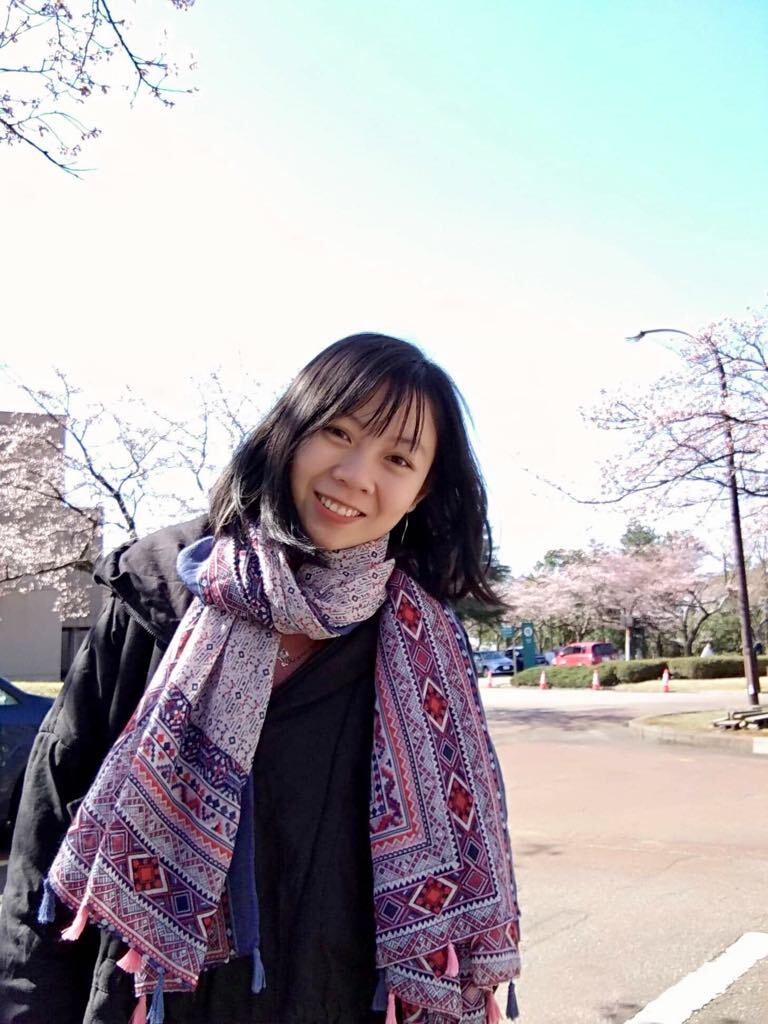 Huong at the Nagaoka University of Technology in 2019. Image courtesy of Thu Huong Nguyen.
How did you adapt to your new environment?
The initial adaptation was challenging for me. The biggest challenge I first faced with Japanese culture is the fact that people do not talk about their real feelings. Nevertheless, as time passes by, I started to appreciate the situation. It is probably good that everyone could have their own secrets. People are entitled to decide whether they would like to share more about their story. The same should be accorded to everyone in the world, not just the Japanese.
The upside to the interesting Japanese culture I have experienced is the fact that the Japanese are very polite and harmonious. I am grateful to have Japanese friends who are very kind, dedicated and wonderful.
Tell us more about the difference in communication.
Relationship-building in Japan takes time, like many other things. People do not meet each other and immediately become close friends. While it might feel like an arduous task to make friends with the Japanese, I am starting to appreciate the other side of the coin – Relationships built the Japanese way lasts longer! People want to get to know you better over time. Through the years of working together with people in our laboratory, I am learning more about them. I appreciate this opportunity to experience the real Japanese life.
Student Experience at NUT
What have you experienced as a foreign student in Japan?
I had the opportunity to participate in the famous fireworks festival in Nagaoka. Besides that, the university also organizes the NUT Festival, or better known as Gidai-Sai in August (during the summer vacation).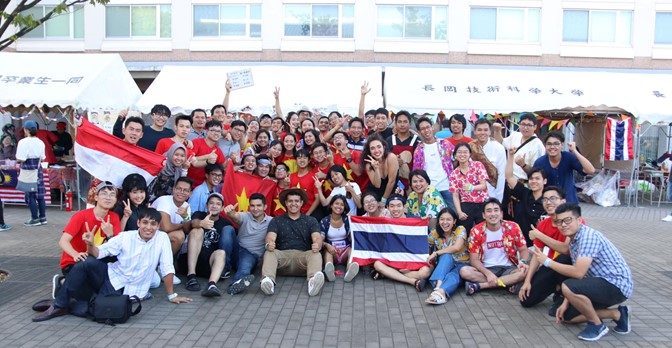 Huong with her friends during the NUT Festival (Gidai-sai). Image courtesy of Thu Huong Nguyen.
How do you build your network as a student?
It depends on the network you are trying to build. One example is to build network with people from your country. You could easily find some community to join on Facebook. This is usually the easiest network to build.
My network with other students is built in class. We learn together and learn from each other. Besides that, joining some festivals and events in the university is a great way to network with other people.
I always keep in touch with my professors and supervisors and Vietnam, as well as professors I have known over the years. Whenever I notice a request or an opportunity, I would forward it to relevant parties, whether it is a professor is looking for students in a Masters or Ph.D program, collaboration opportunities, or even post-doctoral opportunities in other countries like Taiwan and Korea. At the same time, I hope my effort would mean that my juniors would have the opportunity of studying in Japan without having to go through the hardship I went through.
Maintaining relationships is also an important thing. Personally, I would send messages during the Tet holidays (Lunar New Year) to send my greetings and ask how they are. This is not just about networking, but also my way of showing my respect and appreciation for the connection or relationship we have built.
Future Plans
Do you have any plans after graduating from the university?
At the moment, I am considering pursuing a postdoctoral program after graduation.
Probably in the future, I might consider expanding into Psychology. It has always been an interest of mine. I find the human brain fascinating, as most actions and movement made come from this "central control system", and I would love to explore this.
What would you like to learn or improve before you enter the working world?
I would like to stretch my muscles in leaning acceptance at a higher level. Personally, I believe that it is very important for people to know how to accept different thoughts, ideas and more.
I view acceptance as the first step to helping me to acquire other skills. Without being able to first accept something, it would be difficult to move on to the next step. Without acceptance, anything else that comes next might not be meaningful because one is not open to the conversation.
What advice would you give to new and upcoming students who are planning to study at the Nagaoka University of Technology?
First, build your network before coming over. The people you meet would be your source of help when you move to a new place. A laboratory mate of mine from Sri Lanka faced various challenges when she first came, and she ended up paying a lot of money to get a phone and a sim card. I did not know about the challenges she faced until I got to know her better. Do not be shy and ask for help when you are unsure!
The second advice would be to learn Japanese. We understand it might not be the easiest language to learn, but knowing the language would help make your experience in this beautiful country so much better!
Thu Huong Nguyen is a third year Ph. D. student (GD3) at Department of  Science of Technology Innovation at the Nagaoka University of Technology. Huong is currently doing her research on utilizing micro-organisms on dyeing wastewater treatment at the Aqua and Soil Environment Laboratory,