IGI Global defines the general concept of International Cooperation as "a universal mode of interaction between two or more countries based on sharing research results, production, commerce, protection of investments, and industrial know-how."
And this is precisely what International Cooperation entails in today's international community. Still, how Yōsuke Hara (原洋介), an International Cooperation Promoter from Japan International Cooperation Agency (JICA) , underline, international cooperation is also about social-cultural sharing. As he argues, placing culture at the heart of international cooperation is essential if we are to make development a sustainable process.
Culture is a standard feature of international cooperation instruments and bilateral agreements with third countries. Without understanding cultural differences, we cannot extend our economic, socio-cultural, and research collaborative relations.
NR: The Nagaoka Review
YH: Yōsuke Hara (原洋介)
NR: What led you to get interested in international cooperation?
YH: Today, we are constantly required to deal with global issues that can not be solved without cooperation among different countries, organizations, or people. International cooperation is indispensable in addressing these issues and promoting sustainable peace and economic, social, and educational development. These problems can not be solved if we limit ourselves to our geographical or cultural boundaries. My interest in international cooperation began with my attraction to Japanese and foreign languages and cultures.
I was always fascinated by the cultural differences and similarities I had experienced, and I wanted to understand the social and cultural context behind them. To me, international cooperation is the ideal intersection of cultures and people of different cultural backgrounds, political and social status, who work side by side to create a better society here and now.
Cultural differences often block people's interactions. I want to go beyond these limits and show that sometimes our perceptions are wrong. And we can work and live together, despite our cultural, social, political, and religious aspects.
No future without culture
NR: What do you think about collaborative studies?
YH: I think that every society needs an element of diversity. Cultural, economic, and social diversity. People who come from different backgrounds and fields of activity. No matter how strong or prosperous society is, we will not evolve if we do not have different opinions. In the area of research, there is a need for collaboration between people, organizations, and countries to continue joint research projects.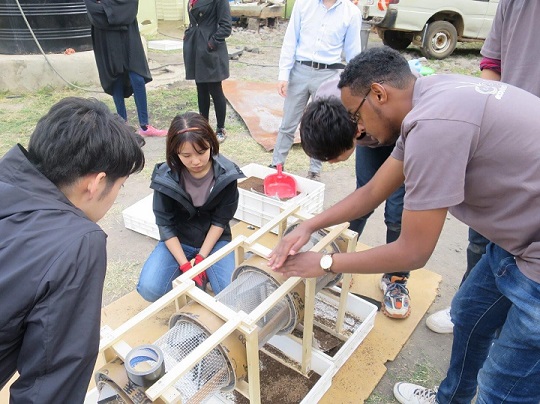 Students from NITNC and Kenyan university conduct a demonstration experiment of the livestock feed sorting equipment as a team (in Kenya, 2019). Image via JICA
Practitioners and academics from different backgrounds need to work together and interact with domestic and international organizations to create better ideas. Every great invention, product, service, movement, and even nation started as an idea. Yet so many great ideas are overlooked.
One primary reason that an idea doesn't become a reality is that it never gets polished. Take diamonds, for example; you wouldn't hesitate to kick a small black rock out of your way; it just doesn't look like much.  But what if that rock is cleaned, trimmed, and has every angle strategically crafted to sparkle?
NR: Will you tell us about your academic/professional background prior to your joining JICA? What area of activity did you focus on?
YH: As an International Affairs and Japanese language teacher, I spent much of my time in academia, teaching at the National Institute of Technology (NIT), Tokuyama College (Tokuyama KOSEN), and NIT Ube College(Ube KOSEN). Looking back, I also had the opportunity to be involved in business and to see both areas from different perspectives. I started a business overseas and ran three companies in Cebu Island, Philippines.
Spending five years there, I can say that these unique experiences allowed me to do what I like the most- to work and interact with different people and develop my social skills. Coming back to Japan, I am trying to build a bridge between Japanese people and foreigners, cultivate Japanese culture, and help them better integrate into our society.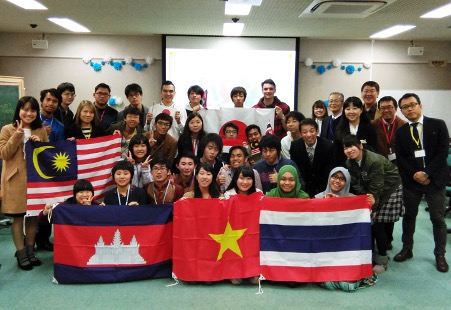 Attending the Global Understanding Workshop, "ASIA DAY" , 2016, National Institute of Technology, Kure College. Image courtesy of Mr. Hara (second line, 3rd from the right)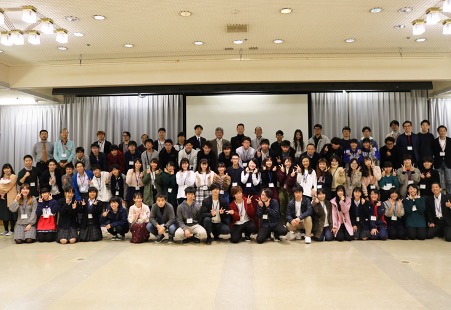 Business and International Affairs event at KOSEN. Image courtesy of Mr. Hara
NR: What led you to get interested in JICA?
YH: From a historical point of view, for many years, Japan was an isolated island. Still, today this country and culture can serve as one of the best models for many other Asian and non-Asian countries to follow in their own development.
When I started my companies overseas, I had a chance to work with foreign managers and leaders that most Japanese people or organizations don't have, and I asked myself, "Why is it so amazing to work with foreigners" and "What is a good way to help them"?
So, my interest in helping others and the determination to contribute to building a more socially stable society brought me where I am today. This experience of living in a different country sparked my interest in development cooperation, and I would like to use this experience to create jobs for foreigners in Nagaoka City and make it a global town where foreigners and Japanese people can live together.
1. Mr. Hara (first from right) together with two JICA Scholars at NUT, Sambe Mangone from Senegal and Labidi Amal from Tunisia, and Executive Manager Tomonobu Haga during Disaster Prevention Workshop held by Nagaoka International Affairs Center Chikyû Hiroba. Image via JICA Tokyo International Center
2. Mr. Hara together with his colleagues from Philippine. Image courtesy of Mr. Hara
NR: What is the most interesting experience you had while in JICA?
YH: I have joined The Japan International Cooperation Agency (JICA) in May this year, so my personal and professional experience maybe is not yet so rich. Still, one of the most exciting experiences as an associated professor in international affairs and entrepreneurship education at KOSEN was related to the "KOSEN Open Innovation Challenge," a leading initiative by JICA for college students first held in 2019.
This contest aims to utilize the technology and ideas of college students to solve social issues in developing countries and use international cooperation as a place for education.
This initiative, in which Japanese and international students think about the problem of regional revitalization in Japan and seek solutions within the framework of international cooperation, is not only a valuable experience for Japanese and international students to expand their knowledge but also an excellent opportunity to learn about cultural differences, make new connections and contribute to the development of the international community.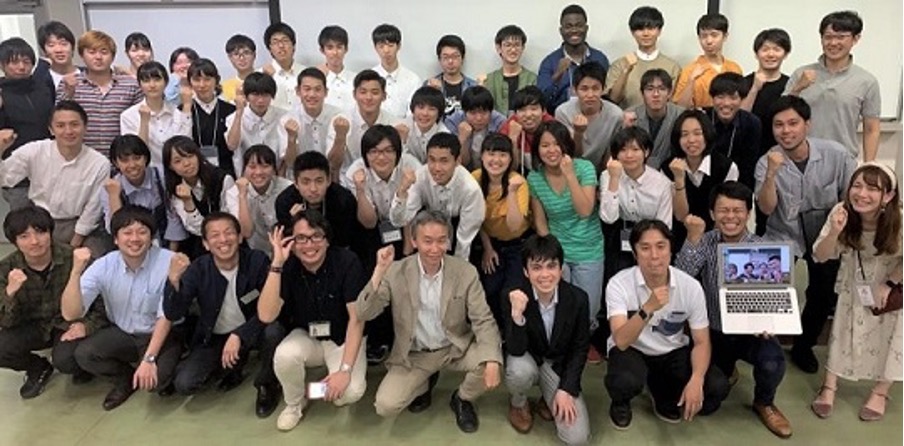 Participants and judges of the first edition of the "KOSEN Open Innovation Challenge". Image by Mr. Hara (first line, 3rd from the left side).
With vast experience in academia, business, international affairs, and entrepreneurship education, Yōsuke Hara is based in Nagaoka, where he works as an International Cooperation Promoter at Japan International Cooperation Agency (JICA). Having experience running three companies abroad in Cebu island, the Philippines, he is helping Japanese people gain international experience through different social and research projects and foreigners to better integrate into Japanese society and the job market. Mr. Hara is recognized for his contribution to developing the multicultural symbiosis in Nagaoka city and his interest in SDGs projects.
Before joining JICA, he worked at "Nagaoka City Regional Development Cooperation Corps,"  primarily involved in regional revitalization and promotion of settlement in the area where depopulation and aging are progressing. Also, as a Specially Appointed Associate Professor at National Institute of Technology (NIT), Tokuyama College (Tokuyama KOSEN) and NIT Ube College (Ube KOSEN), his duties included promoting human resource development and industrial promotion in the region.