The Future Is Faster Than You Think
An interview with Dr. David Sweet, CEO and Founder of FocusCore

Digitalization, demographic shifts, rapid advances in automation, robotics, and artificial intelligence, have sparked radical changes in how we live and work. Have been radically transforming how today's organizations conduct business and the type of skills their talent needs to help them thrive.
The world of work is changing. Some jobs are lost- many others are created, and the main topic of this interview with Dr. David Sweet on the Future of Work and the role of HR in the Future of Work even more critical. David is a Certified Executive Coach, recruiter, and keynote speaker with vast experience from human resources and executive to talent management and leadership consulting. Also, he is the author of SweetSales, Recruit, and Sweet Success.
NR: Peter Drucker said, "the best way to predict the future is to create it," at a high level, how would you describe your view of the future of work?
DS: It's going to be a very interesting future. The future of work is all about people, and the way technology is driving change. Right now, because of COVID-19, we can see a difference. In Japan, specifically, it's shifting because we have the workforce is working from home. And that's not happened before, and no one thought it could happen in Japan. Today, we should envision a new world in which advanced technologies merge with evolving philosophies of work. From a macro perspective, the future of work means we will look at a broader workforce across Japan. And we can. Why not hire someone from Hokkaido, Fukuoka, or Kyushu for our office in Tokyo?
The other advantage to me is that we can tap into a more diverse workforce, especially women. As a recruiter, I've had many candidates who wanted to work from home, working moms who want to return to work, but they want the flexibility, and they didn't have it. And now they will have it. And they'll demand it. And so, if companies want to hire people, they have to have that flexibility, or otherwise, they'll lose some exceptional people. And that taps in again to young people because young people will want to work from home, especially those who come from the IT area, and they'll expect it now. I think in that sense.
"Think about the future of work as an opportunity to evolve our workforces and workplaces

Dr. David Sweet

CEO and Founder of FocusCore
NR: How can organizations/leaders ensure that they have the right skills for the future when they don't even know what they're going to need?
DS: There is no simple answer to this question. If there was, everyone would follow the same formula and be successful. What organizations need to understand, and should never neglect, is that the future of work is based on people-centric culture. Most companies aspire to become competitive and innovative. To accomplish this, for one hand, they need to understand how best to prepare and train their current workforce and prepare to a source, recruit and hire future talent. Competitive and innovative companies are the ones that are giving a lot of training and developing employees to do that. Training and executive coaching are excellent examples in this way.
Let's take a look at Apple or McDonald's, those companies that do have kind of training programs and for their employees, that kind of help develop those skills that they don't have because schools aren't giving them the skills that they need. The other one that I see a lot that companies are using is executive coaching. As social collaboration is now more crucial than ever, many executives think how they've always thought, and they know they need to change. Employees want to stay connected, and they expect complete transparency. They want to be able to engage in daily two-way company conversations. They want to be heard and share their ideas with others. On the other hand, employers have to be ready to compete in a fast-changing environment. The companies need to be more agile and innovative or not being able to adapt to change quickly and make fast decisions may seriously hurt your organization's and employees' productivity.
Remote work as the new normal way of working
NR: With job trends changing, do you think "employee loyalty" will change too?
DS: Absolutely. Employee loyalty can't be bought or sold, it can be earned, and the company will have to be competent to retain employees. When the COVID-19 pandemic starts, companies scrambled to keep their operations running by deploying new technologies to let their workers do their jobs remotely. Now, the same companies can see what was effective and what wasn't about the experiment of remote work and what they must do differently as it becomes the norm.
NR: Discussing remote work, we have a lot of opportunities, but at the same time, some challenges. I think we lose internal communication, and our perspectives on relationships are considerably changed.
DS: It absolutely has. When it comes to the future of work, the way employees communicate has always been an important topic, even more, now when we have switched to remote work. Organizations and leaders have become aware of internal communications' importance in keeping employees safe, productive, and motivated to do their jobs successfully. Still, I think we lose a lot of creativity in communication. There's a lot of creativity in an office setting that we miss by working from home. We miss training opportunities, and good companies are the ones that are giving a lot of training and developing employees to do that.
Let's think you're working with someone (for example, a sales staff), meeting or hearing them on the phone; you could give better customer service and help them. But if they're at home doing that, you miss that opportunity. And then if they are hesitant to ask a question, it's because it is an extra step. Whereas in an office, you might say: Oh, I know, I have a problem. Can I ask you? And it's so simple.  Ensuring that employees have a way to stay connected with each other no matter where they are located is now one of the employers' main priorities.
So yes, I think you lose a lot of the creativity. So that employers need to create environments where they can build that with a remote workforce. And companies will have to be creative on how to do that, whether coming into the office or having these meetings occasionally, face to face. Right now, employees expect to find the information they are interested in on social media channels, and the same goes for communications in the workplace. Creating a centralized place where employees can access all the important messages, contacts, updates, and documents is the only way to ensure that employees never miss essential company updates and don't lose their time on unnecessary tasks.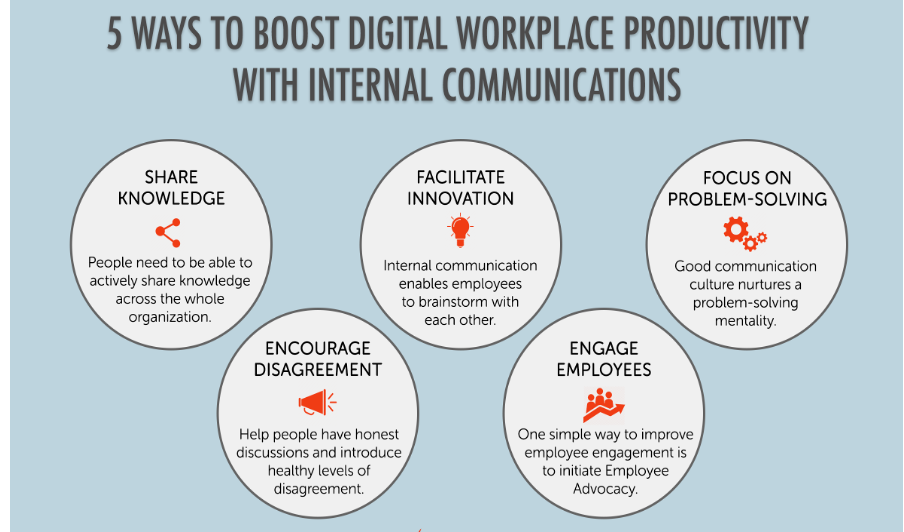 Increased importance of internal communication. Image via Blog.smarp.com
"I have a feeling that after COVID-19, we will witness some changes, some people will, will gravitate towards a company where they can go into the office, and some people will gravitate to those that want to work remotely

Dr. David Sweet

CEO and Founder of FocusCore
Managing transformation
NR: Things like remote work, flexible work hours, and learning are integrated into the work experience, and upskilling is all happening right now. So, what is the role of HR in the Future of work?
DS: HR leaders actively help their organizations prepare for the future of work. They advise executives on the future roles and skills they will need, leverage evolving employment models land change organizational processes to manage technology-driven workflows. As the leaders shift from managing full-time employees to managing talent, their importance increases, and they will need to embrace digitalization. And digitalization is changing everything. With a blended workforce, the talent acquisition processes and systems will evolve to encompass traditional hiring and on-demand skills sourcing.
Today, in many companies, leading HR teams are not involved in overseeing the contingent. The procurement department takes the lead, resulting in an emphasis on cost over talent sourcing or management.  The HR leader's role in the future of work will be training and developing a talent network based on internal and external talent and focuses on identifying, matching, and developing the skills that the company needs.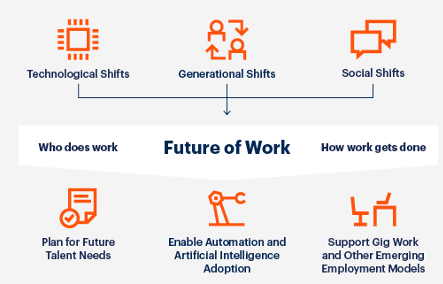 NR: Speaking about change, how technology will impact the workforce and the HR?
DS: Japan's job market is based on the traditional way of recruiting and hiring. Because today, we discuss a lot about digitalization and market transformation, and shortly, I think we'll see a lot more technology within human resources than currently there. Technology will change the way HR departments contact employees, store files, and analyze employee performance. New technology will make HR practices more efficient, and acceptable HR practices would maximize the benefits and minimize the problems.
NR: To be comfortable in environments that combine teamwork, remote jobs, AI, and robotics, tomorrow's employees will need distinct skill sets. But what are the essential skills for the HR leaders of tomorrow?
DS: They need to be commercial and capable of understanding the commercial nature of business. That's a skill that a lot of HR leaders don't possess right now. And I think managers and companies will expect that. For the company, the commercial thought process, just being able to think commercially, is enormous. And I don't see it in a lot of HR professionals in Japan. The best HR people I've seen have come from the back office in Japan because there's no educational framework to train human resource professionals like there is in the West.
Moreover, the best HR professionals I see come from sales or accounting. Of course, this is advantageous because they understand how the company operates and how it makes money. They know the operations of a company. They realize they're just not an administrative function but a crucial aspect to the company to help the company grow and hire, retain, and train people.
"The leaders have to be comfortable with ambiguity and change. They don't know the future because it's not in an MBA program or a textbook. So, they need to be comfortable in ambiguity. When we're talking about new technologies, the leaders are comfortable with new technologies and can handle the change

Dr. David Sweet

CEO and Founder of FocusCore
NR: What trends do you see shaping today's workforce?
 DS:  Some leaders may say "globalization" or "digitalization," but I prefer to think that this is communication, especially in the context of a pandemic crisis. Right now, a significant skill is just being able to communicate through whether through a medium and through being able to manage remotely. This means a set of skills that people need to possess and that companies are looking for. And they'll continue to look for it because some people can't handle that working by on their own. So, I think that's a trend that that will shift.
Building the Future Workforce
NR: What are some red flags you look for when evaluating a candidate's profile?
DS: Well, I look at it in two different ways. Firstly, I look at just black and white stuff: What school have they gone to? What career have they had? Is the career progression logical? Have they followed an upward career from a small position to a more prominent role and the next more prominent job, or a cyclical career from a prominent position to a small position, and another small position? I look at the correct age and communication skills, which are elementary skills that you can see on a resume.
Secondly, softer skills are essential, and in a conversation with people, I'm looking at how well they can communicate and how positive are they. Also, attitude is critical because some people aren't comfortable with challenges. Of course, this is normal, but I need to match those things to find the right candidates as a recruiter.
NR: What is the best way to be in touch with recruiter?
DS: LinkedIn requests are often overlooked, but they hold so much power if you do it correctly.  When we speak about the Japanese market, it's evident that Japanese people prefer the traditional way of recruiting, and it's challenging to operate with some social media platforms. Regarding this, my suggestion is not just randomly connect with someone on the spot at an event, but take a look and see what's jobs do they have, in which specific area are they focused, what levels do they work, and what is the best way to stay in touch with them. Because a lot of candidates go to a recruiter and expect the recruiter to do the work, but it's your responsibility. You need to think of your outsourcing part of duties for job searching to a recruiter. Recruiting is a partnership between two elements, candidates and recruiters. If you want to build an alliance with that recruiter, call them up every week, say what's going on and how the market is. Ask for some suggestions or recommendations, discuss your job applications and new opportunities.
NR: One of the things that I've been thinking about is the idea of "the skills for the future of work." What skills do we need to have to fit-in on Japan market? How to increase our chance of finding a job?
DS: That's my favorite question. So, to find a job, I think you need to use kind of a multifaceted approach. And recruiters are one. But I think the biggest thing that candidate's people should do is a network.
The first step to finding a job is knowing what you want to do. A lot of people don't know what they want to do, which is surprising. Understanding what you want is very important and one of my questions to most candidates in which you want to be your next job, and what about your long-term goals? If you know your goals, it is straightforward to figure out what you want and would do, what skill sets you to need, and what industry you need to be in.
Once you figure out what you want, then start building a network around that. And that's nowadays, it's elementary with LinkedIn, right? You should do some research and find ten companies that you would ideally love to work for and network with people from this area. It cannot be easy; from 10 people, five will ignore you, three will say no, and just one or two will accept. And in this way, you create a network.
About David Sweet
Passionate about customers and sales, Dr. David Sweet established FocusCore Group to partner with clients to grow their sales. With nearly two decades of Japan-specific experience, he brings practical knowledge grounded in working as an HR professional and recruitment consultant.
Before establishing FocusCore Group, David was a Director with the Tokyo consultancy Wall Street Associates, leading operations, training, and recruitment in multiple sectors. He also worked for ten years in the U.S. Treasury Department in labor relations and organizational development.