As the business world evolves faster than ever, students are finding it increasingly harder to seek for employment upon graduation. For students like Toru Miwa of the Nagaoka University of Technology, searching for a course that allow students to gain experience as a part of the education plan is key to getting them ready for the next step into business life.
Toru Miwa is a third-year Ph.D. student at the Science of Technology Innovation department. He left his hometown in Aichi to pursue his education in the Aqua and Soil Environment Laboratory at the Nagaoka University of Technology to fulfill his dream of doing research in wastewater treatment field. The Nagaoka Review team had an interesting discussion session to understand more about Toru's experience and hopes for the future
NR: Nagaoka Review
TM: Toru Miwa
Getting to know Toru Miwa
NR: Thank you for taking time to speak with us today. Let us begin by talking about your decision to study at the Nagaoka University of Technology.
TM: My passion is in wastewater treatment. When I was still studying at the National Institute of Technology, Toyota College, my Sensei recommended me to join the Aqua and Soil Environmental Laboratory at the Nagaoka University of Technology. From what I understood, Yamaguchi-sensei is a well-known figure in the field of wastewater treatment with many published papers.
I was introduced to Watari-sensei who is the Assistant Professor at the university. He is an alumnus of my former school. Thanks to him, I had a better idea of what to expect. At first, I heard that the lab is very popular and there is a quota on the number of students in the lab. But I was lucky enough to have made it this far to join this lab!
NR: How would you describe the environment in your laboratory?
TM: I am very fortunate to be a part of this laboratory. Currently I am under the supervision of Yamaguchi-sensei and I have much help from Associate Professor Hatamoto-sensei. We have a close relationship with our lab mates. Here, students are provided with endless opportunities to try their best and learn. For me, I was glad to not only learn about the necessary technical skills, but I was exposed to soft skills such as project management, social skills as well as communication skills.
Another thing I found useful was the importance of having good working attitude. We should learn to enjoy the process, not just work hard all the time. This will help us bring more meaning to life.
NR: Why wastewater?
TM: My major was in Civil Engineering. In the course, I learned many things including City Planning and the constructing of bridges and making concrete. In order to achieve the plan, we need to "destroy" the environment for that to happen. That was how I felt when I was studying, and thought instead about what I would potentially be interested in.
I found that wastewater is something that is worth working on, with more wastewater being produced due to human activities. I want to be part of the solution to create a positive environmental cycle.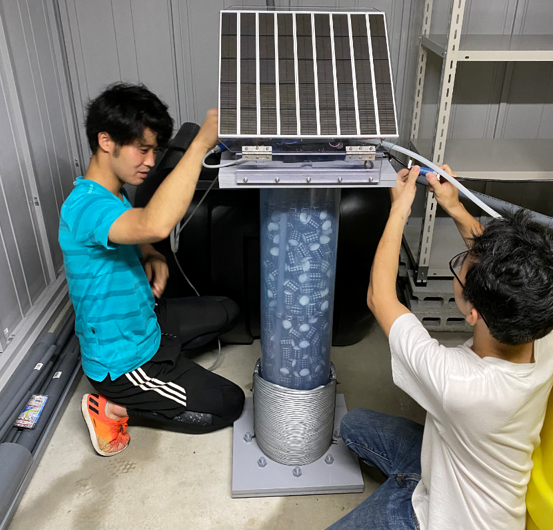 Toru and his laboratory mate working on wastewater treatment. Image courtesy of Toru.
Research Experience
NR: What are you currently working on?
TM: I am working on two research now. The first is rainwater treatment. And the second is on membrane technology for wastewater treatment, or better known as Membrane Bioreactor (MBR).
Our laboratory collaborated with the Idea Kaihatsu Dojo to create a gravity-driven water recycling system in  the Sprix Dome which minimizes the use of electricity. We are developing the system that not only works in the Dojo but also in other places lacking electricity infrastructure or disaster-stricken areas. I currently work with my team to take care of the water treatment system at the Dojo. If you have been to the Dojo, you might have the opportunity to use the tap. Water in the running tap is made by our team; the water comes from rooftop harvested rain water. Wastewater from the Dojo is also being recycled to be used again in a different manner. We remove contaminants from the rainwater as well as wastewater generated from the Dojo.
I am very excited to have the opportunity to work on the research of such interesting and attractive technology!
Sprix Dome at the Nagaoka University of Technology on a snowy day. Image via Nagaoka Review's Instagram.
As for the membrane technology (MBR), we are working on finding the best possible solution.
With the current human population, tons of wastewater are produced in every sectors in the domestic and industrial area. Due to the limited amount of fresh water available for use, water-reuse is necessary in creating a sustainable future. Unfortunately, the conventional domestic wastewater treatment system is not able to cope with the increasing need for water-reuse.
This is where the MBR technology has a promising future, with key success factors such as its compact design and higher filtration efficiency as compared to conventional methods.
Wastewater has contaminants like organic, inorganic, or micro-organisms that may affect the human health. All these needs to be removed before consumption or before it is being released into the environment such as the river. We pass wastewater through the membrane to filter the contaminants. Basically, any contaminant larger than the small pores on the membrane will not be able to pass through, and the result (membrane effluent, or "filtered" water) will not have the said contaminants.
NR: What are the pros and cons on the membrane technology?
TM: The membrane technology is good because it is compact. Comparing with Activated Sludge Process, the membrane technology only takes up 1/3 space. Besides that, the effluent is also very clean. This is the main reason why this technology is great.
There is a huge challenge, though. When contaminant becomes feed (or food) to the bio-organisms, biofilm is formed. As a result, the pores are blocked by the biofilm, and the membrane filtration cannot be done properly. This is the biggest challenge we face now, and researchers all over the world are working on finding the best solution for this.
NR: When you say "best solution", do you mean there are no solutions right now?
TM: Contrary to that, there are solutions. Currently, we have physical cleaning or chemical cleaning which require us to remove the biofilm on the membrane from wastewater. Utilizing chemical to clean is very costly, and the chemicals may damage the membrane over time, rendering it ineffective. As the current available solution is not the best, this is where we step in as researchers to find better solutions.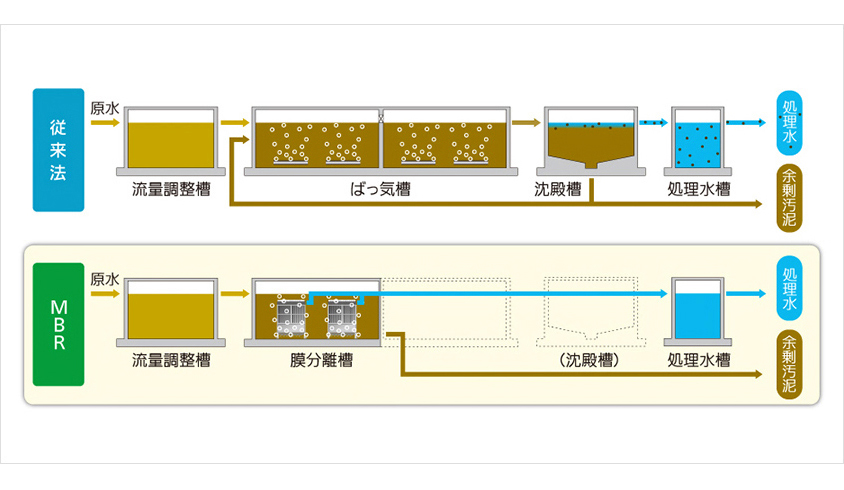 Comparing between membrane tech vs. activated sludge. Image via Kubota
Hands-On Learning Experience
NR: Do you work by yourself on this project?
TM: I am currently working with my juniors on this project. Our team might be expanding soon as our latest batch of students are deciding what theme they would like to focus on.
NR: Do you enjoy teamwork?
TM: I love working on projects with other people. Collaboration is a great way to learn and harvest ideas from one another. But at the same time, I am in my third year so I feel the weight of responsibility on my shoulders when I have to guide our juniors.
NR: Circling back to your decision to come back to NUT, what else made you choose this 5-year Ph.D program?
TM: Maybe you might have heard of "Takuetsu", or what we call it the Global Pro-Active Root Technology Program. This was one of the biggest deciding factors for me, as I like how the program supports students in having opportunities to go abroad for research and gain internship experience. There are two internship programs, the first being in our 2nd year and the second one in our 4th year of study. While this is just a guideline or a plan, students have the flexibility to adjust the plan. This is also the case with my situation, with year 2020 being my second year in this program but we could not go abroad due to the pandemic.
My plan is to go to Switzerland as they have a world-renowned research institute in the field of water treatment including wastewater treatment. I hope to have the opportunity to learn what they are doing and gain experience to enrich my skills. And hopefully, when the situation in the world gets better, I would like to meet my friends in Europe.
Enriching Life Through International Experience
NR: Sounds like you already had prior international experience. Please tell us more!
TM: My first international experience was in Norway in high school. I spent a year there and thoroughly enjoyed my experience there. I was living in Tromsø with my host family and I really enjoyed the pizza made by my host mother. By the way, brown cheese is also very good!
When I was there, it was the first time I saw "food innovation" in the form of sushi. At first I was shocked to see tempura being included in a salmon roll. And what shocked me more was how the locals would put strawberry jam on top! I thought I would never be able to accept the taste until I tried it – Honestly, it was pretty good! The quality of sushi in Norway is good too.
Fast forward many years later, I was offered the opportunity to Mexico to study English and Spanish. This was a program offered by the Nagaoka University of Technology in the 4th year of my bachelor's degree program. I was also fortunately enough to go to Spain for my internship program!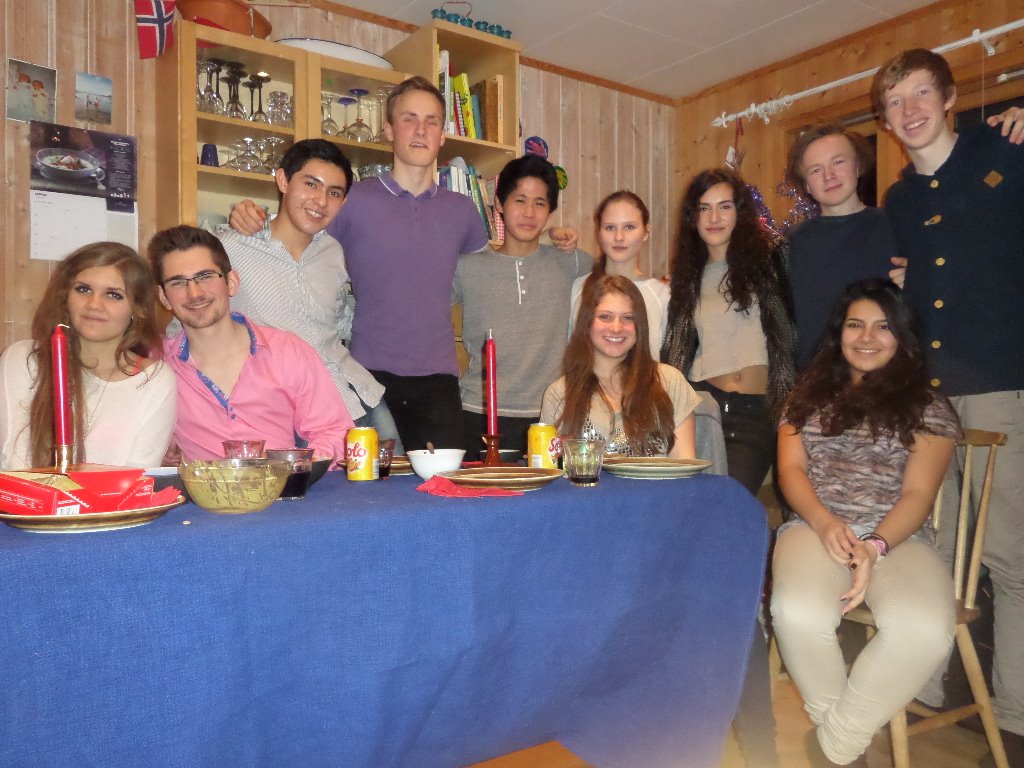 Toru at the birthday celebration with Norwegian and International students. Image courtesy of Toru.
NR: With the international experiences gained, you must have learned many international languages!
TM: Back in Norway, I had to learn Norwegian and English. Funnily enough though, people in Tromsø spoke differently due to the dialect, Trøndersk. At first, I thought it was because my Norwegian was not good enough but later found that it was due to the dialect!
In the beginning, I started my international experience speaking little English and almost no Norwegian. I had this picture book we call "Yubisashi Kaiwa Cho" in Japanese or better known as "Point-and-Speak" in English, and I would point and tell what I need. But with time, I started learning different languages.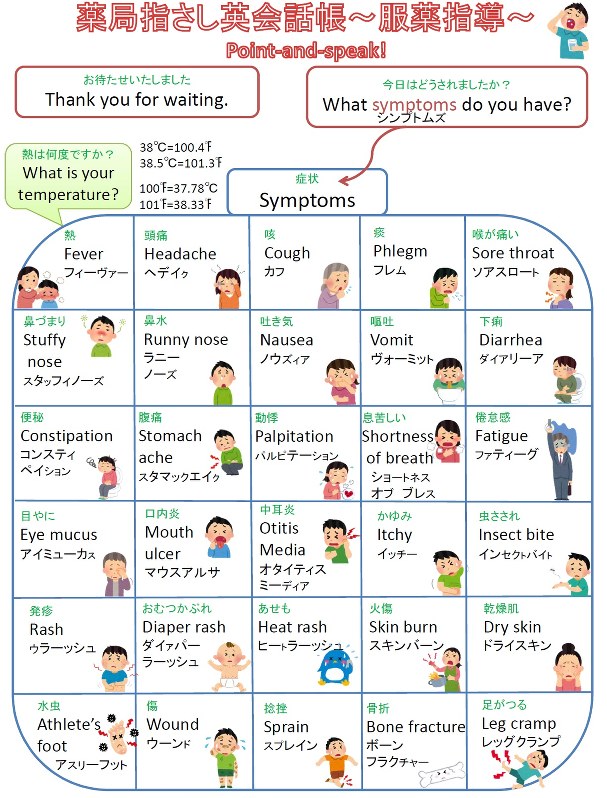 An illustrated example of the "Point-and-speak" (Yubisashi kaiwa cho, 指さし会話帳) that Toru used when he first went overseas. Image via The Mainichi.
I started learning more about different cultural practices when I lived for a year in Tromsø. For example, there would be about 2 – 3 months where Tromsø receives no sunlight. Under such circumstances, I learned the importance of taking Vitamin D and fish oil (with orange juice). While I did not enjoy the taste, I took it to maintain health.
NR: What else did you enjoy about having overseas experience?
TM: The aurora in Tromsø was beautiful! We would walk our host family's dog and enjoy the aurora. I also am in contact with my host family. Four years ago, my host brother came to Japan and we went on a trip from Okinawa to Niigata!
I also had the opportunity to learn different cultures when I was in Spain and Mexico. I am glad to have made friends overseas, and I look forward to meeting them again soon.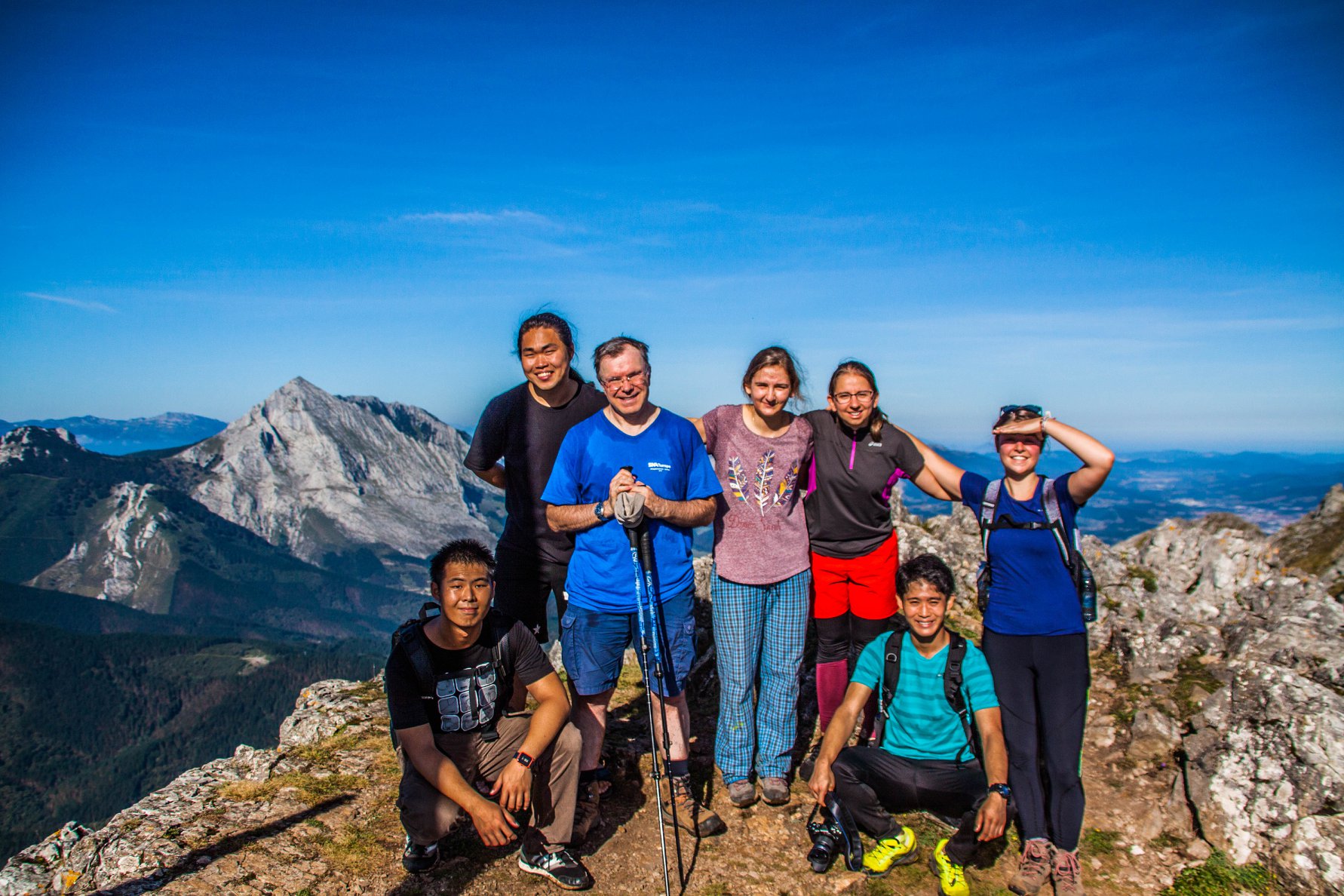 Hiking with other International students in Spain. Image courtesy of Toru.
Future Plans
NR: What do you want to do in the future?
TM: That is a good question. Honestly, I have not decided on anything yet. But I would like to do something related to my research. It would be great to have an opportunity to work as a Researcher at a University or in a company. I might also consider starting my own company in the future. Since I am in my fourth year, I would love to gain more experiences and make my decision later.
Besides developing technology, I believe in the importance of educating people. Imagine having great technology but the people do not know how to use it in life. It means nothing to them. I hope to do what I can to make technology easy-to-use so it becomes meaningful for people.
About Toru Miwa
Name: Toru Miwa
Hometown: Inuyama, Aichi Prefecture
Laboratory: Aqua and Soil Environment Laboratory, Research Fellowship for young Scientist (DC1)
Achievements: Received 2 Presentation awards, Published 2 full papers
Connect with me via LinkedIn!