Have you ever wondered how far human imagination can go? In the days of rapid automation, advanced AI applications and intelligent robots getting ready to compete with humans for the jobs of the future, rice farmers in Inakadate (Aomori Prefecture, Japan) are set off to re-define innovation. No, it is not a new product, nor a service or an emerging business model. The farmers are determined to re-position their village on the world map of playful rice fields.
Every summer, people from different parts of Japan and international tourists coming to Japan visit the small village of Inakadate for a brand-new reason: to view the mind-blowing designs crafted in the rice paddies. Everything you can imagine, from Star Wars characters to Marline Monroe!
The Inakadate village is famously known for its agricultural activities where its people are largely involved in, rice plantation. Some, if not most of us, have grown up with the perception that innovation and creativity can only be applied only when advanced is involved, for instance, in manufacturing or the electronics industry. However, the farming residents of Inakadate have managed to prove this notion to be completely wrong. They have taken innovation and creativity to a completely different level by marrying agriculture with art
Incredible rice field art in Inakadate village, Aomori prefecture. Source: youtube
About 50% of Aomori prefecture's landscape, is covered with rice paddies. However, the fields of Inakadate are not your ordinary rice paddies! The locals have turned a regular agricultural practice into modern art, creating history with their rice-field drawings portraying famous samurai soldiers, Geisha designs as well as designs showing famous action figures from the movies. And, of course, Mona Lisa could not be absent.
However, one might ask, why the use of rice paddy to portray such art, why not use flowers or ordinary grass to do so? Wouldn't it be easier and less costly to maintain?
The cultivation of rice has been the core activity for the people of Inakadate, dating back 2000 years. Since the village is small and, like many other small communities around the world, it stands the risk of being abandoned and forgotten.  Therefore, the residents of Inakadate decided to position their community strongly on the map of Japan, and make sure that their area will stay full of life for generations to come. For centuries, rice has been known to be one of the staple foods for the Japanese people, hence the passion for producing local quality rice! Furthermore, who has ever thought that rice paddy can be used not just to yield food, but also as a canvas for art, to attract tourists (Japanese and non-Japanese alike) to their humble and, yet, proud village? The first village in the whole world ever to turn rice paddies into a wide spread canvas for the locals to portray their love for their culture, their idols and their favorite movies? Subculture in the countryside? Why not?…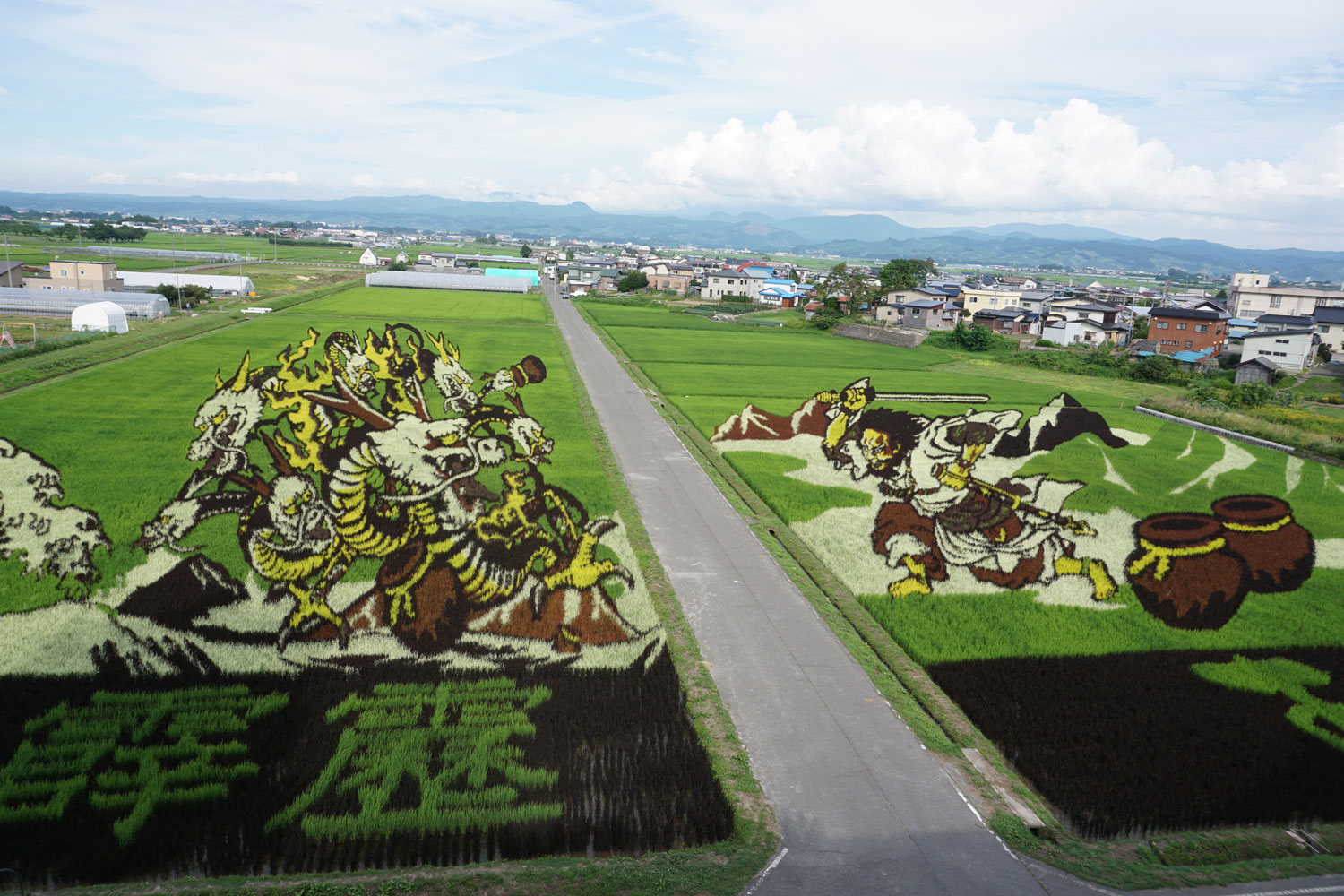 Inakodate Village, Rice Paddy Art, 2017. Image of "Yamata-no-Orochi and Susano-no-Mikoto" via Aomori
"Rice Paddy Art," called "Tanbo Art" in Japanese, is annually held in the village of Inakadate, Aomori Prefecture. And every year, visitors from Japan and abroad have the unique opportunity to see different works. In 2017, Inakadate Village challenged two works of Rice Paddy Art inspired by Japanese stories.
The first Rice Paddy Art, "Yamata-no-Orochi and Susano-no-Mikoto," located at Inakadate Village Observation Deck,showed a picture of the climactic scene, characterizing Susano-no-Mikoto against to Yamata-no-Orochi from "The Legend of Yamata-no-Orochi," which is one of the famous Japanese mythologies.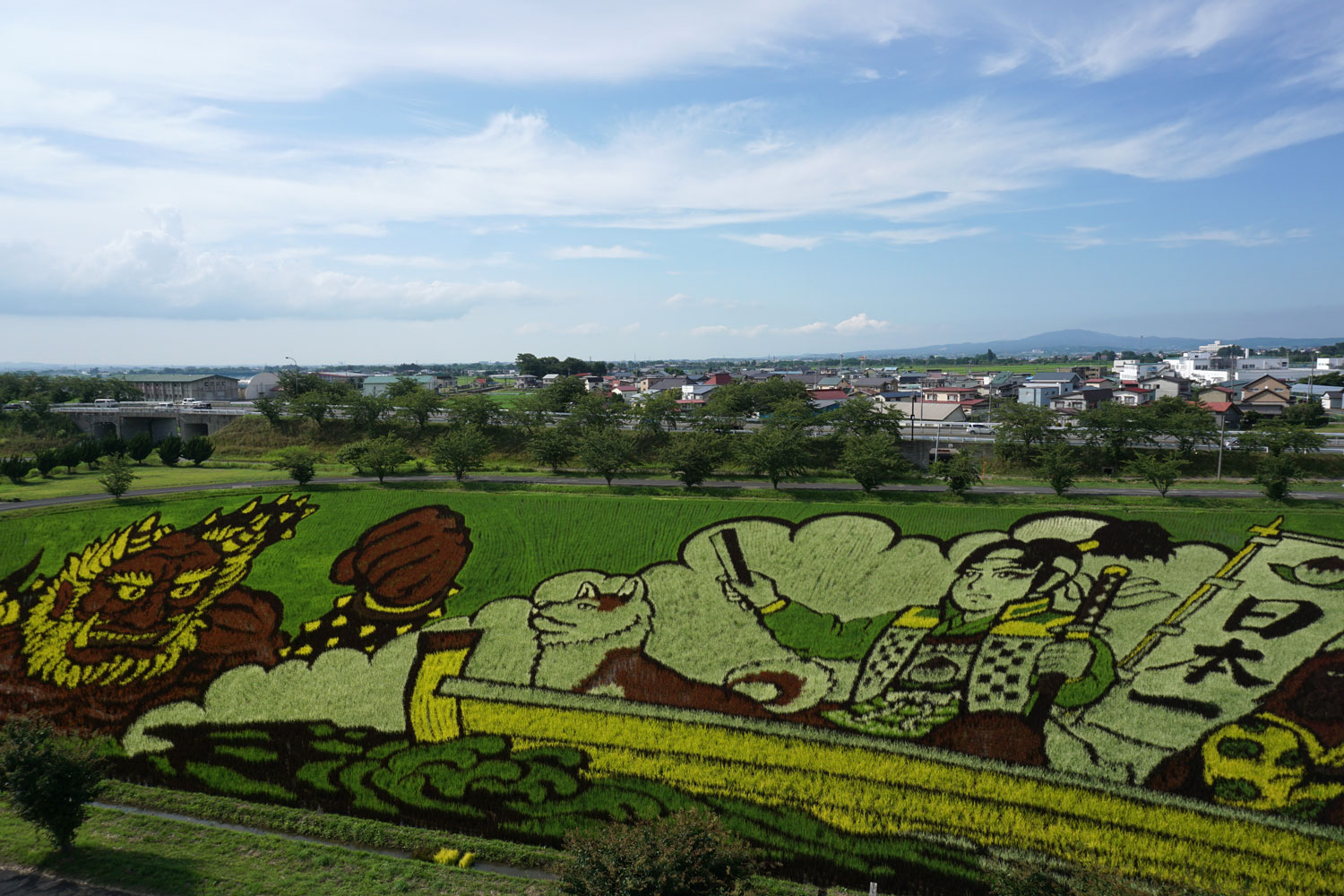 Inakadate Village, Rice Paddy Art 2017. Image of "Momotaro" via Aomori
At the second venue (Yayoi-no-sato Ovservation Deck), the picture showed the scene from "Momotaro," literally meaning 'Peach Boy,' one of the famous Japanese folklore. It's a picture of the journey of Momotaro, a boy born from a peach, to fight the ogre with having companies of animals on his way.
The people of Inakadate use various colors of rice, such as red, white, purple and even the traditional green rice on the paddy to bring art to life. When looking at the images on the rice paddy from high above, one can feel that he has stepped into an art museum, where paintings of famous artists and portraits are on wide display, for everyone to admire. Details are captured meticulously to give the sense of imagination and admiration of what is being portrayed.
The idea of Tanbo Art 2018 was to create two designs a scene from the world-renowned film in the mid-20th century, "Roman Holiday," and the work from anime by Japanese Manga artist "Osamu Tezuka," to celebrate the 90th anniversary of the artist. Images via Aomori
To observe the images on the paddy, the people of Inakadate built a tower to help visitors climb up to better see the beauty of the images. Imagine also seeing these images while on a low flying plane (or a helicopter) as it passes above the paddy fields! This is pure work of art, designed not only to please the eye, but to capture hearts and inspire awe and a burning desire for creation.
Inakadate Village is also famous for "Stone Art." Works are creating using small stones of different colors. Visitors can see the picture from the Yayoi-no-Sato Observatory of the second venue. Images via Aomori
Another question one might also have is whether the rice used on the paddy can ultimately be consumed, after they are harvested, since they are in different colors! And the answer is YES! Nothing goes to waste in Inakadate and nothing is random occurrence.
Next time you visit the Northern part of Japan, it might be worthwhile taking a detour to discover what else the locals have recently innovated and what other surprises might be awaiting in the rice paddies of Aomori!
In Japan, innovation happens where you least expect it!