From 3D technology, microfabrication, robotics, and electric vehicles to wastewater treatment, aquaculture, bioplastic, and microorganisms, Nagaoka University of Technology is an international research hub covering today's society's most critical problems and seeking to provide the most reliable and efficient solutions.
Originally from Vietnam, Luu Xuan Chinh is one of the bioengineering Ph.D. students from NUT trying to find a new way of producing useful resources from wood by researching cellulase gene expression mechanisms. This time we spoke with him to learn more about his international experience  in a Japanese university and his unique research.
Getting to Know the Student
NR: Could you share a little about yourself?
CHINH: My name is Luu Xuan Chinh, but everyone calls me Chinh. I am from Nam Định one of the most historic cities in the north of Vietnam, 90 km from Hanoi (the capital of Vietnam), and the home of the Vietnamese national dish Phở.
Currently, I am in GD3, the third year of the Ph.D. program at the Department of Science of Technology Innovation, Bioresource Engineering Laboratory (OGASAWARA LAB) at the Nagaoka University of Technology. Under Professor Wataru Ogasawara and Assistant prof. Yosude Shida supervising I research how to develop a novel method for the genetic engineering of filamentous fungi employing a droplet-based microfluidic platform.
NR: What made you decide to study abroad in Japan?
CHINH: Japan is a beautiful country that effortlessly combines timeless traditions and exciting modernization. Five years ago, when I first arrived in Japan for an internship at Kagawa University in Takamatsu, prefecture Kagawa, I was all starry-eyed with wonderment and beyond excited for what life in Japanese culture would bring.
I'm Vietnamese and have lived in Vietnam all my life. My native language is Vietnamese, and my second language is English. Culture-wise, Japan isn't so different from Vietnam; there are common Asian values, so the culture shock was not an issue. Moreover, after a one-month internship knowing much more about Japanese culture and language, I became interested in this culture and decided that after completing my degree in Biotechnology Engineering at Hanoi University of Science and Technology, I will continue my studies at a university in Japan.
The International Exchange and Educational Program for Food, 2016, Kagawa (Japan). Image by Chinh.
NR: Why did you choose NUT as your destination?
CHINH: Hanoi University of Science and Technology (HUST) and Nagaoka University of Technology (NUT) are partner universities. Students from both countries can be part of student exchange programs, internships, or obtain a scholarship to study in one of these universities. I chose NUT for two reasons. Firstly, because NUT has a bioengineering program similar to HUST and the transition from one academic environment to another has not been so different, I have easily connected my previous studies and current research.
Secondly, NUT is a famous university in Japan and abroad. Because it's a university of technology that offers many research opportunities and an international academic environment, here you can meet students and teachers from different countries and continents, countries you may not have had a chance to visit or even hear about.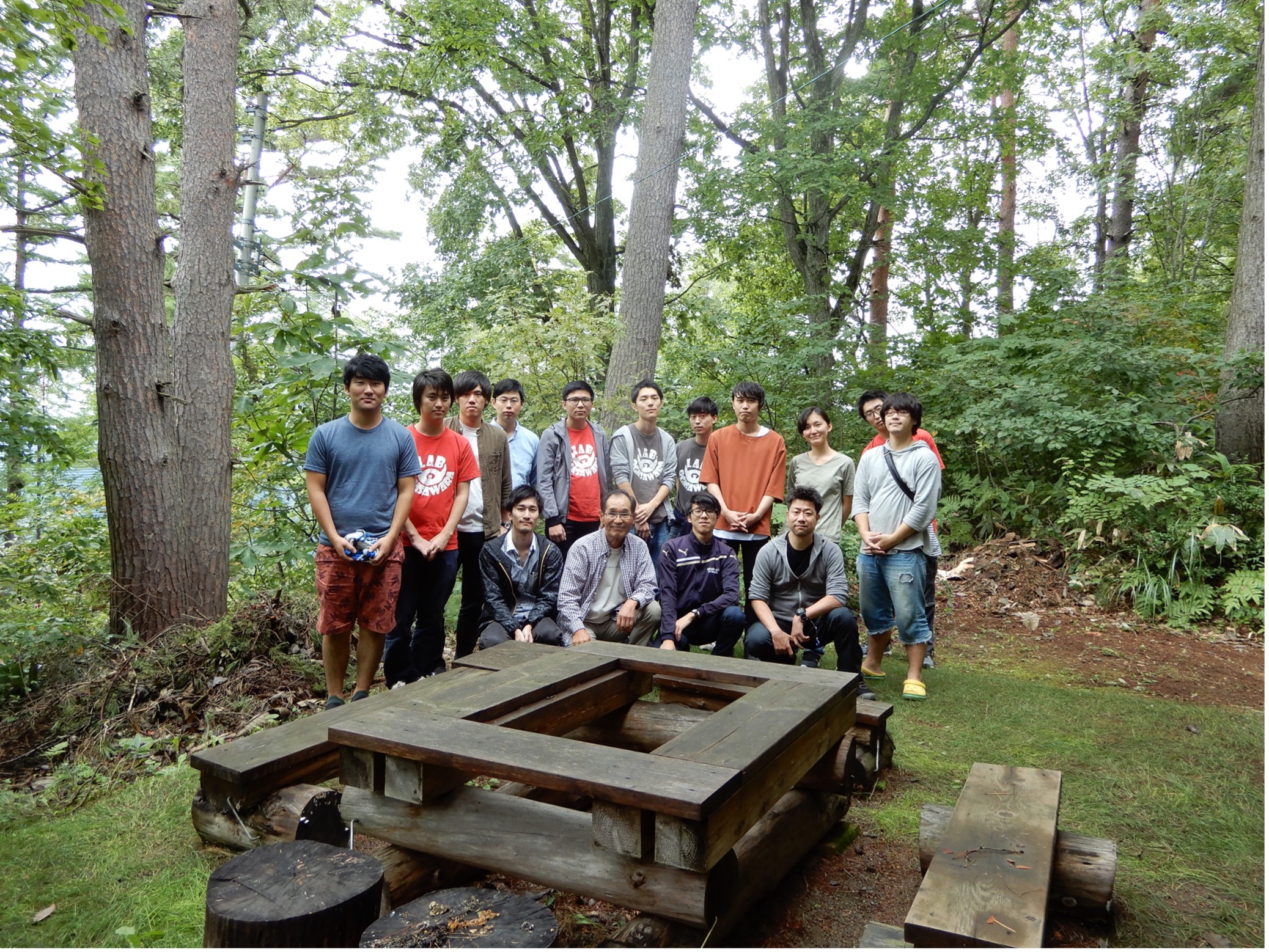 Summer trip with laboratory's members, 2018
"This multicultural environment offers a diverse cultural perspective and a unique opportunity to discover different cultures and languages, learn from various experts, and share your own ideas.

Luu Xuan Chinh

NUT, Department of Science of Technology Innovation
Discovering Fruitful Microorganisms
NR: You are from the microorganism fermentation laboratory, what are you researching?
CHINH: In the Ogasawara laboratory, we study microorganisms and the process of fermentation. We like to say that "Microorganisms are with us and ferment together." Fungi that produce cellulase, bacteria with a particular proteolytic system, and yeast that produces fats and oils are used as experimental material to deepen the understanding of the way of life of microorganisms, and the knowledge obtained is used to create a world that is kind to people.
I am currently working on developing a novel method for the genetic engineering of filamentous fungi employing a droplet-based microfluidic platform. This research aims to study the cellulose gene expression mechanism to develop cellulose high producing strain using the genetic engineering method. To most people, it sounds very abstract and challenging. But to put it simply, we research how to utilize cellulosic biomass of filamentous fungus to produce valuable resources from wood.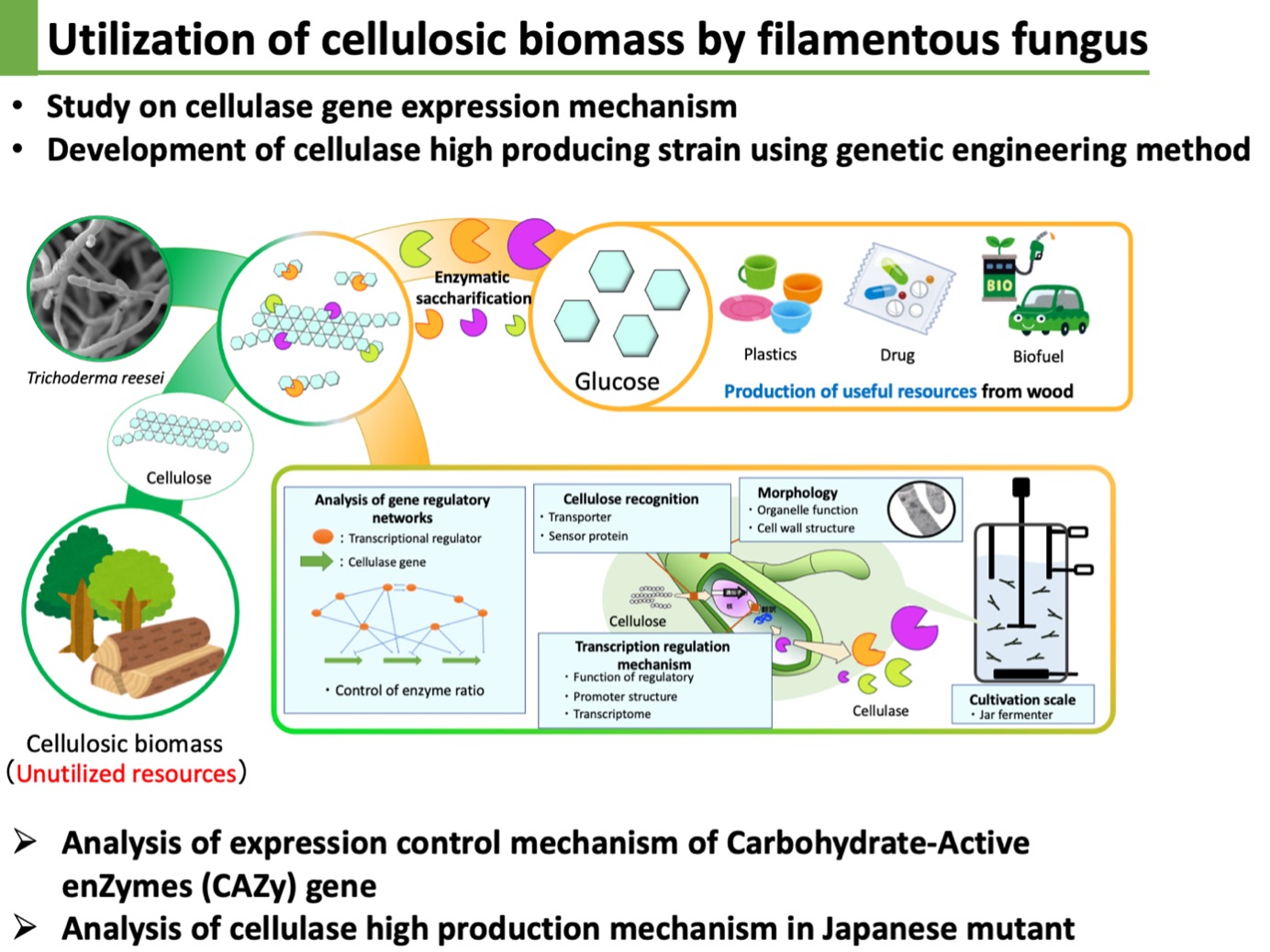 An illustration of Chinh's research on utilisation of cellulosic biomass by filamentous fungi. Image provided by Chinh.
NR: Why did you focus on studying microorganisms?
CHINH: Microorganisms and, more essential, their activities are vitally important to virtually all processes on Earth – they are around us and affect every aspect of our lives. Microbiology research has been and continues to be central to meeting many of the current global aspirations and challenges, such as maintaining food, water, and energy security for a healthy population. We are focusing on studying them because thanks to their versatility, microorganisms can be put to work in many ways: making life-saving drugs, manufacturing biofuels, cleaning up pollution, and producing/processing food and drink.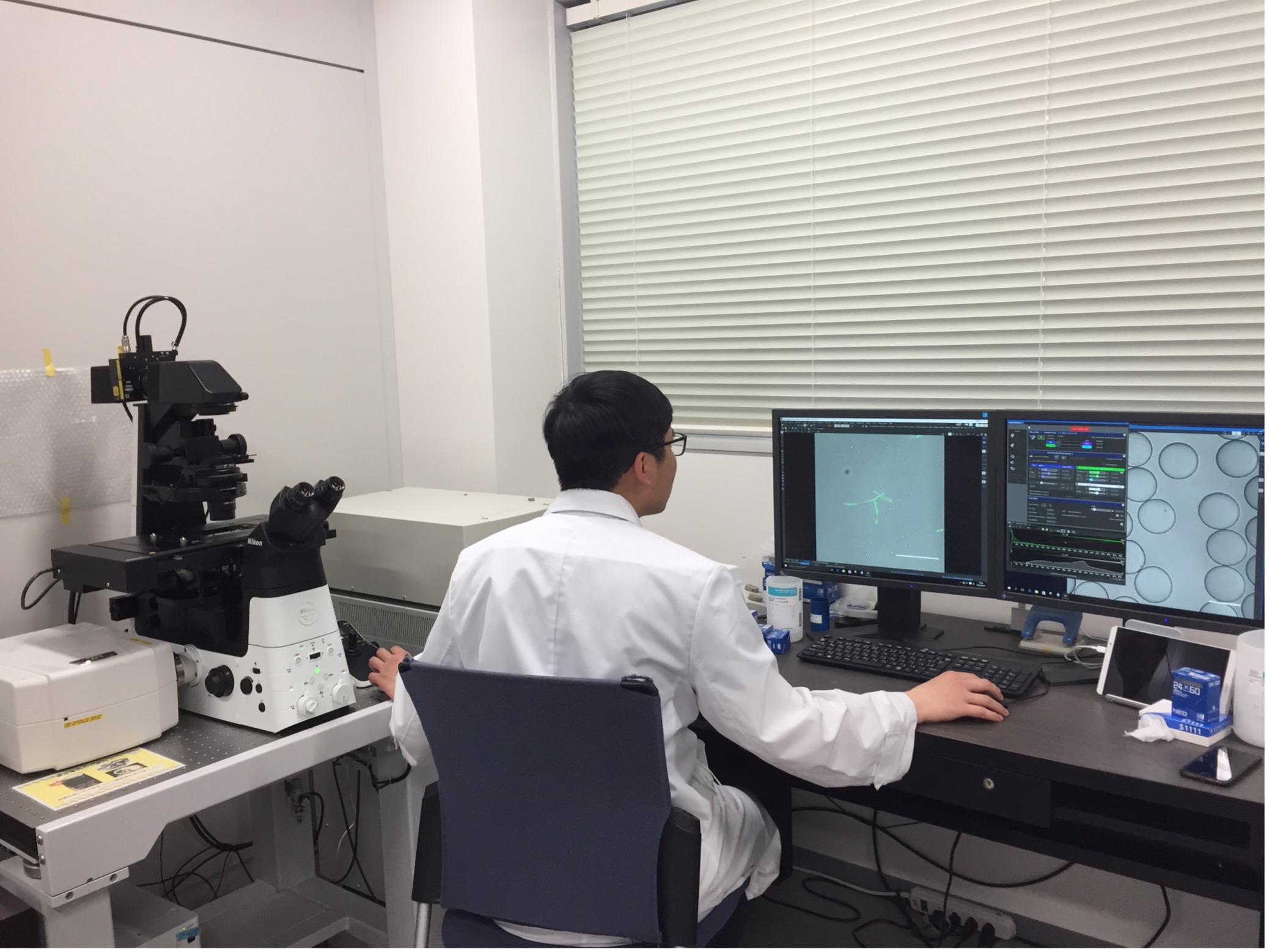 The study of fungi under a microscope in Ogasawara Laboratory, NUT.
Image courtesy by Chinh.
Cultural Understanding
NR: Speaking about Japan, what is one part of Japanese culture that you are excited to experience?
CHINH: Japan has a fascinating and multifaceted culture; on the one hand, it is steeped in the deepest of traditions dating back thousands of years; on the other, it is a society in a continual state of rapid flux, with continually shifting fads and fashions and technological development. Stirring up this cultural amalgam, I think the tea ceremony and Obon Odori festival (the Bon dance) are closest to me. For people from Nagaoka, the Obon Odori festival is unique. Usually, the festival starts with Bon Odori, a traditional dance (everyone can be part of this and every year before the festival in our university you can find some dance classes) and end with a Fireworks Festival around Shinano River. This summer dance festival is performed in a big circle around a live music stage with traditional Japanese instruments such as "taiko" and "shamisen." It is common to see people wearing "yukata," summer "kimonos" during this event.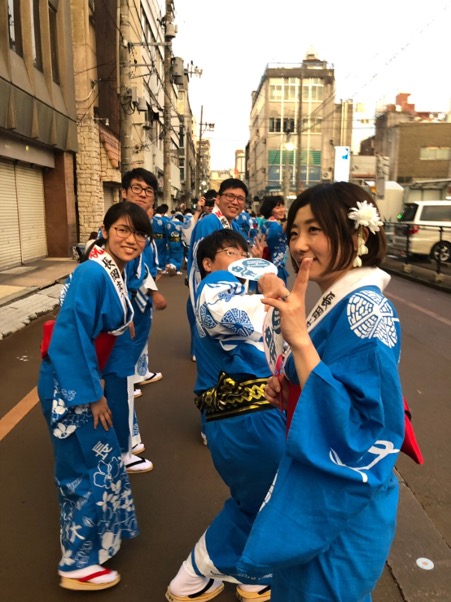 Chinh together with his colleagues from NUT during Obon Odori Festival in 2019
NR: What is one part of Vietnamese culture that you would like to share with Japanese people?
CHINH: Coming from an equally flourishing culture, I think Áo dài (traditional Vietnamese clothing) and Lunar New Year are two main elements that define our culture. Vietnamese Lunar New Year takes place from the first day of the Vietnamese calendar (around late January or early February) until the third day, and it's the most important celebration in Vietnamese culture.  The New Year is a unique opportunity for traveling and family reunions, the practice of traditions and customs, and the wearing of Áo dài – the symbol of the Vietnamese feminine beauty and the pride of the Vietnamese people.
Futures Plans
NR: Please tell us about your career path after graduation?
CHINH: One of my big goals for the future is to combine volunteering, research, and teaching. After graduation, I am thinking of following a post-doctoral program and becoming a lecturer to impart my knowledge to my students and contribute to the development of our society.
I have been part of many volunteer projects, and I hope to continue in the same direction. We can create so many things for society and the environment without asking for anything in return. I think it's more important to make an impact in the world.
NR: Please give some advice to international and Japanese students?
CHINH: One of the most valuable pieces of advice is not to be afraid to try something new. Try to push yourself and your limit. Try to look farther, try something new, interact with many people, and speak another language. Talking about Japan, I think it's very important before jumping into this culture to have some knowledge about this culture and this language to avoid cultural shock and to adapt.
Connect wit Luu Xuan Chinh on LinkedIn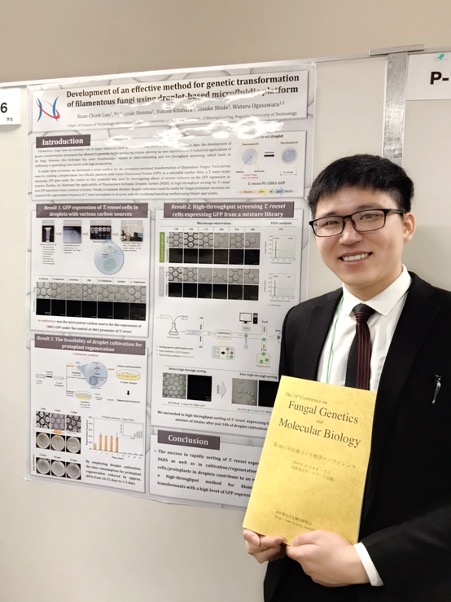 Chinh at The 19th Conference on Fungal Genetics and Molecular Biology at Hokkaido University, 2019